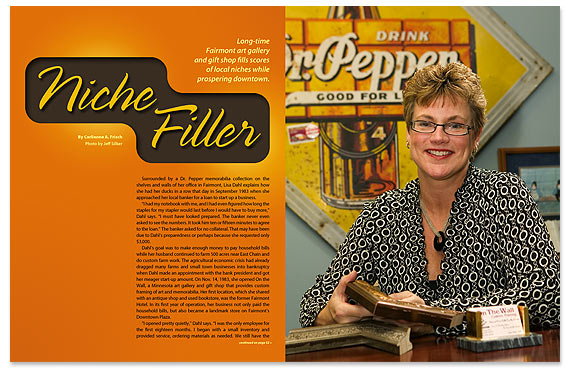 Long-time Fairmont art gallery and gift shop fills scores of local niches while prospering downtown.
Photo by Jeff Silker
Surrounded by a Dr. Pepper memorabilia collection on the shelves and walls of her office in Fairmont, Lisa Dahl explains how she had her ducks in a row that day in September 1983 when she approached her local banker for a loan to start up a business.
"I had my notebook with me, and I had even figured how long the staples for my stapler would last before I would have to buy more," Dahl says. "I must have looked prepared. The banker never even asked to see the numbers. It took him ten or fifteen minutes to agree to the loan." The banker asked for no collateral. That may have been due to Dahl's preparedness or perhaps because she requested only $3,000.
Dahl's goal was to make enough money to pay household bills while her husband continued to farm 500 acres near East Chain and do custom farm work. The agricultural economic crisis had already dragged many farms and small town businesses into bankruptcy when Dahl made an appointment with the bank president and got her meager start-up amount. On Nov. 14, 1983, she opened On the Wall, a Minnesota art gallery and gift shop that provides custom framing of art and memorabilia. Her first location, which she shared with an antique shop and used bookstore, was the former Fairmont Hotel. In its first year of operation, her business not only paid the household bills, but also became a landmark store on Fairmont's Downtown Plaza.
"I opened pretty quietly," Dahl says. "I was the only employee for the first eighteen months. I began with a small inventory and provided service, ordering materials as needed. We still have th
same policy. We order moldings as customers choose and request them. We have an inventory of matting and glass, but there are many choices in frames, so we order the frames in chops (four mitered pieces) and nail them together here. Also, not using a saw to cut frames keeps our workers' compensation insurance down, requires less space and isn't messy."
Dahl uses two framing methods. The old-fashioned way, gluing the frame, putting it into a vice, then drilling and setting it with nails—takes about a half hour. The five-minute process involves a foot-operated machine called an underpinner, from which staples enter the frame from underneath.
"Then we do touch-up work," Dahl says. "We fill the joints with putty and the nail holes, too."
As On the Wall expanded, it kept moving—to three other rental locations—on every block of Downtown Plaza and both sides of the street because, Dahl explains, "I like the flair and the atmosphere of downtown."
Dahl also appreciated Downtown Plaza's symbiosis of an antique store and a home decorating store next to each other, generating business for both. With a recent increase in professional services (accountants and attorneys) on Downtown Plaza and a resultant decrease in retail businesses, the mutual benefit has decreased. Despite this change, On the Wall has thrived because of the individualized services it offers.
"There is no other shop like ours in Fairmont," Dahl explains. "My philosophy has always been to offer customers a quality product unique to their home at a fair price. We began with just custom framing and carried a few print lines. Needlework framing was popular when we began. Many handmade things are precious to people, so even during the rural crisis shadow-box framing was popular, and it has continued to be. Then, about fifteen years ago we saw a demand for home accessories, so we added them even though there are a few other shops of that kind."
Dahl usually works fifty-six hours a week, but recently made a New Year's resolution to take a weekday off each week. With seven employees, three in framing and four in sales, she's had moderate success in keeping the resolution thus far.
"When I started I worked entirely with customers. Today I do more managing of employees," Dahl says. "We all are capable of doing each other's work, but we put people where they shine. If I could change one thing, I would do less managing and more hands-on work. I love building the frames and helping customers much more than doing paperwork and planning advertising."
Dahl's advertising philosophy has remained much the same over the past twenty-four years—keep it local. She began with local radio and newspaper ads and has added sponsorship ads in Fairmont Opera House programs. She sends direct mail notices of sales and events such as art shows, and an annual newsletter to her customer list.
Changing over the past two decades has been the kinds of framing requests customers bring in. Although three-dimensional framing arrangements are common, many items being framed are not. Among family heirlooms brought in for framing are garments such as a christening gown, with bonnet and lacy booties. There seems to be no limit to the imaginative arrangements people request.
"For one customer we framed two pipes, his tobacco pouch, and a photo of him," Dahl says. "For another customer we framed a black hat decorated with lace and feathers, along with a photo of the woman wearing it. Many of the framing arrangements include a photo of a person who used the items. We often frame record album covers. I suppose some day we'll be framing eight-track tapes." She smiled at the thought before continuing. "Recently we framed the fragments of an acrylic backboard that shattered after a slam-dunk basket. We've also framed a hockey puck that someone in the audience got during a game, along with the ticket to the game."
Dahl's business card indicates she's a dealer for the work of artists Terry Redlin and P. Buckley Moss, whose scenes often catch the eye of customers who like the country look. Moss's farmscapes, landmarks, children at play and holiday scenes adorn plates, ornaments and prints. As a dealer for Moss's work, Dahl became involved with the P. Buckley Moss Society, which raises funds to help children who have physical or learning disabilities.
"Moss, who has dyslexia, struggled in school," Dahl explains. "After she graduated from high school she went on to an art school, became a professional artist and founded the society. The Fairmont chapter has printed cookbooks, decorated and raffled off a dollhouse and, for the past six years, has held a garden tour and salad luncheon. We've raised thousands of dollars for local children."
In addition to Moss's and Redlin's work, On the Wall carries a variety of decorating items, including metal wall art, lamps, trunks, pottery, candles, vases and accent tables. Offering a more personal note, are scarves, jewelry and skin care products.
Along with her business savvy and customer service philosophy, Dahl's commitment to keeping business alive in Fairmont's downtown district has earned her the reputation of being a quiet, behind-the-scenes leader. She agrees with the description.
"I try to keep a low profile and still get things done," she says. "One of the biggest struggles is keeping a unified downtown. I would like to see a more active participation from downtown retailers and professionals in the health of their downtown neighbors. I maintain my Downtown Association membership, go to meetings and work on plans for the annual Holiday Delight in December. I guess I've pretty much been planning that since it started about ten years ago." Dahl's eyes light up as she describes the holiday event.
"The shops stay open until midnight the first Friday in December," she says. "We have carolers, horse and buggy rides and a prize drawing in the park at midnight. The person whose name is drawn must be present to win, so that encourages people to stay."
Dahl also spearheads the volunteer effort to have planters in the downtown area filled with live flowers and maintained throughout the growing season. This year her volunteer calendar is more full than usual.
"We're planning Fairmont's sesquicentennial (150th anniversary) to coincide with our annual Interlaken Heritage Days." Dahl explains. "We have framed some historical photos, printed a booklet and planned numerous other activities for June 8-10. In addition to a parade and street dance we'll have a county-wide medallion hunt."
Dahl admits she might like to sleep late some days, but says her greatest satisfaction is that she still finds joy in going to work every day after being in business twenty-four years.
"I can't pinpoint anything I would do differently," she says.
Wal-Mart Cometh
A Wal-Mart Superstore is scheduled to open in Fairmont this summer. Although concerned about the future of some downtown businesses, Dahl doesn't anticipate struggling as much as some store owners. She explains, "Anyone can buy a picture at Wal-Mart, but here we can help you find a picture you like, matte it in the accent color of your room, choose molding that suits your style and make the frame the size to fit your wall. You can't get that at Wal-Mart.
"We also have a bridal registry, and I don't think Wal-Mart can do what we do," she says. "When a bride comes in, we go with her through the store and help her select things. When customers come in to purchase a gift for her, we don't just hand them a list. We take them through the store and show them the items. Then we wrap the gifts properly at our leisure and deliver them to wherever the gift opening will take place.
"I hope to still be in business downtown, but if downtown no longer draws customers after the coming of the Wal-Mart Superstore, I would consider moving to a strip mall, but not to a larger mall."
What's That On The Wall?
There's nothing as ordinary as Coke or Pepsi memorabilia in Dahl's choice of décor. On the wall—on three walls of her office, as a matter of fact—are Dr. Pepper bottles, cans, bottle openers, variously shaped signs, three clocks (that work), three thermometers (that also work), and the list goes on. It all began with just one bottle opener. Dahl went after it with the same determination she has for making Fairmont's downtown area thrive.
"My mom used to work at the Dr. Pepper bottling company in Fairmont," Dahl explains, "so she had a Dr. Pepper wall-mounted bottle opener. When Mom died my sister wanted it, but I got it. And the competition began." Although she doesn't have a Dr. Pepper inventory number handy, she says, "I think I'm winning."
A few non-Pepper items fit into the collectible theme on the office walls. There's a framed 1960 Minnesota license plate from Dahl's mother's family farm. ("It's from the year I was born," Dahl points out.) And in case visitors doubt where they are, friends have provided Dahl with a street sign proclaiming "Dahl Rd." There's also the shadow-box frame filled with items that employees assembled. Items include a razor blade, a frame bump pad, a fingernail file, a paper trimmer, a bandaid, a business card and a gum wrapper. Dahl's explanation: "I used to chew gum a lot more than I do now."
On the fourth wall it's the two-framed prints that provide the contrast to everything else. Soft geometric shapes, predominantly blue and yellow, draw the observer into what might be a sunny farm field in mid summer. The prints are an example of another option Dahl offers customers.
"These are paper pictures with canvas laminate to make them look as if they had brush strokes," Dahl says. "They are wipeable and lighter weight because there's no need for glass. They're great for kids' rooms." She points out that the pictures are smaller than the frame that surrounds, but does not touch them—and that this floater frame represents a new framing trend.
Who Is Lisa Dahl?
Where did you grow up?
In Fairmont.
What was your favorite subject in high school?
I liked math—it came easy for me—and gym.
Least favorite?
Science. I know math and science often go together, but they didn't for me.
What would you like to have studied if you had been given the opportunity?
I would like to have had an interior decorating education.
What kind of decorating or framing education did you receive?
My first framing experience was when I worked for my uncle, who had a photo lab. Some of his customers wanted photos enlarged and framed. For many years now, my staff and I have gone to framing trade shows. I've learned that every piece of frameable item gets treated a different way, the golden rule of framing is 'never attach anything so permanently it can't be removed' and in business classes I've learned about pricing and advertising. I also read professional publications.
Was your first job working for your uncle?
My first job was as a waitress at a greasy spoon, where I learned humility and to treat people just as I want to be treated. Then I worked at the Ben Franklin store for four years. My boss, Carl Novinger, taught me the importance of paying attention to detail. From my parents I learned a good work ethic. They taught me to work hard and not expect anything to be easy. They didn't say it in so many words, but I got it from them.
Tell us about your family.
My husband, Scott, and I live on the farm where he grew up, near East Chain. I don't work on the farm; I just make sure he's fed.
Do you have time for hobbies?
We like to ride motorcycles. My most valued possession is my Harley 1200 Sportster, which I've had for several years. We ride on Sundays, but I'd like to take more trips. We make one trip each summer to places like northern Wisconsin. In the winter we go (not on the cycles) to Mexico or Jamaica. I'd love to have more time to travel but it's difficult when we both have our own businesses. In the summer I also enjoy flower gardening and I go antiquing, especially for Dr. Pepper items.
With your motorcycle as your most valued possession, what intangible do you value the most?
My family and friends.
Which of your accomplishments makes you the most proud?
Being married twenty-five years.
What is the one piece of decorating advice you would give?
Be an individual. Surround yourself with the things you love and your home will make you happy.
© 2007 Connect Business Magazine. All Rights Reserved.