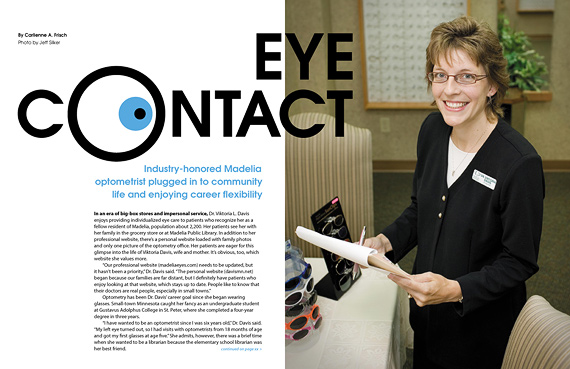 Industry-honored Madelia optometrist plugged in to community life and enjoying career flexibility
Photo by Jeff Silker
In an era of big-box stores and impersonal service, Dr. Viktoria L. Davis enjoys providing individualized eye care to patients who recognize her as a fellow resident of Madelia, population about 2,200. Her patients see her with her family in the grocery store or at Madelia Public Library. In addition to her professional website, there's a personal website loaded with family photos and only one picture of the optometry office. Her patients are eager for this glimpse into the life of Viktoria Davis, wife and mother. It's obvious, too, which website she values more.
"Our professional website needs to be updated, but it hasn't been a priority," Dr. Davis said. "The personal website began because our families are far distant, but I definitely have patients who enjoy looking at that website, which stays up to date. People like to know that their doctors are real people, especially in small towns."
Optometry has been Dr. Davis' career goal since she began wearing glasses. Small-town Minnesota caught her fancy as an undergraduate student at Gustavus Adolphus College in St. Peter, where she completed a four-year degree in three years.
"I have wanted to be an optometrist since I was six years old," Dr. Davis said. "My left eye turned out, so I had visits with optometrists from 18 months of age and got my first glasses at age five." She admits, however, there was a brief time when she wanted to be a librarian because the elementary school librarian was her best friend. 
The primary focus of Dr. Davis' life is her family. As an independent optometrist with her office, Madelia Optometric, Inc., in the lower level of the Madelia Health Care Center, Dr. Davis is able to factor motherhood into her professional life. She sees patients 23 hours a week from Tuesday to Friday, is on call for emergencies—"I can see the office from our back porch," she said—and occasionally even brings her children to work.
"We're seeing more women optometrists because this profession offers more flexibility over MD and nursing professions," Dr. Davis said. "My family is so important to me, and being my own boss I can put my children first." She paused to cuddle her one-year-old son, Karl, whom she'd brought to the Connect Business Magazine interview because he wasn't feeling up to par. "If my children are here when I'm seeing patients, my assistant Jayne, or two part-time office staff, keep Karl occupied. He sleeps in a portable crib. Katharine, who is five, takes care of herself, and the children certainly are not allowed to go into the examining rooms. Sometimes we have a patient who is disappointed when the baby's not here."
Following the beat of a different drummer seems to have been a theme in Dr. Davis' life, beginning with the unusual spelling of her name.
"I'm 25 percent Swedish (the "L" in her name stands for Larson, her maiden name) and my parents wanted to give me a Swedish name, but nothing ordinary like Ingrid," Dr. Davis explained. "My name came from an old book, from pre-Anglo Saxon times, when there was no hard 'c' in Old Swedish." She named her children in keeping with the tradition.
If it weren't for her parents' wanderlust, Dr. Davis might be practicing optometry in another state. The year she was a fourth-grader, the family took off in an RV to visit all the lower 48 states. As her parents home-schooled their children (Viktoria, 10, and Erik, 12), they decided it wasn't too soon to visit a few college campuses.
"We had a picnic on the lawn at Gustavus and a tour from an enthusiastic student," Dr. Davis recalled. "I was so impressed that eight years later I went there and later graduated with a biology major and music minor." She went on to optometry school at Pacific University in Oregon for four years, which included one year of internships as a children's eye doctor. "I've always had a love for pediatrics," she explained.
Their years at Gustavus forged a strong connection with the Upper Midwest for the Davises. The doctor's explanation makes it sound almost legendary. "Steve and I met the first day of orientation at Gustavus, at the square dance. The tradition is that couples meet at the square dance, fall in love, go through college, marry and live happily ever after—and we're living proof of that." The Davises were married on June 16, 1996.
Dr. Davis began her optometric practice on July 13, 1999, the day after obtaining her optometry license. Her office was originally a satellite of the St. James optometric office of Drs. Olson and Pinke.
"When the Madelia Hospital did a lower level expansion in 1998, they made space for an optometrist," Dr. Davis explained. "There was a part-time optometrist in Madelia who did not want to come into this space, so the hospital board approached Dr. Pinke, who said he'd find an optometrist. He posted the opening on the job search website of our common alma mater, Pacific University. I was working on making graduation announcements for classmates and needed the school logo. When I went to the website for it, I saw the announcement and applied."
Although having no idea where in the state Madelia or St. James were, she did realize the zip code for St. James was similar to that of St. Peter. She and Steve, a computer programmer who works from home, wanted to return to the Upper Midwest, so she contacted Dr. Pinke, completed an interview and was hired as an associate. After one year, she became a junior partner, and in 2003 the partnership split.
"Dr. Olson retired, Dr. Pinke kept the St. James office and I kept the Madelia office," Dr. Davis said. Her suite consists of a reception area where complimentary coffee and tea are available, two exam rooms, a lab where Jayne also works, an optical area featuring about 500 glasses frames and a wide selection of sunglasses, and Dr. Davis' office.
"In my office I dictate letters to physicians about patient conditions I've seen that may indicate conditions such as diabetes, high blood pressures or thyroid disease," Dr. Davis said. "Actually, I've taught Jayne, to look in certain places on the forms and draft the letters for me to revise. Also, for each student I see we send a form to the child's teacher. It's a form used statewide that I helped design for the Minnesota Optometric Association. I do all my bookwork and business-related work in the office."
Some of the non-medical aspects of running a business came with experience. The doctor's advice to potential optometrists: "Stress the importance of business knowledge, especially if you want to be in private practice. My parents were strict about my brother and me keeping track of our money. I began using Quicken while in high school and now have customized QuickBooks. As for staffing and management, I learned by trial and error. Jayne has been a wonderful asset. She sees working here as a career and is a Certified Paraoptometric Assistant. As such, she is able to assist in patient examinations, triage and contact lenses. She also works as our optician, fitting and repairing glasses and helping to match the patient with his or her perfect frames."
The lab is a multi-purpose room. In addition to being the space where glasses are checked in, adjusted and repaired, it's where Jayne's desk and computer are located and serves as the staff break room.
"My goal is to effectively serve the eye health needs of people in our community and to make a living doing it," Dr. Davis said. "Medicine is a business. I'm paying off student loans, seven years of post-high school education. Our office is unique for the area because we are not network providers for every vision plan. We participate in most major medical plans, but not in most supplemental vision plans because reimbursement is so poor. We realize that some of our patients need to make a choice. They either use a major medical plan and pay out of pocket for the product or they have their eye exam here and go elsewhere for the product." (As Dr. Davis slipped into the use of "we" she explained she includes her staff when discussing the office, as well as her husband, who is her business partner.)
"We know we can't compete on price with Wal-Mart, so we don't try," Dr. Davis said. " Patients get respect, experience and concern here that's above and beyond (what they will get in an impersonal setting). I see about 100 patients a month, and I may see a patient for three different things, such as an eye health exam, a contact lens exam and an exam for glasses."
As with many professions, there's no such thing as a typical day. One recent day, Dr. Davis saw a patient with itchy eyes, three with diabetes, two children with a routine checkup, a referral patient who had a lump on her eyelid, and a patient who came in for a regular comprehensive exam. A patient in for a contact lens check, intraocular pressure check or other progress evaluation may be in the office only 10 or 15 minutes, while a full comprehensive exam with dilation takes about 90 minutes. With tongue in cheek, Dr. Davis added, "Of course, frame selection can take days."
"The trend in optometry is going away from the traditional routine eye care toward more medical care, such as diabetic eye care and treating itchy eyes, lumps and bumps," Dr. Davis said. "Diabetes increases the risk of glaucoma and cataracts and it can lead to diabetic retinopathy, an irreversible vision-threatening condition. By looking at the condition of the blood vessels in the eyes of a diabetic patient, we can get an idea of how the diabetes is affecting the body as a whole.
I see patients of all ages, and I'm very much an advocate for infant eye care. I can do a well-baby check-up at six months and can prescribe glasses as young as needed, some with a strap that fits around the back of the baby's head. I use different equipment and watch how light interacts with the eye lenses, how light reflects out of the eye. I use that experience in treating infants when I treat a person with advanced dementia or a patient who is mentally disabled. I don't do surgeries in my office (See Sidebar #1), but I have a contract with Dr. Todd Gavin, a staff physician at the Mankato Clinic. Once a month he comes to do consultations with patients who need cataract surgery or other specialties. He does the surgery right upstairs in the Madelia Hospital."
Dr. Davis' unequivocal advice: "Do not wait until you can't see before you go to the eye doctor. Don't be like Kirby Puckett, who lost the sight in one eye. An eye exam is a general health exam. Patients don't always need a new prescription."
There also are humorous times, like when patients use a term similar to the correct medical term. One patient who had a cataract said, "I have a Cadillac in my eye;" another, who had an astigmatism, declared, "I have that stigmata."
"When an optometrist asks, 'which is better, one or two?' a patient sometimes will say, 'I don't know, what do you think?'" Dr. Davis said, shaking her head and smiling. "There's no wrong answer to the question, but there are answers we expect."
By the time Dr. Davis began an independent practice, her four years of patient care in Madelia had already established her as a caring person and doctor. Today, she's active in the Madelia Chamber of Commerce, on the board of the Lions Club, a member of Madelia Women of Today, and a five-year participant in the Early Childhood and Family Education program. Steve represents the optometric office in the Rotary Club.
As with most businesses, word of mouth and personal contact are the best means of advertising. Dr. Davis said, "I get referrals from physicians upstairs, and we have an ad in the professional listing in the Madelia Times-Messenger."
Dr. Davis was named the 2005 Minnesota Young Optometrist of the Year by the Minnesota Optometric Association and is willing to take a guess as to how she achieved the honor.
"I was active on the association's Children's Vision Committee," she said. "In 2001, I wrote a grant, in cooperation with the Madelia Lions Club, to receive $10,000 for low-vision equipment." The grant funds were used to purchase a computerized TV for the Madelia Public Library and other low-vision equipment that is housed in Dr. Davis's office for patients to borrow or try out.
Then there are the one-week eye care mission trips, two to Romania (in 1998 and 1999) and one to Moldova (in 2001), sponsored by Pacific University. She said, "These are some of the most amazing experiences I've ever had, as is true for most people who have traveled to developing countries. It makes us realize how materialistic we are in the United States. In Romania, we worked in orphanages and in Moldova with the general population in a hospital in Chisinau, the capital city. In those three weeks, the teams of optometric volunteers saw about 8,000 people. My most touching experience was with an eight-year-old girl named Nadia. She was in a special education orphanage because she was very near-sighted. I'm very near-sighted, too, and I had brought a back-up pair of glasses for myself in case the ones I was wearing got broken. I gave Nadia my extra pair. I have a small head, so they weren't too large on her, and even things that don't fit very well do help. Those may be the only glasses Nadia will ever get. The next year I learned she had been moved to a regular orphanage."
Her involvement with children carries over to her leadership of the Mankato Area La Leche League. The arts play a significant role in her life as well—remember the music minor at Gustavus? She plays the trombone with the New Ulm Municipal Band each summer, sings in her church choir and dances with the Mankato Ballet, performing in the Nutcracker as Clara's mother the last three years. She began taking ballet lessons at age three, as Katharine now does.
"I've danced other roles in other years," Dr. Davis said, "and I'm looking forward to being the Mouse Queen this year. My life is a balancing act—family, optometry, music and ballet." 
Eyecare Defined
Ophthalmologist: An eye surgeon who has been to medical school.
Optometrist: A primary eye care provider who has been to optometry school.
Optician: The person who fits and fabricates eyeglasses and generally has received on-the-job training.
Usually all three work together to provide for a patient's complete eye care needs.
Eye To The Past
Childhood: Dr. Davis grew up in Novato, Calif. (25 miles north of San Francisco).
Birth family: brother Erik, now a seismologist; mother a bookkeeper and educator; father a computer programmer, now a professional Santa Claus.
Favorite school subjects: English and history. "My science curriculum was merely theoretical, not practical. But later, in college, I got to do experiments."
Least favorite subject: "Math, until we got to use calculators and computers. I love spreadsheets."
What would you like to have studied? "Business. I considered getting an MBA, but don't have time."
Work experience: At age 14, gymnastics teacher for Parks and Recreation Department; at 16, file clerk for an optometrist; in college, summer job as the sole employee at an optometry office. "I've done every job in the office."
Sight Reading
Hobbies: Reading, quilting, sewing, ballet, trombone.
Best accomplishment: "Being able to have my own office, serve my patients and be a good mom."
Most important intangible: "My family and my relationship with my husband, who is truly a partner in all ways."
Three descriptive phrases—Self-description: focused, decisive, a leader; Jayne's description: organized, efficient, puts patients first.