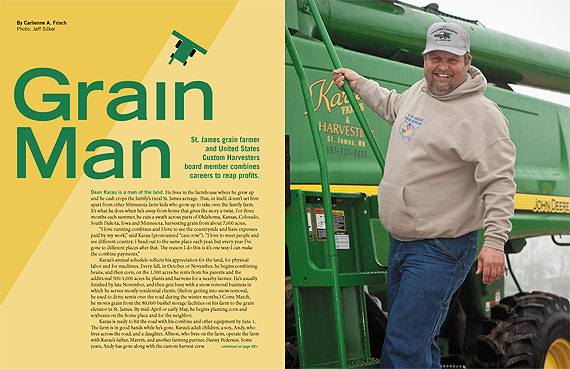 St. James grain farmer and United States Custom Harvesters board member combines careers to reap profits.
Photo by Jeff Silker
Dean Karau is a man of the land. He lives in the farmhouse where he grew up and he cash crops the family's rural St. James acreage. That, in itself, doesn't set him apart from other Minnesota farm kids who grow up to take over the family farm. It's what he does when he's away from home that gives the story a twist. For three months each summer, he cuts a swath across parts of Oklahoma, Kansas, Colorado, South Dakota, Iowa and Minnesota, harvesting grain from about 7,000 acres.
"I love running combines and I love to see the countryside and have expenses paid by my work," said Karau (pronounced "care-row"). "I love to meet people and see different country. I head out to the same place each year, but every year I've gone to different places after that. The reason I do this is it's one way I can make the combine payments."
Karau's annual schedule reflects his appreciation for the land, for physical labor and for machines. Every fall, in October or November, he begins combining beans, and then corn, on the 1,500 acres he rents from his parents and the additional 500-1,000 acres he plants and harvests for a nearby farmer. He's usually finished by late November, and then gets busy with a snow removal business in which he serves mostly residential clients. (Before getting into snow removal, he used to drive semis over the road during the winter months.) Come March, he moves grain from the 80,000-bushel storage facilities on his farm to the grain elevator in St. James. By mid-April or early May, he begins planting corn and soybeans on the home place and for the neighbor.
Karau is ready to hit the road with his combine and other equipment by June 1. The farm is in good hands while he's gone. Karau's adult children, a son, Andy, who lives across the road, and a daughter, Allison, who lives on the farm, operate the farm with Karau's father, Marvin, and another farming partner, Danny Pedersen. Some years, Andy has gone along with the custom harvest crew.
—–
Like countless farm kids, Karau has been gleaning the land's bounty since he was old enough to run a combine. Growing up the oldest in a family of three boys and a girl, Karau worked with his father while in high school, as well as hiring out to various neighbors. It was through one of these employers, Kenneth Henderson, that Karau met a custom harvester named Dennis Tingle, who told Karau about work in De Smet, S. Dak.
"I started out working for Dennis Tingle as a hired hand on a custom harvesting crew in 1993," Karau said. "By 2000, I had enough contacts to strike out on my own." That was the year he formed Karau Farms and Harvesting and bought a John Deere 9610 combine. He has since replaced it with a JD 9650 and, most recently, with a JD 9670. He usually heads first to Kansas, occasionally to northern Oklahoma, to harvest winter wheat. From there, he goes on to South Dakota to bring in winter and spring wheat, with the last stop usually being Mobridge, S. Dak., where he harvests organic wheat and flax.
"We live on the road most of the summer," Karau said, referring to his crew and himself. "I start out with a destination and assignment, just automatically go down there. I call to find out when the wheat is ready or they call me. We make a couple of trips to Oklahoma or Kansas to get everything down there, including three semis, a pickup with camper, a grain trailer, a tandem truck with a grain box, the combine on a truck and the 635D draper head, which is attached to the front of the combine for harvesting wheat but also can be used for soybeans. Just before South Dakota, I have someone bring a pickup head, which I put on the combine for harvesting flax, but it can be used on wheat, oats and peas.
"The earlier wheat is combined straight—stems, heads and all. With flax, you windrow it down (cut it green) so it dries, and then the pickup head picks it up and puts it into the combine. My girlfriend, Jackie Smith, runs the John Deere 4955 tractor alongside the combine, dumping the combined grain into the grain cart that's attached to the tractor."
—–
In addition to employing Smith, Karau hires two or three people each year to drive the grain trucks from the field to the local elevator, wherever he may be.
"I run an ad in the five-state area or over the Internet, including the U.S. Custom Harvesters, Inc., website," Karau explained. "I never know who I'll get. It's not the same people every year. One year I had a gal driving truck, and another year Jackie's brother, who was laid off from his job, worked for me. Some harvesters hire people from countries like South Africa because some people around here want to work nine-to-five, not the 15 to 20 hours we work when we're on the road. But we always just hire U.S. citizens.
"After we're finished in Kansas, we just start moving north, making old contacts and finding out where the spots are. I put posters in grain elevators and restaurants and with implement dealers maybe a week early. If you get two calls, you call another harvester, so you sort of promote yourself and another harvester.
"My goal is to cut 200-250 acres a day, so 1,000 acres probably takes five days. Kansas cuts very fast. By mid-June, or July 4 at the latest, Kansas is all cut. With our bit cutters, combines with 36- to 40-foot heads, you can cover a lot of acres fast. It used to be that with a combine with 20- to 25-foot heads, you could cut only 100 acres a day."
Karau works for about a dozen people each summer. A typical job is 500 acres, which can be cut with one combine. For 2,000-acre jobs, Karau gets another harvester to work with his crew, either as a sub-contractor or with each harvester paid directly by the farmer. Although the business generates its share of paperwork, Karau shrugged it off as "not that bad," relying on an accountant in St. James to take care of it.
"The farmer writes out the check, and one harvester pays the other," Karau said. "Both harvesters are contractors and are issued a 1099 tax form, like the W-2 form that employees get."
—–
Karau and his crew work seven days a week, 15 to 20 hours a day. He gets up around 6 a.m., has breakfast in the camper or at a restaurant, fuels the combine and trucks and unloads the previous day's grain at an elevator. When the dew on the grain in the field has dried, he climbs into the combine cab.
"In Kansas, we can start combining between 8 and 9 a.m. and run until some time between 9 p.m. and midnight, depending on when the elevator closes, when the trucks are full or when the moisture comes back," Karau said. "Our days are shorter in South Dakota, just 10 or 12 hours, because there's more moisture in the air. But when the sun shines, it's time to make hay (as the old saying goes). A hailstorm will wipe out a farmer's crop, so we don't stop the combine during the day. When you have only one combine, you keep it going. When it rains, that's the time to sit. We eat on the run, either bringing food with us or a truck driver brings it from a convenience store. You get out to stretch your legs once in a while, but you don't stop." The end of the day brings the reward of a hot shower in the camper and a real meal, usually in a restaurant.
The job of custom harvesting may sound like all work and no play, but Karau finds ways to have fun on the job.
"I love to play in the mud in my own field and in customers' fields," he said. "I replace the combine tires with tracks in the fall. It's the only way to get the crop in sometimes, depending on field conditions. If we get stuck, the only thing that's going to get us out is a backhoe. But we've never been stuck, not even last fall in Iowa, when the combine was leaving three-foot tracks."
Karau's prize possession, his combine, also has a corn head, which he uses on his own crop and occasionally for late autumn custom work in Iowa or South Dakota, after his own crop is in. It's the corn head, with it's conical parts, that makes a combine running with headlights at night look like a giant insect, perhaps a praying mantis, its forelegs stretched out in front, ready to pounce on a meal. It's also a photo of the combine with corn head that Karau had printed on computer mouse pads to give away to customers, other harvesters, and the occasional visitor. That's about all the advertising he does, except when he's looking for harvest crew employees. His networking, he said, "just takes care of itself" and consists mainly of participation in the organization U.S. Custom Harvesters, Inc.
—–
"I worked with several different harvesters (USCHI members) last year and they have been a big help in making my business grow," Karau said. In his board candidate profile in the February issue of HARVEST NEWS (the USCHI publication), Karau lauded these people for their work with him, listing them by name. Several of them are former USCHI board members.
"When I bought my combine in 2000, my goal was to get on the USCHI board of directors," Karau said. "There are seven board members, including three officers." This year he became one of the seven and is preparing to tackle issues.
"There are more laws and regulations than there were when I began custom harvesting," he said. "And there's a difference between what we can do as independent contractors versus what a commercial company can do. When we haul our own machinery, we're exempt from some Department of Transportation laws that apply to commercial haulers. But there are new regulations on fuel tanks, which is a federal issue.
"The way the law reads, if you have a 119-gallon fuel tank on the back of a pickup, a 16- or 17-year-old without a Commercial Driver's License can drive the pickup out to the field to fuel the combine. A 500- to 1,000-gallon fuel tank requires the driver to be age 21 and have two special licenses (CDL and hazardous materials), even if the tank is empty. Some custom harvesters have tanks that big, so the USCHI is sending representatives to Washington, D.C., trying to get the law changed to not include empty tanks. The regulation would still apply to full tanks. This all began because of what happened on Sept. 11, 2001."
Although he's not slated to go to Washington unless one of the board members scheduled to go cannot do so, Karau said, "As a board member, I plan to take an active part in trying to get things done that will benefit all members and harvesters."
—–
The USCHI
U.S. Custom Harvesters, Inc., is an association of professional custom harvesters, established and chartered in 1983 in the State of Texas. It serves as a link between harvesters and the many groups of people with whom they work, such as farmers, businesses, state governments and the federal government. The organization is funded by dues. Its primary means of communication with members is its website and publication, HARVEST NEWS, in which Karau's profile as a board candidate appeared.
The mission of USCHI includes the advancement of its members by representing and promoting the harvesting industry, positively influencing government and regulatory agencies and enhancing the profitability of custom harvesters and their customers.
Reaping What You Sow
Karau was active in 4-H and Future Farmers of America while growing up. He recalled, "My 4-H projects were farm safety, hogs and cattle. I was a member through high school. In FFA, I was on the dairy team and ag mechanics team." Karau continues his involvement by supporting livestock exhibits at the Watonwan County Fair. Every year, he "buys" livestock at the 4-H auction, including beef, goats and pigeons. The money—$600 last year—goes to the young people who get to keep their animals or birds.
Karau's other community involvement includes serving a third year on the Watonwan County Soil and Water Board, membership in the St. James Area Chamber of Commerce, Farm Bureau membership and participation in St. Paul's Lutheran Church.
Gleaning The Facts
Favorite subjects in school? History, because it's kind of interesting how this country was formed and how the government got started, and agriculture (for obvious reasons).
Preparation/education received for your business? "None, just through ag class and business and accounting classes in high school and my experience working for others."
What would you like to have studied? More math and business classes. I've thought about taking a class, but I don't have the time."
Other jobs? After I graduated from St. James High School in 1985, I worked for canning companies in Fairmont and I custom combined in Northern Minnesota. When I lived in St. Cloud (his then-wife was going to college there), I worked for six months for a potato farmer. When I returned to St. James, I drove gravel trucks for Roadways Construction and did farm work after hours in the fall. Then I ran heavy equipment for a construction company in Bingham Lake before I began working on and off for Ken Henderson as a hired man.
Tell about your family. "While I was growing up, my father, Marvin, custom harvested small grains, corn and soybeans. My mother is named Garnet. I have two children: Allison, 22, who works for Minnesota Valley Pet Hospital in Mankato, and Andrew, 21, who works for Mindeer in Truman.
Hobbies? "I enjoy winter sports—football, basketball, wrestling—going to the games or listening to them on the local radio station. I also enjoy Nascar races and truck and tractor pulls. When I sit at home, I watch reality TV and detective shows.
Accomplishment of which most proud? Being recently elected to the USCHI Board of Directors.
Most valued possession? The combine.
Most valued intangible? Being involved with USCHI Board members, talking with peers and getting advice.
Three terms that describe you? Crazy, hard working, passionate about my work.
If you weren't custom harvesting, what would you be doing? Driving truck over the road.