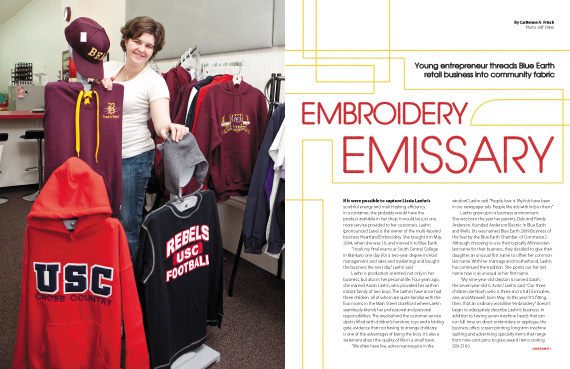 Young entrepreneur threads Blue Earth retail business into community fabric.
Photo by Jeff Silker
If it were possible to capture Lissia Laehn's youthful energy and multi-tasking efficiency in a container, she probably would have the product available in her shop. It would be just one more service provided to her customers. Laehn (pronounced Lane) is the owner of the multi-faceted business Heartland Embroidery. She bought it in May 2004, when she was 19, and moved it to Blue Earth.
"I took my final exams at South Central College in Mankato one day (for a two-year degree in retail management and sales and marketing) and bought the business the next day," Laehn said.
Laehn is production-oriented, not only in her business, but also in her personal life. Four years ago, she married Aaron Laehn, who provided her with an instant family of two boys. The Laehns have since had three children, all of whom are quite familiar with the four rooms in the Main Street storefront where Laehn seamlessly blends her professional and personal responsibilities. The area behind the customer service desk is filled with children's furniture, toys and a folding gate, evidence that not having to arrange childcare is one of the advantages of being the boss. It's also a statement about the quality of life in a small town.
"We often have live, active mannequins in the window," Laehn said. "People love it. My kids have been in our newspaper ads. People like ads with kids in them."
Laehn grew up in a business environment. She was born the year her parents, Deb and Randy Anderson, founded Anderson Electric in Blue Earth and Wells. (It was named Blue Earth 2009 Business of the Year by the Blue Earth Chamber of Commerce.) Although choosing to use their typically Minnesotan last name for their business, they decided to give their daughter an unusual first name to offset her common last name. With her marriage and motherhood, Laehn has continued the tradition. She points out her last name now is as unusual as her first name.
"My nine-year-old stepson is named Izaiah, the seven-year-old is Avian," Laehn said. "Our three children are Noah, who is three and a half, Emmalee, one, and Maxwell, born May 16 this year." It's fitting, then, that an ordinary word like "embroidery" doesn't begin to adequately describe Laehn's business. In addition to having seven machine heads that can run full time on direct embroidery or applique, the business offers screen-printing, long-arm machine quilting and advertising specialty items that range from nine-cent pens to glass award items costing $80-$100.
—–
While growing up, Laehn not only absorbed the nuances of being in business, but also learned about commercial embroidery. Embroidery is a needlework decoration method by which thread is embellished onto the decorating surface. It's the method used in decorating most high-end garments.
"My mom's sister had an embroidery shop in Spirit Lake, Iowa," Laehn said. "Growing up, I spent part of many summers helping in the shop. When an embroidery business in Swea City, Iowa, became available, a Realtor specializing in embroidery businesses phoned my aunt, who thought I should use my business degree and convinced me to buy the business. I bought the name, the customer list and all the tangibles such as machines and thread. I still call my aunt for advice about the machines."
Laehn's parents co-signed on the loan the local bank made to the 19-year-old entrepreneur. The next step was to move the business to a commercial site in Blue Earth. The Andersons bought a commercial property in town and Laehn moved her business into the 50'x11' space it still occupies, sharing a building with H&R Block. In her start-up, the threads that connect southern Minnesota communities worked to Laehn's advantage.
"I grew up in Blue Earth, and the business had begun in Frost, just seven miles away, so people knew of it in a new spot and with a new owner," she explained. "I also sent letters to the customer base explaining the change of ownership and location, but offering the same services. My aunt and the previous owners helped arrange the shop before I had a grand opening in June 2004."
A pattern of family involvement is evident. "Mom does the bookwork and gets paid with love," Laehn said. "Grandma Jordahl comes to the shop nearly every day and plays with the children. There's a rocker-recliner here for her. There's also part-time paid staff, including my Grandma Anderson, who does all the thread trimming. Diane, who lives in Blue Earth, runs the embroidery machines. Diana, who lives outside of Easton, does some sewing projects, especially making quilts from start to finish. The previous owner, Charlene, who lives in Frost, also works here."
Laehn doesn't limit her outreach to word-of-mouth. She has had booths at women's expos and trade shows in Blue Earth. She advertises on radio, in the Faribault County Fair book, and in newspaper ads.
"I sponsor school sports acknowledgments and a weather spot on the radio," she said. "Everyone listens to the weather."
—–
Although a member of Blue Earth Area Chamber of Commerce, Laehn hasn't taken on Chamber projects because, explaining, "I cannot go in 15 different directions. There's no time to do more. The original business was strictly embroidery. I added the screen-printing the first year because the school district and sports teams wanted it." Screen-printing is the method most T-shirts and related garments are decorated. It is a stencil method of printmaking by which ink is forced through a fine mesh, or 'silk' screen, onto the decorating surface.
"In screen-printing, we can mix any color," Laehn said. "Our inks include metallic and glitter, and we can custom design or use designs we have on hand. In August 2008 I added long-arm quilting. I had gotten into sewing, made a quilt and asked another long-arm quilter to quilt it for me. She was eight or 12 weeks backed up, so I saw the need for the service and bought the machine. My parents had to co-sign for that loan, too, because of my age. With the long-arm machine, we finish quilt tops and also pieced or made quilts from scratch, the most recent from fat quarters."
When Laehn's parents wanted advertising pens to give away last year, she further diversified into advertising specialty items, working with a couple hundred vendors. Her multi-faceted business now fills thousands of orders a year, many for repeat customers. Her frequent large customers include the Blue Earth Area School District, the United Hospital District, and the local phone and cable company, BEVCOMM.
"That's small-town loyalty," said Laehn. "We also have individuals as customers. A customer may want a name embroidered on a beach towel or on a Christmas stocking. We do a ton of stockings every year."
Laehn operates the long-arm quilting machine and does occasional other machine work. She places orders and handles customer service, such as going to the United Hospital District to deliver a clothing order for employees. In determining the price of a job, she looks first at the quality and quantity of the item. Other factors are the color of the garment and the number of stitches in embroidery or number of ink colors in screen-printing.
"As a rule of thumb, the lighter color the garment is and the fewer stitches or ink colors, the lower the price," she said.
A typical day in Laehn's 45-hour workweek may sound mundane, but it involves juggling a variety of work-related and family responsibilities. "After I check the e-mail and respond to it, I plan the day's schedule and make a list," she said, "and I might order one customer's calendars, change a window display, place orders for garments, run 12 shirts on an embroidery machine, do custom embroidery or screen-printing for another customer and choose donation items for events such as a post prom party. I gave a sweatshirt to United South Central School in Wells and a jacket to the Blue Earth Area School District. One had a football design, the other BUCS, which stands for Blue Earth Area Buccaneers."
Laehn refers to her mid-morning break as a "baby break." The two older boys are in school, and Noah goes to preschool half days three times a week. On other days, Laehn may take a break to walk with Noah to the school playground a block away.
"It's a very relaxed atmosphere," she said. "After Emmalee was born, I was back here the day I got out of the hospital and then I took about a week off. With Maxwell, I had my laptop with me at the hospital. I took one week off after he was born and went back to work on the following Monday."
—–
In just six years, Heartland Embroidery has become a Main Street fixture. The briskness of business is evident in the ten walk-ins on an average day.
"People come in to place an order, approve artwork or pick up an order," Laehn said. "I enjoy the diversity of work. The school has about 20 designs they like, but there are 20,000 designs in catalogs, so it's unusual that we run the same design for an individual. We can digitize a custom logo for our machines, so whatever you want, you can get. The exception is camping chairs that fold up and fit into a bag. Some cannot go through the machine. One time I stood there and held the legs of the chair the entire time that the chair was on the machine. For screen-printing, a customer can flip through a binder of what we've done in the past or hand us a sketch and we'll design something."
Some jobs involve removing a design from a shirt or other garment. Laehn said, "You would be surprised how many people want something removed, like a name on a jacket they bought from a garage sale or resale shop. They want to put their own name in, especially for a child."
If able to change one thing about her business, she would have a bit more space around the embroidery machines. "That would be nice," Laehn said. "It gets kind of crowded when we have big orders and several of us are working. Sometimes we have rush orders and work late into the night. You've got to meet the deadlines to keep your customers happy. We had a contract embroidery order a while back from a screen printer in Fairmont who sub-contracts with us. He had 20 or 30 golf towels for a tournament that needed a design on Monday. This was on a Friday. We had originally been told the order was needed a week later. After the embroidery was done, the threads between all of the letters had to be trimmed. My parents, Grandma Anderson and Aaron pitched in. My sister was at home with our kids. We almost pulled an all-nighter; we ordered pizza and had a party. These situations don't happen often, but we'll usually try our hardest to accommodate a customer."
Laehn has less pleasant memories about an equipment failure compounded by bad weather.
"The six-head machine broke down two days before Christmas and I had an emotional breakdown in the store," she recalled. "Weather delayed delivery of the replacement part, but our regular UPS delivery man called the UPS depot and insisted the part get delivered. It came special delivery, just before 5 p.m., so my father and I called the manufacturer's tech and he talked us through the installation. I was able to load new designs onto the machine and to complete Christmas orders around 2 p.m. on December 24. Then I called customers to come pick up their orders. Most orders get picked up, except for large orders, which I deliver."
—–
When going home to the six-acre hobby farm the family purchased last year, Laehn steps into a different world. "We bought the farm for the kids," she said. "When Aaron is home, he and the boys take care of the pigs, chickens, cats and dogs. Aaron works for the railroad as a conductor and he's on call, so he has an unpredictable schedule. He gets called to the depot in Mankato, St. James or Worthington. When he's gone, the boys do the chores."
She is sometimes surprised when realizing she has been in business six years, even though she has seen some changes. "The raggedy look is coming back," she added. "On the other hand, new and better corporate apparel is coming in, such as snag-free polo shirts. My goal is to have fun and have a job I enjoy. I get to be creative in the art and design, meet lots of interesting people and bring my kids to work."
Varied Patterns
What are your hobbies? I used to scrapbook, but I can't leave it out now to work on it. I like to sew and quilt for myself. I just started this sewing adventure a few years ago, and none of my quilts have made it to the long-arm machine yet.
Favorite family activities? We have game night at our house, with 20 or 30 adults and children, when we play board games and have bonfires. We try to visit Aaron's parents in Cheyenne, Wyo., a half-dozen times a year.
What accomplishment makes you the most proud? Being able to keep the business alive for six years. They say you'll know after five years if you've made it.
What three words describe you? I'm pretty relaxed, I'm organized and I'm very spontaneous. I planned our wedding in three weeks. Last February we left for Florida a few hours after coming up with the idea, just put the four kids in the van.
If you weren't in this business, what would you be doing? I'd be working in a business, probably in sales, or I might be a stay-at-home mom.
Basic Stitches
Tell about your childhood. "I grew up in Blue Earth and graduated from Blue Earth Area High School in 2002. I have a younger sister, Chelsey, who is in the medical field and therefore not involved in my business.
What was your favorite subject in school? Math was my favorite. I just like numbers and I like the challenge of it. History was boring to me, but I loved learning about different cultures in social studies. I also enjoyed home economics. When I'm pregnant, I bake up a storm.
What was your first job? Others? Babysitting, then while I was in high school I worked in a local candle and bath shop where I got retail experience. I also hand-poured candles and made soap and colored, scented lotion. While in college I commuted from home, so I worked here at Double Play, the restaurant where I met Aaron.