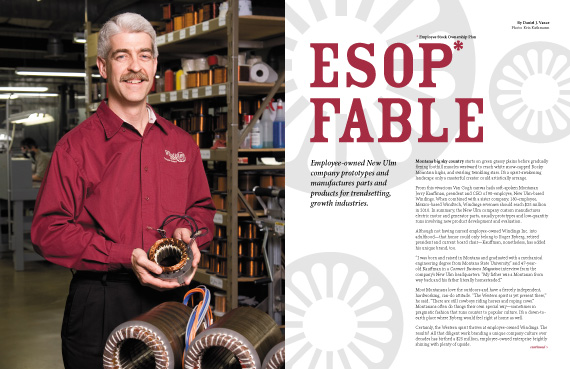 Employee-owned New Ulm company prototypes and manufactures parts and products for trendsetting, growth industries.
Photo by Kris Kathmann
Montana big sky country starts on green grassy plains before gradually flexing foothill muscles westward to reach white snow-capped Rocky Mountain highs, and swirling twinkling stars. It's a spirit-awakening landscape only a masterful creator could artistically arrange.
From this vivacious Van Gogh canvas hails soft-spoken Montanan Jerry Kauffman, president and CEO of 90-employee, New Ulm-based Windings. When combined with a sister company, 180-employee, Mexico-based Windtech, Windings revenues should reach $25 million in 2010. In summary, the New Ulm company custom manufactures electric motor and generator parts, usually prototypes and low-quantity runs involving new product development and evaluation.
Although not having nursed employee-owned Windings Inc. into adulthood—that honor could only belong to Roger Ryberg, retired president and current board chair—Kauffman, nonetheless, has added his unique brand, too.
"I was born and raised in Montana and graduated with a mechanical engineering degree from Montana State University," said 47-year-old Kauffman in a Connect Business Magazine interview from the company's New Ulm headquarters. "My father was a Montanan from way back and his father literally homesteaded."
Most Montanans love the outdoors and have a fiercely independent, hardworking, can-do attitude. "The Western spirit is yet present there," he said. "There are still cowboys riding horses and roping cows." Montanans often do things their own special way—sometimes in pragmatic fashion that runs counter to popular culture. It's a down-to-earth place where Ryberg would feel right at home as well.
Certainly, the Western spirit thrives at employee-owned Windings. The results? All that diligent work branding a unique company culture over decades has birthed a $25 million, employee-owned enterprise brightly shining with plenty of upside.
—–
If possible, Kauffman would have preferred this story begin and end with Roger Ryberg or the other employee-owners—anyone but himself. He seemed a humble man who would rather share the limelight and dish out credit to others.When asked, he said Windings began in 1965, and Ryberg, in part, then purchased it in 1983 and started developing the company's unique culture.
"Roger is from Iowa," began Kauffman from an inauspicious office near the company front entrance. "He has an industrial engineering degree from Iowa State, went to 3M out of college and worked for them 17 years. Roger had courage and risked a lot leaving 3M because he was the New Ulm plant manager. Literally, he put down a mortgage on his house to buy Windings in 1983. Although it ended up being financially successful, he didn't know it would be when he started out."
The company culture of 3M included an expectation employees would stay all the way through their entire careers to retirement. Roger had bucked that company culture, in part, said Kauffman, because of a personal value system that had driven him to use his gifts and resources to help and serve others, rather than accumulate personal wealth. Ryberg's reasons were "altruistic," he said.
In 1992, Kauffman, also a 3M engineer, transferred to New Ulm, and they met while attending First United Methodist one Sunday morning. Eventually, the two realized they shared common goals.
"I had always had an interest in being part of a smaller company," said Kauffman. "3M was very good to me and I felt like I learned a lot and had contributed a lot to them. But the level of structure and bureaucracy in it was stifling at times. We sometimes did things because the company said we had to do them. You had less freedom to do what you felt was the right thing."
—–
By 2000, Kauffman had been with 3M 14 years—about the same clock time Ryberg had punched with the industry mega-giant. He had spent one year in an engineering training program and worked his way up through plants in South Carolina, Ohio, and finally, New Ulm. One aspect of Windings that appealed to Kauffman: In 1998, Ryberg had begun an Employment Stock Ownership Program (ESOP), in which Windings would become completely employee-owned within ten years.
"Roger was ultimately interested in allowing the people helping create the success to participate in the benefits of it," said Kauffman. "That's at the heart of what drove him to begin the ESOP. We became 100 percent employee-owned in 2008."
Kauffman intrinsically understood Ryberg's personal motivations. Kauffman's parents had met doing missions work in Chicago and he had spent two years at a private Virginia high school operated in conjunction with Eastern Mennonite University.
Said Kauffman, "So Roger wanted to talk to me. I had always been interested in being part of a smaller company. Our motivation for looking at an opportunity in a small company was the same. We also were interested in a situation where we had more freedom and flexibility and weren't restricted by a corporate bureaucracy that didn't make sense in some situations. Then he asked me if I would ever consider leaving 3M."
In order to advance at 3M, he would have had to relocate. But by 2000, Kauffman had a growing family and felt very comfortable living under Hermann the German's shadow. He could sense the longer he stayed with 3M, and moved up the ranks, the more his own deeply held personal values would conflict with theirs. He was becoming frustrated with company bureaucracy and wanted more freedom to help others accomplish their work goals—like any native-born Montanan would.
"So I came on board almost exactly ten years ago," he said, "and the idea was I would be involved in the leadership group, but not necessarily take the position I have today."
—–
The company culture at Windings has no equal in southern Minnesota, with a possible exception being Mankato-based Dotson Company.
Said Kauffman, "I could talk about (our culture) a long time. It's really important and at the core of what we're about. Everyone has the chance to influence the company. And we make no apologies for expecting a lot out of people. We don't just hire a pair of hands to work production lines. We want all our people actively involved in finding ways to make us better. Many times in work situations in some companies, people are inclined to point out problems, but not offer solutions. That's not acceptable here."
Production work teams are clustered around four basic tasks: stacking, fluidizing, machine shop, material prep, winding—(thus, the company name)—inserting, connecting, forming, varnish, and inspection. Each team has a great deal of autonomy, including being able to manage their schedules and workloads. People are evaluated as a team—not as individuals. Given the corporate organizational structure, the company places a lot of importance on team members helping other team members succeed. Literally everyone feels a responsibility to improve company operations because literally everyone is an owner.
"If you have a group of star shortstops, that doesn't give you a great baseball team," said Kauffman. "If you're good at what you do, you need to teach the people next to you to bring them up to your level."
About six years ago, about two-thirds of the employee-owners voluntarily participated in 7 Habits of Highly Effective People training. Over the last two years, about half have gone through Strengths Finder testing and training, which helped the employee-owners learn each other's personal strengths as workers and people. This has helped employees more fully appreciate co-worker contributions.
"We've devoted a lot of energy helping people understand how they can work effectively with others," he said. "Many companies invest all this time and money to make the line more productive, but not as much to make people more productive." One essential skill the company has nurtured in employee-owners: active listening.
—–
Windings doesn't hire production employees because of their work skills, but on personality and an ability to learn, teach, and listen. The vetting process includes an online assessment, called Zero Risk, which is a paid service that helps Windings find people matching a general personality profile. Also, most companies interview production workers about 15 minutes before making a hiring decision. A Windings interview can last up to four hours and involve a site tour and an interview with an entire production team. The team itself has input into the hiring decision.
"Clearly, [the employee-owners] we have are absolutely critical to the success of the company," said Kauffman. "And it's important for that process to be robust and well vetted and for team members to participate. This participation gives the employees a (further) sense of ownership. After all, team members know what the job is like and what type of person is needed more so than any human resources person."
—–
Generally speaking, an electric motor has two parts: a stationary part, called a stator; and a rotating part, a rotor. About 75 percent of company business consists of making stators, and the rest rotors and complete electric motors.
Said Kauffman, "In addition, we make some generators, which is basically just a motor run backwards. You either put electricity and motion comes out—as in a motor—or you put motion in and electricity comes out, which is what happens with a generator. The technologies are very similar." In that vein, Windings shares similar technologies and applications with North Mankato-based Kato Engineering, except that Winding's biggest parts and products would be much smaller than Kato Engineering's smallest.
The company doesn't do any design work. Customers bring their design and Windings builds to print. "We do custom, small lot work," said Kauffman. "We will take orders for one piece, but our average order is a few hundred pieces." Customers often use Windings for parts jobs too small, difficult or time-consuming. Kauffman said the company's main competitors are its customers, who in most cases could do the work themselves.
And their customer base includes manufacturers needing parts for factory machines, automobile companies such as General Motors and Ford seeking prototype parts to supply hybrid and electric vehicles, aerospace companies asking for parts that will end up with Boeing and Airbus, and Parker Hannefin, an electric motor manufacturer, which has a plant in New Ulm. Other customers make operating room medical tools and still others are companies involved in wind, ocean, and wave energy generation.
"But our top customer right now is Remy International, which is a diesel/hybrid bus application. You see the buses in the Twin Cities. Our parts are down in the wheels."
—–
Windings has 90 employees in New Ulm and another 180 in a sister company south of the border in Mexico. New Ulm handles the smaller and newer orders, and when companies graduate to needing medium-sized runs, the Mexican plant can take over production. Roger Ryberg bought the plant in Mexico in 1991.
"When people hear we have a sister plant down there," he said, "they might think of Ross Perot's giant sucking sound metaphor. But it's actually the opposite. Our sister company Windtech preserves jobs in New Ulm. We in New Ulm incubate projects, do prototypes, and small volumes, and some of these projects will grow into a few hundred or a thousand a month. We then can transition that business to Mexico. That allows us to continue doing business with the customer rather than having it go away to a lower-cost competitor—and have the chance of our next project with the customer walking out the door with it. With the plant in Mexico, we have the ability to present ourselves as a one-stop shop."
Windings' annual revenues of $25 million are split evenly between Mexico and New Ulm. Engineers from one plant often visit the other, and sometimes production people from New Ulm fly to Mexico.
—–
The company seems to have a number of other competitive advantages. For one, it's ISO 9001 and AS 9100 certified, the latter a designation that gave Windings entry into the aerospace industry.
Kauffman said, "We're involved in a lot of leading markets involved with changing technologies, such as wind generation, waves, and water. Many products are moving towards being more electrical—and airplanes are a good example. More and more of the things that move on aircraft are becoming electric. That market is clearly growing, and it fits our niche of being labor intensive."
Also, the company since the early '80s has invested resources disproportionate to its size into computers and information technology. For example: "There are computers at every work center," said Kauffman. "They give team workers specific and detailed instructions, including pictures, about what they are going to be doing on a particular part. Included in those instructions are who is going to work on the project and what needs to be done."
—–
"We have a plan to continue growing," said Kauffman. "Over the years, we've grown primarily through word of mouth, and now are investing significantly in sales, which we hadn't done before. We have a full-time sales manager now. We do more focused sales efforts in the plant—and we are doing more with trade shows and exposing ourselves more."
He said the United States has hundreds of companies that need Windings expertise and yet have absolutely no idea of its existence. The company has been working hard to raise its visibility.
"We are trying to help them know we exist because we know we can help them," said Kauffman.
—–
Optimized Operations
When hired in 1986, Jerry Kauffman became part of 3M's Optimized Operations, a program designed to incubate about 50 promising, newly hired engineers from universities all across the country.
"They would take a group, usually three to six engineers, from this large pool," said Kauffman, "and put them on a team at various plant locations throughout the country. We worked on such things as changing factory layouts, process flow, paperwork issues, material handling or costing. It was a wonderful entry-level job with exposure to the operations at a depth most entry-level engineers would not have. We also had access to managers and executives you typically would not be working with as entry-level engineers."
Once through with training, these new engineers moved on to "real" jobs at 3M manufacturing facilities. Kauffman was one of only two married engineers in the program and his wife was allowed to move with him. They spent time in the program in South Carolina and St. Paul, among other cities, before living five years in Ohio and moving to New Ulm in 1992.
Cultural Connection
Said Windings President Jerry Kauffman: "I have visited Dotson Company in Mankato and met Denny Dotson. I took the tour. It was obvious, not only from a business model but also a corporate philosophy, that our companies have much in common. I first met him at an Enterprise Minnesota "State of Manufacturing" focus group. I now participate in its CEO Peer Council group along with Dotson Company President Jean Bye and other executives."
Doing Good
Jerry Kauffman said, "I believe it's inherent in people to want to feel what they do is important. What we do is important here. We build a part in a hybrid vehicle that reduces pollution and a part that goes into a centrifuge that helps produce vaccines that save lives. Ultimately, we all want to feel that what we do is important and accomplishing good. In this company, we strive hard creating that environment for people."
Reaching Out
In both 2002 and late 2009, customer orders began slowing at Windings. Rather than lay off employee-owners, the company began a voluntary "community service hour" program, in which employees could work 32 hours a week and receive partial pay for other hours spent serving the community.
"Many employees took advantage of this program," said Kauffman, "and they did things like volunteering as a tutor or reading in a local school, assisting with mealtimes at a nursing home, walking dogs at the local Humane Society, or performing outdoor work at the local state park." Even after the company ramped up production and the program ended, some employee-owners continued on with their volunteer service.