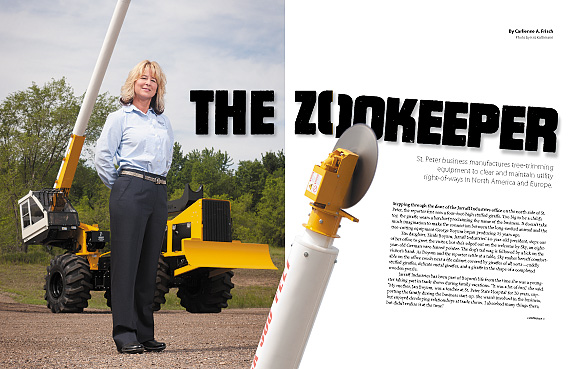 Photo: Kris Kathmann
The Zookeeper
St. Peter business manufactures tree-trimming equipment to clear and maintain utility right-of-ways in North America and Europe.
Stepping through the door of the Jarraff Industries office on the north side of St. Peter, the reporter first sees a four-foot-high stuffed giraffe. Too big to be a child's toy, the giraffe wears a kerchief proclaiming the name of the business. It doesn't take much imagination to make the connection between the long-necked animal and the tree-cutting equipment George Boyum began producing 35 years ago.
His daughter, Heidi Boyum, Jarraff Industries' 44-year-old president, steps out of her office to greet the visitor, but she's edged out on the welcome by Sky, an eight-year-old German wire-haired pointer. The dog's tail wag is followed by a lick on the visitor's hand. As Boyum and the reporter settle at a table, Sky makes herself comfortable on the office couch near a file cabinet covered by giraffes of all sorts—cuddly stuffed giraffes, delicate metal giraffes, and a giraffe in the shape of a completed wooden puzzle.
Jarraff Industries has been part of Boyum's life from the time she was a youngster taking part in trade shows during family vacations. "It was a lot of fun," she said. "My mother, Jan Boyum, was a teacher at St. Peter State Hospital for 20 years, supporting the family during the business start-up. She wasn't involved in the business, but enjoyed developing relationships at trade shows. I absorbed many things there, but didn't realize it at the time."
—–
Boyum began telling the company story, saying, "We provide utility, pipeline and other contractors with the high quality, innovative equipment they need to safely and efficiently clear land and maintain utility right-of-ways. In either a wheeled or a track configuration, the Jarraff is self-contained and requires virtually no set-up time. This allows smaller crews to do more in less time, and since workers never leave the ground, the Jarraff provides safety to the job. Other, older technology required two or more operators at a job site—one in the bucket truck and two or three people as a ground crew, including a safety person. With the Jarraff, one person is in the equipment, while the other can be running the chipper."
It was 1978 when George Boyum conjured up the machine that changed right-of-way maintenance in the utility industry. Though he had an education in biology, rather than engineering, Boyum began manufacturing the prototype of the Jarraff All-Terrain Tree Trimmer in the rural St. Peter farm shop of his first employee, Keith deVlaemink (now deceased), and soon rented other buildings in Mankato.
The prototype Jarraff mounted on a pickup truck had an air-operated boom and a pneumatic chain saw operated by a hand-held control panel. The machine was lightweight, able to negotiate rough terrain, required no set-up time, and had a high degree of stability without outriggers.
Representatives from Louisiana Power and Light Company (LPL), who were searching for a machine with those characteristics to replace their traditional "cherry picker," heard about the Jarraff and contacted its inventor. He began making alterations to meet their exact specifications, including converting the system from air to hydraulic operation. The chain saw was replaced by a high-speed circular saw. An operator's chair with lever-type controls replaced hand-held controls.
The Jarraff, still mounted on a pickup truck, trimmed its first trees in a demonstration held in Little Rock, Ark., in 1978. The next step was to mount the Jarraff on a four-wheel-drive flatbed with dual wheels. It was then Jarraff Industries, Inc. entered into an agreement with Asplundh Tree Expert Company, a Pennsylvania firm that worked closely with Louisiana Power and Light. At the same time, LPL arranged for a $50,000 research and development contribution to Boyum's efforts, resulting in the first fully operational Jarraff trimming the trees in LPL's Northern Division in May 1979. The Jarraff then had a reach of 60 feet. (The current reach is 75 feet.) The first models had insulated, extendable booms to isolate the operator from electricity in case of accidental contact between the boom and a high-power line, or a branch that had fallen on the power line. The telescoping boom was made entirely of non-conductive and high-tensile fiberglass and was flexible to withstand impacts.
George Boyum's first marketing effort was to make cold calls on prospective customers, with only a moderate rate of success.
"Father hopped in a semi, with a machine in the back, and drove south," his daughter recalled. "Even though we already had Louisiana Power and Light as a customer, he found educating potential customers was quite a challenge at first. He sold only two machines the first year. Now we sell 90 to 100 pieces each year, depending on the economy. It's a niche market, but right-of-ways must be cleared. The reason is simple: During any kind of storm, if a tree falls on a power line, the pole may break, and the power goes out. Having a maintenance program to remove encroaching limbs helps keep the lights on."
—–
From the time she was in her early teens, Boyum worked in the company's office for her father. "He was more the entrepreneurial one and I was more organized," she said. "I also delivered and picked up parts."
Her career goal, though, was to be a marine biologist. As a competitive swimmer, she felt completely comfortable in the water and loved dolphins. "But I now have ear problems that prevent my swimming," she said.
After graduating from Mankato West High School, she enrolled at Minnesota State University, taking general education and some business courses. She left and returned a couple of times, but didn't finish a degree.
"I don't like sitting in a classroom," she said. "Many of our customers are in the same situation; they just got into their business, got their hands dirty, and are very successful. This isn't a promotion for not going to a college or trade school. It's all very important."
After leaving MSU, Boyum sought to find herself in Colorado, where she skied, visited friends, and got her first dog, Apollo. She eventually returned to Minnesota, leaving Apollo with an ex-boyfriend.
"I moved to Minneapolis and worked for Northwest Airlines for nine years," said Boyum. "The most valuable experience was in customer service and refunds. My department was working during strikes. I walked through picket lines, never thinking anything of it. The planes were not flying, so people wanted their money back. Then, after taking concessions at NWA, I lived in and out of my car for three months. My father took my cat for me. I could have come to Mankato every night and driven back and forth, but I had wonderful friends who would take me in and have dinner and a pillow for me. They all are still my best friends."
With her father nearing retirement, Boyum moved to St. Peter in 1999. She and her brother, Lee (now retired), continued the business. He was in charge of product development and engineering. ("Lee was born wired as a hands-on engineer," she said. "Our parents say he graduated from LEGO university.") She jumped into sales and marketing.
—–
"I had no idea how huge the arbor culture and utility industry was until I got back into it," Boyum said. "My father introduced two pieces of equipment in Australia in 1984. That equipment is still running, but now some customers are retiring their 20-year-old equipment and replacing it. The equipment is still sold directly to contractors there, and sales vary from year to year."
The company wasn't all 'under one roof' until 1998. "We had a rented Quonset hut in LeHillier (Mankato) and various buildings in St. Peter," Boyum said. "Now we have several buildings in the present location. The main Jarraff shop and offices were built here in 1998 because we were renting a building on this site from the St. Peter Development Corporation. That's where we now do our Geo-Boy Brush Cutter assembly. We built a large Jarraff assembly building, a welding and fabrication building, and this office."
Helping Boyum manage the 36-employee company is a female operations manager. Boyum said, "Although I know more about the manufacturing process than I ever have, I'm learning still more from Kim, who has a manufacturing and accounting background." Two supervisors, one in welding and fabrication, and the other in assembly, report to the operations manager. A former customer is sales manager.
"We now do more trade shows," Boyum said, "and are better at educating customers. We have articles and ads in trade magazines. Our website and all other advertising is designed by Lime Valley Advertising. There is also word-of-mouth. Customers can be as small as a mom-and-pop business, up to utility companies, electrical co-ops, municipalities, and other government entities, such as Fish and Wildlife."
Although her father was the first to take Jarraff international, Boyum has expanded the overseas market. "In 2003, we sold one Jarraff to a gentleman from France who learned about us through a trade magazine," she said. "He became our first representative in Europe, but was not as enthusiastic as the gentleman with whom we now contract. Our European representative is from the Netherlands and has access to eight countries—Germany, the Netherlands, Belgium, Italy, Switzerland, Austria, France and Spain. About 15 percent of our sales in the past year were to Europe."
—–
Boyum's days are fairly streamlined, each often a continuation of the previous day's activities.
"I greet employees and check for problems in operations, which ultimately are reflected in our delivery dates," she said. "We make 99 percent of our delivery dates. We have contract engineers, a full-time manufacturing engineer and student interns from MSU's Engineering Department. And there are more meetings than I ever imagined."
In addition to routine employee and insurance meetings, there are meetings of the many community groups with which Boyum is involved. (See Sidebar #1) There's also the peer counsel group in Owatonna that provides a forum for owners of manufacturing companies as a means of support, opinion exchange and education.
Despite her marketing acumen, Boyum believes her greatest strength is innovation. She explained, "I consider myself the company's research and development person because I spend the most time with the customers and listen to what they talk about. The Jarraff was extremely innovative 35 years ago. Now I ask customers, 'Do you have all the tools you need or is there something we should be looking into?' I'm always thinking, 'What can we do to make this happen?' Our most recent piece of equipment is a smaller mechanical tree trimmer, the mini Jarraff, which is designed more for residential areas. I feel with this machine we can meet a need that contractors have had for years.
"Keeping our customers happy is not difficult. I don't think of it as a business philosophy, but if anybody can help our customers, it's us. We need to remember that we're the best at what we do. I work 50 hours a week, less than before, but it seems non-stop because I'm thinking all the time. It's unique, being a woman in a male-dominated industry."
Boyum does, however, have a knack for balancing work with some play. "I like jogging and walking outdoors," she said. "I walk with the breast cancer team even though I have no connection. I have a Jet Ski and enjoy boating. I spend time at my place on Lake Jefferson, and on occasion hunt upland birds for Sky's benefit. I also enjoy gardening and traveling. With my father I've been to Norway, our homeland, and traveled with friends to tropical destinations. I have a feeling I'll be in France before the end of the year."
—–
Boyum's six regularly scheduled annual trade shows have taken her to Venezuela (with the Tree Care Industry Association), Australia, Quebec City, Vancouver, and throughout the U.S. In 2009, she went to Chile and Brazil on a trade mission with then-Governor Tim Pawlenty.
"The trip was well thought out," she said. "The trade mission made connections for anyone interested. We had translators. It was a real one-on-one experience, but we also had round-table discussions, and spent time with the national Chambers of Commerce in both Brazil and Chile. Latin America is certainly a future business destination for Jarraff Industries. I have wonderful connections there that will help make that happen."
"My goal is to have two more pieces of equipment, which will complement our existing equipment, and still maintain the atmosphere of a family business," Boyum said. "This can be a challenge in itself as we grow."
As Boyum and the reporter rise from their chairs, Sky joins them at the door, eager for a farewell scratch from the visitor. It just might be that the dog has the choicest role at Jarraff Industries.
—–
Branching Out
St. Peter Area Chamber of Commerce Board\
The Chamber's Business Education Committee (involving students with businesses)
St. Peter Development Corporation
Enterprise Minnesota (providing support and education for Minnesota Manufacturing companies)
International Society of Arbor Culture
Utility Arborist Association
Tree Care Industry
National Federation of Independent Business
Boyum's Roots
Grew up in North Mankato, the older of two children.
Favorite school subject: Humanities because the teacher related well with students and thus made an ordinary subject interesting.
Least favorite subject: English, because I have some level of dyslexia.
Preparation for this business: Going to trade shows and working for my father as I grew up; some business classes in college.
Q & A
Family: Sky, a German wire-haired pointer.
Of what accomplishment are you most proud? The growth of the business and adding a new product line—a back yard, smaller mechanical tree trimmer.
Most valued intangible: My health.
Three words that describe you: Giving, caring and fun-loving. I enjoy laughing. I'd rather use energy on that than on yelling and being counterproductive.
What would you change? The older I get, the more I find history interesting—I like to learn where things came from, how they evolved, and the similarities you see in things. I also wish I knew five different languages because we have customers in several countries in Europe.
If not in this business, what would you be doing? I'd probably be working for Delta Airlines in Atlanta or look to see what business need was not being met locally and go down that path. I enjoy working.
THE ESSENTIALS
Jarraff Industries
Location: 1730 Gault Street
St. Peter, MN 56082
Web: jarraff.com
Telephone: 934-8688