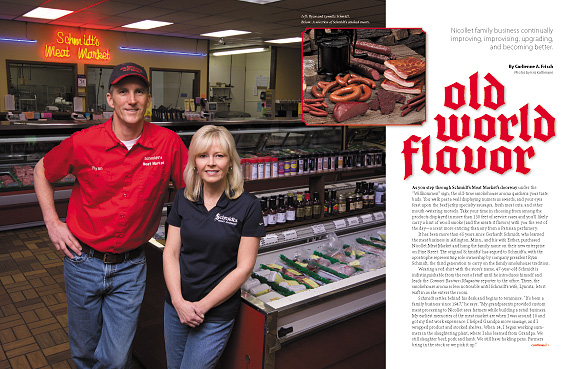 Photo: Kris Kathmann
Old World Flavor
Nicollet family business continually improving, improvising, upgrading, and becoming better.
As you step through Schmidt's Meat Market's doorway under the "Willkommen" sign, the old-time smokehouse aroma quickens your taste buds. You walk past a wall displaying numerous awards, and your eyes feast upon the beef jerky, specialty sausages, fresh meat cuts, and other mouth-watering morsels. Take your time in choosing from among the products displayed in more than 130 feet of service cases and you'll likely carry a hint of wood smoke (and the meats it flavors) with you the rest of the day—a scent more enticing than any from a Parisian perfumery.
It has been more than 65 years since Gerhardt Schmidt, who learned the meat business in Arlington, Minn., and his wife Esther, purchased Nicollet Meat Market and hung the family name on their new enterprise on Pine Street. The original Schmidts' has segued to Schmidt's, with the apostrophe representing sole ownership by company president Ryan Schmidt, the third generation to carry on the family smokehouse tradition.
Wearing a red shirt with the store's name, 47-year-old Schmidt is indistinguishable from the rest of staff until he introduces himself and leads the Connect Business Magazine reporter to the office. There, the smokehouse aroma is less noticeable until Schmidt's wife, Lynnita, lets it waft in as she enters the room.
Schmidt settles behind his desk and begins to reminisce. "It's been a family business since 1947," he says. "My grandparents provided custom meat processing to Nicollet area farmers while building a retail business. My earliest memories of the meat market are when I was around 10 and got my first work experience. I helped Grandpa move sausage, and I wrapped product and stocked shelves. When 14, I began working summers in the slaughtering plant, where I also learned from Grandpa. We still slaughter beef, pork and lamb. We still have holding pens. Farmers bring in the stock or we pick it up."
—–
When taking over in 1975, Gerhardt and Esther's sons, Gary and Bruce, incorporated the business and expanded the sausage making. They used their father's recipes, including those for venison and other wild game. Gary, who taught at what is now South Central College in North Mankato, focused on business aspects, while Bruce handled day-to-day operations.
In 1983, they more than doubled square footage with the purchase of the neighboring Nicollet Oil Company property and construction of a building adjoining the old plant. The expanded retail enterprise was nicknamed "The Meating Place." They added a new smokehouse in 1990, which was wood-fired, like their old smokehouses. They later neighboring property and again expanded the retail area, which now accounts for 80 percent of business, with farm animal and wild game processing each accounting for 10 percent. In 30 years of ownership, they increased the employee base from five to more than 40. During the busiest months (November and December), Schmidt's now employs 55 workers, including 20 full-time.
When Ryan Schmidt bought into the business in 2005, he had both the practical experience and education for the job. "While a student at MSU, I often worked inside the plant, cutting beef and pork, manufacturing sausage," he says. He graduated in 1989 with a double major in business (accounting and finance), having taken a year's break to join a friend in San Diego, where he worked in the meat department of a La Jolla grocery store while waiting to establish the California residency needed for reduced college tuition. His avocation sidetracked his plans.
"I wanted to be a ski bum," he says, "but after having surgery to correct a snow ski accident injury, I returned to Mankato to complete my degree. After graduation, I returned to San Diego, where I worked as a construction laborer. I adjusted to having a desk job when hired for an accounting position with a manufacturer."
—–
Eight years later, Schmidt moved to Minneapolis, where he hoped to open a satellite Schmidts' Meat Market. After developing a business plan, he realized his dream wasn't feasible.
"It would have been hard finding good employees because the economy was booming," he explains. "And government regulations restrict the resale of sausages we make in Nicollet in other locations. So I worked as a financial consultant with various clients." It was in a client's office he met Lynnita, who also has a business degree, and they married in 2002. She works both in the meat market and the office.
In 2005, Schmidt decided it was time to return home. He explains, "Dad was looking at retirement and Uncle Bruce was not quite there yet. My sister and two cousins (Uncle Bruce's children) were not interested in the business. I bought my dad's half in August 2005 and became partners with my uncle. I needed his guidance to help me relearn the business, especially production. Even though Uncle Bruce has since retired, he continues to fire up the old-style traditional gravity smoke houses (and a modern one). You just throw in the wood and light a match. He lives in Nicollet, and I live in North Mankato, so he does the late-night firing. My mom still works in the business, behind the retail counters three days a week. During busy times my dad works retail and helps out with production.
He continued, "After Uncle Bruce retired, I moved up existing production employees so I could concentrate on the business. My production manager, Brian Schatz, has a hands-on background similar to mine. He worked as an apprentice in Germany under a master butcher and in a Minnesota supermarket before Schmidt's hired him as a meat cutter over a decade ago. Mark Gudmundson, my retail manager, attended a (now defunct) meat-cutting program in Pipestone, Minn. and worked in several supermarkets before being hired here. So we have a German and a Norwegian as managers." He smiles. "Those two nationalities cover most of our demographic in this area."
—–
The role of visionary falls to Schmidt. He says, "I'm always looking for new ideas, such as hot items for the younger generation. One innovation, raspberry-chipotle bacon, was suggested by one of our seasonings suppliers. It won Grand Champion and Best of Show awards from the 2012 Minnesota Association of Meat Processors."
Schmidt's also had the Grand Champion Polish sausage and Reserve Grand Champion jalapeño and cheese beef sticks in the show. Flat iron Philly steak garnered Schmidt's second place in the Beef Council's Innovative Beef Product category. There were three championships in 2011, and numerous awards in previous years.
Schmidt's carries more than 70 products, including 15 kinds of brats, nine flavors of beef sticks, six different jerkies, and various kinds of bacon, links, patties and loaves, as well as head cheese and sausages that include "gretzwurst," a German-style breakfast sausage containing steel-cut oats. There's also the appropriately named "cannibal," a seasoned raw ground beef intended for eating raw.
"Although we have a database of thousands for custom processing, most of our business is cash-and-carry," Schmidt says. "We had 120,000 transactions last year. We pull from a large area, even from the metro area." Schmidt hasn't created an eat-in area in the market because, he says, "We're short on space," and customers either take purchases (sandwiches, jerky, fresh salads, juice) back to their office or eat in their car on the way to a destination.
"I'd like to have a larger, more modern facility," he says. "The old part of the building, constructed in the late 1800s, has a higher floor level than the new facility, so we have to move product two feet up or down. If we had more space, I would build additional smoke houses and have larger coolers, larger packaging and production areas, and a larger retail area."
Although the meat market is known area-wide as a destination store, Schmidt advertises to drivers with three billboards on U.S. 14 and one on U.S. 169 near St. Peter. Somewhat concerned about the effect of reduced traffic if a four-lane bypass of Nicollet is constructed, he comments, "It's my job to worry about things like that."
"Being in business for more than 65 years, word-of-mouth is our best advertising," he says, "but we also have a few print ads each year in association with sales events, holidays, or times like deer season. We sponsor the morning recipe show on KNUJ, a New Ulm radio station, and have coupons in flyers such as Smart Savings magazine. We have a website and promote our new products on Facebook because that's what's hot."
Lynnita turns from the computer on which she's been working, and adds, "When I wrote about the raspberry-chipotle bacon on Facebook one morning, it was gone by afternoon. I had to go back on and say, 'We're making more of the product.'"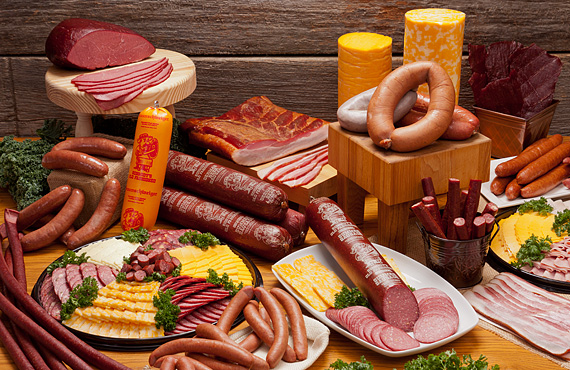 —–
Schmidt says, "Years ago, when families were larger, we sold beef quarters. Now people buy for one day or a few days. They're looking for quick meals to prepare or need no preparation. The trend is to exotic and bold flavors, such as in brats and beef sticks and in marinated chicken breasts. People experience these flavors when they travel, and they want to have them. We want to offer unique and fresh products. Our boudin brat did well last summer. I got the recipe off the Internet from Mardi Gras in New Orleans and made it unique by adding our own seasoning. Our products also are unique because we use the traditional smokehouse. The heavy wood smoke sets us apart, making our summer sausage the backbone of this business."
Schmidt buys beef and pork from national distributors, focusing on specific lines and brands, such as Black Angus beef from Nebraska. The stock slaughtered on site is custom-processed for the individual customer and stamped "not for sale." The farmer can make pre-slaughter arrangements, however, with neighbors who purchase a quarter or a half an animal and receive it after processing.
Schmidt's days begin around 5:30 a.m. He works 60 hours a week, heading home by 6:30 p.m. He and two managers rotate weekend duty. During November and December, when the first crew of sausage makers arrives at 2:30 a.m., Schmidt works 100 hours weekly.
"What sets us apart, sets any business apart, is extraordinary customer service," Schmidt said. "We're a full-service meat market. We have unique sausages. It's fun to work the holidays and overhear conversations like 'Grandpa, every year I come to visit for Christmas, you'll have to bring me here' (to Schmidt's)."
Lynnita adds, "It's wonderful seeing the next generation coming in and already having their favorite flavors. Our product is such a part of people's family tradition. A customer's mom may be gone, but the daughter continues to buy summer sausage here."
Schmidt's Meat Market is open 7:30 a.m.-5:30 p.m. Monday through Friday, and 7:30- a.m.-4:30 p.m., Saturday. It's closed Sunday.
—–
School Days
The old adage is "those who can, do, and those who can't, teach." But people like Gary Schmidt benefit countless students by teaching from experience. From 1971-1997, he taught at South Central College in North Mankato while handling marketing and accounting for the family business. His brother, Bruce, and both of their wives were involved in retail.
"I first taught in the school's business department and then in small business management," said Gary Schmidt. "Through that adult program, the other instructor (Dean Otto) and I mentored more than 400 business owners through a student-teacher relationship in which we tried to address issues and concerns at the site of the student's business, one-on-one. (Students also attended monthly seminars.) Similar programs across the nation on the tech college level have closed, but SCC's program, patterned along farm management programs, is still going."
The brothers grew up in an apartment above the meat market. Gary served in the U.S. Navy before earning bachelor's and master's degrees in business education from Minnesota State. He later received specialized training and certification in small business management and entrepreneurship from the University of Minnesota.
Bruce, who served in the National Guard, earned a bachelor's degree in speech pathology. He worked as a speech therapist before assuming co-ownership of Schmidt's.
Beefy Resume
Member, Nicollet Chamber of Commerce
Member, Minnesota Association of Meat Processors
Member, American Association of Meat Processors
Supporter, Nicollet County Pork Producers and similar local organizations
Supporter, Minnesota Deer Hunters Ass'n and other wildlife organizations.
The Bare Bones
Siblings: One sister, two years younger.
Favorite school subject: Math.
Least favorite class: Business law—too many rules. But much of what I learned applies to what I do.
Family: Wife Lynnita, sons Carson, nine, and Tyler, seven.
Hobbies: Golfing, hunting, downhill snow skiing, summer family time at parents' cabin on Lake Jefferson, and coaching sons' school sports.
Words that describe Ryan Schmidt: Focused, consistent about the business, and (Lynnita's answer) a leader by example.
Proudest accomplishment: Growing the business more than 50 percent over the seven years since I bought into it. I want to continue what has been developed over the last 65 years.
Most valued intangible: The people who work here and their passion for what they do, which shows in product and in customer service.
THE ESSENTIALS: Schmidt's Meat Market
Phone: 507-232-3438
Address: 319 Pine Street, Nicollet, MN 56074