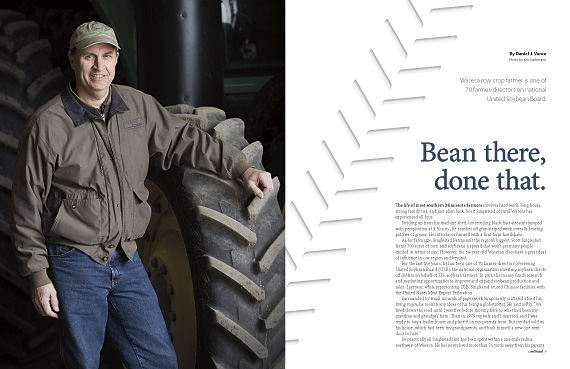 Photo: Kris Kathmann
Bean There, Done That
Waseca row crop farmer is one of 70 farmer/directors on national United Soybean Board.
The life of most southern Minnesota farmers involves hard work, long hours, strong family ties, and just plain luck. Scott Singlestad of rural Waseca has experienced all four.
Striding up from his machine shed, his receding black hair already clumped with perspiration at 9:30 a.m., he brushes off gray-striped work overalls bearing patches of grease. He introduces himself with a firm farm handshake.
As for farm size, Singlestad Farms isn't the region's biggest. Scott Singlestad farms 700 acres of corn and soybeans, a spread that won't get many people excited in terms of size. However, the 54-year-old Wasecan does have a great deal of influence in our region and beyond.
For the last five years, he has been one of 70 farmer-directors overseeing United Soybean Board (USB), the national organization investing soybean checkoff dollars on behalf of U.S. soybean farmers. In part, the money funds research and marketing opportunities to improve and expand soybean production and sales. Last year, while representing USB, Singlestad toured Chinese facilities with the United States Meat Export Federation.
Surrounded by small mounds of paperwork temporarily scattered about his living room, he reels in any ideas of his being a globetrotter. He said softly, "We lived down the road until I was five before moving here to what had been my grandma and grandpa's farm. Then in 1979 my wife and I married, and I was ready to buy a trailer house and place it on my parent's farm. But my dad sold us his house, which had been my grandparents, and built himself a new one next door to here."
So practically all Singlestad's life has been spent within a one-mile radius northwest of Waseca. He has never lived more than 75 yards away from his parents.
—–
He says, "The earliest memories I have in life are of being out on the farm. My dad farrow-to-finished pigs when he first started. Then when we moved here in 1962, he decided to switch to beef cattle. He bought four- to five-hundred pound feeders and raised them to fat cattle before selling them. Most of the cattle went to South St. Paul."
At age nine, he was out driving tractor and baling and raking hay. By eleven, he was cultivating corn and beans. In 1973, the "fat" cattle business wasn't doing well and Singlestad's father took an off-farm position selling insurance for Farm Bureau. His father was also farming 320 acres, doing everything humanly possible to survive and perpetuate the farm including raising replacement heifers for a dairy operation four miles west.
In 1975, while in high school, Singlestad used a government loan to construct a building that could hold 150 feeder pigs for finishing. He rented 30 acres from his father for growing corn as feed. About that same time, he was learning a great deal from Waseca high School agriculture instructors Jurgen Peters and Norm Bohmbach who taught production and record keeping, respectively. (Singlestad also would go on to attend University of Minnesota-Waseca, taking classes in agriculture production, ag mechanics, and animal production.)
Says Singlestad, "Learning the record keeping, especially, helped in my enterprises. They taught me raising hogs was one enterprise, corn another, and soybeans another, and at the end of the year I could see which enterprise was giving me the most profit for my labors."
That first year, he could sell corn at the elevator for $1.36 a bushel, but by feeding the corn to the hogs, he could make $2.20 a bushel. It was an extremely valuable lesson to learn.
—–
Singlestad and wife Vicky married in 1979 and built a farrowing barn to start their farrow-to-finish hog operation. They were renting 100 acres and living next door to Singlestad's parents. Vicky continued to work the next five years in town so the family could have health insurance.
In the '80s, farmers did more tillage, applied more fertilizer, and had more erosion than farmers today. They also did less soil testing and manure utilization, and didn't map their fields. It was a different business altogether.
He narrows his gaze, and adds, "The 1980s were the roughest because of devalued land and crop prices tanking. My dad and I were using the same (farm) equipment. At first, he let me use his equipment for labor returned back to him. Then I started buying in on the equipment, too. When land prices dropped, I had just bought 150 acres from my dad. Times were tight."
What saved his bacon throughout the 1980s, literally, was his farrow-to-finish hog operation, which balanced out substantial losses from corn and soybeans. He was paying up to 15 percent interest on operating loans. He was also helped by a government program that paid him 26 cents a bushel to store 40,000 bushels of corn over three years, which was almost enough money to completely pay for the building he had constructed to store the corn.
He says, "I had many friends go out of business. There were auctions all over the place. It was pretty sad sometimes. There were a number of people who had just bought something at the wrong time."
A number of farmers received government loans using corn as collateral, and, unable to pay back the loans, had to forfeit their corn. The amount the government paid on the loans created artificial floors and ceilings for corn prices, which complicated the market and sometimes hurt the recovery.
Another government program in the late 1980s seeking to clear out an oversupply of corn allowed farmers to earn compensation for corn acres not planted in the form of certificates. The program favored Singlestad because he had corn in a storage unit paid for by a prior government program. He was able to use his certificates to purchase feed for his hog operation.
He says, "Worry in farming is the one thing that will kill you. You have to let it go. When I make any decision, I will think about it three or four days pretty hard, and then make the decision and feel confident about it."
Whether these programs were effective or not, all the excess corn flushed through the system. Singlestad had squeezed through the 1980s by taking advantage of government programs and earning profits off his hogs. In the early 1990s, right around the time his dad began working less, he expanded his hog operation to 130 sows. In 2012, he and his wife decided it was time for a change. Their son, Michael, took over the hog operation by contract finishing hogs.
—–
Singlestad's interest in soybeans deepened in 1988 after his wife showed him a newspaper article. He had been involved with Farm Bureau Federation, and with the local corn growers board, and so showed up one day at an announced meeting designed to rejuvenate Waseca County Soybean Growers.
He says, "Four guys showed up. A staff member from Mankato said he was out trying to get the Waseca County Soybean Growers going again. It was right next to Blue Earth County, where the state office was located. Another guy said he'd be treasurer. Another said he'd be secretary. The third guy said he didn't want to be president but would agree to be vice-president. I was just standing there and hadn't opened my mouth. One of them said, 'Okay, you're president.' I had no idea what we were doing."
Back then, the state office was pushing for developing soybean markets in the food industry, such as in margarine, cooking oils, and breads, and soybean meal for livestock. The primary purpose of the organization was to promote the research and sale of soybeans and increase its value to growers.
In 1992, Singlestad became the Waseca County representative to the state board. He lobbied at the state capitol for three years, and talked with legislators about soybeans and farming in general, such as farmer concerns about truck weights and farm-to-market roads. In 1992, he was the Minnesota representative of the DuPont/Minnesota Soybean Growers Young Leaders Program, and through it visited DuPont factories in Delaware and Rep. Tim Penny and others at the U.S. Capitol in Washington D.C.
—–
Over the years, Singlestad counts out a number of Congressional victories, including: soybeans being added about 12 years ago as a program crop along with corn and wheat; the Renewable Fuel Standard, which Congress enacted in 2005, authorizing a two percent minimum biofuel content in diesel fuel (later expanded to five percent in Minnesota); the recent 2012 $1 per gallon blending credit which helps make biofuel more affordable; and expanding markets in China.
Surprisingly, the biodiesel industry hasn't been sparking much growth. Due to higher soybean oil costs, the biofuel part of biodiesel currently contains about 60 percent soybean oil and the rest comes from waste grease and fats, such as beef tallow.
By far the biggest reason for soybean pricing being high is China. He says, "About 50 percent of the soybeans grown here in the U.S. end up in China. They use it for livestock feed. They just don't have the landmass, and their government has made the decision to grow corn and rice, and import soybeans. That's what's keeping the price of soybeans way up."
In 2008, Singlestad was named to the United Soybean Board (USB), the national organization overseeing checkoff dollars used for research and the promotion of soybeans. The largest user of soybean meal in the United States is the poultry industry. In 2012, Singlestad, through USB, visited China with the United States Meat Export Federation.
Singlestad says one goal of United Soybean Board has been to encourage beef and pork production here in the States to build up our economy. He says, "The idea is for someone here to raise the pig using U.S. soybean meal and corn, and then for someone else to be employed processing it, and trucking it, and someone else selling the pork for export."
Soybean meal going to Canada and Mexico sometimes end up as pork brought back to the States. About 40 percent of U.S. fish consumption has been from aquaculture farms in China, and U.S. soybean meal often ends up as feed for Chinese fish, such as Tilapia and Grouper.
—–
Home now from his big trip to China, and wearing overalls on his way toward the door, Singlestad has day-to-day concerns about just trying to earn a living. He's more an entrepreneur than anything. His father got into and out of hogs, then into beef cattle, being an insurance salesman, and finally, raising dairy heifers. Singlestad himself became involved finishing hogs early on, survived the 1980s, and began a farrow-to-finish operation that lasted through 2012 when he and his wife decided to move onto something else. It was an easy decision given historically high corn and soybean prices.
He says, "My son was working a summer job through a grant program. When the grant ended, he moved back home. We offered to him the opportunity to take over the hog operation. We asked if he wanted to farrow-to-finish, and he said he only wanted to finish. I told him he better find a contract then. A guy called last February to ask if we could have two of our barns then filled with pigs emptied. I had all ours cleared out by the first of March and he brought in a thousand head of pigs. My son signed a contract and the pigs were in the next day."
—–
Singlestad likes his lifestyle. He enjoys being his own boss and only 75 yards away from his parents.
But he also loves being involved in the soybean industry and one of the first farmers around to learn about the next big thing coming down the pike. He remembers biodiesel taking off in the early 1990s, when the soybean market had a glut of oil. Companies were building massive tanks to store the oil and depressing the market.
He says, "They then decided they could get rid of it by burning it. Henry Ford used to burn peanut and soybean oil in his diesel-powered cars back in the day. They said if he can do it, we should be able to. So they started promoting production in the early 2000s, and it took off."
Singlestad's only son, Michael, besides finishing hogs, works part-time at the University of Minnesota Southern Research and Outreach Center in Waseca. Between his son and the United Soybean Board, Singlestad feels as if he has a handle on the latest industry trends. For example, he says, "Things are changing all the time. There are new ideas on how to do tillage, how to make crop production cheaper and more environmentally friendly, and how to increase production and reducing the carbon footprint. My son recently was explaining to me what they call 'vertical tillage.' It's a new piece of equipment that is set up to till slots into the ground. You are then supposed to come back and plant in the slots. With GPS and satellite imagery, you can overlay all this and run your tractor over it without touching the steering wheel. There has been a lot of change the last five years."
—–
For Scott Singlestad, farming has been generational. He helped his parents, and his grandparents, and his children helped him, and his parents. He used to pay his three children, Michelle, Michael, and Kristy to help with chores after school once they reached age 10. Eventually, they washed barns, fed livestock, and drove tractor. Of their children, only Michael stayed with farming, but all carried with them a solid work ethic learned at home.
—–
THE ESSENTIALS
United Soybean Board
Phone: 800-989-USB1
Address: 16305 Swingley Ridge Rd
Chesterfield, MO
Web: unitedsoybean.org