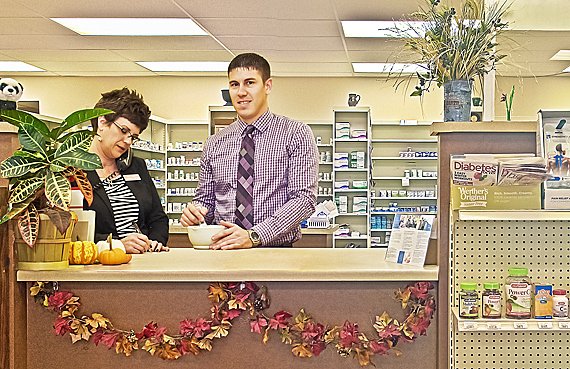 Photo: Art Sidner
Blue Earth: Blue Earth Drug
Co-owners Gina Zierke and Ryan Milbrandt doubled floor space at Blue Earth Drug when opening up a new retail building on US 169 about a year ago. Zierke had co-owned the business since 2000 with another pharmacist. Milbrandt bought in more recently.
Said 28-year-old Milbrandt in a Connect Business Magazine telephone interview, "I grew up in Elmore and graduated from Blue Earth Area High School in 2003. I became interested in my profession when a young woman in pharmacy school spoke to my high school science class. She talked about the demand in the field and said if anyone there was interested in science, they should consider pursuing pharmacy as a career. I would remember what she said."
Mildbrandt began working at Blue Earth Drug his senior year in high school, which included making deliveries and mopping floors, and continued at the business during summers while studying pharmacy at South Dakota State. After graduating from college in 2010, he went to work full-time for Blue Earth Drug. Literally, on the day he received his license, he became a staff pharmacist. He began buying into the company, and eventually replaced Zierke's former business partner.
He said, "With retail I like the connections you make with your customers. To me, it's a whole lot more rewarding working for myself and being able to make some decisions on how we help our customers versus working for a major chain."
The new building on US 169 has a separate pharmacy for long-term care patients and has expanded space for over-the-counter medication and durable medical equipment, for example. Including Zierke and Milbrandt, the business has four pharmacists.
About the owner he bought out, Milbrandt said, "I can't say enough nice things about Rich. He's been a tremendous mentor. He had the dedication to make sure he did everything he possibly could to help anyone coming through the door."
Blue Earth Drug
Address: 125 South Grove Street (US 169)
Web: blueearthdrug.com