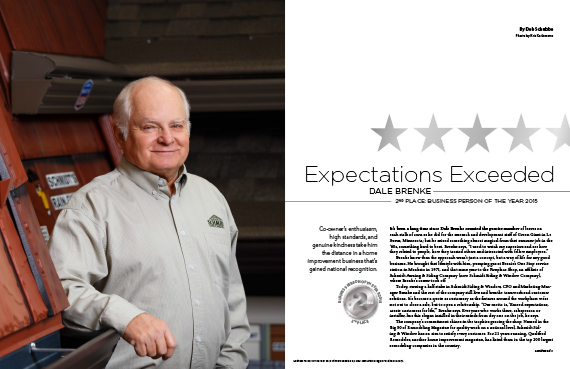 Photo: Kris Kathmann
2

nd Place: Business Person of the year 2015
Co-owner's enthusiasm, high standards, and genuine kindness take him the distance in a home improvement business that's gained national recognition.
It's been a long time since Dale Brenke counted the precise number of leaves on each stalk of corn as he did for the research and development staff of Green Giant in Le Sueur, Minnesota; but he seized something almost magical from that summer job in the '60s, something hard to beat. Brenke says, "I used to watch my superiors and see how they related to people, how they treated others and interacted with fellow employees."
Brenke knew then the approach wasn't just a concept, but a way of life for any good business. He brought that lifestyle with him, pumping gas at Bernie's One Stop service station in Mankato in 1971, and that same year to the Fireplace Shop, an affiliate of Schmidt Awning & Siding Company (now Schmidt Siding & Window Company), where Brenke's career took off.
Today, owning a half stake in Schmidt Siding & Window, CFO and Marketing Manager Brenke and the rest of the company still live and breathe teamwork and customer relations. It's become a quote as customary as the fixtures around the workplace: we're not out to close a sale, but to open a relationship. "Our motto is, 'Exceed expectations, create customers for life,'" Brenke says. Everyone who works there, salesperson or installer, has this slogan instilled in their minds from day one on the job, he says.
The company's commitment shines in the trophies gracing the shop. Named in the Big 50 of Remodeling Magazine for quality work on a national level, Schmidt Siding & Window has an aim to satisfy every customer. For 21 years running, Qualified Remodeler, another home improvement magazine, has listed them in the top 200 largest remodeling companies in the country.
—–
Born in St. Peter, Minnesota, 66-year-old Brenke grew up in Le Sueur with his parents and younger sister. They had one pet, a parakeet, until Brenke hit 12 years old and they moved to a farm. Brenke became surrounded by ducks and geese flying about, tail-wagging dogs, a few squealing pigs, sheep, and chickens.
With woods skirting the farm, Brenke put to use his favorite childhood possession, a long bow, which he still has. He spent his free time listening to the whir of arrows as he hunted squirrel, rabbit and pheasant. "I've shot many deer with bow and arrow," Brenke says. Family time often meant plunking down at a relative's house for good cheer, food, and a few hands of Buck Euchre. But whenever possible, young Brenke hightailed outside to hike in the woods or hunt with one of his cousins.
Life on the farm wasn't all hunting and fried chicken, though. Brenke collected eggs and fed the chickens, a few pigs and sheep. His father worked days as a carpenter and farmed 40 acres between Le Sueur and Belle Plaine nights and weekends. The whole family chipped in for chores, even his mother, who had been stricken with a long-term illness that had stolen much of her strength. Brenke would kill, pluck, and scald the fryers, and his mother butchered and sold them. "She worked hard, as hard as she could," he says, and she expected the same from her children. "She wouldn't let you just sit around," Brenke adds with a gleam in his eyes.
"I drove the tractor a lot for Dad. We had a two-row planter, and we almost thought we were big-time having a four-row cultivator. And I plowed. We had a two-bottom plow, so it took a lot of time to do even forty acres." Farm life trained Brenke to be an early riser, and to this day he's up at 5:30 a.m. and to work by 6:30 a.m.
Moving to the farm dropped Brenke into the Henderson school district, where he became more studious and excelled in sports. "I lettered in baseball in eighth grade, and in basketball and football in tenth," he says. He doesn't know why he did better in Henderson. "Could be because it was a smaller school, a graduating class of 22. Le Sueur probably had 80 or 90, or more, back in '66."
Brenke's love for football didn't go unnoticed by his hard-working family. He had a paper route, and when delivery time conflicted with football, his dad, busy as he was, delivered the papers so third-string quarterback Brenke wouldn't miss out on playing. "And I was a hundred pounds," he says with a laugh, "so it's not like football was going to be my future. He just did it because he wanted to. He was very special in that way."
Having volunteered for the draft, Brenke served 23 months, undergoing infantry training in California and finishing his Army stint in Germany, where he put his typing skills to use as a log book clerk. A shadow sweeps over his eyes when he mentions his cousin, a Marine who was killed in Vietnam four months before Brenke volunteered. "It (Vietnam War) seemed a waste of money and people," Brenke says, "and I think I felt a lot of confusion about it. I just didn't think we had a need to be there. But there's a big difference nowadays in how returning service people are treated," he adds. "People are praising and thanking them; whereas in our day, you were actually looked down upon if you were in the service. So, a big difference. And that's a great thing!"
The strong sense of family and diligent work ethic helped shape Brenke, but influences from his early jobs also steered him in positive directions. Toting along a mindset of kindness and mutual respect reaped from Green Giant, in 1971 22-year-old Brenke worked part time at Bernie's One Stop service station while finishing courses at Mankato Commercial College. With a smile and a chuckle pumping gas and wiping bug splatters off windshields for a mere $1.10 per hour, Brenke warmed the right hearts. His friendly nature sparked a friendship with customers next door, Robert Schmidt and his son Gary.
In 1949, Schmidt had founded what was then called Schmidt Awning and Siding Company. Offices and a retail showroom and their affiliate business, the Fireplace Shop, were just a stone's throw away from the service station. Their company vehicles were gassed up by Brenke often in 1971. That same year, Schmidt offered Brenke a bookkeeping position that soon whisked Brenke into management of the Fireplace Shop. Within three months of Brenke's employment, the business relocated to the current location on the corner of Fifth Street and Madison Avenue. Brenke learned a lot pounding the pavements of Fairmont, New Ulm, and Hutchinson back in the day with owner and top-notch salesman Robert Schmidt.
A year into the job, Brenke married. He and his wife, Patti, spent their honeymoon hitchhiking through Europe and taking photographs. "We went through Germany—I always wanted to go back there after the Army—and Holland, Netherlands, France and down into Spain. The highlight was seeing the Eiffel Tower." He chuckles a moment with an impish grin. "For our 25th wedding anniversary, we didn't want to spend the money going back to Paris, so we went to Las Vegas and stayed at The Paris."
Brenke and Gary Schmidt bought out Robert, making Brenke a 50-50 owner of the business in 1981. They had added windows to their inventory in 1984, a good move; but sadness followed in 1985 with the death of Brenke's mother. Nonetheless, her work ethic and love for family have lived on in the way Brenke lives and conducts business every day.
In 1986, Schmidt Siding & Window bought a franchise for ABC Seamless Steel Siding that changed their look. "We had been a distributer for aluminum siding, but it came in 12-foot lengths," Brenke explains. "The average house had a couple hundred seams, and the worst seamless job is better than the best 'seamed' job." Two years later, with changes in Environmental Protection Agency pollution standards, wood-burning stoves and fireplaces lost popularity and the partners closed that part of the business.
In 1997 they stepped it up, becoming a franchisee for Renewal by Andersen Windows, a Green-Seal-certified window made from recycled materials, creating a 100 percent recyclable product. Also in the mid-nineties, their exclusivity rights to the seamless siding wares came to an end. Competition spurred new thinking. Marketing, a strong suit for Brenke, became their lifeblood.
The company created a playhouse boasting their windows and siding. From 1989 through 2009, their playhouses made the rounds in parades. Each year they offered one to the public through a drawing or raffled it off for the Make-A-Wish Foundation and other nonprofits. Brenke gets a little choked up talking about the excited Make-A-Wish recipients. "One girl got to go to Disneyworld and meet Cinderella," he says. The company created one more playhouse in 2014 to celebrate the 65th anniversary of Schmidt Siding & Window.
In 2003, ownership changed hands again. Jim Hockert and Steve Beetch bought Gary Schmidt's half of the business in equal shares. In 2008, the new three-owner team hosted a $40,000 Extreme Exterior Makeover promotion, granting one lucky winner a sunroom befitting a queen. "It was a bit extravagant, but it sure put us on the map," Brenke says with a tap on the table and a grin.
Today Schmidt Siding & Window has a warehouse on Third Avenue for staining and varnishing windows to match existing woodwork. Owning four gutter machines and seven siding machines to serve a 60-80 mile radius of Mankato, they're ready to take on any competitor. "Every year for 18 or 19 years now, we win the award, hands down, for top performer for the most gutter helmet sold in our territory," Brenke says.
For each of the last 21 years, Qualified Remodeler magazine has named Schmidt Siding & Window Company a leader in the home improvement business, always ranking in the top 200 of the nation. From number 179 in 2008, they jumped to number 162 in 2014. But it was in 2004 that they were really smiling. Remodeling Magazine, based out of Washington D.C., recognized the company as a national "Big 50 remodeler," which is an award for quality work, rather than for volume.
Brenke attributes the company's success to the three R's, which make up 86 percent of the business: repeat customers, referrals, and reputation. "That's what brings people to us. It's what makes us who we are," he says, clarifying that the 86 percent comes from their employees exceeding expectations, a monkey fist approach to business (see sidebar), working hard, and being kind. "Being kind counts a lot. It comes back to you." He quotes Paul McCartney's original line in the Beatles' song, "The End"—"'… the love you get is equal to the love you give,' and that's true even in business."
Brenke talks about the company's future with the enthusiasm of a kid who just bagged his first deer. Residential steel roofing with a life expectancy of 100 years took its place in their inventory in 2005. The fireproof roofing saves energy and withstands 170-mile winds, yet mimics the beauty of traditional asphalt shingles, which Brenke hopes will be illegal soon. "They shouldn't be thrown in our landfills by the tons and tons. It's just crazy." Brenke says steel roofing is the wave of the future. "We've got pictures of homes standing in the middle of a city devastated by a hurricane, or whole city blocks burned down, and the home with the steel roof is still sitting there."
In the last two years, they've also added helmet heat to the business, a heated cable built into gutter helmets to prevent ice dams. "We're the only system that has it that I know of," Brenke says.
To succeed, Brenke, who has twice been nominated for Business Person of the Year, says above all, "Surround yourself around good people is the main thing. You can't have a good attitude if you're around people who don't have one. And when you see that working, it's pretty easy, really." Fifteen or more of their 53 workers have been with the company 20 plus years. "We have a good atmosphere," Brenke says.
Brenke and his wife of 42 years, Patti, have a good atmosphere around the home front, too. Their son, Kris, and is wife Anita, live in Mankato, as does their daughter. "We sold Kelly and her husband, Pete, 20 acres across the street from us. Last year they built a house, so they moved in with us April 1 with three children and no dogs. When they left in November, they had four children, a dog, and two rabbits." Brenke smiles when he mentions seeing family at work. Pete, sales manager, is one of the employees with 20 years in at the company.
Brenke doesn't plan to fully retire just yet. He'd like to mentor other dealerships with his marketing expertise. "It's all about creativity," he says. "Creativity is the mother of marketing, and yet so many dealers do very little. Some of the ads I see are about as creative as looking at a blank piece of paper. They have no message or underlying theme to create that 86 percent. And that's something I can help with."
Brenke's current goal is to assure the business a smooth transition when he retires. He doesn't hunt as much anymore, but loves golf. With 20 golf courses within 20 miles of the cabin he and Patti have near Brainerd, he'll be there whenever possible. "I want to lower my handicap to single digits," he says with his trademark chuckle. He's also going to snap more scenic photographs, a hobby he took up in the Army. Though not a big fisherman, he enjoys throwing a bobber out from a boat and observing the eagles and osprey, just like that young boy who loved watching the ducks and geese flying about, sunshine on his face and sounds of nature in his ears.
—–
Motivation
Brenke has a miniature monkey fist hanging in his office. What is it? Brenke says, "They'd bring in a ship and throw out this line, a little rope, and it's got a ball on the end called a monkey fist. They'd throw that to the people on the dock, who would grab it and pull in the big line to hook onto the pier to tie the boat. So we say, "Sell them one window and that's a monkey fist, because if we do our job, they become a customer for life.'"
Experience
Brenke is a member of the Builders Association and several chambers of commerce. The company donates to 30-40 different charities and fundraisers a year. Schmidt Siding & Window offers siding, windows, roofing, doors, gutters and gutter helmets, helmet heat, pergolas, pavilions, sunrooms, retractable awnings, decking and railing.
Schmidt Siding & Window
Phone: 507- 625-6412
Address: 901 North Fifth Street
Mankato, MN 56001
Web: schmidtmankato.com