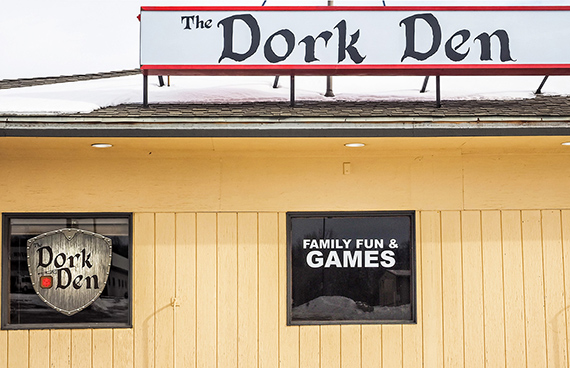 Photo: Art Sidner
New Ulm: Dork Den
Alex Lamminen has done much in 25 years of life, including being co-owner and general manager the last few months of the new Dork Den in New Ulm.
Lamminen said in a telephone interview, "I was in the coffee business eight years, including having been a supervisor at Caribou Coffee. I also was an assistant manager for a Topper's Pizza in Burnsville. I started it all when I was 16. Doing all that showed me hard work can pay off." Most recently, and importantly, he also was an employee at a Burnsville game store, Legion Games.
During most of that busy stretch, he attended college "off and on" about four years, studying music education and music business. From his parents, he said, he learned to pursue interests he was passionate about.
He left Caribou Coffee in 2014 to become a tour manager for Wizards of the Coast for the card game, Magic: The Gathering. He joined on for the 35-state Vans Warped Tour, one of the nation's largest music festivals. He said, "It was an unbelievable experience. My boss at Legion Games had offered me the position."
All along, Lamminen enjoyed gaming at The Dork Den in Mankato, and knew owners Greg Fenske and Joe Huber. Earlier this year, they approached him about starting a Dork Den New Ulm location, which opened in September.
He said, "It's an offline gaming store. We sell board and card games, miniature gaming, and role-playing games. We have different events throughout the week (for each kind of game.) Some games we have are Dungeons and Dragons, Magic: The Gathering, the Star Wars X-Wing and Warhammer 40000 miniature games, and board games Settlers of Catan, Ticket to Ride, King of Tokyo, and more."
He said, "It's nice to be able to share my (gaming) passion with like-minded people or just introduce someone to the world of hobby gaming."
Dork Den
Facebook: Dork Den—New Ulm
Address: 1627 South Broadway Street
Telephone: 507-225-0040