Industrial Fabrication Services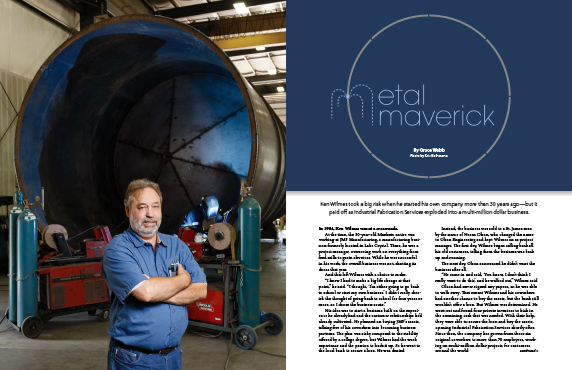 Metal Maverick
Ken Wilmes took a big risk when he started his own company more than 30 years ago—but it paid off as Industrial Fabrication Services exploded into a multi-million dollar business.
In 1984, Ken Wilmes was at a crossroads.
At the time, the 30-year-old Mankato native was working at JMF Manufacturing, a manufacturing business formerly located in Lake Crystal. There, he was a project manager, overseeing work on everything from feed mills to grain elevators. While he was successful in his work, the overall business was not, shutting its doors that year.
And that left Wilmes with a choice to make.
"I knew I had to make a big life change at that point," he said. "I thought, 'I'm either going to go back to school or start my own business.' I didn't really cherish the thought of going back to school for four years or more, so I chose the business route."
His idea was to start a business built on the experience he already had and the customer relationships he'd already cultivated. He planned on buying JMF's assets, talking five of his coworkers into becoming business partners. The plan was risky compared to the stability offered by a college degree, but Wilmes had the work experience and the passion to back it up. So he went to the local bank to secure a loan. He was denied.
Instead, the business was sold to a St. James man by the name of Noren Olson, who changed the name to Olson Engineering and kept Wilmes on as project manager. The first day, Wilmes began calling back all his old customers, telling them the business was back up and running.
The next day, Olson announced he didn't want the business after all.
"He came in and said, 'You know, I don't think I really want to do this,' and he walked out," Wilmes said.
Olson had never signed any papers, so he was able to walk away. That meant Wilmes and his coworkers had another chance to buy the assets, but the bank still wouldn't offer a loan. But Wilmes was determined. He went out and found four private investors to kick in the remaining cash that was needed. With their help, they were able to secure the loan and buy the assets, opening Industrial Fabrication Services shortly after. Since then, the company has grown from those six original coworkers to more than 70 employees, working on multi-million dollar projects for customers around the world.
—–
Wilmes was born on a farm outside of Mankato in 1953. While the farm was small (a "hobby farm," as Wilmes called it), there was more than enough work to keep him and his five siblings busy.
"We had to do all kinds of stuff: feed the cattle, feed the chickens, feed the pigs, shovel manure," he said. "My dad worked for Hubbard Milling in the 1960s, and they converted that plant from wooden spouts and wooden legs to a pneumatic system with the steel pipes. He brought all those old spouts home and paid us kids to unscrew them. He kept us busy. We had to work all the time. That's where I got my work ethic from, growing up on the farm. You didn't get to go play ball and that kind of stuff. There were always chores to do."
It was hard work, but Wilmes credits his childhood on the farm—and especially his parents' work ethic—with instilling his own values of hard work and determination. In particular, he learned the importance of perseverance from his mother, who decided to go to college and become a teacher while Wilmes was in high school. Since Wilmes' father was working full-time, his mother had to raise her large family while attending classes—as well as taking on extra cleaning jobs so that she could complete her studies without any debt. She eventually graduated, became a teacher, and then became a librarian.
"She set a real good example that hard works pay off," Wilmes said. "She actually had my youngest sister when I was a senior. I came home from work one day, and I was changing clothes and getting ready to go to work, when she said, 'You have to take me to the hospital because I'm going to have my baby now.' So I took her to the hospital, and pulled up to the front of the building, and she got out and said, 'You just go to work. Your job is important. I can walk the rest of the way myself.' That's the kind of person she was."
Despite his chores, Wilmes still managed to make time to join the wrestling team when he started attending Loyola High School. As he explained it, he was too small for football and couldn't run fast enough for track, so that left wrestling. There, he competed in the 95 and 103 weight categories, going to state his junior year. But all that changed after he got his driver's license.
"By the time I was a senior, I had my driver's license, a car, and a job," he explained. "There were too many other things going on when I was a senior. I didn't want to wrestle anymore; I wanted to work and chase girls."
Wilmes' first job was at the McDonalds in Mankato. Back in the day, all McDonalds french fries were made by hand, which meant that Wilmes had to take raw potatoes, throw them in a sandpaper-lined tub to peel them, rinse them off, chop them into fries and then cook them. Another old-fashioned oddity was the fact that McDonalds refused to hire female workers at the time. And Wilmes was paid only 90 cents an hour, which was minimum wage back then.
"That's where I learned a lot of my work ethic," he said. "They were real strict about cleanliness and quality and service to the customer. And you know what? At 90 cents an hour, I still bought a car and a snowmobile. Ninety cents an hour went a lot further back then. That's why I quit wrestling when I was a senior. I worked as much as I could. I liked making money."
This practical attitude followed with him after he graduated in 1971 and started a two-year course in agriculture business management at South Central College. The course included two year-long sessions and a required summer job in the middle. Wilmes made it through the first year and the summer job (for him, it was working for the Blue Earth County Service Co-Op), but then his interest waned.
"I was only 18, and I didn't really know what I wanted to do," he said. "Everybody kept saying, 'You've got to go to school. You've got to get an education of some kind.' So like a good little boy, I signed up for classes. And South Central had a really good program. I was just too young and didn't know what I wanted to do. I just wanted to get a job, work and make money."
Wilmes began working for Shari Candies, a now-closed candy packing warehouse in Mankato, where he stayed for four years. There, he worked in the warehouse, transported products and even acted as chauffeur for his boss whenever there was a need. Along the way, he also started working part-time at a metal shop and taking machine shop classes at night. Eventually, he decided to find a job that paid better, and went to work at JMF Manufacturing in 1977. There, he started out working in the shop and eventually worked his way up into sales and project manager, mostly working with contractors that built feed mills, flour mills and grain elevators.
Seven years later, JMF closed and Industrial Fabrication Services opened. At first, it was just six employees (all partners) and a bookkeeper, who also lent a hand as a cleaning woman. Slowly but surely, the company grew.
"We actually made money every year," Wilmes said. "As we grew, we brought in project managers. Then we doubled our sales and added another project manager. Now we have three full-time project managers."
Wilmes retained his position as a project manager in addition to his new role as general manager.
"Everybody wears many hats around here," he said. "That's what you have to do in a small business."
Not only did the company pick up more jobs and project managers, it also picked up some big-name clients: Crysteel, CHS, ADM, Unimin, Excel Energy and Cambria. Products offered by Industrial Fabrication Services include industrial ductwork, smokestacks, mining equipment, feed mill hoppers, belt conveyors and dryers. The majority of jobs go to contractors who are building new plants, such as CHS, a farmers cooperative, and Unimin, a minerals producer. Wilmes' business recently built all the equipment for a new soybean plant, fabricating dryers, heaters, aspirators and conditioners for the seven-story building.
While most customers are located in the U.S., the business's products have been shipped across the world to such places as Nigeria, Thailand and Trinidad.
At any given time, Wilmes estimates that his employees are working on 50 different jobs, and that doesn't include the new jobs they're bidding on or the old jobs that might need some maintenance work. Project price tags range from $50 to $4 million—though the average contract runs closer to $50,000 to $350,000, he said. And projects can take anywhere from days to several months to complete—especially if the customer starts making changes halfway through.
"Usually, when you get into the big jobs, they add stuff as you go," Wilmes said. "There are a lot of changes in this industry. We have contractors who get into a job and realize they forgot to order something, so we have to throw it in quick. There's a lot of hurry-up type stuff in this business. We're always under the shotgun of construction schedules and plant shut down schedules. So it's a very intense, high-pressure job."
Some customers will supply Wilmes with fully detailed drawings for every step of the project, while others ask his business's engineering, design and drafting department to basically start from scratch.
"These projects take longer," he said. "There's a lot of back and forth with the customer as you're designing and drawing. Once you get it done, you send it out for final approval, and they still might make a few more changes. By then, it's usually a rush to get the project delivered, since we've spent so much time doing all the engineering but they need it now. You rush the plans to engineering, and, right behind them, the crews are starting to do construction. So it's a real rat race to keep up. We hope it rains for a week and slows them down so we can catch up."
Wilmes added that his business takes on a lot of projects involving plant shutdowns for customers such as Ag Processing Inc. (AGP), a soybean processing company. AGP runs its plants 24 hours a day, seven days a week, with two weeklong shutdowns scheduled every year. It's during these shutdowns that Industrial Fabrication Services goes in and replaces anything that needs replacing.
"So we have to get all these parts made up so that when the plant shuts down, they can get it all put in in a week and start it back up," Wilmes explained. "When they start to tear stuff out, they find a problem where they need some more parts made. So it gets to be very intense sometimes."
While large-scale projects are the norm, Wilmes' employees also take on small jobs for local farmers and other customers. People can walk in and schedule work, even if it's as small as welding a small piece for a farm implement.
"We thought about not doing that, but we kind of hate to do that because a lot of people locally depend on you for that," Wilmes said. "It interferes with your big jobs because you have to stop and pull somebody off to weld this one little piece for the guy down the road. But we do it anyway. We don't want to forget our roots, where we came from. A lot of times, those little jobs, when you were starting out, were the only jobs you had."
In the last five years, Wilmes has snagged several contracts for grain export terminals, mostly along the west coast and the Gulf of Mexico. The jobs involved building the gates and valves that the grain flows through, and some of Wilmes' products were the largest ever built in the grain industry, handling 120,000 bushels of grain an hour.
Recently, that business has slowed a bit, Wilmes said, just like the ethanol boom slowed a few years ago after providing his company with several good contracts. But Wilmes isn't worried about this decrease.
"We haven't really had too many slow times, since we're very diverse," he said. "We can switch gears and go from fabricating structural steel to grain processing equipment, or both at the same time. We don't have all our eggs in one basket. And actually that's why a lot of our guys like working here, because it is diverse and they're not working on the same thing all the time."
One thing Wilmes is concerned about is finding enough quality workers, especially welders. He admitted he's had trouble filling his welding positions, though he recently hired a bunch that had been laid off by other local manufacturing companies.
"There is a workforce crunch," he said. "You drive all over Mankato, and you see help wanted signs hanging all over. Most of these jobs are pretty decent jobs with good pay and good benefits. There are so many jobs nowadays where you can just sit behind a computer… Being in a welding shop, you're going to get dirty, so you have to be the kind of person who likes that."
Wilmes also hires one or two interns every year from local high schools. "We try to get some young kids interested in the field and give them some experience," he said. "There are people who like to get dirty and work with their hands, and that's the kind of kids you have to attract. Schools are now realizing that not everyone wants to be an accountant. Some people really do like to work with their hands, and we need those people. We need furnace repairmen, plumbers, electricians, carpenters, welders. I think that's one thing schools need to pay a little more attention to."
Looking to the future, Wilmes seems pretty confident that business will keep going strong. He has good reason; his building is as full as it can be, project-wise—so full, in fact, that he's taken to farming out some of his work to other fabrication companies. Right now, he said he passes about 25 percent of his work on to about six different shops. The advantage, he explained, is that he can pull back the work during slow times instead of laying off any employees.
"We always want to keep our shop full, and keep our farmed out shops full too," he said. "It's just a good way to do business. If you go adding on and adding on and adding on, and try to do everything yourself, then when it does slow down, you've got more equipment, more building and more people than you need."
—–
Business Climate
According to Wilmes, Minnesota isn't a very business-friendly state. He points out the mountains of regulations businesses need to follow for simple expansions and the fact that Minnesota's OSHA requirements are even more stringent than federal standards.
"It's very much harder to do business in Minnesota than in a lot of other states," he said. "It's harder for Minnesota companies to compete because we have higher OSHA standards than other states, so it costs us more to comply. And that makes us less competitive with our neighboring states."
Wilmes referenced the trouble that PolyMet is facing as it tries to expand near the Boundary Waters: the copper-nickel mining company has spent more than $20 million in the last 10 years trying to obtain a permit for its new plant. PolyMet recently submitted its third environmental impact statement for review, and, if it is approved next year, the company still needs to apply for another 21 permits before receiving permission to open the proposed $600 million plant. The project would create an estimated 600 construction jobs and about 350 full-time jobs at the plant, but several environmental groups have protested the project, citing pollution concerns.
An additional challenge facing Minnesota businesses is the state's Renewable Energy Standard, which requires utilities to provide 25 percent of their total electrical generation from renewable sources by 2025.
"All that kind of stuff means Minnesota's electric rates have to be higher, since that kind of electricity costs more to produce," he said. "It's all small, but it's the straw that breaks the camel's back. You just keep piling on these little things that cost a little bit more here and a little bit more there, and pretty soon, it's a lot."
Still, while other companies have made the news by moving out of state to save on costs, Wilmes said he's not going anywhere any time soon.
"It's not that easy to move a company," he said. "A company is the combined talent of its people. We can't just say we're going to pick up and move to South Dakota, because most employees aren't going to follow us; they have family here and don't want to move out of state. Most companies are a collection of the knowledge of the people who work there."
Affording  The ACA
Industrial Fabrication Services pays 100 percent of its employees' health insurance. Before the ACA, the company purchased $5,000 deductible policies and self-insured the employees down to a maximum $500 out-of-pocket cost. Now, with the new higher cost of insurance due to the ACA, the company had to raise employees' minimum out-of-pocket costs to $1,300.
"It's costing us more money, and the bad news is, I think it's going to go up a lot again," Wilmes said. "They found out it's not quite working like they thought it would. It's something we didn't need to do. Now we spent hundreds of millions to set this program up, and it's a failure. Who's going to reimburse the taxpayers for all that money?"
Getting to know you: Ken Wilmes
Education: Loyola High School (1971), classes at South Central College
Family: wife Linda
Hobbies: gardening, traveling, working on his hobby farm
Favorite school subject: Social Studieslake
Associations: Lake Crystal Lions Club, American Welding Society, MN Precision Manufacturing Association, National Federation of Independent Business, local Republican Party
THE ESSENTIALS: Industrial Fabrication Services
Phone: 507-726-6000
Address: 460 Commerce Street, Lake Crystal, Minnesota
Web: www.ifssteelfab.com