St. Peter Stained Glass Studio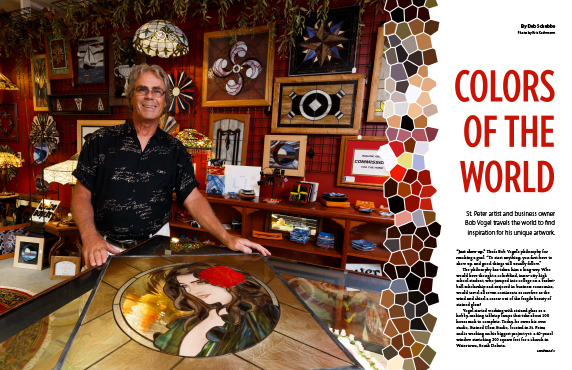 Colors of The World
St. Peter artist and business owner Bob Vogel travels the world to find inspiration for his unique artwork.
"Just show up." That's Bob Vogel's philosophy for reaching a goal. "To start anything, you first have to show up, and good things will usually follow."
The philosophy has taken him a long way. Who would have thought a colorblind, inner-city high school student, who jumped into college on a basketball scholarship and majored in business economics, would travel all seven continents as carefree as the wind and chisel a career out of the fragile beauty of stained glass?
Vogel started working with stained glass as a hobby, making tabletop lamps that take about 100 hours each to complete. Today, he owns his own studio, Stained Glass Studio, located in St. Peter, and is working on his biggest project yet: a 40-panel window stretching 200 square feet for a church in Watertown, South Dakota.
—–
Born in 1949, Vogel grew up in Minneapolis Central with two older brothers. He was an Eagle Scout and loved sports. At 15, he took a job as a stock boy at Dave's Superette, where he advanced to cashier. He also mowed lawns and shoveled snow for different residences. When he wasn't working, he was at the park.
"Winter, spring, summer, or fall, I was at the park playing baseball, football, hockey, and basketball," he said.
He was focused on hockey in eighth grade—until he grew nine inches in eight months, shooting up to 6'2".
"So the basketball coach pulled me aside and said, 'No more hockey for you,'" Vogel chuckled. "I was the white basketball player on Minneapolis Central's team and was named the player of the year in '67."
Vogel's parents, who had never graduated high school themselves, knew the importance of a good education, and their goal was to put all three of their sons through college. With Vogel's newfound height and skill, the goal became a bit easier.
"All that playing paid off," he said. "If you put in the time, things happen."
He attended North Dakota State University in Fargo on a basketball scholarship, majoring in business economics, and worked three summers at a Ford Motors assembly plant.  He graduated in 1971, but then his life goals changed when he heard the song, "Are You Sitting Comfortably" by the Moody Blues.
"They were poetic back in the seventies," he said with a smile, quoting a few lines about the Seven Wonders of the World: "The seven wonders of the world he'll lay before your feet, in far-off lands, on distant shores, so many friends to meet."
Those words awakened his desire to travel. After all, as the song says, the world was laid at his feet.
"I was bitten by the bug and wanted to travel as much as I could," he said.
To afford his dream, Vogel painted houses throughout his summers. When the weather turned cold, he'd take what money he had and go wherever he felt like going.
"I squirreled away money in a mattress, and when October would come along, I'd put the ladders away and head for wherever I wanted to go next, with whatever money I had saved," he said. "You didn't need a whole lot back then, only time and desire. Two thousand dollars and you could go around the world."
Vogel didn't find language a barrier, or the lack of planning. He learned some French in high school and hung out with taxi drivers when he arrived somewhere. ("They were the people who knew where the black market for changing money was and where the dollar-a-night-hotels were," he explained.) It didn't take long before he could stumble through basics in German, Portuguese and Spanish. He bought one-way tickets, never considering return dates until he'd run out of money.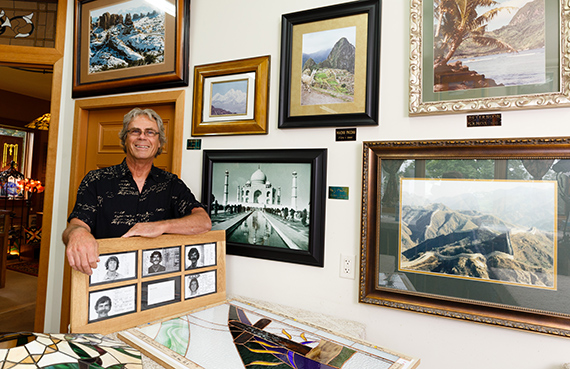 "I was stuck in Indonesia once and was told by my travel agent it'd be $1,500 to get back to America," he recalled. "I didn't have that, so through asking a series of questions over a half an hour, trying to find another way, they found a different route for only $150. Things usually end in your favor, if you're aware of what you want to do."
He learned to face these types of obstacles on his very first trip. He travelled by boat from New York to England and boarded a bus in Paris that broke down in Yugoslavia. From there, he took the train through Bulgaria.
"When the 10-day war for India broke out in '72, I was stuck in Iran with the roads closed," he said. "That's how I took my first airplane ride ever."
After that winter-long trip, Vogel thought it was time to roll up his sleeves and join the working world. He laughed as he remembered his first interviews with 3M and IBM.
"I got a haircut and applied to be a young, junior executive," he said. "They laughed at me and said, 'A couple of weeks after college, sure, but what's this seven-month gap?'"
He didn't get the job, and he didn't change his lifestyle.
"In 1974, I hitchhiked to San Francisco, sitting-on-the-dock-of-the-bay kind of thing, and took a freighter loaded with Planters Peanuts, Johnnie Walker and locomotive engines to China," he said, adding that he'd debarked in Hong Kong. "But I heard the freighter went on to Vietnam to deliver peanuts. And Johnnie Walker."
In 1975, a new job led to a new path.
"I was a taxi driver not making much money in the winter, and I didn't like that, so I signed up to volunteer [in the Peace Corps]," he said.
The Peace Corps accepted him for the Philippines, and International Volunteer Service accepted him for Papua New Guinea, which was listed as the "most remote place" any of the volunteers had been sent.
"That was exciting to me," Vogel said, "but I missed all of '76, the tall ships and elections that happened in America then."
Two years later, Vogel took the long route home through Singapore, Hong Kong, Bali and Europe.
"I stopped to see a friend who was playing basketball in Vienna," he said. "I'd gotten an offer to play in the European league the first time I was there, but I had money in my pocket, so I didn't want to do it."
—–
Vogel's house painting bankrolled his dreams well. As a meticulous worker with a great eye for detail, he landed some prestigious jobs, including painting Prince's home in Chanhassen and houses for other high-end clientele.
His eye for detail also guided another talent—photography. On his first trip, he took his parents' 110 Brownie camera along. Later, he won a 35mm camera in a poker game in Singapore and also bought a Nikon camera. Vogel is colorblind, so he developed black-and-white films in his bathroom and had his color pictures developed by someone else.
That same eye for detail blessed him in 1980. He had a couple months of winter before house-painting would start, so he took a course in stained glass. That's when a new bug bit him: artistic expression. He already loved the way music had inspired him to travel the world, and he loved the way he could capture the world with a lens. Now he wanted to capture the world in stained glass.
With an array of exotic photographs displayed on his walls and music ranging from New Orleans ragtime to Irish folk songs filling his workroom, he practiced soldering and cutting stained glass. He started with a few lamps. Around lamp No. 17, he had the hang of it. It was then that he started playing with the idea of trading his ladders for lamps to support his travels.
He continued painting, traveling and lamp-making over the next decade, gaining a future travel companion and fellow artist in 1981—his son Alex. Vogel pulled Alex out of school to travel a few times (because the educational value seemed worth it, he said), but a planned trip to Paris fell through in 1994 because Alex started having trouble at school. Instead of losing Alex's non-refundable ticket, Vogel passed it on to Victoria, an art-minded free spirit he'd been dating for a couple of years.
"She moved heaven and earth to get a 24-hour passport so we could leave the next day," he said.
After Victoria graduated nursing school, she and Vogel were traveling through Spain in 2000 when she popped the question. They were married on the Rock of Gibraltar. Six months later, Victoria spotted the high-profile, 1914 Frank Lloyd Wright-inspired home on busy Highway 169 (Minnesota Avenue) in St. Peter, thinking it would be perfect for a business. Alex had just graduated that year and moved to Colorado, but Victoria and her son, Garrett Owen, and Vogel moved into the large brick house. By this time, Vogel had 75 lamps waiting to grace his soon-to-be studio, which took six years to set up in a garage and small shop behind the house.
The couple put in a veranda, a courtyard and brick fencing with wrought iron accents. They had contacted 16 masons, but no one wanted to tackle the fence the way the Vogels wanted it—with half-inch thick rails in varying heights—so rather than settle, they took on the project themselves. Much like Vogel did on his trips, they jumped in with a learn-as-you-go approach.
"We went to the library and studied the one-two-three's of masonry and went slow and methodical, figuring out each step as we went along," Vogel said. "It took years, but we got it right."
With Victoria his color coordinator, Vogel continued his art while building the studio. Some of the cathedrals of Europe influenced his work, along with colors from the South Pacific.
"I got a few commissions, and if I wasn't sure about a job, I'd think, 'Well, we can figure that out,'" he said. "We'd look at it and say we need to do this first, then that, and we'll figure that out."
In 2006, Vogel's inventory was up to 150 lamps and 100 windows when, two weeks before they were set to open the studio, an ember from a campfire the night before set the place ablaze. Along with personal property, Vogel lost 100 of the lamps that had taken years to accumulate, a number of windows, glass-cutting and soldering equipment, and many of the photos he loved, not to mention the music that spoke so powerfully to him.
"We looked at the charred remains of the studio," Vogel said, "and we said, 'We could build another one.'"
Gifted artist Alex designed the new studio.
"We had someone else frame it, but we did the rest," Vogel said. "We learned how to brick—keep those lines straight!—and shopped for windows. Everything was built around the windows and doors."
They opened the new studio in October 2006 with the help of Ed Lee, president of the St. Peter Chamber of Commerce.
"He's really been a wonderful voice for us," Victoria said.
After the fire, the business turned a corner, and Vogel credits his son for that. According to Vogel, Alex suggested that he should try his hand at turn-of-the-century style art, based on Czechoslovakian artist Alphonse Mucha's portraits of famous stage actress Sarah Bernhardt. Vogel created four windows inspired by that artwork, and Alex painted the faces. Only the faces are painted; the rest comes alive with colored and textured glass.
"I would cut the face out and send it to Colorado," Vogel said. "Alex would paint the face on and send it back."
Alex does a lot of research for a design.
"The more information he has the better," Vogel said. "Then he draws up a sketch and we'll all look at it for a number of days or weeks and decide what changes or tweaks are needed. If one of us feels real strong about a certain thing, we usually work around that, but there's a lot of back and forth input."
Though Vogel does the fabrication, Victoria has the eye for colors and textures.
"Colors depend upon whether a piece will be used as a window or hanging on a wall," she said. "We have so many choices, but once I find the one, I know."
"We've got a team," Vogel said, "and that makes us capable of a lot of things. It'd be difficult for only one person to do it all."
"We can get pretty close to any photograph or painting," Victoria added.
Sometimes, however, small adjustments are made. Victoria once noticed in a photograph of historic art that the female subject had a large Adam's apple. She knew no one would want to see that, so they smoothed out the neck.
Now in their fifteenth year of business, Vogel's largest finished project is a 12-foot-by-5-foot depiction of the birth, crucifixion and resurrection of Christ, which graces the entrance of Bethany Lutheran College in Mankato. Installed this spring, the stunning piece was created out of 13 glass sections fit into five frames. The project took three years from discussion, planning, and crafting.
"Alex drew it out, and then we saw it in glass before we soldered," Vogel said. "There were just a few extra lines that didn't look correct, so we made changes."
Right now, the trio is working on a project ten times bigger than the Bethany window. The Watertown, South Dakota project stands 35 feet high and has required several discussions with a committee. They expect to have it finished in another six months.
Vogel said they are open to pretty much any kind of special order. For example, two customers came in with a landscape of Mount Rushmore painted by one's father. Vogel will be replicating the painting in stained glass. He could no doubt capture any atmosphere in his art, since he's literally seen the world.
—–
Vogel added a kiln to his tools several years ago, bringing jewelry, dishes and home décor to his inventory.
"Every morning we open the kiln to see a surprise," he said. "We're getting better at it, and people are buying it, so we're going to expound on it this winter."
During the last six winters, Vogel has given classes Saturday mornings, which he advertised on his website, www.stainedglassstudiostpeter.com. The website helps greatly, because highway traffic hasn't brought the number of customers they'd hoped for, nor has the small sign.
"We're in combined residential-small business zoning, so we can only have so big of a sign," Victoria explained.
To gain exposure, they've done some television advertising. Recently, they've targeted the Twin Cities, but they've also advertised around Mankato on HGTV, cable TV, and TNT.
Vogel's plans beyond art include traveling America and writing a book about his worldwide adventures.
—–
Finding Inspiration
According to Vogel, "Artists get their own ideas, but they also get some from standing on the shoulders of those before them, and put it all together to get something new."
A customer gave him the idea to flatten wine bottles and hang them on the wall, so Vogel added stained glass pieces shaped like drips to appear as though wine is dribbling from the bottle.
Creating Beauty
Artist Bob Vogel sets a champagne bottle in his kiln to flatten overnight. Next, he puts the flattened glass onto a metal form and cooks it again. The glass then folds around the form. A beautiful shape comes out that can be a bowl for potpourri or a votive or candy dish.
"Heat glass to 1,250 degrees and it will slump," he said. "At 1,350 degrees, it'll tack and fuse to itself. At 1,450 degrees, it puddles up and smoothes over, and rounds the corners."
World Traveler
A man of the world, Vogel's travels include India, Bulgaria, Hungary, Iceland, Australia, Argentina, Scotland, Germany, Austria, Istanbul, Indonesia, New Zealand, Spain, Sri Lanka, Malaysia, Greece, Egypt, Kenya, Turkey, Rio, Beijing, Chile, Peru and Antarctica. Victoria says it's easier to list the places he hasn't been than to name everywhere he's visited.
Throughout his trips, Vogel stayed in a lot of dollar-a-night places with rats the size of raccoons, "because I was trying to save money to travel more," he said. "But as I got older, I upgraded a bit," he added, with a smile at his wife.
He also used pop-up Volkswagen buses, but when he traveled through Africa with his son, he didn't want to go bus-style. They rented a land rover instead.
One fond memory springs from his first journey, which took him to Europe. It was a seven-month trip, and he ended up in India for three months. "Lost about thirty-five pounds there, and I wasn't overweight," he said. "I was 21 and played basketball, but they didn't have meat there. Not much to eat."
Another trip took him to Puerto Rico in 1978, where he tried his hand at gambling.
"I don't go to gambling places, but I'd always wanted to do that—play roulette at a Puerto Rican casino," he said. "I played the Marx Brothers—No. 5 red (from the film "A Night in Casablanca"). I won twice and made some money, so I went to the airport. I just wanted to go touch South America, to say that I'd been there, so I flew to Venezuela."
Throughout his 40 years of travel, he visited India four times, but it wasn't until the last trip that he saw the famous Taj Mahal.
"But the fourth time was a charm," he said, pointing to the picture of the Taj Mahal that graces a wall of his studio.
THE ESSENTIALS: Stained Glass Studio
Address: 215 N Minnesota Ave, St. Peter, Minnesota
Phone: 507-931-3818
Web: www.stainedglassstudiostpeter.com