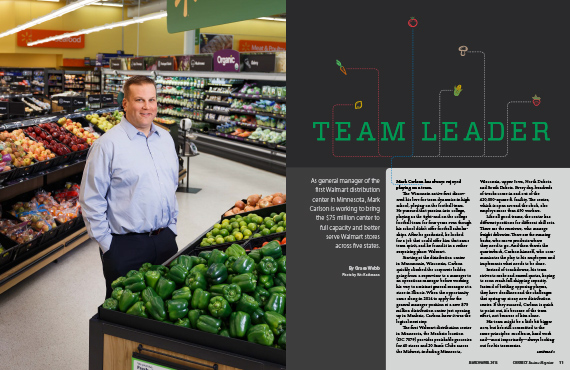 Team Leader
As general manager of the first Walmart distribution center in Minnesota, Mark Carlson is working to bring the $75 million center to full capacity and better serve Walmart stores across five states.
Mark Carlson has always enjoyed playing on a team.
The Wisconsin native first discovered his love for team dynamics in high school, playing on the football team. He pursued that passion into college, playing as the tight-end on the college football team for four years even though his school didn't offer football scholarships. After he graduated, he looked for a job that could offer him that same team spirit, and he found it in a rather surprising place: Walmart.
Starting at the distribution center in Menomonie, Wisconsin, Carlson quickly climbed the corporate ladder, going from a supervisor to a manager to an operations manager before working his way to assistant general manager at a store in Illinois. When the opportunity came along in 2014 to apply for the general manager position at a new $75 million distribution center just opening up in Mankato, Carlson knew it was the logical next step.
The first Walmart distribution center in Minnesota, the Mankato location (DC 7079) provides perishable groceries for 40 stores and 20 Sam's Clubs across the Midwest, including Minnesota, Wisconsin, upper Iowa, North Dakota and South Dakota. Every day, hundreds of trucks come in and out of the 420,000-square ft. facility. The center, which is open around the clock, also employs more than 450 workers.
Like all good teams, the center has different positions for different skill sets. There are the receivers, who manage freight deliveries. There are the running backs, who move products where they need to go. And then there's the quarterback, Carlson himself, who communicates the play to his employees and implements what needs to be done.
Instead of touchdowns, his team strives to make and exceed quotas, hoping to soon reach full shipping capacity. Instead of battling opposing players, they have deadlines and the challenges that spring up at any new distribution center. If they succeed, Carlson is quick to point out, it's because of the team effort, not because of him alone.
His team might be a little bit bigger now, but he's still committed to the same principles: excellence, hard work and—most importantly—always looking out for his teammates.
—–
Tell me about yourself.
I'm originally from Chippewa Falls, Wisconsin, where my parents and in-laws still live. I attended college at the University of Wisconsin-Eau Claire. My dad was a science and math teacher at the high school, and my mom stayed at home to watch me, my two sisters and my brother.
What were you involved with as a kid?
I really liked being active. I played football, baseball, hockey and golf as a kid, and I also spent a lot of time fishing. All through high school, I participated in football, hockey and track, and I played football in college too.
You attended the school where your father taught. Was that difficult as a kid?
Actually, I liked it. I guess some would see that as a negative, but I saw it as a positive. It was nice having him there. I even had him as a teacher for a class. I didn't see it as anything unusual. I still had to work hard and earn what I received, and I didn't get any special treatment at all. It was kind of the work ethic that I grew up with.
What other lessons did you learn from your folks?
I think they showed me good family values, good ethics and strong community ties. My parents worked really hard for what they had and what they provided for us. My goal is to do the same, if not more, for my family. Twenty-three years later, with this company hopefully I'm fulfilling some of those goals and values.
What were your plans after high school?
I wanted to play college football, so I decided to attend the University of Wisconsin-Eau Claire. I graduated with a degree in corporate exercise management.
Did you attend on a football scholarship?
UW Eau Claire is a Division III school, so they don't offer scholarships. The team was full of kids who just wanted to play football and have fun. Nothing beats playing a football game on a Saturday afternoon. You really need to like the sport to do it, since it's quite a commitment. A few of my fellow teammates are some of my best friends, whom I still spend time with today.
To me, my job at Walmart reminds me a lot of the teams I've been involved with, in working together, achieving goals and striving for excellence. Those things are all values that I've lived with and probably why I've enjoyed working for this company for so long. It matches up with what I like to do. It really is all about people.
Did you work in college?
I worked at the university bookstore for five years in shipping and receiving, which obviously benefited me as I got hired on here, since we moved boxes of books and worked with purchase orders. We didn't have the fun equipment that we have in this facility; we had a two-wheeled dolly and our arms.
What came next once you graduated?
For a short time, I worked at a sports performance facility that was related to my major in Eau Claire. However, then I learned that Walmart was hiring for its new distribution center in Menomonie, Wisconsin, and applied for a position with them.
Most people don't dream of creating a career at Walmart. What attracted you there?
At first, I was just looking for a stable full-time job. I started off as an hourly associate on the receiving dock. From there, I was promoted to a supervisor position about six months later.
That seems very quick.
There's a lot of growth opportunity with Walmart, especially in a startup building like Menomonie's. In that situation, there tends to be a lot of need for new leadership. It's the same here; we promoted our first hourly associate in December. It's something we definitely promote as a company, to recognize internal talent. About 75 percent of our store management teams start out as hourly associates. It really gives you a good base and a good knowledge of the business.
What came next?
In early 1995, I was promoted to a receiving manager. I did that for a couple years and then was promoted to operations manager. While area managers are only responsible for their specific area, operations managers are responsible for several areas. Most of my time was spent in receiving, though I spent a little time with shipping and order-filling as well.
In 2005, you transferred to a distribution center in Illinois. Why the change?
I was looking for something new. In the late 1990s and early 2000s, we as a company started to really get into the food business, exploring and diving into the Supercenter store model. That's when we started our grocery and perishable growth as a company. We built a lot of buildings to support that store growth. So I kind of got in on the back end in 2005. But personally, I thought it was time to do something different and learn a different aspect of the business. I interviewed and was accepted to go to Sterling, Illinois, where I started as the assistant general manager. That was a brand new startup DC, so I helped to open it up fully. I was there five years doing the same thing we did here, everything from buying furniture to identifying good management and associate teams to setting up operations.
After that five years, I felt like it was once again time to do something different. After looking around, I saw an opportunity in Beaver Dam, Wisconsin. We have a regional building there, and I applied for the same position that I had in Illinois. When I was accepted, I moved up there with a new team and a new challenge. I was with that team in that role for four and a half years, and it was a great experience, great associate group and great leadership team. I definitely learned a lot from that time.
But eventually you wound up in Mankato.
Back in 2014, this opportunity came up, and I felt like it was time to do something different again. It's been a really good move. Walmart distribution centers are typically in smaller cities; Beaver Dam is about the size of Menomonie (about 16,000 people). Here, you can live, work and be active, from recreation to shopping to eating. A lot of people who live here think this is a small town, but it's not. It truly is almost a suburb of the Twin Cities, and there is so much to offer down here. So it was a good transition for my family and me.
How have you gotten involved in the local community?
Personally, I joined the Mankato Area Hockey Association (MAHA), and our Walmart team has joined Greater Mankato Growth, where I'm on the executive round table. Furthermore, as a company and as a building, we've been extremely involved in the community when it comes to volunteer efforts. Some recent ones were our involvement with Relay for Life, the American Cancer Society, cleaning up Highway 22, giving away Meals on Wheels, serving at the Salvation Army and helping with Habitat for Humanity.
Both managers and associates volunteer, though it's been a lot more managers up to this point since we're a startup and people are just trying to get acclimated to their new positions. Right now, we're bringing everything in front of our teams so that in the future they'll be able to volunteer and be active in these different organizations we support.
You transferred several times between Walmart sites. Is that easy?
Those opportunities definitely exist. As an hourly associate, you're able to move from distribution center to distribution center to try different things and experience different formats. Once you're with the company for a year, you're able to do that if there are openings. If I were an area manager here and wanted to stay here the rest of my life, that'd be fine. If I wanted to try my hand at an operations manager position, I might have to move. It's a process though. You've got to apply and be interviewed. I like to say we all get interviewed every day.
Right now, we're working with Mankato's "sister" distribution center in Mebane, North Carolina. They're opening later this year, so they're starting the same process that we just went through for the last two years. They're going through construction and getting the building ready, and they'll start shipping this summer. So they need managers and hourly associates, which is a great opportunity if some of our employees want to try that out. Your opportunities become more available if you are willing to move.
Are you thinking of trying something new in the future?
I have no plans for that right now. We've all got a lot on our plate. I'm just happy to be here in Mankato and looking to try to do the best I can to help this team be successful. It's all about getting this team at the level of experience necessary, and supporting the stores we service the best we can.
Your distribution center runs 24/7, but you can't possibly be here all the time.
(Laughs) Oh, I'm here a lot. For a while there, I was here seven days a week, all the time, as we started up. The assistant general manager is also here all the time. We've tried to scale back a little bit to get a day off here or there, but I come in whenever it's needed.
During a typical day, I'll come in and be part of the morning meeting, where we discuss as a leadership team what's going on and what the plan is for the day. We do some forecasting, so we kind of have an idea to see what's going on. There are operational meetings, conference calls, things like that.
I like spending time on the floor, talking to associates, seeing what's going on and asking them questions. You can really get some good insight about the distribution center that way. I try to spend a little time in the office, but I'd rather spend more time on the floor. I enjoy being on the floor and getting to really know our teams. I have really enjoyed building these connections over the years.
Tell me about the startup process. I imagine it must be very challenging.
From the time I was chosen for this role to how we picked our management people, it's been a team effort. No one person can do this. So that's a pretty neat process: getting to know people, establishing associate teams, getting them on board and acclimated to the culture, sending them to other distribution centers to learn. You're continually gaining that experience. It's a slow process. Each day is a new day, and we continue to gain experience each and every day.
One challenge was the number of new managers. We had hourly promotions, hired new managers from outside the company, and worked with some associates who came in as lateral transfers. Experience varied from regional distribution centers, grocery centers, stores and pharmacies. All these leaders had to learn and train and teach, and they still are learning and experiencing even as we operate.
To see that development and that pace of excellence moving forward is exciting. A year ago, this was dirt. Now, we are operating; we're receiving and shipping cases. We've got some pretty engaged and excited teams that are making that happen. Was it easy? No. Is it easy? No. But it's rewarding. It's fun seeing people being successful.
When you first opened in 2015, you announced you were looking for 400 new employees. Are you still hiring people?
For the most part, we have what we need, but there are a few openings—though not like what it was eight months ago, when we went from zero to 450 employees in a few months.
I'm guessing part of that is due to the starting wage of $16.75 an hour you offer—nearly twice Minnesota's minimum wage.
We're excited to offer a high wage. That being said, with the type of work we do and the skill level necessary, our employees are earning it. Everything we do is hand-picked; we're moving every box by hand. You need a level of skill to do that, and to drive the equipment, and to do all the stuff that's necessary to operate. That's why we offer the wages we do. It's based on the skill level needed and the expectations for that job. Every one of our associates here works hard each and every day. We move boxes for a living. It's hard work.
What factors play into choosing the location for a new distribution center?
When we're selecting a site, two of the things that are pretty important are transportation—the ease of access to the interstate and having that network—and a good employment base to draw from. This site offers both of those. Also, citywide, there has been a lot of infrastructure additions and enhancements that will continue to happen, not only as we grow but as other companies come to town and utilize that infrastructure. So we're happy to be in Mankato.
Mankato isn't really the first choice when you think of bustling metropolises. Why didn't you build in Minneapolis or St. Paul?
DCs are usually located in smaller towns, so this is a big city for us. Those who live here see it as a small city, but we look at it as being part of a community of more than 60,000, with St. Peter, Eagle Lake and Lake Crystal right down the road.
We're able to provide fresh produce and frozen deli goods to a large area of the United States from this facility. Prior to us coming, a lot of the perishable items were coming from Tomah, Wisconsin. That's three hours away from here. We're serving places like Grand Forks, North Dakota, which is a 10-hr drive for Tomah. Now we're able to provide that service sooner, providing fresher products to the customer. So it's strategically located here in the Midwest to help service these stores, from Minnesota, Wisconsin, upper Iowa, and North and South Dakota. It's a good location to help service that network and still have access to good road systems, for not only ourselves but also our vendors.
Walmart has a pretty great retention rate when it comes to employees. What's your secret?
I don't think there are any special formulas, but I do think a lot has to do with the culture. We have our four basic beliefs: respect for the individual, strive for excellence, service the customer and act with integrity always. To me, those four things are the cornerstones of our culture. They provide an atmosphere and environment for our associates to be really successful, to be proud and excited about where they work. It's not just about the pay. People don't leave jobs because of pay. People leave jobs because of people. Money's a short-term motivator. So it's really creating an environment where our teams feel comfortable and understand what our expectations and goals are, both as a unit and as a distribution center. And then we get involved in those good causes that give back to the community. We not only talk about it, we act on it. It's just part of our culture.
What keeps you up at night?
That we're a new facility. Every day is a new day, and our teams are continuing to learn. From a safety, quality, customer service and efficiency standpoint, we're improving each and every day. And as we gain experience, we'll continue to gain more responsibilities. We'll gain more clubs and stores that we service as time goes on. At some point, we'll be at full capacity.
This is a startup, so we are learning every day. We're continuing to gain experience and knowledge, so we service our stores and club partners with the world-class service that they deserve and that we expect.
What are your goals?
My goal is to just try to make a difference each and every day. I like to teach, I like to help, I like to assist, and I like to coach. All that's part of my day. My goal is to develop my replacement, to give that person as much experience and knowledge and feedback as possible so that they can be their best. In the same way, I'm trying to develop the staff to be the best operations staff that they can be in interacting with our associates and being part of our teams. It's manager development, it's associate development, it's trying to be a leader in the community.
How do you see the distribution center affecting Mankato and the surrounding area?
It's a great addition to the town. It's been a big commitment, a multi-million dollar commitment to this area. I'm guessing that attracts other potential businesses to come to this area, to be part of this growth. The reason we moved here as a company, from the infrastructure to the employee base, is the same reason others would want to move here and bring their businesses to these locations. It's positive for the area; it's encouraging for job creation and job growth. It's a win-win for everybody.
Another area where we are hoping to make an impact is through our charitable giving. During our grand opening celebration, we made several donations in an effort to support local nonprofits, including the Mankato Salvation Army, ECHO Food Shelf, Project GEM and others, and we're looking forward to partnering with more organizations. Another unique initiative I hope Mankato nonprofits take advantage of is the Walmart State Giving program, which provides grants of $25,000 to $200,000, depending on the type of program.
Walmart can sometimes be a polarizing figure. Some people complain it doesn't do right by its employees. But you've been here 23 years.
I wouldn't be working here if I didn't believe in the values and the culture that we are in each and every day. We're a humble company that doesn't stand on a desk and talk about the things we do. But if you live it and breathe it and are involved in it, you have a different opinion about the place.
Another thing people don't realize is that Walmart is committed to the advancement of its associates. Recently, the company announced that it is raising wages, providing additional training opportunities and increasing scheduling flexibility. It's exciting that they are recognizing and rewarding good work and encouraging talent at every position.
The biggest message I want to stress is that it's really about the team. It's not about me. It's about the 400-plus associates and 40-plus managers that truly make a difference each and every day. They're very engaged and very excited to do the best they can, and that's the thing that keeps bringing me back to work each day: that interaction with those teams and those associates and managers. It's been a great environment for me for 23 years, and that's the reason that I'm still here.
—–
Coming To Mankato
Walmart's road to constructing a distribution center in Mankato has been a long one.
As early as 2005, Walmart purchased 150 acres of land on the northeast edge of the city, working with the City of Mankato and other parties for several years to plan the details of the project. Ground was finally broken in June 2014, with about $5.3 million in site improvements done. The state of Minnesota provided $2 million in infrastructure grants, while the rest of the cost was assumed by Walmart and other developments building in the area. The center opened in spring 2015.
Walmart representatives have mentioned the goal of adding a 400,000-square ft. dry-box building to the center, so that the center could handle all of Walmart's groceries for the region. However, that part of the project has no set timeline as of yet.
Getting to know you: Mark Carlson
Family: wife Kristina, kids Brooke (15) and Ben (12)
Education: University of Wisconsin-Eau Claire
Hobbies: hockey, golf, attending his kids' sporting activities. ("My parents never missed a game or a practice all the way through college, and I have those same values. It's fun to watch my kids play, but it's more important to just be there for them.")
Most prized intangible possession: "Nothing. Other than family, really everything else can be replaced."
One thing that he would do differently: "One thing that I would change if I were 18 years old again is go into the military. Our freedom is so precious, and there are so many sacrifices that are made from so many individuals so that we can do what we're doing right here. To be part of that would have been an honor."
THE ESSENTIALS
Walmart Distribution Center 7079
Phone: (507) 344-7100
Address: 101 Sohler Drive, Mankato, Minnesota