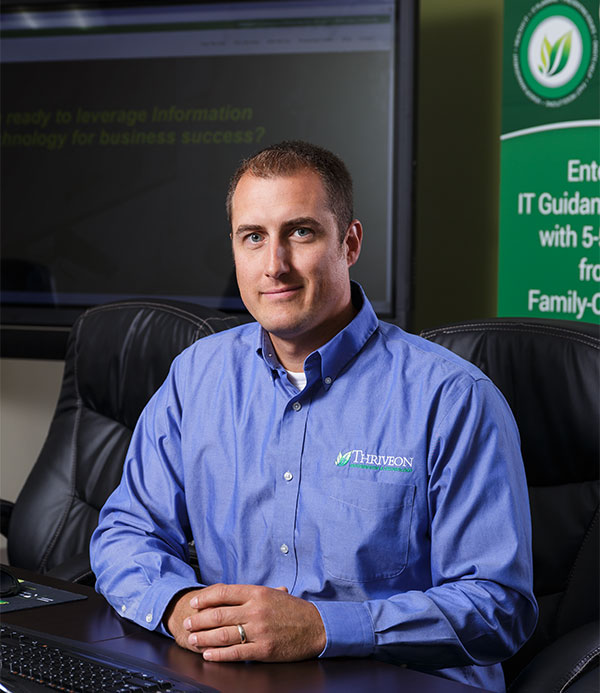 Sam Bloedow, founder and CEO of Thriveon. (Photo: Kris Kathmann)

Nurturing IT
Sam Bloedow founded New Ulm-based IT company Thriveon at age 21. Later, he brought his entrepreneurial family onboard and Thriveon began to grow.
I could begin this article with a lot of very impressive buzzwords. The world of information technology (IT) is chock full of them. Innovation! Sustainability! Agile! Synergy! Big data! Instead, I'd like to introduce you to the Bloedows (pronounced Blay-doh, like Play-doh), the family force behind Thriveon (pronounced Thriv-E-on, like,well, like nothing else). Thriveon encompasses all of the above and more.
Headquartered in New Ulm with additional locations in Grand Rapids and Bloomington, Thriveon is a family-owned IT managed services company that provides businesses technology leadership and proactive IT strategies for growth. With a roster of 20 full-time employees, up from 14 in January of 2015, Thriveon helps companies with 15 to 500 computers improve how they leverage information and technology to achieve business success. Thriveon's current focus is growth. "We have a goal of growing at a rate of 30% year over year," said Sam Bloedow, Founder and CEO. However, the company will not grow at the expense of the experience they provide to their clients, as can often happen with companies who grow quickly. This dedication to the client experience is an aspect that distinguishes Thriveon from other managed IT service providers. Through their proprietary Information Technology Strategy (ITS™) model, the company spends a significant amount of time interfacing with clients about business goals, mission, alignment, and continuity , providing a roadmap that moves beyond support to a strategy for growth. It's a system that takes the hassle of managing IT off the plate of business owners who just want to focus on their true passions. There's a whole clan behind this sustained success; in addition to Sam, his father Steve serves as President, his mother Judy in Inside Sales, and his younger brother Jake is Service Manager.
The Thriveon Origin Story
Sam Bloedow founded Thriveon in 2002, when he was just 21 years old. He was born in Sleepy Eye, Minn., a town of approximately 3,500 people located 14 miles west of New Ulm. "I've always been interested in entrepreneurship and running a business," he said. "When other kids would be playing games, I was playing run-a-business. Early on I would do things like create a business plan and figure out what I could sell to the neighbor kids."
Sam started building and fixing computers out of his parent's basement in high school, taking advanced IT certification classes and exploring technology as a hobby. Initially, he planned to become a CPA, until he shadowed one for a day. "I realized that what I liked most about what the accountants did was how they used computers, and how the computers they used provided value to their organization. That's when I became interested in how IT was being leveraged to help the business," he said. Sam also noticed that there was a lack of IT support services for businesses in his region, and that's when his entrepreneurial mind clicked into place.
Over the years, Sam had observed both of his parents running their own businesses. Steve owned an electrical contracting company for 20 years and Judy had a Curves gym franchise. "I grew up in what I consider an entrepreneurial family, liking the idea of operating a business and helping other people," said Sam. Their own business successes allowed the Bloedows to support Sam's vision for the company. "I didn't have any concerns about it, knowing that I had restarted a business basically from scratch and made that work and that Judy had taken a Curves business that was in the tank and in two and half years turned it around and made it very successful," said Steve. "I had my office at home so he was pretty well aware of how it works. It's not 8-5, Monday through Friday. When the phone rings at three in the morning you get up and move," he added.
And although he loved computers, the idea of helping other organizations grow was the most appealing aspect to Sam. "Empowering people to create business success with information and technology was really the underpinning of it all," he said.
So, What is Managed IT?
Small- and medium-sized businesses come to Thriveon for a number of reasons; IT takes up too much of their time; they want to improve the technology experience for their staff, or they feel stuck, frustrated, or uncertain about the security of their business information. Bottom line, IT is holding them back in some way.
"We provide an entire IT department as a service for a fixed monthly fee," said Sam. Thriveon starts by sitting down and discussing business plans with owners and executives and coming up with a roadmap that will help them achieve their goals through information and technology. "That could come in the form of needing a new line of business applications. That could come in the form of rolling out a new location," he said. Thriveon's expertise is that they understand the infrastructure and essential foundations that IT needs to be built on in order to work for an organization instead of against it. When that foundation is in place, it becomes possible to use IT strategically. The company takes time to understand their clients' goals, to guide them so that they get the most out of their IT investments.
Businesses often feel like they have only two options with regard to IT: outsource support or hire internally. In many outsourcing situations, companies feel like the support company never really understands their business. When building out internal staff, companies can find themselves distracted from their main line of business because they have to also be in the IT business. Thriveon provides a third option. "We can come in and plug in as an entire IT department—top-down, with all the management structure, the processes, systems, and outcomes in place," said Sam. The company is also highly credentialed, one of only three managed service providers in Minnesota to receive the CompTIA Managed Services Trustmark. The certification is an indicator of adherence to industry best practices and sound business management. To receive the trustmark, Thriveon was externally evaluated on aspects of operation such as organizational structure, technology tools and systems, standard operating procedures, code of conduct, and customer testimonials.
Family Dynamics
Thriveon manages over 1,500 desktops and a few hundred servers everyday, with about 40 clients. "Our smallest customer today has 5 computers and a server. Our largest customer is at 260," said Sam. However, the responsibilities do not fall on his shoulders alone. In 2005, Sam's father Steve joined the company as President. The two are 50/50 partners in the business. 2008 saw the addition of Judy in Inside Sales and in 2009 younger brother Jake joined the team.
While the idea of being in business with your family members might be terrifying to some, the Bloedow's make it work with stunning smoothness, and with a few tricks up their sleeves. For one, Sam and Jake don't refer to Steve or Judy as Mom or Dad in the office. "One of the things that helps us work well together is that we have clearly defined roles and responsibilities. I think that helps keep it fairly clean," said Sam. "We can have open conflict and then move past it quickly and get onto the next thing. Or, get together and grill out for supper and not have that conflict anymore," his brother Jake added.
As with any business that has experienced significant growth, trust is imperative, and is just one benefit Sam sees in bringing his family onboard. "You need to invest in and focus on trust and team building. Some of that is already built in with the right family members," he said. The Bloedows tend to spend time with each other outside the office a lot more than most families. "It's neat because we're together all the time here, yet we like to spend time together as a family after. Family time is important to us," said Judy. The importance of family was a value instilled on the Bloedows throughout their upbringing, with regular summer and winter vacations and suppers together every night.
One of the challenges to having everyone in the same building is not letting their work consume family time once they leave the office. "Maybe the hardest thing is trying to get away on vacation together," laughed Judy. "I agree, sometimes when we are trying to be off the grid we can't avoid discussing or conducting business," added Steve.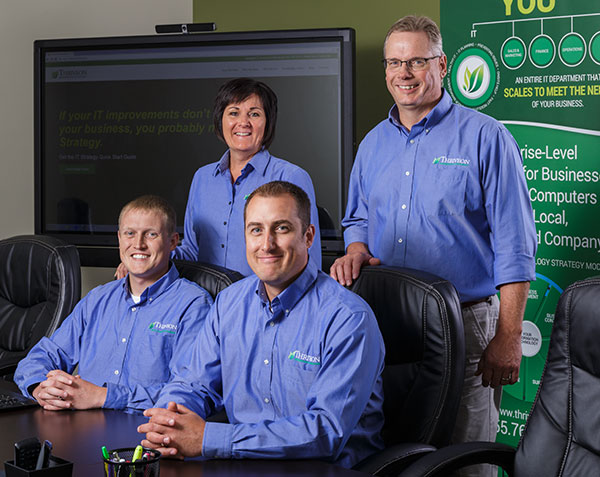 Founder Sam Bloedow (foreground) with brother Jake and parents Judy and Steve. All are employees of Thriveon.
Company Values and Workplace Culture
Another unique aspect of the business is that Thriveon focuses on its employees just as much as its clients. Being intentional about where they're going as a company, what they offer, and how they behave has attracted a certain type of employee to help Thriveon's growth. "Is it the stereotypical IT person who sits in a back room and never talks to people? Nope, it's not," said Sam. "We're bringing in employees who enjoy working with other people, who enjoy the challenge of helping a business accomplish their goals." The company recently earned a spot on the 2016 list of 100 Best Places to Work in Minnesota, their second time on the list as they were also included in 2014. Compiled by Minnesota Business Magazine, the list is determined by the scores of an anonymous online questionnaire filled out by the employees at each nominated company.
Once employees are brought onboard, Thriveon invites them to become part of a trusting and supportive family. Staff develop career roadmaps, working on a monthly basis to identify development opportunities and goals. The workplace culture is one that recognizes and encourages teamwork and collaboration and rewards high performance and continuous improvement. Thriveon hosts holiday parties, summer get togethers, and regular potlucks at the office. "It's important that the employees know that family is important. That they can take time off for their children's games, that really does come first," said Judy.
The company is flexible, willing to try things and see if they work or not. "Building a growing company, we need to be open to change, constantly questioning what we do in a positive way with the idea of continuously improving," said Sam. "Building processes and systems so that we create a consistently great, repeatable customer experience is important. At the same time we make sure that everybody is open to challenging that experience, looking for ways to make it better."
This intentionality is confirmed by the positive feedback Thriveon receives from many of their customers. In the IT world, it's common to get negative feedback, a double-edged sword of "What am I paying you for if the technology is broken?" and "What am I paying you for if everything is working?" Customers consistently tell Sam how easy Thriveon is to work with, expressing appreciation for their listening and communication skills. Theirs is a service that relies on trust, clients are sharing competitive and confidential information with Thriveon in order to help them understand business needs and goals. Technology can be a particularly touchy subject if not handled delicately. So much of modern day business relies on it that it can sometimes be embarrassing or intimidating for an owner to say that they don't understand how something works. At Thriveon, a focus on relationship building aims to overcome those fears, helping clients open up so that technology can be approached proactively instead of reactively.
A Family Legacy
Although the company does not have a stated spiritual component, the Bloedows are faith-filled. "Definitely where the company has come from, I think, is based off our faith. We all went to church last night, randomly, not knowing anyone was going to be there and all sat together," said Jake. "We do that a lot," his mother added. "We all line up in one pew."
For Sam, the most rewarding part of this business is helping people grow. "Within the organization, helping employees develop in their career and achieve the successes they're looking for in life," he said. "And doing that same thing for our customers and their business, helping them grow and achieve their goals."
When I asked Sam about what he hopes to pass on to the next generation of this family-owned business, he paused thoughtfully before answering. "They're so young, it's too soon to tell," he said. "It's probably more about teaching them some of the things that I've learned through building a company, so that whatever they decide to do, they hold that knowledge."
---
Getting to know you: Sam Bloedow
Birthplace: Sleepy Eye, Minnesota
Education: An Associate of Applied Science (AAS) degree in Computer Systems Networking and Telecommunications from Brown College.
Family: Wife Jessica (a Pharmacist), sons Alex (8) and Jonathan (6), daughters Elizabeth (4) and Adeline (9 months).
Hobbies: Jet skiing, swimming, coaching baseball, helping with team hockey.
Developing IT Trends
One of Sam's responsibilities as CEO is to keep an eye on IT trends developing throughout Minnesota and the rest of the country. As someone involved in building business processes and structures that also include the ability to pivot fluidly, keeping a finger on the pulse of IT is imperative.
Increase in overall risk: "Organizations are growing more reliant on technology without growing more mature in terms of how they manage that technology. They have more "eggs in the technology basket", and if technology hiccups or goes down, that affects companies more than it ever has before."
Increase in security threats: "Three years ago there were some isolated threats but the general perception was that people were only going after 'the big guys' so as a small business owner in rural Minnesota, who am I to be the target of some kind of attack? Unfortunately, that's not how it works. Hackers are now broadcasting a really wide net in the hopes of catching somebody. The more somebodies they get, the more money they make. The ones who get hacked into are the ones that are most vulnerable, which often translates to small or medium sized businesses who have assumed that everything is okay and things are just business as usual."
Advice For Young Entrepreneurs
"Chances are your vision for where you want to be is much bigger than your ability to get there today. Take the time to celebrate the wins you have, to enjoy the journey of getting there. Doing that will inspire you to go even further, to continue investing in yourself. If you're going to go down the path of entrepreneurship, you need to be willing to change and mold who you are over time, constantly be learning new things and developing yourself at a rate greater than the business is growing, so that in turn you can do that for your team."
THE ESSENTIALS
Thriveon
Phone: (507) 359-6451
Address: 210 South 20th Street, New Ulm, Minnesota
Web: thriveon.net
Facebook: Thriveon01
Twitter: twitter.com/Thriveon1