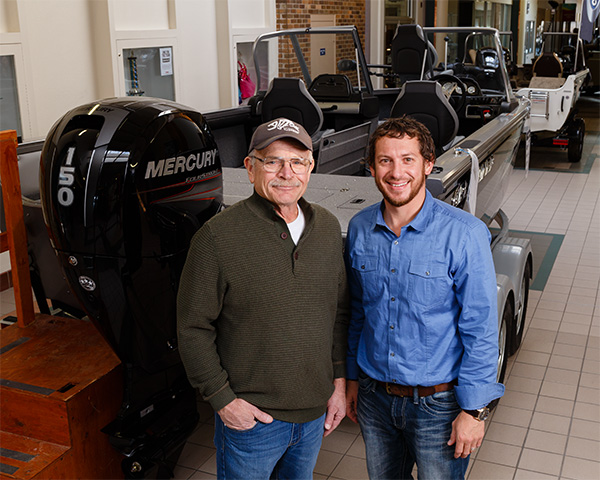 Making Waves in Mapleton
The Schull family finds that family time and family values can be found on the water and in their business, Mapleton Marine.
The boating industry in Minnesota is making all sorts of waves these days. According to data from the National Marine Manufacturers Association (NMMA), Minnesota ranks fourth when it comes to new-boat buying Soma nationwide (behind Florida, Texas, and Michigan). In 2015 approximately 11,000 new boats were sold in Minnesota. At an average of $34,427 per boat, that's $379 million coming in. Estimates put the number of used boat sales around 44,000 for the same year. Maybe not surprising statistics, after all, we are in the land of 10,000 lakes. Boating is ingrained in the culture.
"It's part of what you do as you grow up," says Josh Schull, General Manager of Mapleton Marine. "People here, that's what they've always done. They go to the cabin, or they have a friend or an uncle or a relative who has a lake home."
That's the way Josh grew up, on the lake and surrounded by boats off the water as well. Thanks to his father, Jim, who started Mapleton Marine when Josh was just a kid back in 1986. At that time it was just Jim and a single helper. Today, the company employs 10 people and has expanded beyond what he ever thought was possible. It stems from his deep belief that boating can bring people together, and being out on the water is an experience you can't put a price tag on.
Jim says, "My boat's my psychiatrist. When I have things buzzing in my head, I go jump in the boat. It's something about the solitude of the waves—whether you're catching your fish or not is not important. It's getting in touch with nature more than anything, what God has made. It makes you humble."
With a year-round location in Mapleton, each January through March, the Schulls take their show on the road. For 27 years now, Mapleton Marine has hosted its winter boat show at the Madison East Center in Mankato, nestled among medical supply stores and Mayo Clinic offices. The mall hallways are stuffed with gleaming watercraft, party pontoons, and boat lifts. The trek to Mankato each winter is an important part of Mapleton Marine's business plan. Even though lakes are almost always frozen over that time of year, stats from NMMA say 36 percent of powerboat owners decided to purchase a boat after attending a boat show.
Mapleton Marine is a full service boating dealership, a one-stop shop when you're heading out onto the water. They do new and used sales from their showroom and warehouse, detailing, service and parts, storage, and more. Mapleton Marine is one of the largest dock and lift dealers in the entire state of Minnesota. Holding their boat show at Madison East Center each winter helps the company stay visible to Mankato-area residents (Mapleton is located 15 miles south). Plus, the beginning of the year is the perfect time to purchase a boat, with many manufacturers offering declining rebate programs. This means that a boat purchased in January would be eligible for the highest rebate amount, with rebates decreasing through March. Once April 1st rolls around, boaters want to be ready to get out on the water and not waste a single second of the nice weather. 
It's the way Jim was raised and it's what fuels his business decisions. He credits his love of boating to his father, who bought him a boat when he was just 15 years old. "I was raised on a farm (and we still live on the farm). My dad came home from an auction with a 12-foot cedar strip boat with a 25hp motor, and he said, 'There you go, boys.' I have two brothers and a sister. All we knew back then was that if you pulled on it long enough, it would start, and to the lake we went."    
It's a love Jim immediately passed on to his son Josh. Making him his first mate on the water and in the business.
  "I was always involved in some form of the business growing up," reflects Josh. "Cleaning boats, sweeping floors, going to boat shows with my dad. When my dad first started he was the only person that handled the sales and sometimes at boat shows when it was super busy it was hard for him to talk with everyone that came by. So when I was a kid, 7, 8, 9 years old, I would go to the shows with him; my job was to talk with customers that were looking at boats until my dad was able to finish up with his customer and help the customer I was talking too. He would tell me to 'just talk boating, fishing, hunting, the weather whatever will keep them around until I can get to them'. I guess this is maybe how I got my introduction to sales."
The State of Boating   
According to Jim and Josh, boating is slightly on the rise these days. "The technology of the engines and the quality of the boats is going up," says Jim. "Of course, that technology has driven the price up. In 2005 you could buy a pontoon with a 60 horse motor for under $10,000 whereas today, it's $7,800 just for the motor."      
The boating industry relies on disposable income as new boats typically sell for between $10,000 and $200,000. But, there also has to be a desire. "People have to want to boat in order to buy a boat," says Jim.
Josh admits that it's difficult to get younger people into boating, particularly those who might be starting families and graduating from college with student loan debt. This particular issue is one the entire industry is currently struggling with.
Although the industry is still predominantly male-driven, Mapleton Marine sees lots of female boaters. "With some customers, the wife likes to fish and the husband doesn't," says Jim. The NMMA reports that fishing is the number one reason for owning a boat in Minnesota. The state ranks second in the U.S. for fishing participation according to the DNR, with nearly a third of residents age 16 or older holding a fishing license (behind Alaska, at 40%).   
Josh says the reason for boating, though, really should come down to one thing. "I guess I would ask them… do you like to have fun? It's pretty simple. If you've never done it, why not try it? If you like to have fun, you'll have fun going out boating. You just will."    
In addition to technology improving over time, safety in boating has significantly increased over the years Jim has been in the business. The NMMA regulates safety standards as far as flotation, motor size, wiring, and general construction. "When we first started, how do I say this… When I first started, you had a lot of noise, a lot of smoke. Engines coughing, spitting, and sputtering was the norm." 
Today, all boaters really need to know is how to turn a key. "If you can turn a key and fill it up with gas, you're good to go," says Josh.
The Mapleton Marine Difference     
"We're probably one of the only Marine dealerships in southern Minnesota with a master technician on staff," says Jim. The body that certifies these master technicians is Mercury Marine®. Master status is the highest qualification a technician can achieve in the Mercury Marine Dealer Network, demonstrating outstanding performance and professionalism, and a commitment to provide only the highest standards of service. The master certification process can take anywhere from two to five years of trainings and product-specific courses. Mapleton Marine currently has one master technician on staff and a few others on their way.
Another thing Mapleton has focused on over the years is building customer loyalty by providing help at every step along the way. "We have their trust," says Jim. "We pick up their boat and bring it to our store, winterize it, store it. In the spring they'll call and we'll meet them at the landing. They get to enjoy their boat for another summer."      
"We always tell people that we can do as much or as little as they want us to do," adds Josh. They encourage people to shop around. In some cases, Mapleton Marine will be most cost effective. Even if they're not, the company sets itself apart through great customer service. "The one thing I can guarantee that we will have above anybody else is our customer service and how we take care of our customer before, during, and after the sale. I think that's been proven for 30 plus years," he says. This makes sense because what Mapleton Marine is selling is fun incarnate. A boat isn't a necessity—it's not something that anyone has to have. Mapleton Marine appreciates that. "You're coming to us to in to let us help you to go out and have fun. We want to take care of those people that take care of us. It's kind of a mutual respect that we have," Josh says.    
Jim says it was important to him to include "honesty" as one of Mapleton Marine's company values. "We do what we say. We treat people like we want to be treated. Fairness is the only way that works," he says. "We have to make a profit, but we're not greedy. That's how I was brought up."     
---
All Aboard: How They Got Started
In vocational school, Jim switched from the auto line to the marine line. "An outboard motor does not drip on you when you're underneath it working on it," he explains of his decision.
For Josh, it was a little different.
"I started full time during my sophomore year of college in 1998 as the parts manager. From there I moved into the sales portion of the business in 2002 with my dad and then our sales manager Gary Reise. From that point I worked as a salesman until 2011 when I moved into the Sales Manager position after Gary passed away and now currently act as General Manager for the entire business."
All Work And No Play?
"Of course we all like to go boating," says Josh. "Unfortunately, when it's nice enough to go out, that means other people are boating, and we need to be taking care of customers. I usually have to go on vacation to get on a boat for fun."   
"I do a fishing trip on Father's Day week, that's been a tradition for the last 10 years," says Jim. "This year I'm getting into more of a family style boat instead of just a fishing boat, because I've got grandkids to play with."
Best Boating Around Mankato:
Lake Washington (on week day)

   

Madison Lake

   

Lake Jefferson

   

Duck Lake (Jamestown Township)

   

 Lake Francis

   

"Wherever your friends are at, I think, is the lake that you choose." —Jim
Boating Helps Anchor Schull Family

"My earliest memory of boating was being at our cottage on Duck Lake and riding in my dad's Baja boat," remembers Josh. "A little back story on that boat. My dad sold that boat to a customer across the lake in 1988 and then the boat got passed on to his daughter and son-in-law years later. Since 1995 I've tried to purchase the boat back but I never was able to get it done. In 2013 I was finally able to buy the boat back. I completely restored the boat back to original condition, new upholstery, new paint job, and new motor. This was my dad's first boat he purchased when he started Mapleton Marine and the first boat that I truly remember growing up in. It was special to both of us. After keeping my purchase a secret from my dad I gave it back to him on Father's Day of 2013. Now my kids get to enjoy the very same boat that I did when I was kid, something that is super special to me. We spent every weekend at the lake along with our friends, family and loved everything about the lake. Being at the lake and boating is one of my fondest memories growing up as a kid."
This connection between family and boating is one that has strengthened Mapleton Marine over the years. "Boating is one of the most rewarding experiences a family can have together. It's hard to get people to even sit down and eat dinner today at the same time," he says. "But with a boat you do things together all day or all afternoon long with the family."    
Off The Water And Into The Wild
In 2004, Josh took a brief hiatus from Mapleton Marine to start his own business, "Wild Excursions" which he still operates today. Through Wild Excursions, Josh traveled the world to film and edit big game hunts for television and personal clients. "Growing up in a small town farming community, I was taught that if you work hard, good things will come," he says. "When I started, I didn't know anybody in the outdoor industry. I just brought a camera and started calling people and going to shows and shaking hands—the same way he [his father] started Mapleton Marine. You work hard, earn your customers, and continue to work hard to keep them."
Lines Sold At Mapleton Marine
Crestliner

   

Premier Pontoons

   

Hewitt (based in Nicollet, MN)

   

Pier Pleasure (based in Mankato, MN)

   

Mercury Marine
THE ESSENTIALS
Mapleton Marine
Mankato: 304 State Highway 22 North, Mapleton, Minnesota
Phone: (507) 524-4588
Web: mapletonmarine.com
Facebook: Mapleton Marine