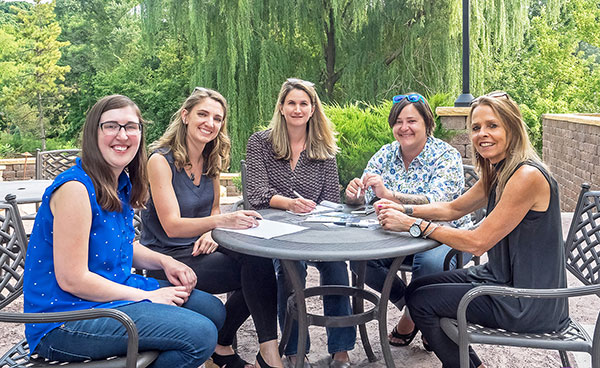 Photo: Art Sidner
Mankato – Connect The Grey
Janie Hanson's story begins on her family's corn and soybean farm in Southern Minnesota. But each chapter in her life since then, from pursuing an MBA at Columbia University, to working at GE, to opening an art gallery in New York's lower east side, has built to the climax of her life's story: starting a company that brings creative perspectives into the business world. Hanson founded Connect the Grey to help professionals and organizations learn the creative practices that lead to innovation.
"We strive to draw from art, science, business, and community to help businesses navigate complex issues," says Hanson. "Our services currently focus on talent, culture, and story: finding and training the people who help you succeed; creating an environment that engages employees and cultivates innovation; and communicating successes and challenges along the way."
Connect The Grey opened an office in Mankato earlier this year.
"Through conversations with community leaders, we have experienced the Mankato community's strengths and opportunities, and we see that the city is ripe for creative problem-solving," says Hanson. "Mankato's rapid growth, workforce shortages, and changing demographics will require new thinking about recruiting and retaining talent, and about building engaging workplace cultures."
As the company has grown, it has added two longtime Mankato community members to the team: Katie Boone, who founded the collaborative and entrepreneurial space Envision Lab and regularly works with community groups as a consultant and facilitator; and Pam Coughlan, who has worked in health and wellness for more than 30 years and has been involved in several local organizations.
The name, Hanson says, reflects the core of what they do.
"In our brains, information is stored in the grey matter, but new ideas and learning come from the white matter: the connections between the grey. Connect the Grey activates unexpected intersections to help people step outside their comfort zones, learn, and practice new skills," she says.
Connect The Grey
Phone: (612) 355-1599
Address: 1515 North Broad Street
Website: connectthegrey.com