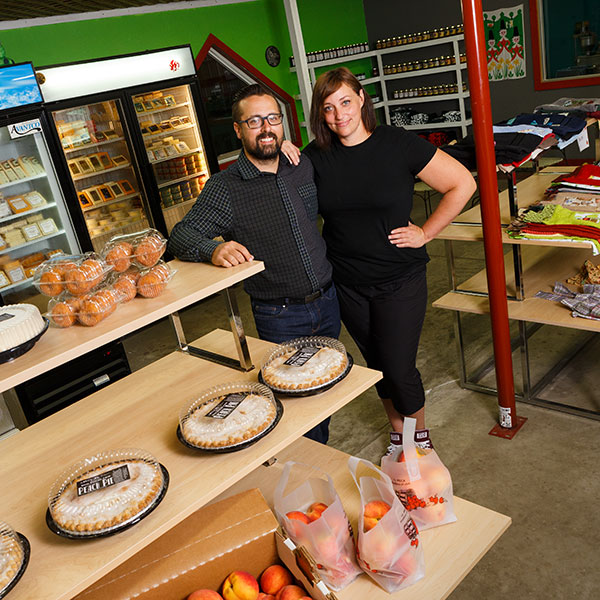 Photos: Kris Kathmann
Sweet Success
When you peel back the layers of their business enterprises, you find a family passionate about what they do. And about sharing it with others.
The story behind the creation of Welsh Heritage Farms is, well, a juicy one. It was not Larry and Pam Harbos' idea to start an orchard 36 years ago. The credit for the enterprise goes to Pam's mother, Edythe Davis Peterson. Pam explains, "I grew up in Lake Crystal, and Larry grew up on a farm near Hanska. We were teachers; I taught in an elementary school in Prior Lake, and Larry taught high school in Jordan. My mother wanted us and our three children to return to this area, so she planted the seed in Larry's mind that he could begin an apple orchard on one of the Davis family farms."
The invitation appealed to Larry. He says, "The idea behind the orchard business had a lot to do with going back to our heritage and to the land. Pam's mother was 100 percent Welsh, hence the name Welsh Heritage Farms. The name Harbo is Danish."
Turns out picking the name was the easy part, getting apples ready to pick was a different story.
Larry's first responsibility was preparing the soil. "Some of the land used for the orchard was cropland, which made planting a bit more straightforward. The portions that were previously untilled got worked up to break up the turf layer. Rows were made with 15-foot tree spacing, and we drilled holes to plant the trees," he says.
By 1982, Larry and Pam had planted trees on six acres, with their older children cavorting about, while the youngest Tim was strapped to one or the other of his parents' backs. ("I was too young to remember it," he says.) Because the first apple crop was not ready that year, Larry imported apples from Le Crescent and tried selling them from an old tenant house he had converted to an apple stand on the farm site. The idea didn't work, so the first sales had to be made from the back of Larry's truck.
"We had 50 bushels of apples not readily accessible to the public (on Blue Earth County Road 115, off of Minnesota Hwy. 60)," Larry says. "So I went out to the highway and sold apples from the back of my pickup truck. We maintained a cash flow by having other jobs. Farming takes revenue. The first year I worked the orchard and Pam continued teaching in Prior Lake. The following year, I also farmed my home place near Hanska, growing corn and soybeans. Pam sold ads for a local publication, and she later sold typewriters and computers." Even as the orchard led to expanded marketing of Welsh Heritage Farms apples and apple products, the Harbos continued to have flexible occupations away from the orchard, Pam as an insurance agent, Larry as an environmental consultant.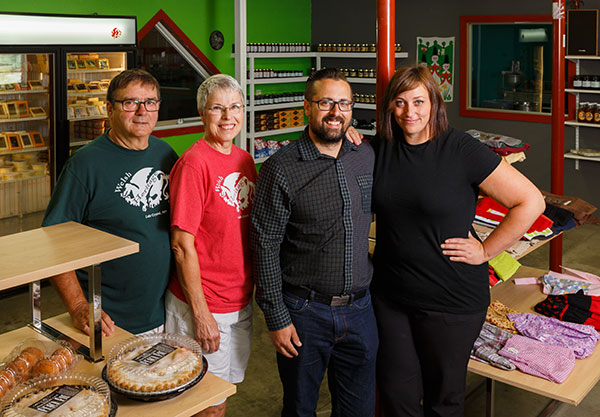 Over the last nearly four decades, though, the Harbos found themselves fully engaged in and growing their business enterprises. To meet customer demand for pies, the Harbos arranged to have apple pies made in a licensed Mankato facility and then frozen. They sold the pies at the apple stand, a location that now drew customers, thanks to Larry's promotion of it through radio commercials, newsprint maps and flyers. In 2004, the onsite licensed bakery was constructed and now employs several bakers. They opened a retail store in St. Peter in 2014.
Welsh Heritage Farms, in rural Lake Crystal, and the Cheese and Pie Mongers, at 317 South Minnesota Avenue in St. Peter, are both Harbo family businesses, closely connected with each other. They are part of the 28 million small businesses in America that account for 54 percent of all sales in the United States, according to the U.S. Small Business Administration. The SBA's figures show that small businesses, which have increased 49 percent over the past 35 years, provide 55 percent of jobs in this country and occupy one third to one half of commercial spaces.
The Harbo enterprises also have experienced growth, increasing by about 20 percent in sales annually, according to Larry Harbo. He says, "Welsh Heritage Farms produce a specialty crop, it's a specialty business and it's a seasonal destination business. It offers an opportunity for families to enjoy themselves outdoors." It's also a story of family commitment by two generations, hard work, and a passion for staying close to the land.
The store at Welsh Heritage Farms specializes, of course, in orchard-fresh Minnesota-grown apples and apple products, including pies, doughnuts, and cider—both sweet, unpasteurized cider and hard cider. They also offer a variety of mostly locally made or locally sourced products, including jams, jellies, honey and popcorn, as well as various other pies and cheeses. The man behind the hard cider addition is Tim Harbo, Larry and Pam's youngest offspring. (Tim's older siblings, who also grew up in the apple business, are engaged in other pursuits.) Tim and his wife, Liberty Warren (who prefers to be called "Libby"), have been moving the dual business forward since 2014.
Libby says, "Tim and I live this. It's 100 hours a week for each of us. We're passionate about it. We opened the Cheese and Pie Mongers to have expanded locations, including a year-round pie and cheese selection for customers." (Readers of historical fiction may know that a monger is a dealer, broker, or trader in a specific commodity, a common example being a fishmonger.) With the founders now retired, the businesses are run year-round by part owner Libby. Tim continues to handle the advertising and marketing content creation for both businesses and, like his father, as an environmental consultant–that is when he isn't working in the orchard's cider house or contemplating the next tasty business expansion.
Tim has been managing the apple trees for three years, a natural direction for him to take. "Growing up in the business, it's all I've ever done since I was a kid. My jobs were always in the orchards. At age seven, I picked strawberries and led 'you pick' groups, working together with my sister, who was 10, and my brother, 14. We had only 'you pick' strawberries back then, as we picked all the apples ourselves for retailing at the store," he says.
Tim's current responsibilities include spraying the orchards and managing the picking, which is done by a seasonal crew of three or four part-time employees. He also spends about eight hours a week coring, slicing, peeling and quartering apples for pies and other baked products and for making cider. Together with Libby, he decides on new varieties of apples to be planted. His degree in journalism and public relations from Minnesota State University, Mankato prepared him to handle all advertising and marketing for both businesses. You might hear his voice in radio and television commercials that invite the public to Welsh Heritage Farms and the Cheese and Pie Mongers. In addition, Tim advertises both businesses in area newspapers, on Facebook and with other social media.
The six-acre orchard now boasts 2,400 trees that include 18 apple varieties. Fifty recently planted trees, called "First Kiss" (and officially named Minnesota 55), should produce a crop in three years. Tim describes the orchard's varieties "We have early-season varieties, like Paula Red and Beacon, that we pick in early August. We also have Heirloom varieties, such as Wealthy (which are in high demand for pies), we have Fireside, Regent, Honeygold—and so on. Of course, we have Honeycrisp and SweeTango, some varieties, like Honeygold, are hard to find in stores because they're not good for shipping. We pick them gently. Then there are the crisp, tart varieties, such as Haralson, a harder, firmer apple that has density. A softer apple, such as Paula Red and Macintosh, may soften after picking. The early varieties tend to soften quickly."
The orchard is a family-friendly destination, especially from late August until the end of November, or until there are no apples left on the trees. A typical weekday during the season generates 75 customer transactions, with 500 transactions taking place on a weekend.
People are drawn to Welsh Heritage Farms, not only for apple picking, but for other events as well. Libby explains, "People come out here for a day of activities. We have events on September and October weekends—horse rides, face painting and crafting, such as making stepping stones and fairy doors. We also have tours behind the scenes, with Larry doing the orchard tours, which involves showing people the packing house, where the apples are washed, sized, stored, peeled, cored, etc. People enjoy seeing the cider pressing. Of course, we have school classes visiting and preschool tours, especially in September."
Adjacent to the packing house, where employees clean, sort and bag apples for sale, is the Cider House, one of the newer buildings on the farm property. It's a separate business, with licensing for alcohol sales, open weekends in September and October. The Cider House has both alcoholic and non-alcoholic ciders available, along with cheese and crackers. Customers can relax on an attached deck and enjoy a view of the orchards.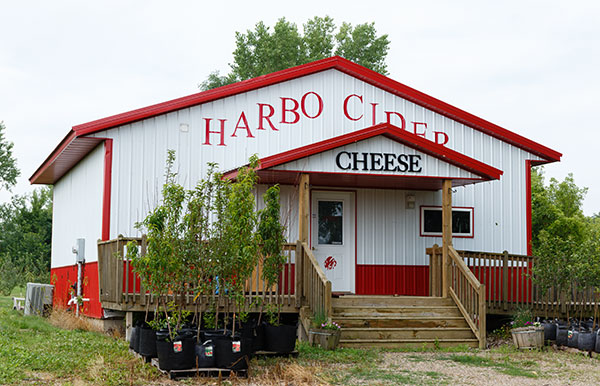 Libby says, "We've entertained Red Hatter clubs as well as groups from assisted living facilities. We offer samples—cheese and crackers, pie, cider—for them to enjoy. We also have indoor seating and picnic tables on the terrace. And we retail cheese blocks here. Cheese and apples are happy friends; they go together."
Although Libby and Tim know the concept of pairing cheese and pie is not unique, they said that their idea of having a store exclusive to the two foods is unique. Libby explained, "When we travel, I look at pie shops, but we haven't come across one that also has cheese. We have visited many cheese shops in Wisconsin, but none had pies."
Adjacent to the Cider House is the apple stand, with the retail store, bakery and packing house nearby. Pies, made on site in the licensed commercial kitchen, include not only apple, but also strawberry-rhubarb, peach, cherry and strawberry. Fresh peaches, imported from Missouri, are available in July and early August. Another treat is apple cider doughnuts, which are available throughout the season.
The pie selection is much larger at the Cheese and Pie Mongers, where the menu offers more than 40 kinds of pies, including sour cream and raisin, bumbleberry, grasshopper pie, rhuzaberry, push-up pop pie, lazy day razzmonade pie—and the list goes on. The 150 varieties of cheeses include some unusual choices, such as Pesto Jack, Hook's Blue Paradise, Big Woods Blue and Portobello Mushroom Abergele, as well as the more common mild and aged cheddar and baby and aged Swiss. All of the pies are made on the premises by a team of bakers, including Sheryl Utter, the primary baker, who also is the manager. Her credentials include having baked pies at Welsh Heritage Farms and claiming Larry Harbo as a cousin.
The Cheese and Pie Mongers operation fits the current consumer trend of shopping for locally-produced items.
"Quality produce is a market you don't get on the internet. Small shops, with locally produced, fresh pies, are a trend. We sell 12,000 to 15,000 pies annually. Our holiday sales on Thanksgiving, Christmas, Easter and National Pie Day (January 23) are huge," Tim explains.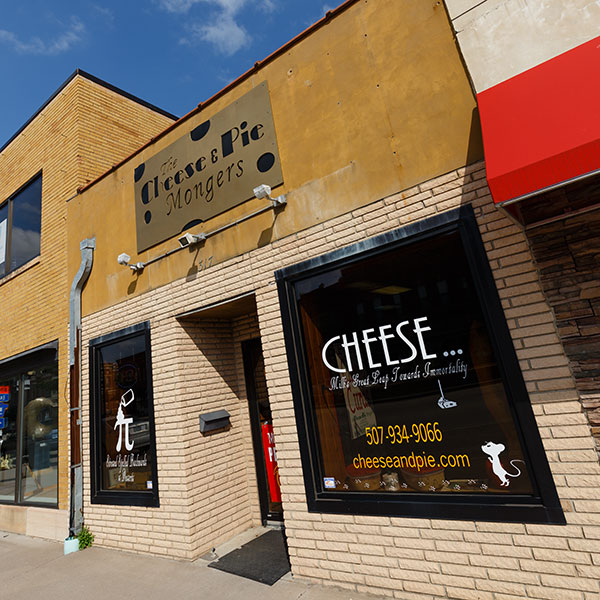 The Harbos have shipped apple butter, which travels well, and they have considered overnight shipping of frozen pies. Libby says, "If we would do that, the customer would bake the pie, just as the customers do for our take-and-bake pies in the shop. We sell those with baking instructions, and we add the personal touch of answering a customer's phone call verifying the baking temperature or asking other questions."
Customers occasionally express interest in finding a spot to sit at the Cheese and Pie Mongers. Libby explained why the shop, which has been open since December 2014, cannot accommodate them at this time.
"I like the idea of being in a downtown St. Peter retail space because I grew up in St. Peter. But this building, which was rebuilt around the 1940s, does not offer us the space for seating. Our vision was a place where customers could buy some cheese and a pie to take home to share with friends and family. If we ever get to the point where we would move into a larger facility, seating is definitely something we might consider," she says.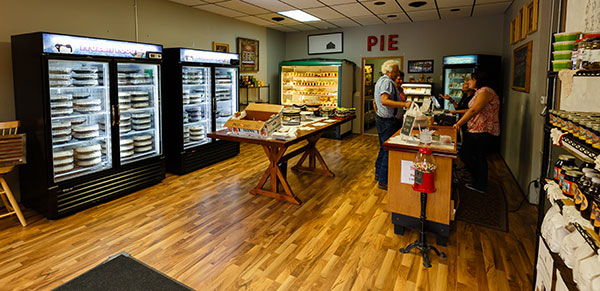 Although Libby handles the financial and administrative tasks for both locations, she spends a bit more time at the orchard from July through November, and at the Mongers the remainder of the year. She relies on Utter to manage the three part-time, multi-purpose employees who bake pies and who wait on customers. Libby says, "When you come in to the Mongers, you'll be talking with the person who made your pie."
In Lake Crystal, Libby orders supplies for the orchards and oversees the bakery and the packing house. She also trains and manages seasonal employees. "Since we remodeled the bakery here, we can bake 30 pies at a time," she says.
Libby sees unlimited growth potential for the Cheese and Pie Mongers. "I'm glad we didn't listen to people who were definitely skeptical about us opening this shop. When we started, the goal was to retail year-round and to expand the cheese and pie selection, using dual advertising and promotion for the businesses. Both businesses have been growing each year. Over the past two-and-one-half years, we have seen a yearly growth of 10 to 15 percent. We definitely have seen customers from the orchards here in St. Peter, and some have asked me to bring apple doughnuts from the orchard store. Here at the Cheese and Pie Mongers, I also promote the weekend events we have in Lake Crystal. But as much as we try to talk about both places, some people don't yet make the connection.
"Our goals with both businesses are to continue growing," Libby continues, "and we are open to moving, perhaps opening in an additional location. We are open to the ideas of doing community events and farmers' markets. We've always been willing to take risks, but we are into conservative growth, perhaps starting with producing all of the pies in one location. Unfortunately–or fortunately–nothing truly prepares you for running your own business. It's really a matter of hard work and passion."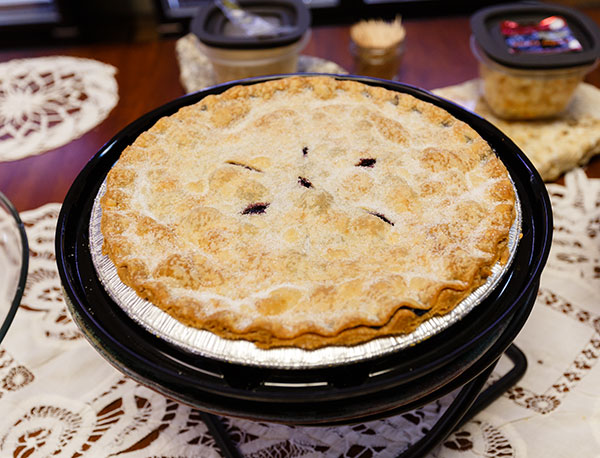 ---
Easier Picking With The New Trellis System
The Harbos are in the process of converting the majority of the orchards from a more historically standard orchard configuration of apple trees on semi-dwarfing rootstock to a fully dwarfing rootstock on a trellis system. What this means is an increase from about 250 trees per acre to around 1,000 trees per acre and easier picking during the apple season.
"The semi-dwarfing trees generally range from the 15' to 25' trees that are self supporting and planted in rows around 15 feet on center between trees," Tim Harbo says. "They are a more vigorous tree for growth and have a strong root system that allows for not having irrigation. But they do require more work when it comes to maintaining them–with pruning in the winter and more ladder work for apples in the fall, because we can't reach any of the upper areas of the tree without a ladder.
"The fully dwarfing trees that we are putting in are planted in rows with three feet between trees, but because of their weaker root system, they need support and irrigation to thrive," he says. "Our trellis system is a tall spindle style of trellis with large poles spaced out along the row, with angled end posts vertically about every 30 inches up, to support the tree as it grows. You end up with about a nine-foot tree that should be producing apples within three years of planting.
"The fact that these trees are smaller also allows for greater ease when it comes to pruning during the winter," he says. "You're looking at a far lesser number of cuts and, thus, less wood to be removed from the orchard in the spring. This also allows for much easier picking during the apple season, as most of the work can be done from the ground and one side of the tree. The less labor intensive we can make the orchard, the better. The idea is that as I get older, I'm hoping to make the work somewhat easier.
"It has been an exciting new learning experience for us," he says, "with the orchard transitioning and changing from one generation to the next in harmony with the rest of the business. It's that fine balance of maintaining the past as we move into the future that we hope keeps people coming out to see us at Welsh Heritage Farms."
At the Core
Favorite high school classes?
Tim: "Mythology. I also liked English and math."
Libby: "Art, because I like creating things."
What do you wish you had studied?
Tim: "Accounting and other business classes."
Libby: "I have a BS degree in philosophy, with a minor in law enforcement, and an Associate Degree in horticulture. I think studying philosophy taught me critical thinking in decision making, not to have preconceived ideas. That is useful in the apple orchard, where there are so many variables. A bad storm can change the entire season."
To what community organizations do you belong?
Tim: "We are Chamber of Commerce members in both cities–Lake Crystal and St. Peter."
THE ESSENTIALS
Welsh Heritage Farms
Mankato: 20758 528th Avenue, Lake Crystal, Minnesota
Phone: (507) 726-6562
Facebook: Welsh Heritage Farms
Web: welshheritagefarm.com
The Cheese and Pie Mongers
Mankato: 317 S. Minnesota Ave. =, St. Peter, MN 56082
Facebook: The Cheese and Pie Mongers
Web: cheeseandpie.com