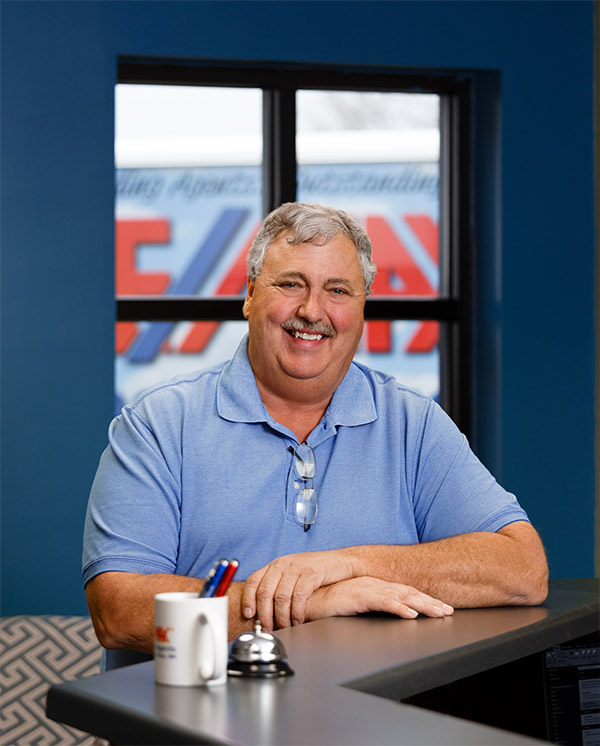 Business Person of the Year 2018
From Farmhouse to Family Home
Eagle Lake's Dennis Terrell leads a team of 20 agents through Mankato's dynamic residential real estate market.
Forty plus years farming the land near Eagle Lake taught Dennis Terrell a thing or two. He learned if you plant a seed and nurture it, it will grow to reap good reward. He learned that cultivating the land with care will keep it productive for many years. And he learned that there are ups and downs due to circumstances out of his control.
Today, he uses all of those lessons learned in the field to pursue his second career. Those nuggets of understanding helped to fertilize Terrell's other passion; real estate. The "field" is now his office on Adams Street. The seeds he sows are his agents. He cultivates relationships. And he helps those in his charge navigate the ups and downs of the economy and housing market.
Lesson one: Just like when he planted seeds and watched them grow, he now recruits agents and nurtures their growth by supporting their efforts.
"If you asked any one of his Realtors what separates him from the rest, it is his generosity and selflessness that stands out the most," says an agent, and his daughter, Kelly Terrell. "Denny's office is the place everyone goes to for advice about real estate or just life in general. He is the first one at your door when he knows you need help, and will continue to help until he knows you can take care of it on your own. He has a heart of gold and genuinely cares about each and every agent that works for him."
Lesson two: He cultivates relationships, handling them with care so that they continue to be productive through referrals and repeat business.
Jake Kennedy, an agent who works for Terrell, says this, "Winston Churchill once said, 'We make a living by what we get, we make a life by what we give.' I couldn't find a better quote to sum up everything Denny stands for. The hours of volunteering, the thousands of
dollars donated, and the constant words of advice and encouragement have not gone unnoticed in the community and lives surrounding him. It is comforting to see Denny use his platform for good, always. As the owner of Re/Max Dynamic Agents, he is constantly going above and beyond. Sponsoring community events, donating time and money to charitable causes, organizing fundraisers and community feeds during the holidays, and engaging in business networking and functions. Outside of work he is no different.'… we make a life by what we give.'"
Lesson three: Because of what is mentioned above, he and his team can weather the ups and downs in the market.
"As a full-time Real Estate Agent at Re/Max Dynamic Agents I get to work with Denny every day," says Christine Gerber. "He goes above and beyond to provide us with the tools we need so we can provide top service to our clients making us a top real estate company in the Mankato area. You can always count on him for a friendly hello and smile. He finds time for his community that he loves and his family. I am happy to have my real estate license held at Re/Max Dynamic Agents and that has so much to do because Denny is the owner."
Growing up, Terrell didn't think he would end up owning a real estate brokerage. But that's the direction life took him after his dad and owner of the family farm passed away. With that part of his livelihood in the past, he embraced new opportunities. And just like in farming and community work, Terrell has now earned high respect in the real estate industry and Business Person of the Year.
You are proud of your roots in farming. How/why did you make the move to real estate?
I started in real estate back in 2003. Farming was a little tougher at that time and I wanted to add to the family income. I have always loved real estate so decided at that point to pursue it as a second career.
I initially was an agent with HomeStar Realty working with Dan Wingert. He was great and I learned a lot from him. I had a friend in real estate that moved his license to Re/Max and he asked me to come over and work with him so I did. That was in 2008, then in 2009 we had the opportunity to purchase the franchise.
I understand this office has grown quite a bit since you purchased it?
At that time there were a lot of vacant offices here in this building. We had nine agents at that time, if that many even. Now we are up to 23 agents with two full-time office employees. That's been the key to our growth. We just recruit good Realtors. As a result, we're not doing too bad. (He chuckles.) And the numbers show it.
In the nation, any real estate company that has more than 500 transactions a year is considered a big company. Truly, we don't pay a lot of attention to that. We just do what we do. I know a lot of companies will go after big numbers and stuff, but we just do our work and the numbers happen. So out of the top ones in the nation that have had 500 transactions or more we are number 25! There were 1,705 on the list and we were number 25. That's pretty good!
How do you achieve those numbers in this market?
It's not that we are here cracking the whip. We just have agents that want to do well, and that makes it happen. We averaged 34 transactions per agent, the average in Minnesota was 20.4 within the Re/Max brand.
I cannot say enough about the agents we have here. They are great people to work with, they are successful, they want to be successful, and they know what they are doing. So we try to recruit the best of the best. We can find that by seeing reports from Realtors Association of Southern Minnesota (RASM) on who is selling what. We are able to attract top agents because really it's known that when you reach a certain point as an agent, Re/Max is where you want to be because you get the most back. It's all based on percentages. We have agents that do very well here.
So the success of my company all comes down to the people. That's what it is based on and their relationships with people. That's how you stay successful, through referrals and repeat business.
What is your advice for recruiting good agents…or just good employees in general?
Your employees have to feel supported. So here we try to do a lot of things that are outside the norm. For instance, I feed them lunch here quite often. We have a deck with a grill so I have garnered the name Grill Master. Also, I had them out to the lake this summer.
We treat our people well. I try to do what I can to help them out. It's as simple as that. Our success is on our agents and keeping them happy. Plus, Re/Max is a well-known franchise, so that helps.
There are a lot of choices for home buyers and sellers when it comes to picking an agency to work with. You have a lot of marketing choices. How do you navigate that?
We have the trailer! A while back, I had the idea to buy this trailer and put our signage and branding on it. Our clients will use it for moving. You can't miss it driving down the road. People spend so much money on billboards that are static, but this is a "billboard" going up and down the street that everyone notices. And I like that. In fact, I should get another one. (Editor's Note: Since the interview for this story, Terrell did indeed, buy another trailer!)
Otherwise, marketing is so much on the Internet now. It's really transformed, even just since I first started in the industry. At one time, before the Internet, clients met with agents and they would go through a book full of pictures of available properties. Literally, agents would carry around a book! But now 85-90 percent begin their search on the Internet.
Facebook is the number one marketing tool for real estate. And there are ways to work with Google to get placed higher on the search list. It's an investment though, you've got to spend money to get the leads. We have a lead generation system that goes right to our agents and they take turns. ReMax.com is another tool available to us. We certainly have things in place to help the agents.
Your home, for most people, will be the biggest investment they will make in their life time. This is why buyers and sellers come to Re/Max. We have experienced agents.
I am not in the industry obviously, but it appears to me just from being out and about in the community, that there are so many agents in our region.
The market can bear it right now, and truth is that 10% of the agents are probably doing 90% of the work. They come and go a lot of them.
Not only a lot of agents, but a lot different franchises for home buyers and sellers to choose from.
Yes, there are even two Re/Max' now in Mankato. But it's important to point out that we are the only locally-owned Re/Max. The other one sold out to a firm in the cities that wants to get their foot in the door here. So we are the only locally-owned Re/Max franchise in Mankato.
Are they wanting to get their "foot in the door" because the market here is so hot?
It was a sellers' market not long ago, but I think it's slowed down a little bit. The last couple of years, there just weren't enough homes available. It looks like inventory this spring will increase so it's a good market right now. We move homes whether it's slow or not because we have agents that have experience and are always busy.
What about the new-home market. There is a lot of building going on.
There appears to be a lot of building, but there are probably not enough new homes right now. And in Mankato we are down to just a few new home builders. They keep the developments to themselves primarily…so that hurts us a bit. But boy, with all of the apartments going up around town, you just wonder where all the people are gonna come from to fill those.
So, you purchased Re/Max in 2008. That would seem like a risky time to get in real estate.
Yes it was! And you know rent comes due every month…every month…recession or not. So, yes, it was a risky time. I'm not really sure what I was thinking. (He chuckles.)
Quite frankly, when we started off we had some sleepless nights. Definitely not a strong economy, but we made it through. There was a lot of stress, a lot of sleepless nights. But having the Re/Max name has helped.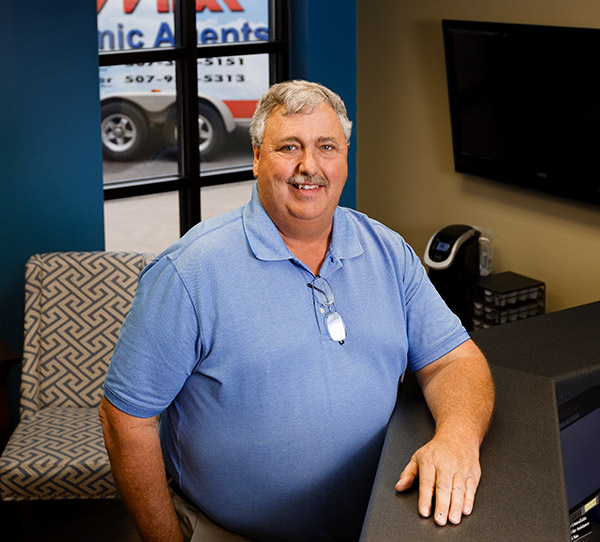 How has that helped?
Since 1997, Re/Max has held number one market share in both the United States and Canada every year. It is a true American success story. Re/Max started in Denver in 1973, co-founded by Dave and Gail Liniger and everyone involved at the beginning came from modest backgrounds, and just worked really hard. Mirrors my life and my beliefs. Hard work and helping agents make their dreams  become a reality. So Re/Max has always been based on what they call an innovative agent-centric philosophy, that goes in answer to your earlier questions. By being agent focused, Re/Max has always been able to attract the industry's top performers and has earned a solid reputation with both home buyers and sellers.
The Re/Max franchise in Mankato was established here already, how did you come to buy it?
Sadly, the original owner was killed in a car accident. His wife tried to keep it going but she lived in New Prague and it was just hard for her to keep it up. Finally, she decided to just sell it. My former business partner and I bought it from her.
Your title is Agent/Owner, but you are not a broker yet?
I am not a broker yet, but I plan to get my broker's license shortly. Lisa Fitterer is my broker. She took that role when I bought out my partner two and a half years ago.
My eventual plan was always to sell out of this and just farm. But that didn't work out. And turns out that's okay. In order to farm I always had to work two jobs all the time. Now as I get older and closer to retirement, I just have one job. Now I can go home at the end of the day and enjoy the grandkids at night. And my brother-in-law and I own a lake home together, so I now have some time to enjoy that with the grandkids.
This business is becoming a family operation too.
Yes, one of my daughters works here, she is on the Kim Walletich Team. My son also works for me but he is in the cities doing some projects there. Both are doing very well and I am very happy to see that. I do get phone calls during the day from them asking for advice. I love that. I enjoy working with my kids. It's rare these days. There are a lot of big companies taking over everybody.
Besides owning this franchise, you are also on the Eagle Lake City Council. What are some things you are working on there.
I have lived in Eagle Lake my whole life, so it's important to me. We have several issues we are dealing with. One, I'd like to see more business in Eagle Lake but Eagle Lake is just too close to Mankato. It's always been more of a bedroom community. But people are starting to realize, 'hey, I can get to the Hilltop area and shopping in three minutes. If you live anywhere in Mankato it would take that long. Lake Crystal and Nicollet are the same way. Here in Eagle Lake with the new road, Madison Lake is just 6 or so miles away and there we have access to three lakes and a restaurant. So people enjoy living in Eagle Lake and easily having access to other things Eagle Lake doesn't have quite yet.
I love my family and my community. Putting those first helps everything else just fall into place in my business.
---
Family Man
Family is a big part of Terrell's life. He and his wife Colleen have four children; a son and three daughters. They have two grandkids. They all cherish their time together.
"Fortunately, all of my kids live close so we get to see them often. And my grandkids live just down the street. So basically I go home at night, my dog is waiting for me, I grab the grandkids and we go for a long Ranger ride. Sounds silly, but it gives me peace of mind. During the summer we might mix it up with the Pontoon on a slow cruise around Lake Washington."
History of a Hero
Terrell talks a lot about relationships in his life and how they have shaped and continue to shape who he is and how he does business. But there is one relationship he'll always cherish. The one that laid the foundation for all he is today, his father Lee Terrell, who passed away in 2014 at age 89. Lee was born in Janesville and grew up on a farm Northeast of Madison Lake. He enlisted into the United States Marine Corps in December of 1943 and served his country during WWII. Lee spent 36 days on the island of Iwo Jima and received two Purple Hearts. Lee was also in one of the initial groups of Marines that occupied Japan. In April of 1946, Lee was honorably discharged.
He continued to serve however and was very involved with the American Legion where he was Commander of Eagle Lake Post 617, Commander of the 2nd District, and Vice Commander of the Department of Minnesota. He also enjoyed volunteering at VA nursing homes around the state.
Today, Dennis flies three flags on poles right in front of his office, in honor of his dad's and all soldiers' service.
"We got to take him out to Washington DC for the 65th anniversary of the landing of Iwo Jima," says Dennis. "They have a reunion every year but this was the first time he ever got to go out there. He went there and was able to talk to others that went through the same experience as himself. One cannot imagine what these guys went through. On an eight square mile island there were 22,000 Japanese killed and 6,800 Marines in the 36 days.
"It was just so good for him to be able to talk to other people and it meant a lot to him. In fact, later when he started the onslaught of dementia he asked about that trip over and over and said he wanted to go back. That trip was his chance to face reality and share it with others who experienced it because he could never talk about it with us. I am so proud of him and proud of flags waving out front. And I am just so thankful to all the service men and women."
Terrell Around Town In His Daughter's Words
Although number of entries wasn't officially part of the ranking criteria, we did receive nine nominations for Dennis Terrell. Here is one that wraps all the others up in one:
"It is with great pleasure to nominate Dennis Terrell (Denny), for consideration of the Connect Business Person of the Year. I am lucky enough to not only call him my dad, but also work alongside him each day, learn from him, and one day- hope to be even half the person he is.
Denny began his real estate career in 2005 and has now owned Re/Max Dynamic Agents in Mankato for nine years. He has led a team of highly successful Realtors year after year to consistently sell the most homes in Southern Minnesota. In 2015 his realtors had over 700 transactions for the year. His goal for the following year was to close even more deals and his team did just that. Last year (2016), Denny's company was given an award for the Most Transactions of Medium Market – with nearly 750. Real Trends 500, ranked his team of realtors #25 in the nation for Closed Transactions Per Sales Associate (out of 1,705 of the largest brokerages). His realtors averaged 33.5 transactions in 2016 and are on pace to have another record year.
Although his success as a realtor/owner is incredible, if you asked any one of his realtors what separates him from the rest, it is his generosity and selflessness that stands out the most. Denny's office is the place everyone goes to for advice about real estate or just life in general. He is the first one at your door when he knows you need help, and will continue to help until he knows you can take care of it on your own. He has a heart of gold and genuinely cares about each and every agent that works for him.
You will often see him pulling his Re/Max trailer to and from different homes in the area, helping Re/Max clients move to their new home, assuring their experience is a positive one from start to finish. He is the owner that will make sure you get to work in a snow storm, because he will show up at your house to plow your driveway or jump your car to be sure you can still make it to that showing. If all that fails, he will just give you a ride, but still manage to make sure the entire office parking lot is cleaned of snow before that first agent arrives to work.
His agents refer to him as the Grill Master. The easiest way to get the entire group to the office at the same time is to announce that Denny is grilling lunch. Any sunny day is an excuse to grill out and he often grills for his realtors. He also takes the team out to eat from time to time when a milestone is achieved or just to thank his team of agents for their hard work. He makes work an enjoyable place to be and makes everyone want to be a better a person and work hard each day.
Denny volunteers his time at numerous events and encourages his realtors to do the same. Last year, Re/max Dynamic Agents had their 1st Annual Toys for Tots Pancake Breakfast in Eagle Lake. Denny and his realtors offered a pancake breakfast for those who brought a toy in for Toys for Tots. He also arranged for Santa to be there, so families and children could have their photo taken with him. Year one was a success, and our group is anxiously waiting for year two. Re/Max Dynamic Agents is also a big sponsor of the Mankato Marathon, offering the trailer for the clothes left behind. Denny and his agents pick up the clothes along the entire course. They are then washed and dried and donated to the Salvation Army. He is also known for donating Hot Air Balloon Rides at fundraising events, most recently the March of Dimes Auction.
Besides all the volunteering I mentioned above, Denny is serving his seventh consecutive year on the City Council in Eagle Lake and is currently on the Economic Development Committee and President of the Cemetery Association in Eagle Lake. He also served for nine years on the Eagle Lake City Council previously.
I saved the best for last. Most importantly, he is a husband, a dad of four, and a Grandpa of two and he puts his family (& German Shephard) above anything else. It's hard to believe that one person's efforts could make such a difference in this world, but without a doubt, he has made that difference and he makes us all want to be a better person because of it. Denny is well deserving of this award! Thank you!" –Kelly Terrell
THE ESSENTIALS
Re/Max Dynamic Agents
Phone: (507) 387-5151
Address: 1720 Adams Street #100, Mankato, Minnesota
Web: searchmankatohomes.com
Business Person of The Year winners are selected by a panel of business leaders and the editorial board from nominations submitted.