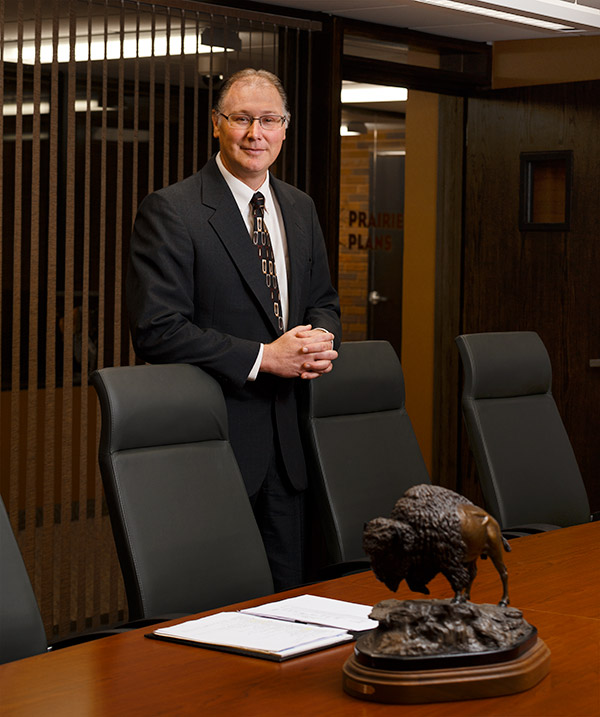 2nd Place: Business Person of the year 2018
Rural Asset
David Milbrath is responsible for cultivating $500 million of wealth for his clients.
Springfield, Minnesota sits quietly on the edge of Brown County in the southern part of the state, surrounded by prime agricultural land. It is a rural community, population of 2,200…give or take. But in the heart of this small town is a giant talent, David Milbrath of Prairie Plans Asset Management. Milbrath founded the company in 1992 and today it manages $500 million for households throughout the country.
"David Milbrath's accomplishments are nothing short of extraordinary," says his business partner, John Mueller. "David's story is that hard work, passion for service, and the grit and determination of a farm boy, can make for BIG results anywhere, even in small towns."
Milbrath grew up on a family farm south of Okabena, Minnesota. He was one of five siblings who all attended Lutheran country school in Rost Township and later graduating from Heron Lake-Okabena high school. But he wasn't like most high school students his age.
"Growing up, we had a typical family farm with grain and livestock," explains Milbrath. "It was labor intensive. But I developed a passion for trading commodities in high school and then later that expanded to stocks, bonds, mutual funds, and real estate."
After high school he attended Worthington Community College and then South Dakota State University in Brookings where he graduated with a degree in Commercial Economics in December of 1989.
"After college the first priority was a steady job," Milbrath says. "That led me to Lamberton, Minnesota and a start with Land O'Lakes as a livestock production specialist. I was assigned to Meadowland Farmers Coop. During that time I joined a basketball league and was introduced to a financial advisor from Springfield. Within two years of that introduction he decided to move on and asked if I wanted to take over his position."
He then started building a career that combined what he learned in school with the personal values he learned from growing up in a midwestern, tight-knit family.
"I have learned that trust and experience go a long way when you're dealing with people's hard earned money," he says. "We treat our clients like family members. When we sit down, we make sure to understand what's important to them."
Milbrath's mission and approach is to help his clients understand the opportunities and potential rewards that are available when they take a proactive approach to their personal financial situation.
"Our clients are individuals and businesses with excess funds to invest," he says. "Also employee benefits in the way of retirement plans and executive bonus plans. Most clients share a similar goal. They want to save wisely and invest for the future. These assets allow them to retire, educate their children, be charitable, and leave a legacy for the next generation. All of this takes careful planning and products that we provide."
Education is a key piece to his business model, striving to help all who walk through his doors to gain a better understanding of the financial concepts behind insurance, investing, retirement, estate planning, and wealth preservation.
"Most important," he stresses, "we hope people see the value of working with local, skilled professionals that provide a comprehensive approach in helping people and organizations during all life stages make intelligent decisions about their finances."
While his business includes individuals and businesses from across the entire country, he maintains his Springfield office as "headquarters." But Prairie Plans has expanded to have offices in Morgan, Wanda, and Lakefield, Minnesota as well as Spencer, Iowa.
Milbrath is quick to share the credit for his success with others.
"While Prairie Plans may only have two shareholders (Milbrath and Mueller), our success is achieved through the efforts of the entire team. The 'team' is six registered representatives and six assistants," he says.
Staying close to home has proven to be the right move for Milbrath, who says Prairie Plans' creation in Springfield was due in large part to the vision of another area business team.
"In 1989 owners of the F & M Bank in Springfield (Mike & Paul Pieshel) had courage and foresight to bring investment services to the community," he explains. "This was accomplished through a small Midwestern broker dealer known as Investment Centers of America, Inc. (ICA). ICA's business model was setting up an office in the bank; something most community bankers would never have agreed to. However, the bank realized financial services are more than loans, checking, and savings accounts. Full financial services also include annuities, mutual funds, stocks, bonds, Life and LTC insurance. It wasn't long before the Pieschel's theory was proven right and nearly thirty years later I am still renting space from the Bank."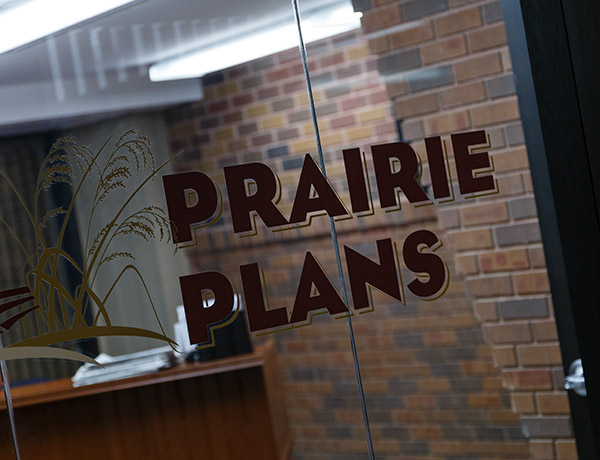 Milbrath affiliated with Investment Centers of America (ICA). Over the years, Milbrath's office has received national recognition as a Top 5 Independent Office across Investment Centers of America. That's no small order considering it consists of more than 400 advisors nationwide. An acquisition of a firm in Spencer, Iowa in April 2017 propelled Prairie Plans into the #1 Independent Office across ICA.
"Even more astonishing is Prairie Plans now ranks in the top 100 offices at number 61, nationwide across ICA's parent company, National Planning Holding (NPH). NPH has more than 3,200 advisors nationwide," says his business partner Mueller. "Think about that, there are over 1,000 more advisors in NPH than people who live in Springfield and yet David has built a firm that ranks in the top 2% of NPH advisors across the country. Most of these NPH offices are in cities much larger than Springfield."
Location hasn't been a challenge, but the financial services and asset management industries have changed dramatically over the past three decades since Milbrath started Prairie Plans. Most notably, famed investment companies like Bear Sterns and Lehman Brothers filing bankruptcy in 2008, Bank of America buying out Merrill Lynch, and many of the nation's largest banks and insurance companies accepting government loans during the financial crisis. Mueller says Prairie Plans has thrived though, largely due to the leadership Milbrath shows by adhering to his core value of treating clients as family.
"David is especially passionate about working with farmers and small business owners to make wise financial and estate planning decisions in order to preserve the family farm and business for the next generation," explains Mueller. "In doing this, he believes it will help preserve the future way of life in small agricultural towns throughout this country."
Milbrath admits his success has not come without its challenges.
"I believe all employers in rural communities share similar concerns," Milbrath reflects. "That is finding enough qualified people to hire, paying for increases in health insurance, and complying with ever more regulation. As baby boomers retire in larger numbers the demand for retirement planning is great. Most Certified Financial Planners (CFP's) don't believe there is enough business out here though and that is a mistake."
With top accolades and a growing business, Milbrath says his job satisfaction is found in other ways.
"Nothing is more satisfying than implementing a financial plan and watching it play out successfully. I like to think of financial planning as a puzzle with multiple pieces. As clients age they accumulate assets; IRA's, 401k, bank accounts, mortgage, insurance, real estate, social security, etc. It's our job to help clients organize those pieces in a way that completes the puzzle. If you do this one investor at a time it's amazing the results. In the 90's I used to dream what it would be like to run an office with $100 million in assets under management. It took time but we did reach our goal and today we are well beyond that."
Milbrath says he is humbled by the nomination for Business Person of the Year but, as is indicative of his character, wants to share the accolades with others.
"It wouldn't be right to claim any success myself," he says. "I am confident there are other more qualified candidates too. Yet here I am. By the grace of God, a good wife, a host of good employees, clients, and friends this has become possible. I thank you all: God willing there are more years to come."
Milbrath hopes the success at Prairie Plans carries on to the next generation. Recently he added two of his sons to the team of financial advisors.
---
Numbers at Home
Just as Milbrath works with numbers in his professional life, his personal life also has some pretty significant figures to deal with.
27 The number of years he has been married to his wife, Lori.
6 The number of children he has.
26 The age of his oldest.
8 The age of his youngest.
"We are proud of all of our kids and soon will be grandparents for the first time!"
Entrepreneurial Spirit
"I have a passion for the outdoors mostly fishing, hunting and farming. While I love working outdoors, most days my job keeps me indoors. However, occasionally they let me out for a while to work on a different business," says Milbrath.
That other business is Red Rock Quarry, located south of Sanborn, Minnesota. He started the quarry with a friend in 2006. At just over a decade old now, Red Rock Quarry is successful in its own right.
"It's always fun for me to drive a pay loader around a bit or help out at the Quarry. It's amazing how years and years ago glaciers deposited tons and tons of quartz rock in places along the ridge that run through Brown and Cottonwood counties. This wonderful resource is mined and used in several applications throughout southwest Minnesota. I have to admit I have a bit of an entrepreneurial spirit; my wife doesn't always appreciate it either. It has led me to be involved in various companies and boards over the years related to Agriculture, such as Suntava, Inc., Brazil Iowa Farms, and others."
Community Contributions
Milbrath has been recognized by Rotary International as a Paul Harris Fellow, has been active in Gideon's International for over two decades, and has always served as a leader at his church.
Twice he has been named by Investment Consultant magazine as one of the nation's top 50 Representatives based in a financial institution.
ICA: An Overview
ICA is based in Bismarck, North Dakota. It was founded in 1985 and has been a leading provider of investment and insurance products through community banks and independent offices ever since. Milbrath was drawn to ICA because it uses a client-focused approach to support independent financial institutions in meeting their customers' goals. ICA serves over 200 financial institutions with an array of sales and marketing tools designed to help client needs including services ranging from securities and mutual funds to life insurance, long-term care, and annuities.
Editor's note: In August, ICA was purchased by LPL Financial LLC, a wholly owned subsidiary of LPL Financial Holdings Inc. (NASDAQ: LPLA). LPL is the nation's largest independent broker-dealer (based on total revenues, Financial Planning Magazine June 1996–2017). After the sale of ICA, Prairie Plans spent the next several months preforming due diligence on LPL Financial. They have decided to join LPL Financial. This took place on December 1. Prairie Plans believes their clients will benefit from LPL's scale, strength of services, and self-clearing platform.
THE ESSENTIALS
Prairie Plans Asset Management
Phone: (507) 723-4811
Address: 101 North Marshall Avenue, Springfield, Minnesota
Web: prairieplans.com
Business Person of The Year winners are selected by a panel of business leaders and the editorial board from nominations submitted.