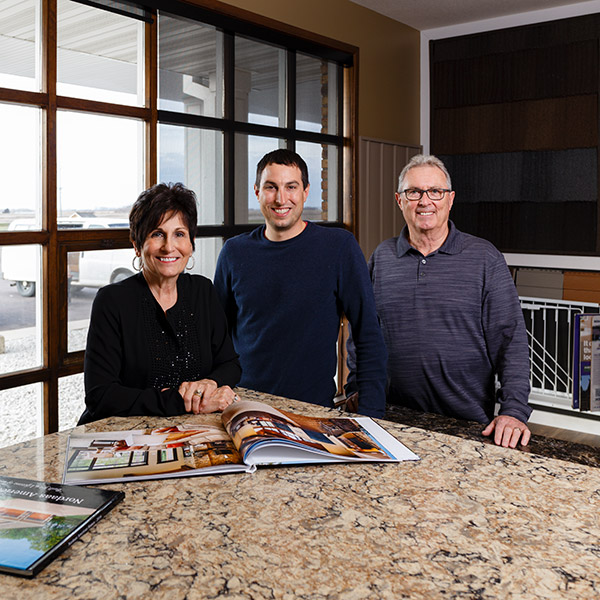 3rd Place: Business Person of the Year 2018
Dream Builders
Family-run business spends decades helping build the American dream from Minnesota Lake.
It was 68 years ago, back in 1949, that a Norwegian immigrant found his way to Minnesota Lake, Minnesota. Building a life there, by designing and building homes for others, as Nordaas American Homes.
"Haakon's story was almost a rags to riches to almost back to rags story. He was on the downside of business when we got involved. It's taken a lot of years to bring it back. His thought and idea was that you work hard and when you do something, you do it right. And that's how we've continued to do it," says Mike Redig, a long time Nordaas employee who purchased the custom home builder in 1989. His resurrection of the business has helped him and his partners, which also happen to be family members, earn a spot in this year's Business Person of the Year issue.
"Looking back on it, it was a really bad business decision," says Todd Redig, Mike's son. "When dad bought Nordaas, it wasn't in good shape whatsoever. He brought it back from nothing."
But Mike will tell you, he didn't do it alone.
Family ties are embedded deep within the roots of Nordaas American Homes. As now owners Mike, Pat and Todd Redig have made it their mission to stay to true to their family values while designing and building custom homes throughout the upper Midwest.
The dedication and commitment the Redig family has given to their Minnesota Lake-based business to ensure that it thrives has awarded them the title of Business Person of the Year runner-up, which should come as no surprise once you get to know this tight-knit family.
As president of the company, Mike provides leadership to his employees while maintaining customer satisfaction; Pat manages the retail portion of the company, which includes everything from flooring to home furnishings and décor; and Todd is a district sales representative and serves in a management role within Nordaas American Homes.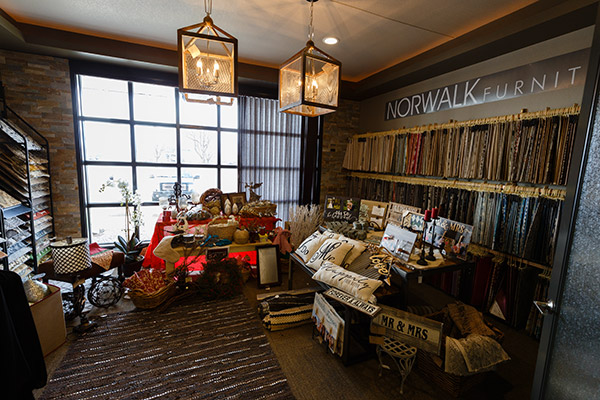 So, how did the trio become owners of the company, which has been in existence since 1949? It all starts with Mike.
After he got out of the Marine Corps in 1972, Mike began working for Nordaas American Homes at the insistence of his peers, who were either employed, or knew someone employed, by the company.
"My father was a farmer, but also worked with concrete and masonry so I grew up around this type of work," Mike says. "It was a good fit. I started working in sales management for Nordaas and it's like the old saying goes, I liked the company so much, I bought it."
Mike was approached by founder Haakon Nordaas' son-in-law to buy a portion of the company in 1989. He maintained a 30 percent share for years, until becoming sole owner with Pat and Todd. Mike was joined at the business by his wife Pat in 1994 when the company decided to expand the retail side of Nordaas.
"I had my own business previously and I came to Nordaas because we hired a woman who was in charge of flooring and Mike said, 'you should come down here and help get this going,'" recalls Pat. "I started working part-time for the first year and became fulltime in 1995."
And get it going, she did. Expanding over the years, Nordaas now offers floor treatments, blinds, home décor, furniture, rugs, shingles, doors and windows, to name a few.
The husband and wife were later joined at the company by Todd, one of their three children. Todd received his bachelor's degree in marketing from the University of Minnesota, Duluth and had no intention of joining his parents at Nordaas American Homes.
"I had my resume out to apply for marketing jobs when a sales rep for dad retired and Mike said, 'Craig's retiring. Do you want a territory?'" Todd says. "I thought, 'well, I'll give it a try' and the rest is history."
Todd began his career at Nordaas as a sales representative based out of St. Paul. Two years ago when a territory opened up based out of the home office in Minnesota Lake, the younger Redig was able to move back to the area with his wife and children.
"You know Todd just loves working with his mom and dad," Pat says with a big laugh. "Don't you, Todd?"
"It's fantastic to be home again," Todd says with a smile in his voice. "Before, I was gone at least two to three nights a week and now I'm not traveling nearly as often as I was."
Those words ring true for Mike and Pat, too. It was not so long ago that it was Mike working as an out-of-state salesman for Nordaas while Pat stayed at home with Todd and his siblings Robyn and Michael.
"You need a lot of spousal support to be able to do that," Mike says.
"You have to give the spouses a lot of credit," adds Pat. "There has to be a good base at home, that's half of it right there. It wouldn't be as successful otherwise. I think that's why Todd does so well – because Hannah [his wife] is so good at handling everything."
Putting three immediate family members in one business and asking them to work together for years would seem to present itself with some rocky moments, but the Redigs have seemed to figure it out.
"When I first came to Nordaas and knew I'd be working next to Mike, I thought 'oh boy,'" says Pat. "But, he was on one side of the building and I was on the other. It's funny; we don't really see each other at work that often, and as many years as we've been here, we've never had a problem."
Mike equates the ability to work so closely with his wife and son to one thing:
"What's ironic, is that I stopped at a Chinese food restaurant the other day and I saved my fortune," he says. "It said something like 'you can either think of work as being a drudge or think of work as being fun.' It comes down to your attitude. For me, work has always been fun."
The Redigs are in agreement that what makes their work fun is seeing the faces of their clients light up when they're shown blueprints on their custom built home, or they are choosing the final touches on paint colors and tile that will eventually go inside.
"For me, the design aspect has always been my favorite part of this job," Mike says. "To be able to sit down and take people's ideas and build a customer profile based on a half a dozen house plans … that's the rewarding part. We get customers who like parts of one plan and parts of another and they have pictures on pictures on pictures. It's up to the sales reps, like Todd, to gather up all of this information and come up with a quarter-inch black line drawing that mirrors that. Once you have a plan really close and you figure out what the customer wants to use, you're able to build their house."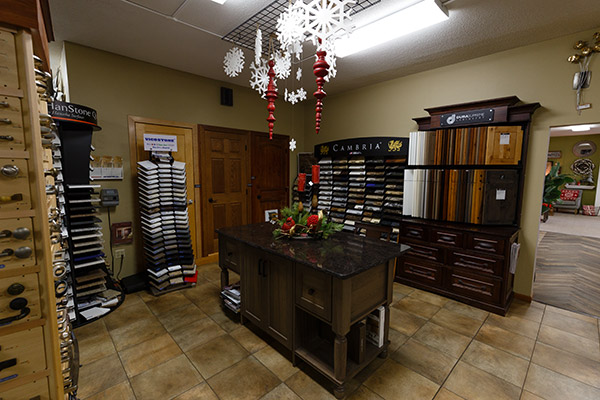 "For a lot of people that I'm working with, this is their dream," Todd says. "They've been dreaming of building their own house for 15-20 years. It's rewarding to sit there with someone who's had this dream for so long and I get to help them create it and make it happen. It's pretty awesome that way. It makes you want to do the best job that you can."
There are nearly two dozen employees at Nordaas American Homes that help turn client's visions into reality and although the Redigs are family, they consider everyone else to be, as well. In fact, some of them are. Pat's niece, Shannon Wegner handles the marketing and advertising for Nordaas, and sisters of both Pat and Mike have helped out at the company on occasion.
Remaining a family owned and operated business was a vital piece of being business owners to Mike and Pat, who both come from large families. They enjoy being able to offer flexible scheduling and a relaxed atmosphere at their business.
"When our accountant started, she was younger and had a baby, so we set up a whole nursery for her because she couldn't find daycare," says Pat. "For six months, she would bring the baby here. Everybody loved it; she was a good baby and there were 20 of us here to help out. Being able to do things like that just lessens the stress for everyone."
Todd says it's natural to bring the family atmosphere to the rest of the employees because, as far as the Redigs are concerned, they're also family.
"We operate on a family-run atmosphere, if you will," he says. "We have the flexibility that people need and we all understand the needs of family. It can't go unsaid that we have really good employees. It's crucial. They care and take pride in what they do."
Looking back at his career at Nordaas American Homes and reflecting on what has surprised him the most, Mike jokingly says it's that he has been married for 43 years. Pat easily recalls the time in her and Mike's life shortly after purchasing Nordaas that a lot of time and energy went into marketing the company.
"We went on the road doing home shows and going to anything we could to get the word out that Nordaas American Homes never closed and that we were still in business," she says. "For the first five years of owning the business, it was a struggle."
Resiliency and perseverance have helped the Redigs remain a successful and flourishing business. They've found great success over the years with word of mouth marketing.
"I've built houses for the kids of parents we've built houses for and the grandkids of grandparent's who have Nordaas houses," Todd says. "If you track our sales over many, many years, the number one generator of our sales is always referrals. When you get out and build houses 500 miles away, you have to have a good reputation behind you. That's been our number one thing: keeping people happy and word of mouth."
Being able to thrive among economical and technology changes has helped reap success at Nordaas, too, Mike says.
"When I started, everything was hand-drawn," he says. "The system Todd and these guys are operating on today has come a long ways. You can virtually walk through the house and see what it looks like before you even build it."
A new business model of having all of their plans, paperwork and leads digitalized has allowed the business to work smarter and more efficiently. With the increase of technology shining light on the direction that custom home building is going, the Redigs are also finding themselves looking for new talent to join them.
Mike says there are a lot of challenges yet to come, with the biggest being older employees transitioning out of Nordaas American Homes, leaving the question of how to bring people out to work in Minnesota Lake.
With their own retirement showing itself on the horizon, Mike and Pat have begun to slowly hand the reigns over to Todd.
"Mike and Todd run the business, but Todd has begun to run more of the business than Mike," Pat says. We're getting to be retirement age, so he's having to take on more responsibility. I still oversee the retail/flooring/blinds/home décor side of things. That's my baby … I created it, but I know I'll have to give it up someday."
Pat says she and her husband have worked hard to get where they're at and she finds solace knowing that their own son will take it over one day and continue what they started.
"We've worked our whole life to get where we're at," she says. "We took it from Haakon Nordaas' son-in-law and eventually we'll pass it on. We took the same risk back when we were younger."
"There's a pressure to keeping the business where it's at," says Todd. "They've set it up really well. I just have to take the torch."
---

A Surprise Past Minnesota Lake
Since 1949, Nordaas American Homes has designed and built custom homes in the upper Midwest, including Minnesota, Iowa, Wisconsin, South Dakota, North Dakota and Nebraska.
Situated on Highway 22 just outside of the Minnesota Lake, the dynamic of Nordaas American Homes comes as a surprise to people.
"Our facility is crucial," says Todd. "We've completely revamped it over the years. We have a guest house for our out of town customers to stay in and a model home right here in town. Dad's always called it his little three ring circus out here."
Pat refers to their location as "the south of the middle of nowhere" and says people are always surprised when they come out and see what they have to offer.
"People don't expect it," she says. "We'll go to home shows and later have people come out to Nordass in Minnesota Lake and they say 'wow! I had no idea what you had out here.'"
Their must-see showroom services include window treatments and blinds, countertops, home décor, fireplaces, stone, furniture, bridal registry and memorial gifts.
About the Family
Residents of Minnesota Lake, Mike and Pat Redig are parents to Michael, Robyn and Todd, and grandparents to seven. Michael and his wife are parents to two children and reside in California; Robyn, her husband and their two children live in Stillwater, Minnesota; and Todd and his wife live in Mankato and have two sons, with another baby on the way.
Todd says he is thankful he had the opportunity to grow up in a larger family because it's instilled in him the importance of family.
"It's the way I was raised," he says. "Christmas is a huge gathering … birthday parties are a huge gathering."
In their spare time, Mike and Pat enjoy traveling to California and Florida to spend time with their family and friends.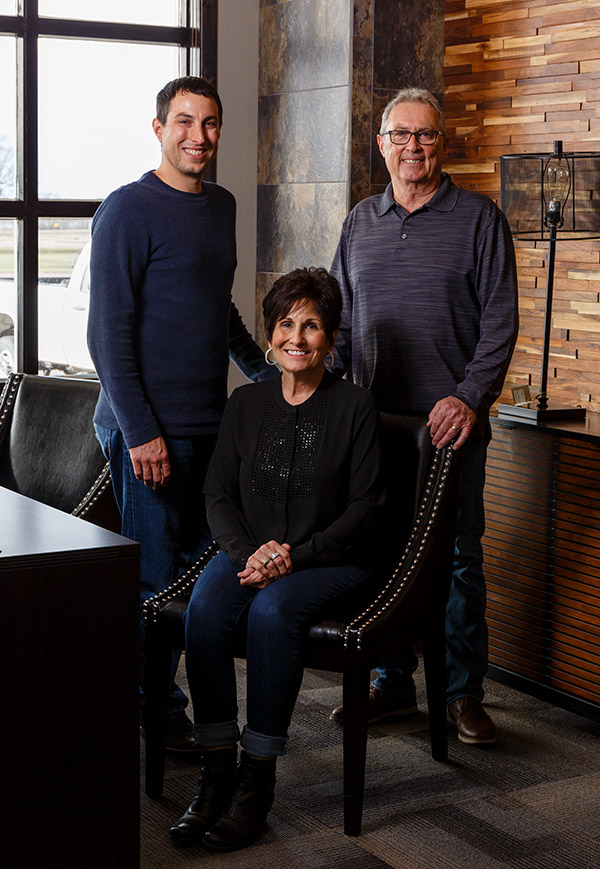 Giving Back to the Community
Because of their support of the local community and school district, Mike and Pat were recently inducted into the Maple River Hall of Fame.
"Haakon Nordaas was a huge community contributor," Pat says. "It's just awesome. It's very rewarding. No matter what, when we took the company over, we want to continue doing the same thing."
Nordaas American Homes is proud to help support the Sugar Plum Fund, a student assistance fund operated through the Maple River School District.
"We like to give back to the school through the program," Pat says. "It helps kids that may not have a lot. Maybe they'll get a pair of new tennis shoes so they can play basketball, or be able to pay for their jersey. It could also mean that a parent has a gas gift card so they can visit their child at the hospital."
As residents to the area (as well as having grown up there), the Redigs find enjoyment being able to help out such a crucial program.
"What it gets down to is being able to give back to the community we grew up in," says Mike.
THE ESSENTIALS
Nordaas American Homes
Address: 10091 State Highway 22,, Minnesota Lake, Minnesota
Web: nordaashomes.com
Phone: (800) 658-7076
Facebook: Nordaas American Homes