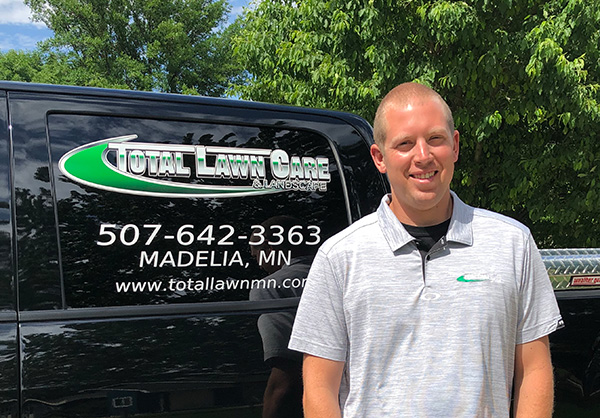 Dustin VanHale – Owner, Total Lawn Care and Landscape in Madelia
Today, Dustin VanHale has a thriving business with numerous employees. He's come a long way from where he started, which was in his garage in Madelia mowing lawns part time as a high school student back in 2007. What started out as a part-time job to earn extra money, slowly grew and today Total Lawn Care and Landscape, with Dustin in the driver's seat, brings attention to detail to everything that the company and its crews touches. When he is not busy helping people dream up amazing outdoor living spaces he volunteers with the Madelia Fire Department and spends time with his family.
He prides himself on his unwavering commitment to his customers and always being willing to help out with anything that needs to be done.
How does he manage all that? Let's find out.
What is the one "business" habit you do each day that helps in your success?
I start my day at the shop by making sure each crew and employee has the tools that they need to be successful each and every day. I make sure they know which job site they are going to, what they will be doing, and that they have all the materials and supplies in order. I also create plans based on weather. Much of our work is weather dependent and we have to plan our days and weeks accordingly. I end my day by touching base again with my employees either by phone or by stopping by the job sites, following up on the progress of the day and making plans for the next day and/or project.
Do you have a "key" or tip for staying organized and keeping all the jobs and prospects in order?
Lots of sticky notes, file folders, and calendars!
Why do you think your business took off and is so successful?
My employees have been key in the growth and success of my business. They share the same passion for providing excellent customer service while creating landscaping projects to meet our customers needs and wants. With the help of my employees, I have been able to take what started out as a one man business and turn that into a company with two landscaping crews, a mowing/spraying crew, snow removal crew, and an excavation crew. We are always looking to grow to meet the needs of our customers.
Why do you like doing business in Madelia?
Madelia is a great community! Not only did I grow up here as a person, but my business grew up here too. The community has always been supportive in continuing to help my business grow, which is why I am building a new landscaping shop with a retail space here in Madelia, which will be opening in the Fall of 2018. Our home base will continue to be in Madelia, however we have expanded into doing work all throughout Southern Minnesota.
A healthy work-life balance is important. What do you do outside of work to stay grounded?
One of the drawbacks with owning my own business and doing seasonal work is that we put in long hours during the landscaping and snow removal seasons. When I do get a chance to get away, I enjoy spending time with my family by going to the lake and going golfing.
Biz Brief
Total Lawn Care and Landscape offers lawncare, landscaping and excavation.
Currently building a new landscaping shop in Madelia…stay tuned!
Total Lawn Care and Landscape voted Business of the Month by the Madelia Chamber.
The company is fully licensed and insured.
Phone: (507) 642-3363
Find them on the web: totallawnmn.com.