Connect TV is produced with True Facade Pictures | Photo by Art Sidner
St. Peter – Fréy Salon and Spa
With the vision of bringing a high-end salon and spa to the eclectic mix of other locally-owned, niche businesses on St. Peter's main drag, Emily Schoper and Ashley Stanley brought the vision into focus.
"St. Peter was a no brainer for us. We wanted to set ourselves up for success in a community that has a lot of great small businesses. A plus is that many are run by women. St. Peter is where my children will attend school and I fell in love with the town over the last few years. Ash and I wanted to give St. Peter a small town feel with high end, big city looks and service. When we looked at the Carnegie as a potential building we could not say no," says Schoper.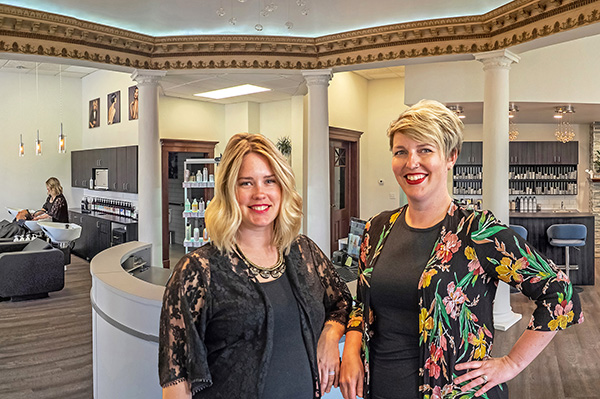 Both co owners are Aveda Institute Minneapolis graduates, and have worked together at a Mankato salon for the last several years. Their dream of owning their own business kept growing more intense each year.
"Ash and I now wear two hats as we are fulltime behind the chair and now ownership. The part that scared us the most was being "behind the scenes" and grounding ourselves to being owners, managers and fulltime stylists. We had a rather sticky "transition phase" and we both agree without our huge support system and each other we could never do this alone. Taking a leap into business ownership is a huge commitment. We felt very knowledgeable and motivated but knew we were risking it all. Challenges come with any adventure and in the end this is where we rise above. We love our guests and giving ultimate customer service along with education. The salon/spa is an oasis where we take care of you," explains Schoper.
Fréy is a full-service Davines concept salon. It offers cuts, colors, Great Lengths extensions, DevaCurl certified cuts and styling in our hair studio. In the skin studio they offer lash extensions by Borbeleta, body waxing and Comfort Zone skin treatments. Fréy also offers spa pedicures, gel and regular manicures in the nail studio with amazing glass bowls and shiatsu massaging chairs.
Fréy Salon and Spa
Address: 429 South Minnesota Avenue
Phone: (507) 934-7399
Facebook: Fréy Salon & Spa