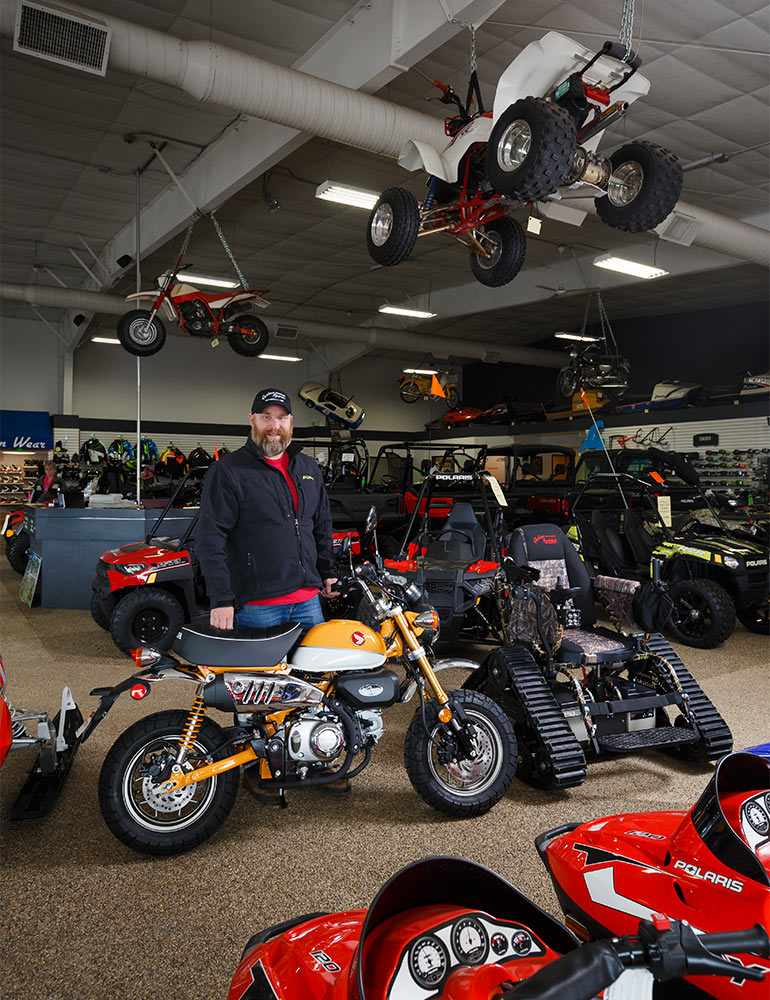 Photos: Kris Kathmann
Family of Action
One business leads to another and another and another in Marshall.
You might as well call Jim Swenson of Marshall "The Action Man."
Anchored by Action Sports, a complete motor sports and marine servicing and selling dealer located near the intersections of Minnesota Highways 23 and 59, Swenson has several businesses – from landscaping and design to storage and automobiles – all operating under the "Action" name.
It all started in 1979 when his father, Tim Swenson, purchased Marshall Small Engine and Repair in downtown Marshall and began selling Stihl, Homelite and Husqvarna chain saws. Together, father and son used foresight, ingenuity and, well, action, to create their successful businesses.
Sitting in a conference room at Action Sports on a November afternoon, decked out in a cap listing "Dirt. Guns. Storage." and a sweatshirt for Action Landscape and Design, Jim Swenson, 42, powered through their business history.
Swenson stresses there has been no "grand plan" in building this Action empire. More, it's a matter of taking opportunities, adding hard work, and building success. And when you ask him about how the business works, the answer tends to come out in a well-organized list of opportunities and solutions.
"My dad has always been a big-picture guy," Jim says, referring to the Action Sports facility that includes a total of 32,400 square feet in four buildings. "This facility, even back 20 years ago, was super huge. To put this facility up 20 years ago, at 18,000 square feet, that's bigger than the car dealers in town."
"He had a vision and it worked. Hard work and vision really pays off."
By the time Tim Swenson sold the original Marshall Small Engine Repair to an employee in 1986, he had added Polaris snowmobiles, and had bought out Yamaha and its lines of snowmobiles, all-terrain vehicles and motorcycles. He would ultimately buy adjacent buildings to accommodate his expanding business, but eventually he would still run out of room.
"I think he was renting five different storage buildings, including the two he had on location," Jim says. "He just outgrew it."
The growth continued. According to their website at "shopyourwaytofun.com," the marine division was added in 1988 with the acquisition of Yamaha outboard products. Alumacraft boats were added in 1990, with Polaris personal watercraft, PortaDocks and PortaLifts, and ShoreLand'r trailers soon to follow. Larson boats were added in 1998 and Palm Beach pontoons in 2000.
Ski-Doo snowmobiles came aboard in 1994, with Honda motorcycles, scooters and ATVs also added. With these various lines come clothing and accessories.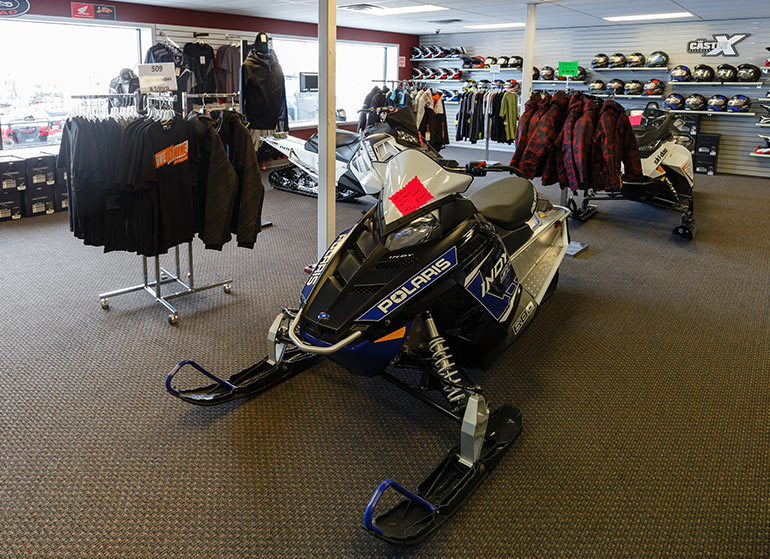 In the fall of 1997, the move was made to their current location, at the time only one of a few businesses in the area. Businesses already in the area included Walmart, Super 8, the Cenex, Runnings and Quist Moving and Storage, he says. The City of Marshall was ready to make the investment, he says.
"They put electrical and water underneath Highway 23. It was just a farm field," Jim says. "But if you think about it, Highways 59 and 23 intersect here. The two busiest intersections in southwest Minnesota are right here."
Even as a 12-year-old kid, Jim was a participant in the businesses when setting up lawn maintenance. He studied hydraulic fluid technology in Granite Falls and worked as a manufacturer's representative in Minneapolis in the off-road industry for a few years before getting a call from his dad who had lost a key salesman.
"'Hey, I know it's never been the plan, but would you think about coming back to be a salesman?'," Jim remembers his dad asking. "And I'm like, 'Well, I guess we'd better think about it.'"
He did return to Action Sports in 1999 and became general manager in 2004. He and his wife, Teah, bought out Tim and Donna Swenson in 2009.
"For five years, I really, really worked on the service aspect of it because I knew to have a business succeed through the tough times, it's good to have a really good service base and make sure you're making money on service," he says. "I really, really stressed that for five years and we succeeded. Then 2009 hit and it was devastating, but we made it because we run a lean, mean machine."
Tim was supposed to retire then, but retirement doesn't come easily to men in the Swenson family. Just ask Tim's father – Jim's grandfather – Earl, who, at age 97, is still operating Swenson Equipment & Distributing in Oklee, Minnesota, which he founded in 1952. It was after his supposed retirement that Tim started tinkering with what would become Action Trackchair (see accompanying sidebar on page 37).
When the recession hit in 2009, Jim's emphasis on service bore fruit.
"In a recession [customers] may not buy something new. But they still have something that's going to break," he says. "So, if you can capture the repairs you're capturing something."
His technicians were spending too much time with pens in their hands rather than wrenches, he says, so they hired their first service writer. They now have two on their staff of about 20 employees. Action Sports works not only with the individuals who come in for a new boat, ATV or four-wheeler, but they have accounts with businesses and the Department of Natural Resources.
"We are an approved vendor for the DNR for all of their four-wheelers in this area," he says. "They bring all of their boats and motors, and four-wheelers in this area."
"All of their officers have four-wheelers, they all have snowmobiles, they all have boats, so they just come here and we do a preseason check and if there are any problems we get them fixed. We do have a crop consulting company that leases a lot of four-wheelers from us to check crops."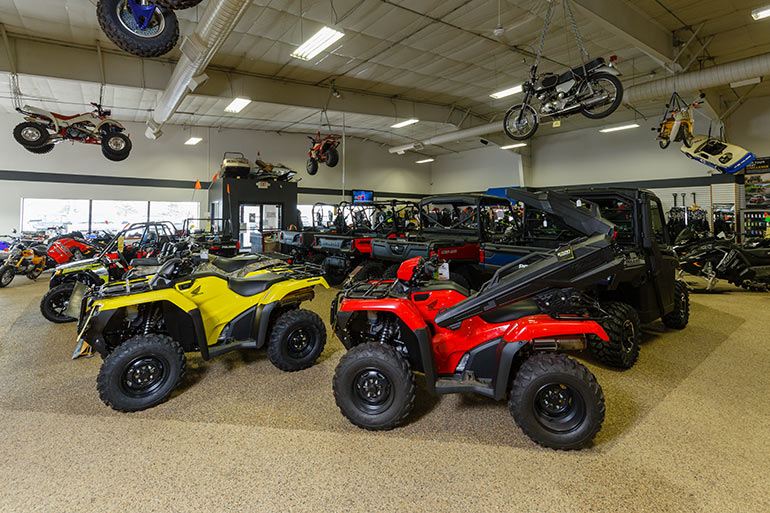 The same sort of year-round servicing applies to personal customers as well. One popular service they offer is taking a boat right off the lake in the fall, for example, and winterizing it. They offer an indoor storage program that provides winter homes for their products. In the spring, they can clean the boat and have it ready for the lake.
"So they really don't have to worry about anything. They literally drop it running and pick it up running," he says. "They just have us do everything in between." Because many equipment owners can't transport them when they're broken, they've added a service where they will pick up larger pieces of equipment, bring them to the shop to service, then return them when they're done.
This established relationship puts Action Sports in position to help their customers when they want to buy a new boat, trade up to a nicer model, even expand their summer hobbies with winter counterparts, or accessorize with matching clothing.
"If they have a lake home, they can come in and we can get them hooked up with the docks and lifts, we can get them the fishing boat, we can get them the Sea-Doo [personal watercraft].
"Then they can come in in the winter," he continues. "If they have a four-wheeler, we can get them hooked up with pushing snow with a blade. If they like to ice fish we can get them chains on the wheels. If they like to be out in the cold, we have cold-weather wear – boots, gloves, mittens, coats, bibs."
Swenson said he usually begins his day by stopping in at Action Sports, walking through and greeting his employees, then sitting down with general manager Chris Zent to find out what's happening that day. Once he leaves there, he's never more than an email or a text away if something comes up.
"Yes, I am everywhere all the time," he says when asked how he does everything. "The technology in your pocket, you know, you can really be a lot of places at once with email and texting."
The additional business opportunities have come about in a variety of ways, he says.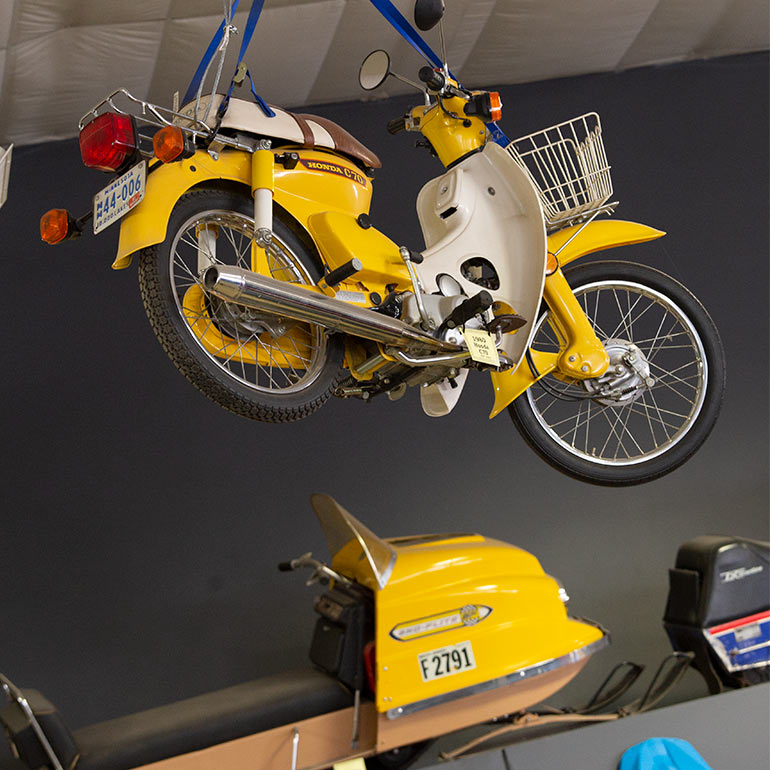 "I bought the container business from a local businessman here in 2014. He came to me because I had the right truck…so that kind of fit. The landscaping thing was the spring of 2017. My project manager actually came into Action Sports looking for a job. When Chris got that resume and everything was 'landscape, landscape, landscape,' he said, 'Jim, you've got to take a look at this.' It took a couple of months to figure it out, and it was a good fit. We've been busy ever since."
The website for Action Company LLC lists the following services: landscaping and lawn care, tree service, trenching, irrigation, snow removal, underground boring, excavation, storage solutions and guns.
This description on the website sums up his business philosophy nicely: "[Jim] wants to share his common sense approach to cost efficiency that has made Action Sports so successful. He wants to put that knowledge to work for you. With a creative mind and the right equipment, Jim and his team will help you with your project and get it done quickly and cost effectively."
He is, after all, "The Action Man."
---
Family Has Traction
When Tim Swenson sold Action Sports of Marshall to his son, the idea was that Tim would retire. Instead, he went to the hobby shop next to his former business and set to work on a project that would change the lives of physically active people who were limited by disability, limited mobility or age.
Tim's son, Jeff, has been confined to a wheelchair since 1998. He saw this wheelchair-snowmobile hybrid with tracks as a way to allow people like his son back onto soft, uneven surfaces they couldn't maneuver on their own.
By January 2009 he had a working model, and in July 2009 he got a patent pending, his son says. Having been in the motorsports business, he had a built-in network of family and friends for distributors, "and it just kind of grew from there."
"Since he was in the snowmobile industry, he understood that tracks are really good for snow, sand and mud," Jim Swenson says. "He called up Camoplast [now called Camso] that makes the tracks and he found a track that kind of fit his needs that they already built." He bought their remaining inventory.
Imagine a wheelchair equipped with a triangle-shaped track on either side. Now, add the functionality of a seat that tilts forward and backward, and even allows the user to be lifted vertically, virtually standing up in the chair. Accessories can be added to help carry equipment, protect the user from the elements and help them fully enjoy outdoor activities.
"Our veterans were generally outdoors people to begin with, so we've been selling to them from the first," Tim Swenson told the Marshall Independent newspaper in July 2013. "With battlefield medicine these days, people are getting blown up and surviving. We've sold chairs to quadruple amputees."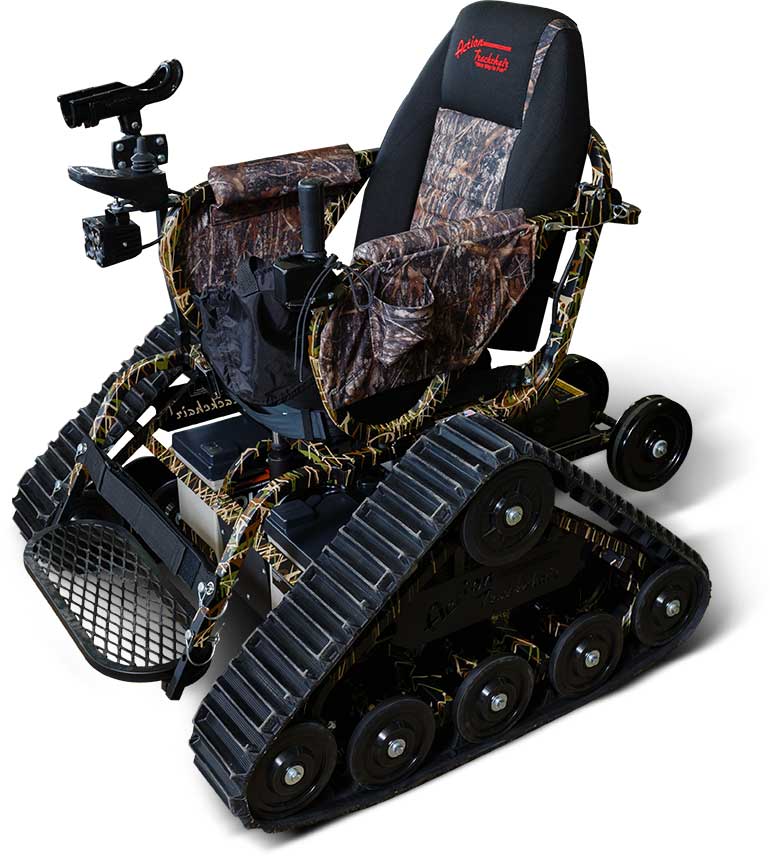 In November of this year, Tim Swenson was at Walter Reed National Military Medical Center in Bethesda, Maryland, to present a chair as part of a larger trip to visit to dealers who are family and friends.
The Action Trackchair comes in adult and youth sizes, and can be adapted not only for activities, but to accommodate a growing user. The Action Trackchair ST starts at $11,300. It is shown on the website in a camouflage paint design. The Action Trackchair NT has a narrow width so it can fit through standard door openings. The Action Trackstander TR is FDA approved, can lift the user to a standing position, and can be driven while standing or sitting. List price for the TR is $24,150.
Chairs can be personalized when ordered, or accessories can be added later. Accessories include a carrier for vehicles, arm rest with pockets, four-point harness, head rest, an attendant control, cup/beverage holder, fishing rod holder, utility tray with brackets, hi-low gun rack and a uni-mount rifle rest. A front wheel kit can be added to increase stability.
Jim Swenson operates Midwest Trackchair, one of seven distributorships across the nation, out of Action Sports in Marshall. His website at midwesttrackchair.com includes several testimonials on what it has meant to buyers:
"Action Trackchair, has meant the difference to me of really living without fear!" says Michael S. Hoff. "I am able to go places and do things that I haven't been able to do for 16 years. All with the confidence that I will be able to get there and get back out again! It has redefined the statement confined to a wheelchair."
Kirk Woodfill says he is now able to fully participate in activities instead of being a spectator: "The difference between attending outdoor activities and being fully involved in outdoor activities has been the use of [an] Action Trackchair. For 33 years I have been attending snowmobile snow cross events across the upper Midwest and until this year I have always been 'placed' in the best viewing spot but that is where I stayed. With the use of the Action Trackchair I was able to move about the entire race course and roam the complete pit area visiting with friends like never before."
The internet is also filled with stories of veterans who have received Trackchairs through the charitable efforts of veterans' organizations.
The Action Trackchair is a product of Action Manufacturing of Marshall. Although some components are purchased from other producers, the chairs are built on-site using equipment for laser cutting, powder coating, robotic welding, tube bending and machining.
All Things Action
Jim Swenson owner of Action Sports in Marshall, Minnesota has always had a passion for dirt. Yes, dirt. So much so that he has developed several hobbies around that passion: landscaping, tree trimming, excavating, irrigation and lawn care. He decided to turn those sideline hobbies into another business. Under the umbrella, Action Company, Jim  shares what he calls a common sense approach to cost efficiency that has also made Action Sports a success. It may seem convoluted to offer so many varying services under one business, but to Swenson it makes sense and it works. He says you just need a creative mind, the right equipment, and the right team. That combination works with a variety of clients and projects around the region, to get the jobs done quickly and cost effectively.
One service Action Company provides is that of landscaping and lawn care working with both commercial and residential clients. This department offers everything from shrub installation and removal to new lawn and sodding. Likewise they can install or repair irrigation systems for commercial or residential.
Action Company also has a tree service that includes stump grinding, tree trimming and tree removal. Trenching is also available on large scale for projects such as telephone lines or smaller scale such as for an electric fence. He can also do underground boring 18 inches deep and up to 30 ft. long.
Swenson's snow removal service runs the gamut as he has several commercial parking lot clients and also does snow haul out and salting services.
Through Action Company excavation service he offers all types of dirt work, grove clean up, metal debris clean up, basement digging, back filling, even brush and forestry mowing.

Action Company, though, also offers services unrelated to dirt. For instance, storage solutions. Swenson can provide 20 foot onsite construction offices, 20 or 40 foot storage containers, and he even has self storage available.

Guns are another interest he has turned into a business. As a class 2 manufacturer he deals with all types of guns: shotguns, rifles, pistols, silencers and class 3 machine guns.
THE ESSENTIALS
Action Sports
301 MN-23, Marshall, MN 56258
Phone: 507-532-9649
Web: www.shopyourwaytofun.com
Action Trackchair
1105 Lake Road, Marshall, MN 56258
Phone: 507-532-5940
Web: www.actiontrackchair.com
Action Companies
Phone: 507-829-5107