Mari Harries, River City Eatery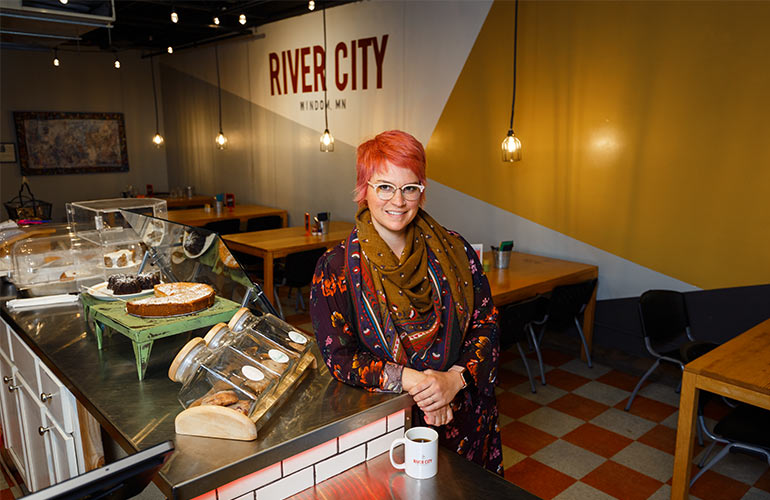 Photo: Kris Kathmann
Mari Harries
Owner, River City Eatery in Windom
In the 1700s the word entrepreneur entered our vocabulary, meaning adventurer. The meaning has been honed over the centuries and is now widely regarded as one who launches and runs a new business. However, entrepreneurs remain adventurers at heart, taking on great risks based on an idea or expertise one has developed in hopes of making a profit.
While we identify entrepreneurs as adventurers, Mari Harries describes herself as more of a dreamer. She will tell you, the sheer desire to make her dream a reality pretty much directed every business decision she has had to make.
"I'm a dreamer, always have been, almost to a fault," she says. "River City Eatery is my dream, my heart and my soul, and I'm determined to make River City Eatery a story to tell among the respected stories of the history of downtown Windom."
Windom, population around 4,500, is her hometown. So after a good amount of traveling around the country and the world, she knew it was there she would take all she learned from her time away to start her own business.
"Since I was born and raised in rural Windom, I always had the classic 'I can't wait to leave this place and explore the world' mentality and college became that chance. After three years studying English Education at the University of Wisconsin-Milwaukee, I ironically transferred to Winona State University to be closer to home!" she explains.
"After graduating with a degree in English, I naturally – ha! – pursued my dream to open my own place. But as a recent college grad with no money, no credit, no experience, I was quickly denied any financial support from pretty much every avenue possible."
Not one to be deterred, she took jobs that would give her experiences to set her up for own gig…eventually.
"I got a job working for Prom Management Group, a traveling catering company. It was the perfect job for me at the time because I got to live in Windom near family and friends, but travel across the country to various professional golf tournaments to cater in corporate tents. It really opened my eyes to the possibilities in the food business, which only made my desire to open my own restaurant more and more exciting."
She eventually took an office job, but after spending three years behind a desk she told her husband she just couldn't do it anymore.
"I told him I just had to pursue opening a restaurant again," she reflects. "There is really no other way to describe it other than having this creative beast inside of me that I needed to get out. I needed to open River City Eatery, or I thought I would literally go crazy, so I started tweaking my business plan again, figuring out how I was going to finance it, and all the other crazy stuff that comes along with starting a restaurant. It was no walk in the park, but I was pretty darn persistent and completely blinded by passion to make this restaurant brewing inside me a reality."
So in May of 2011, Harries purchased the building in downtown Windom and after six months of "flipping" the building with the help of family and friends, she opened in October of 2011.
"We are on the downtown square. Windom's downtown square is the heart of the community. When I opened – and still some people to this day – told me I had to be on the highway for exposure to succeed. I beg to differ. River City Eatery is special, just like downtown Windom. I want people to connect with the community, to stop for a second during their busy day without hearing or seeing the rush of traffic, to just enjoy."
Her hunch paid off and in June of 2016 she purchased the building next door to expand and continue to grow, fueled by Harries' passion…and her good food.
"I like to consider River City Eatery a New American restaurant, mostly because I feel like it's the only way to describe a restaurant that colors outside the lines. We pride ourselves in a unique menu by taking familiar foods, especially Minnesota comfort foods, and giving them our own fresh approachable twist. We have a passion for good fresh food, which is why we don't have a fryer, we don't do burgers, and we stay unique to our own vision of food to give people an experience they have never had."
Part of her philosophy is that she believes food is an art. She likes to take familiar foods and give them a fresh, modern twist. There are so many flavors, colors, textures and fresh seasonal foods to play with that she uses those to make every day at River City Eatery a satisfying one.
"At the heart of what we offer is just to give people an opportunity to connect with each other around a table, to celebrate no matter what is happening that day in their lives," she says. "My Danish roots call it Hygge. My most favorite memories are around a table with good company, good food and good drinks. I want to give that to people. Oh, and I was put on Earth to do this. I get to use every inch of my being, of my creativity. I'm challenged every day, multiple times a day. And my work is never finished."
Not only is the food unique, but her collection of oddities, inspirational pieces and conversation starters makes River City Eatery one-of-a-kind.
"I hope that all who enter River City Eatery delight in its comfortable atmosphere, eclectic style, and appreciation for old things with new purpose. In fact, we think it's kind of cool to recycle, and it's actually quite liberating to think outside the box!"
To be successful, Harries says she has surrounded herself with like-minded people.
"I haven't done this all myself. These are the people I'm proud to call my staff, my team and my family. Each of these people bring their own unique qualities to our establishment, and I can't thank them enough for their hard work, dedication and comradery."
With the right location and the right staff, Harries believes she is headed in the right direction for the future.
"Pinch me. This is beyond what I ever dreamed of with limitless potential. I can't wait to see where it continues to take me, my staff, and all the beautiful people that walk into our doors willing to let us give them an experience."
River City Eatery
344 10th Street, Windom, MN 56101
Phone:  507-832-8383
Website:  rivercityeatery.com