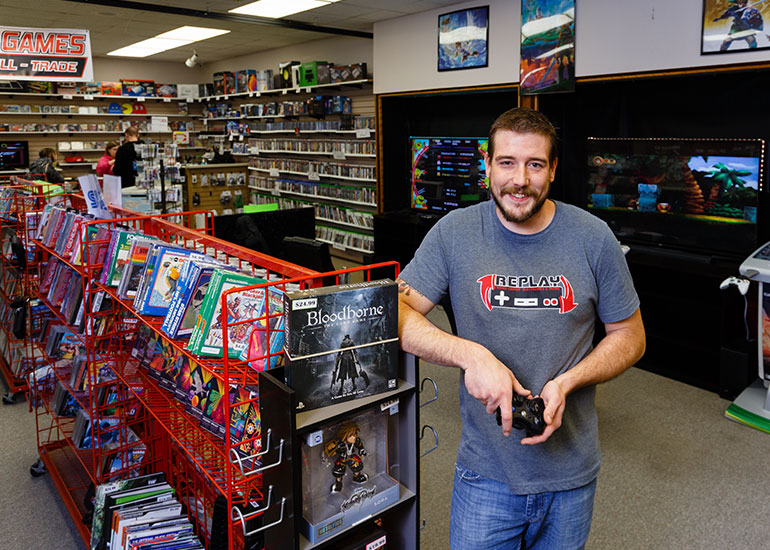 Photo: Kris Kathmann
Fairmont – Replay
In early 2018 John Duderstadt Jr. looked around his community and noticed something missing.
"There is nothing within in an hour radius of Fairmont that deals in used video games from every generation," says Duderstadt. "I always felt it was a small void in town, there are no more rental stores, so typically in this area it is sales on Facebook and hoping the transaction goes as intended or a drive to Mankato. We also lost our Radio Shack so I am continually adding in more electronics, listening to customers on their wants and needs and trying to bring them a convenient location that has most of what they are looking for."
So in October 2018, Duderstadt opened Replay in downtown Fairmont. His gut was right, he wasn't the only one missing this type of retailer and business has been good.
"There are no stores quite like Replay anywhere near Fairmont, so I wasn't sure what to expect. I had hoped the holidays would be strong and I wasn't disappointed. Community feedback has been overwhelmingly positive."
Replay's biggest offering is, of course, video games. But the store also carries video game consoles, games and accessories from every generation starting with Atari and Pong in the 70s, Nintendo, Sega, Intellivison, Playstation, Xbox and everything in between. But Duderstadt didn't stop there.
"We also carry commercial grade audio cables, mics and adapters. Everything you may need to get a PA system up and running. And lastly we offer a selection of musical items such as guitar pics and strings, cleaning kits for brass instruments, drum sticks and more. We can also order anything we do not have in stock. PC games are slowly being added in and coming soon will be card based games such as Dungeons and Dragons," says Duderstadt.
"It was just the right time, right place and right opportunity. I grew up playing video games and have a passion for them. I also enjoy working with the public and have spent years in the retail industry. When asked casually in the past what I would do if I had the choice, I would say open my own video game store. This storefront became available in August and the stars aligned properly so I jumped in."
Jumped in, and hasn't looked back.
Replay
207 Downtown Plaza
Phone: 507-618-0017
Facebook: ReplayMN