AMPI's Sheryl Meshke and Donn DeVelder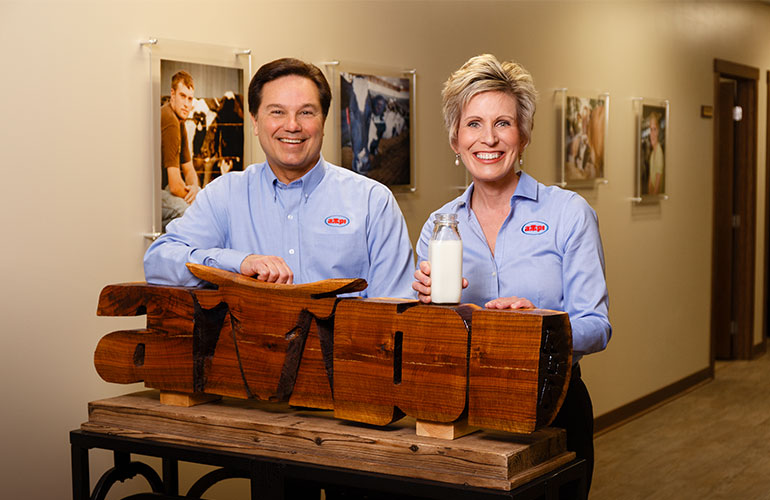 Co-CEOs Donn DeVelder and Sheryl Meshke in their New Ulm headquarters with an AMPI logo sculpture created and donated by a farmer-owner. (Photo by Kris Kathmann)
Better Together
New Ulm's AMPI takes the cooperative mindset all the way to the top with Co-CEOs Sheryl Meshke and Donn DeVelder.
You may know the average dairy cow produces 7 gallons of milk each day, or that 90% of milk produced in Wisconsin is made into cheese, or when your favorite butter is on sale for $1.89. But Americans may not fully realize the numbers behind those numbers that help illustrate the story of the dairy industry. The story of the men, women and children responsible for our milk, cheese, butter and a myriad of other products. Here are a number of points to ponder:
Being a dairy farmer is a 24-hours-a-day, seven-days-a-week, 365-days-a-year job. It's hard work that pays off big time for our country, our communities and consumers. In fact, the value of all milk products sold from U.S. dairy farms each year is more than $35.91 billion. Furthermore, dairy farms help sustain rural America, especially here in southern Minnesota and northern Iowa.  From farm to processor to distribution and retail, dairy creates jobs that support the economic well-being of the communities where they live, work, and play. Dairy farmers, companies and cooperatives offer a lifeline to more than 900,000 jobs in the United States.
Based on those numbers it is clear the business side of the dairy business is, indeed, big business. That's why the industry feels it is better united, than divided. Individually, dairy farmers have much to think about: the care of their cows, the land they farm, and the maintenance of their equipment. But collectively for a majority of the 42,000 dairy farmers in the United States, there is one thing they don't have to worry about when they are in a co-op: how to manufacture and market their product.
"The cooperative form of business has been around a very long time and it's very predominant in dairy," explains Sheryl Meshke, Co-President and CEO of Associated Milk Producers Inc. (AMPI), headquartered in New Ulm. "The dairy industry is about 85% cooperatives. That's very different than other areas of agriculture. It may be embedded in the fact that 365 days a year we're harvesting a perishable product and making it into something consumers crave. So, they have to get their milk out in the market as soon as possible. There's no day off for the dairy farmer, the milk hauler or the employee who's turning that milk into a dairy product. It's amazing, but again, it's every day, all day."
And here are some more numbers that may surprise you. New Ulm-based AMPI is the seventh largest dairy co-op in the nation. With 1,800 farm families and 1,200 employees, AMPI is a dairy cooperative owned and governed by its dairy-farmer members. In 2018, AMPI's dairy farmer-owners marketed 5.7 billion pounds of milk, resulting in almost $2 billion in sales.
"This is a business, a corporation, owned by dairy farmers," Meshke says. "Our dairy farmers have a choice who they market through. They have a choice which company they own."
As is traditional, a board oversees the co-op. Daily operations, however, are run by an uncommon leadership hierarchy, Co-Presidents and CEOs: Meshke and Donn DeVelder. A structure that's been in place since January 2015 when the board decided to try the Co-CEO style. It has worked, based on the premise of two CEOs with one vision.
"Our vision is very clear," says DeVelder. "We understand what we're made of is as important as the dairy products we make. Our core values – commitment to quality, responsibility to others and determination to succeed – guide us in all we do. Staying true to that allows us to answer to our stockholders, which are the dairy farmer-owners of the cooperative."
AMPI's dairy farmer-owners produce milk on family farms in Wisconsin, Minnesota, Iowa, Nebraska, South Dakota and North Dakota. Through the cooperative, they also own 10 Midwest-based manufacturing plants where employees use members' milk to produce 10 percent of the nation's American-type cheese and butter. You won't often see an AMPI brand, but it is the product under many well-known brands.
"We make the dairy products that make the brand," says DeVelder.
Meshke adds, "Dairy farmers own the manufacturing infrastructure of AMPI that has operated for five decades. We're 50 years old this year and have come a long way since the time when every small town had a creamery. Our dairy farmers now market through various manufacturing centers. It works."
In this interview, Meshke and DeVelder discuss how they've adapted to the changing dairy industry and how, together, they'll tackle the challenges of the future.
AMPI has much to celebrate this year, hitting the 50-year mark. Let's talk a bit about its long history.
DeVelder: When AMPI was formed in 1969, it was out of need. Small, local dairy cooperatives were struggling. Many of those co-ops had started in the 1890s and found themselves in the middle of a rapidly changing industry. Advances in technology and transportation made it possible to transport milk greater distances to reach processing plants, improving efficiencies and reaching new markets.
Founding AMPI members recognized the advantages of strength in numbers when seeking economic and political change. AMPI became the collective voice for individual dairy farmers.
What set AMPI apart?
DeVelder: AMPI members had the vision to invest in cheese manufacturing, recognizing Americans growing love for cheese. At the same time, they knew the importance of being involved in policy development.
How has that vision changed, or stayed the same, through the years?
Meshke: Early AMPI leaders were right – cheese was the business in which to invest.
Unfortunately, the dairy industry, along with most of agriculture, has been especially challenging since 2015. Our dairy farmer-owners are in the midst of an economic drought. At the same time, we need to continue to make investments in AMPI's manufacturing infrastructure to stay relevant with the consumer and their changing tastes.
AMPI remains active and is a leader in the dairy policy arena. This last farm bill, for instance, we worked to secure provisions that would help dairy farm families.
What affects the ups and downs of your markets in what you do?
DeVelder: Normally, it's supply and demand — how much milk is produced domestically and globally versus how much is consumed.
In the last 20 years, and especially the last 10 years, the dairy industry has steadily become more and more of a global marketplace. For example, the U.S. now exports the equivalent of one day's milk production each week. That said, how much milk is being produced around the world affects our markets.
While U.S. cheese consumption continues to steadily grow each year, the ongoing trade war has hit our farmers hard.
Following U.S.-imposed tariffs on steel and aluminum, U.S. dairy's top export customers retaliated. Mexico and China announced tariffs on American-made cheese in June. The market crashed and has yet to recover. Cheese prices directly affect the milk price paid to farmers.
That's frustrating for dairy farmers – that what impacts their business, their livelihood, is not always about supply and demand. Sometimes it's about politics.
You said AMPI is a leader in dairy policy development.
Meshke: Yes. AMPI is focused on improving dairy industry policies and practices. Currently I'm working on a project involving the Chicago Mercantile Exchange and cheese trading rules. More often, policy development demands a trip to Capitol Hill.
Though we're a dairy manufacturing cooperative, our legacy includes being dairy advocates at all levels. Collectively, dairy farmers can amplify their individual voice.
DeVelder: It's all part of being cooperative-minded.
Meshke: We understand the importance of corporate and social responsibility. The cooperative form of business illustrates just that. Most AMPI employees live and work among the dairy farmers who own this business.
How do you divide your duties as co-CEOs? Do you have different areas of focus or how do you guys manage that?
Meshke: That is the most often asked question. "How do you do that?"
DeVelder: First of all, we really don't divide them. I think our chairman of the board says it best: "We don't have two CEOs. We have co-CEOs." This means that we're both responsible for everything, every day. Our prior positions as assistants to the CEO meant that we both worked closely with the board for many years. Between the two of us, there wasn't a part of the business we hadn't already been engaged in.
Meshke: The co-CEO structure works if you have a common vision and understand the end game. For us, that's easy. We work for dairy farmers. We know what that end game is.
What made the board decide to change the leadership structure and make you both CEOs? Could they just not decide?
Meshke: Since AMPI was formed, we are only the fourth CEO if you count us as one.
DeVelder: Yes, it's very unusual to have that longevity in CEOs. That's a testimony to our board of directors and AMPI's dairy farmer-owners. Stability is important, in leadership and the business.
Sheryl and I were named interim leaders in December of 2014. About six weeks later the board of directors wanted to learn more about our ideas. We told them exactly what we were thinking and they said, "Okay, we like your shared vision." Our vision coincided with theirs. Our AMPI Chairman of the Board Steve Schlangen said, "We like what you guys have been doing so far. Why don't you just keep doing that?"
Meshke: We haven't stopped running since. It's a very flatline, egoless leadership structure.
You mentioned vision and that you two are on the same page, what is that vision?
DeVelder: We work to make the dairy farmer successful. Our job is to drive the process of adding value to the milk our members produce every day.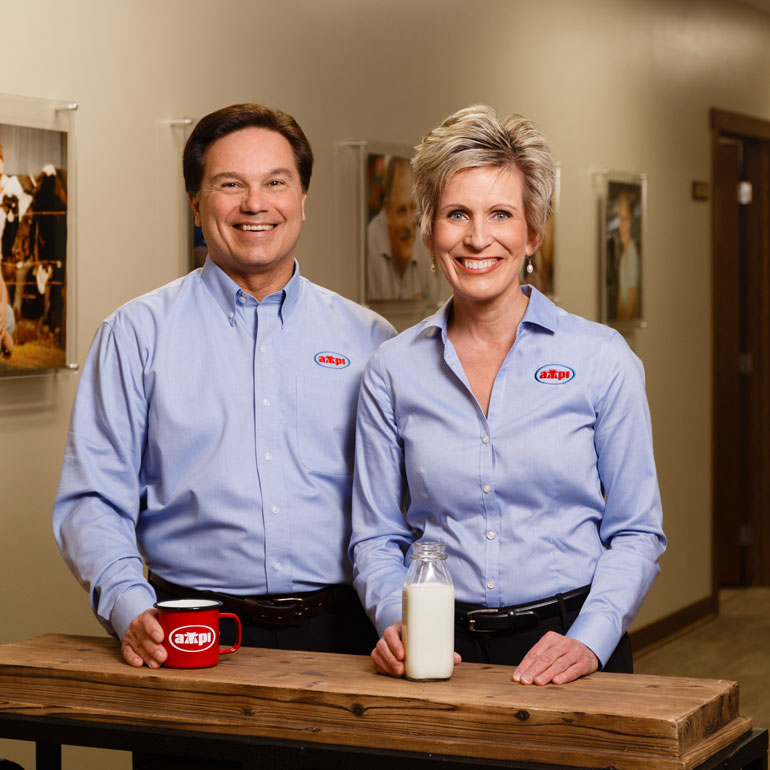 How do you do that?
DeVelder: Our farmers produce top-quality milk. And we make it into some of the best cheese and butter in the world.
Meshke: The nation's leading brands are wrapped around our cheese and butter.
AMPI is a quiet giant. We make about 10 percent of the country's American-style cheese and butter.
Okay. How do you do that? Is there a secret recipe or ?
DeVelder: Actually, yes there is. (Smiles)
Meshke: We have talented cheesemakers. For example, Wisconsin Master Cheesemakers work for AMPI. That's a designation that cheesemakers can earn with extensive training and experience.
AMPI products are on-trend with the rise in cheese snacking. And dairy products deliver high-quality protein. Our job is to give consumers what they want, what they crave. When coupled with business acumen, that should result in a viable market for our dairy farmers' milk.
That was my next question. How often do you hear from them? Your bosses, the dairy farmers, how do they get to you what they want?
Meshke: Daily. Donn and I work to foster open communication. It's not uncommon for any of our owners to pick up the phone and call us.
DeVelder: We have an exceptional governance system in this cooperative. Our members are very involved. Sheryl and I regularly conduct meetings with what we internally call elected officials — dairy farmers who represent fellow members.
Why is the co-op structure so attractive to the dairy industry?
DeVelder: Through cooperatives, dairy farmers secure a market for their milk. That's critical with milk produced every day of the year.
Meshke: Cooperatives offer stability.
DeVelder: Dairy farmers know they have a home for their product when they're a member of a cooperative.
Long before the term "vertical integration" existed, dairy farmers recognized the importance of controlling the milk from the cow all the way to the consumer through their co-op.
What's the dairy forecast?
Meshke: AMPI's product portfolio is based on cheese and butter, with annual consumption growth of 2 to 3 percent. Less predictable is the impact of trade agreements and retaliatory tariffs. As mentioned earlier, both have negatively impacted the dairy industry.
What are some things that you will be legislatively advocating for?
Meshke: We're encouraging our dairy farmer-owners to consider risk management options offered through the most recent farm bill. AMPI worked side-by-side with policy makers to develop the new programs.
Preserving our brand — milk — is another priority. In the past year I joined fellow dairy industry professionals in a meeting with Food and Drug Administration leaders. We presented data detailing that consumers know the word 'milk' represents a wholesome and nutritious product. If milk is used for products other than dairy, it's misleading. After all, milk has 8 grams of protein per serving and almond juice has just one.
DeVelder: And it is the law. We're asking FDA to enforce existing labeling guidelines.
Let's talk more about concern in agriculture as a whole, that fewer and fewer of the next generation want to go into it. Is that happening in dairy as well?
DeVelder: The key word is "want." I went through a time period when our parents tried to talk us out of dairying. Dairying still demands hard work, but it's much different than 30 years ago. Do the 20-year olds want to dairy? Yes, I think they want to. Dairying is in your blood and is such an exciting industry. Those who grow up in the industry want to carry on the tradition.
Meshke: Farming is very capital intensive. If economics don't enable a young person to farm, there are countless opportunities in the dairy industry.
You also have a consumer right now who really wants to understand the farm-to-table story.
Meshke: Today's consumer wants to understand how food is produced. We need to tell our story.
One of our newest initiatives is introducing the trademarked term "co-op crafted." That is going to be the mark, the brand, the way to better communicate how we source local products and market on a large scale. At AMPI we know the dairy farmer who produces the milk, the cheesemaker who makes the cheese, and the rural communities they call home. It's the cooperative advantage.
---
Committed to Community
Dairy farming is a way of life for the men and women who live and work on the 42,000 dairy farms in the U.S. These families contribute mightily to the communities where they live by contributing to the economic vitality by providing jobs and income. Here are some stats to back it up:
Dairy farmers support rural communities in all 50 states and Puerto Rico.
There are about 7,400 dairy farms in the 10-state Midwest Dairy region.
95 percent of U.S. dairy farms are family owned and operated.
There are approximately 9.31 million dairy cows in the U.S. The average herd size is 187 cows.
The value of all milk products sold from U.S. dairy farms is more than $35.91 billion.
Minnesota
In the state of Minnesota, there are 3,470 licensed dairy herds.
Minnesota is the 7th largest milk-producing state in the U.S.
Minnesota dairy farms produced approximately 1,100 million gallons of milk in 2015.
Minnesota farms generate approximately $1.66 billion in milk sales annually.
Dairy products are the 4th largest agricultural commodity in Minnesota.
In Minnesota, the average dairy cow produces about 6.6 gallons of milk per day. That's more than 2,392 gallons of milk over the course of a typical year.
Iowa
There are about 1,360 licensed dairy herds in Iowa.
Iowa is the 12th largest milk-producing state in the U.S.

Approximately 562 million gallons of milk were produced

by Iowa dairy farms in 2015.
Iowa farms generate approximately $837 million in milk sales annually.
In Iowa, the average dairy cow produces about 7 gallons of milk per day. That's more than 2,667 gallons of milk over the course of a typical year.
Source: Midwest Dairy, USDA
Professional Journey
Donn DeVelder
DeVelder began his AMPI career 34 years ago as a field representative providing on-farm consultation and assistance to the co-op's dairy farmer-owners. He then joined the corporate staff at the cooperative's New Ulm, Minn., office. Prior to being named co-president and CEO, DeVelder was the executive senior vice president responsible for fluid marketing, human resources and member services.
Sheryl Meshke
Meshke has been with AMPI for 28 years. During that time, she has led communications, public affairs, human resources and strategic planning. Before becoming chief executive, she was the executive senior vice president leading strategic initiatives to strengthen the cooperative's performance and value.
Meshke currently serves on the board of directors for the Innovation Center for U.S. Dairy, the National Milk Producers Federation and the Minnesota AgriGrowth Council. She was appointed by Minnesota Gov. Mark Dayton to serve on the Minnesota Dairy Research, Teaching and Consumer Education Authority and elected chairman of the Authority. She is past president of The Cooperative Foundation, Cooperative Communicators Association and the Minnesota FFA Foundation.
From The Farm
Both Meshke and DeVelder come from farming backgrounds so agriculture is a big part of their DNA. They are both thankful for the opportunities the ag industry has sent their way. Although each has their own unique path to AMPI.
Meshke grew up near Good Thunder. After graduating from Amboy-Good Thunder High School, she earned a bachelor's degree in agriculture from South Dakota State in Brookings, S.D., and an MBA from the University of St. Thomas in Minneapolis. She started at AMPI in 1991, only her second job out of college, and has worked her way to the top. Farming is still deeply rooted in her family, as they still farm near Lake Crystal and remain active in 4-H and the FFA.
Meshke and her husband, Blake, have two grown sons. Derek and his wife, Tori, live in Brookings, S.D., and son Brent and his wife, Leslie, live near Lake Crystal and are involved in the family farm. She and Blake's family motto is, "Keep them in the ring and on the diamond."
The "ring" is in reference to show rings and the family's commitment to youth development through 4-H and FFA livestock projects. The "diamond" illustrates their longtime support of fastpitch softball. Recognizing the importance of 4-H, FFA and organized sports, the Meshkes have been leaders and coaches for more than 30 years.
They believe 4-H and FFA programs, in particular, provide opportunities for rural youth — including AMPI member families. "Those two organizations provide amazing leadership development opportunities," Meshke says. "Blake and I invest our time, talent and treasure in those organizations."
DeVelder also spends time with family, watching football games and spending time on the water.
He grew up in Corsica, S.D., about 50 miles southwest of Mitchell. It's interesting to note his life has seemingly come full circle.
"I grew up on a dairy farm in the '60s. One day my dad came home with a milk truck. In South Dakota, we were moving away from hauling milk in cans to hauling milk in bulk tanks on trucks. Long story short, my dad eventually became a manager of the local creamery, which became part of the beginnings of AMPI," says DeVelder. "My roots go pretty deep. There aren't many things in this co-op I haven't done at one time or another."
Following high school, he went on to college and graduated with a Bachelor of Arts degree from Northern Iowa University. He officially started as an AMPI field representative in Paynesville, Minn., in 1984. During that time, he served in the National Guard for 12 years.
"That's something I've always been proud of about this co-op; AMPI has long been supportive of its servicemen and women."
Outside of work he enjoys spending time with family. He and his wife, Barb, have four children and four grandchildren. Although they are a bit spread out in terms of distance, they look forward to their favorite family fall outings each year: attending University of Minnesota Gopher football games. He also likes being outdoors, whether it's doing yardwork, hunting or on the water fishing.
Commitment to Animal Care
AMPI dairy farmer member-owners are "all in" when it comes to providing quality care for their animals every day. This commitment is demonstrated by the cooperative's 100 percent member enrollment in the National Dairy FARM Program – Farmers Assuring Responsible Management.
Co-op Governance Structure
AMPI uses a three-level structure of governance that encourages member input.
First Tier
The first tier is a members' local district. Annual district meetings are an opportunity for members to elect representatives and review cooperative performance. District meetings also mark the beginning of the AMPI resolutions process.
Second Tier
The second tier is division areas. Elected representatives at the district annual meeting convene during the year at division board meetings.
Third Tier
Which leads to the third tier: corporate. The corporate board of directors is responsible for the business affairs of the cooperative.
THE ESSENTIALS
Associated Milk Producers Inc.
315 North Broadway
P.O. Box 455
New Ulm, MN 56074
Phone: 800-533-3580
Web:  ampi.com