Grant Pope is general manager of Kamp Dels Campground. (Photo by Jonathan Smith)

Surviving the Storm
Waterville's Kamp Dels is ready for a new season.
In the world of Minnesota campgrounds, the season pretty much falls between Memorial Day and Labor Day. And the success of that season is determined by the weather. Sometimes, however, a larger determinant is weather that falls outside of the time between those bookend holidays. Such was especially the case for one Minnesota campground last year.
On the evening of Thursday, Sept. 20, 2018, weather services were tracking severe weather through southeastern Minnesota. Because the Labor Day weekend had been two and a half weeks earlier, many campgrounds – including Kamp Dels in Waterville – were sparsely populated and moving toward their fall shutdown. And that turned out to be a very good thing, as tornados and storms tore through the area, with Kamp Dells directly in its path.
"The storm came really quick," Kamp Dels General Manager Grant Pope said May 14, days before the campground planned to open for the 2019 season. "We had been watching the weather knowing that a severe storm was possible, but did not expect anything like this."
Weather.com reported it this way the next day: "Severe storms which may have packed tornadoes tore through southeastern Minnesota Thursday evening, toppling trees and power lines, damaging home and flipping airplanes housed in a hangar at a municipal airport."
"We had damage in just about every area of the campground. The physical damages included: multiple buildings that had shattered windows, torn up siding, holes in the roofs, decks destroyed, parked campers thrown into the fields, water lines broken, electrical lines snapped. We lost over 400 trees, tar ripped up caused by uprooted trees, petting zoo fencing crushed, and more," reports Pope.
Timing was everything when it came to limiting injuries when the storm came through that night, explains Pope.
He says the campground had physical damage in just about every area. It's damage that was still being repaired as their May 17 planned opening for the 2019 season approached.
Kamp Dels employees were able to make an announcement over their intercom system informing everyone to take shelter. Only a couple of minutes later, he says, the storm was upon them.
Multiple security cameras placed around the campground captured the speed at which the severe storm reached them. One video posted on the Kamp Dels Facebook page and on YouTube shows a vehicle being driven into the campground, followed almost immediately by blowing wind and rain that takes down a tree within seconds.
After checking on camper safety, employees and staff began the recovery work that would continue through the middle of May, with days that began before sunrise and didn't finish until after sunset. The immediate plan was to clean up fallen trees, a process that took months, Pope says. Once again, weather — this time the wetness that preceded the storm — played a key role in what happened.
"At the time of the storm, the grounds were extremely wet and so many of the trees didn't snap but rather uprooted, leaving massive holes in the ground that needed to be tended to for the safety of everyone," says Pope. The downed trees blocked roadways within the grounds and made it difficult to maneuver for repairs, creating additional difficulties.
Assistance came from many groups; friends, family and guests poured into the grounds to give what they could to help clean up. Some helped clean up fallen branches, others provided their own chainsaws to cut up fallen trees. Some volunteers provided food and water to workers.
"When you have something like this happen, it changes the way you think about life in general and the amazing generosity of those around you. We feel like we can't say thank you enough."
The physical damage was apparent from the start. What couldn't be seen — and what built as the days of repair went through the fall, into the winter and then into spring — was the emotional damage. That, too, he says, caught them by surprise. But in a good way.
"Emotionally, after we got over the shock of what had happened, I believe we became stronger as a core," he says. "It's part of what being a family business means, and something many people don't understand. When you are in it together and have people around you who care, love and support you, you can accomplish anything."
He says that by the time snow had fallen, they had all of the brush, stumps and stump holes cleaned and ready to go. Repairing all of the damage to facilities caused by the storm was left until spring. The addition of cleaning up and then reconstructing of buildings and campground amenities was added to their usual preparation for the new season. Plans were changed, to-do lists expanded.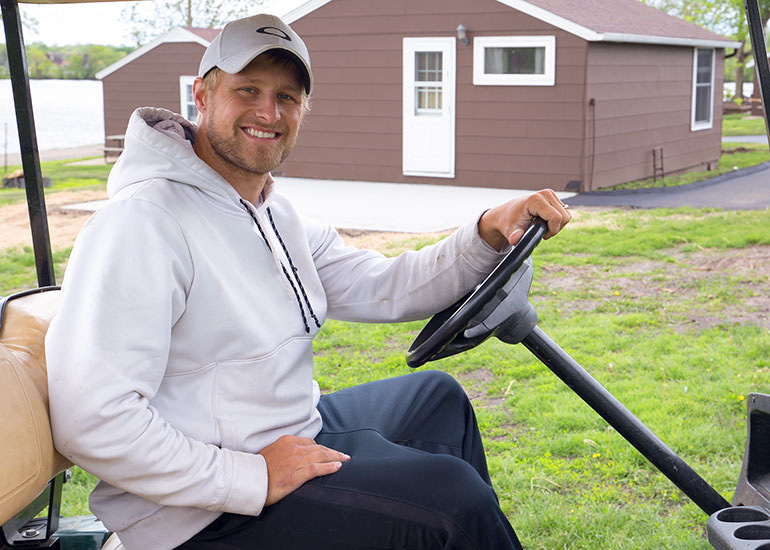 Pope is all smiles after surveying the progress at Kamp Dels. (Photo by Jonathan Smith)

Weather continued to play a huge role in restoration this spring, so they had to work around different weather conditions. While indoor repairs were minimal, repairs to the campground's outdoor amenities damaged by the storms were significant. Damaged were the water park, built in 2016 with more than 38,000 square feet of pools. Pope says they had check the integrity of the 32-foot water slide, 23-foot climbing wall, basketball and volleyball courts, diving boards and the interactive play structure.
The petting zoo's 26 different pens had to be rebuilt, and Kamp Del's many cabins, overnight tent camping sites, RV camping sites and seasonal campsites all had to be cleaned up. With time ticking down to the start of another season, the need for heavy machinery can make outdoor repairs difficult, Pope says. If grounds are damaged during the completion of heavy repairs, that damage must then be repaired. But this work also had silver linings.
"Many things that have been damaged have allowed us to redo the process and do it better." When spring and summer campers return they will be greeted by buildings with new roofs and siding, new windows, new signage, cabin remodels, large cement patios, wider roads, better placement of trees that were planted to replace those that were fallen or damaged, and, he says, an overall safer and well-rounded campground.
That which was lost has been replaced; that which was damaged has been brought back better than before, Pope says.
"The only thing that will be different here at Kamp Dels will be the scenery. Losing 400-plus trees that are all 20-plus years old makes for a little less shade in some areas," he says. They suspect some of the lost bur oak trees along the lakeshore were more than 100 years old.
"Rest assured we planted and moved well over 500 trees back into the campground that will help."
For everything that was lost, even more was gained. That includes a closer relationship to their guests, family and friends. As a seasonal business, they now feel a closer year-round kinship to those with whom they live.
"We want to thank our community for always standing behind us and their constant support of what we stand for. We love our amazing little town of Waterville and are happy to be where we are today," Pope says.
"As a staff and family we have never felt closer and more accomplished than we do today. Sometimes the worst events bring out the best in us, and we definitely feel that is the case with us today."
Kamp Dels has 35 to 40 family members who work in various capacities at the campground during the summer. Nine work there all year-round. Kamp Dels is located on Lake Sakatah near Waterville, Minnesota.
---
Family Run for Family Fun
Family operated, Kamp Dels resort actually started quite differently than you might think. Originally called Del's Blue Spruce Lodges, the resort started with the construction of the two, two-bedroom cabins in 1955 that are still standing today. It wasn't until a few years after the cabin construction when Del Pope purchased the farm land with the infamous Red Barn that an additional 10 campsites were added and the name had to be changed.
The Essentials

Kamp Dels
14842 Sakatah Lake Road
Waterville, MN 56096
Phone: 507-362-8616
Web: kampdels.com