Lee Kerfoot is owner of Kerfoot Canopy Tour. (Photo by Jonathan Smith)
Brave Business Adventurers
Kerfoot Family Continues Legacy of Promoting the Great Outdoors
There are many ways to enjoy the beauty of Minnesota; on the waterways, on the trails, through the trees? One family elevated Minnesota's options for outdoor recreation and has turned the state's beauty into a business plan.
"Minnesota has a rich history of people who enjoy, explore, and embrace the Bold North. The mythical land of 10,000 lakes, the birthplace of Paul Bunyan, the towering pine trees, the northern lights, and the wild fresh air," explains Lee Kerfoot. "We love the state and think it adds some invisible magic that is sprinkled into the experience. Like much of Minnesota, the land we are on plays an important role in helping set the stage, in telling our story, in building the experience into something better than the individual parts should be."
That experience is Kerfoot Canopy Tour, a zip lining enterprise located on the Minnesota River Valley National Scenic Byway 6 miles north of Henderson. The perfect location, Kerfoot says, to attract adventure seekers from near and far.
"We love the implications of being on a National Scenic Byway. It aligns with the experience we are trying to deliver. Being this close to Minneapolis and 45 minutes away from Mankato allows us to expose so many people to tree-topping outdoor adventures. We are close enough to Mankato and Minneapolis to be accessible, yet far enough away to seem remote and wild," he explains.
At Kerfoot Canopy Tour, the zip line tours start out low and slow to help people get comfortable. Then as the guests begin to relax the course gives them more, challenging them by growing higher, longer and faster. In addition, the scenery changes over the three different sections of the course.
It's a venture born out of Kerfoot's innate sense of adventure and deeply-rooted passion for the outdoors, something fostered in him from a very young age.
"I grew up at the Gunflint Lodge on the Gunflint Trail. My family owned the resort from late 1920 to 2017. As a youth and young adult my Grandma Justine Kerfoot was a big influence on the resort with her commitment to excellence and helping others recreate outdoors.
My father Bruce also exemplified these attributes. It seemed natural that these core values were woven into my DNA and hopefully can be seen throughout our two zip line tours," explains Lee Kerfoot.
He embraced that part of his DNA with some formal education, graduating from University of Wisconsin-Stout with a degree in hospitality and tourism management, then earning a masters of management in hospitality from Cornell University. It was there he met his wife, Eva, who not only shared the same degree, but also the passion for outdoor recreation.
"Eva and I wanted to start a company helping others recreate outdoors and foster their own passion for outdoor adventure. After considering many options we decided to focus on zip lining. Next we started looking for land and eight months later we found something unique. After flying in builders to interview (they were also interviewing us as well) we all agreed this had the potential to be great, we just didn't know how great it could be. Our builders, Challenge Designs Innovation, really did a great job for us! They built through six weeks of rain nearly every day. We opened in May of 2013 with 10 zip lines. By the fall of 2013 we added four more zip lines, giving us over 1 mile of zip line cable," he says.
Parlaying his passion with a business plan has paid off. In 2016 they opened a second zip line tour, Brainerd Zip Line Tour, at Ski Gull in Nisswa, Minnesota. They again hired Challenge Design Innovation to build Brainerd Zip Line Tour. In the fall of 2017 they added a 21-element aerial adventure park at Kerfoot Canopy Tour. Then in the fall of 2018 they expanded the adventure park to 45-elements. Kerfoot says the key is to keep things changing a bit, to keep folks coming back.
"Our first year at Kerfoot Canopy Tour and our first year at Brainerd Zip Line Tour each property hosted just over 3,000 guests," says Kerfoot. "Brainerd has grown every year. For the most part Kerfoot has grown every year. Last year Kerfoot Canopy Tour had over 10,000 guests and Brainerd Zip Line Tour had over 5,000 guests. We are focusing on building new attractions at different price points so more people can develop their own passion for outdoor adventure. Ultimately, our goal is to help 1 million people recreate outdoors over our first 30 years."
The biggest challenge for Kerfoot so far, has been creating awareness that great zip lining is available in Minnesota. "When we started no one thought of zip lining and Minnesota," he says. "But now after several years of delivering great experiences people are starting to become aware of us."
Now that they have added an Adventure Park, they face another similar challenge: educating people on what an Adventure Park is.
"We really don't have anything like this in the state of Minnesota. Our Adventure Park is a 45-element extreme high ropes course. Part ninja warrior, part obstacle course, park ropes course, 100% fun! We use smart belay systems so guests are always clipped on. The course has three and a half stories to it and as you go higher in the park the elements you cross get harder. We think this is going to be super popular once we are able to get the word out," says Kerfoot.
Along with creating a great experience for adventure seekers, Kerfoot and his wife are equally concerned with creating a great experience for their employees, maintaining a healthy company culture.
"We have always been concerned about hiring the right type of people. Fortunately, between the general managers Ed and Mitchell, the returning sky guides, and the culture we create, we are able to attract amazing people that help our guests foster and develop their own passion for outdoor recreation and adventure. That said, it is a constant challenge to find the right people," he explains.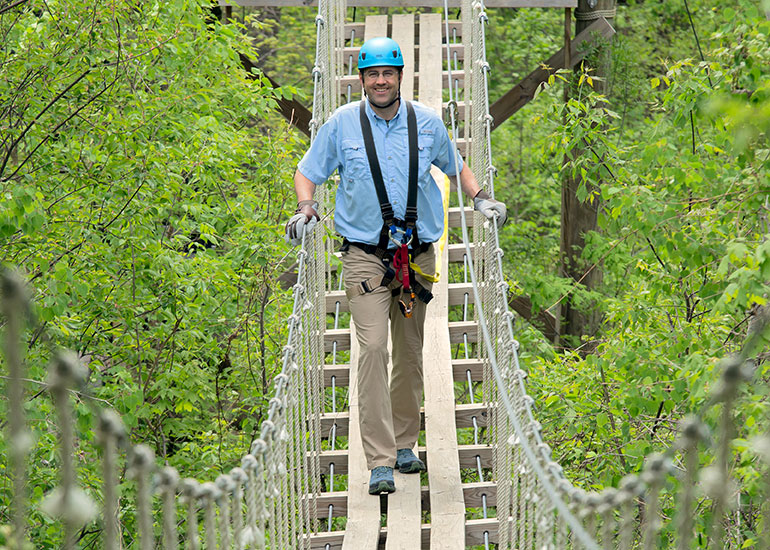 Visitors to Kerfoot Canopy Tour have several ways to view the breathtaking scenery. (Photo by Jonathan Smith)
Fortunately, Kerfoot believes he has put together his dream team, with everyone on the team having a strong commitment to excellence in service and on delivering it every day with every guest.
"Our general managers, Ed MacHolda at Kerfoot Canopy Tour and Mitchell Scott at Brainerd Zip Line Tour, do an incredible job of training, coaching, and trying to weave service, empathy, and outdoor adventure into everything they do," says Kerfoot. "One specific example of this is that we ask our guides to learn the names of their guests and use them during the tour. Sometimes it takes a few zips before they get the names down, but it helps convey a personalization and intimacy as guests go through the course. For the guests who are nervous, hearing their name often helps calm them, comfort them, and reassure them that we are there to help them and they can do it!"
KCT has three full-time, year-round cast members – the general managers and recently hired Krissie Mason, who handles groups, public relations, and overall awareness. Kerfoot refers to employees as cast members, because he says they are putting on an authentic experience for guests. KCT hires nearly 40 seasonal cast members, and at Brainerd Zip Line Tour they hire around 20. Often, he points out, they have as much as 50% of their previous cast members returning for another season.
Now in its sixth year, KCT is going strong. But Kerfoot says to make this seasonal business work, he hasn't given up his day job.
"Yes, it is essentially a seasonal business. We do some zip lining in the winter, but less than 5% of our business is from November through the end of March," he says. "When we started we believed there were two primary options. One was to quit our day jobs and run the company ourselves, but because we would be relying on the business to pay our day-to-day bills we thought this might limit our growth opportunities. The second option was to hire a great general manager and let them run the day-to-day operations, allowing me to keep my day job and focus on the big picture items and marketing.
"We chose to hire great people, listen to them, give them guidelines, and turn them loose. This allows us to focus on adding new attractions, like our Adventure Park. However, the downside to this is that I effectively have two full-time jobs, which is not for everyone."
At the end of the day, Kerfoot admits it feels wonderful knowing that generations of his family have helped generations of other families find their own love of outdoor activities. Conveying that history and educating their guides about how important it is to explore the outdoors really adds authenticity to what they are trying to do.
"People come to Kerfoot Canopy Tour for many reasons. Families come so they can bond as a family and connect with Mother Nature. Friends come because they want a unique, thrilling adventure. Bachelor/bachelorette parties come because they are looking for a way to spend time together before returning to their busy lives. Corporate groups come because they want to deepen their relationships with co-workers. It is about spending time together, outdoors, embracing the outdoors, doing something exciting, while enjoying a great experience."
---
It's All In the Details
There are many details Kerfoot incorporates into his business that might go unnoticed by guests, but make a big difference in the overall experience. For example, all of the gloves go through a dryer so they are soft and supple. That way guests don't have to put on wet, sweaty, or crusty gloves. The gloves are all stored in pairs and the thumbs are always on the right. They are not in a laundry basket like mismatched socks. All of the gear is professionally taken care of, organized, and laid out in exacting detail. Every helmet is cleaned between every single use.
Another way the course stands out is through the signage on the property. Each zip line has a unique name and story behind it. The zip lines also show you the level of difficulty. So when you get comfortable with beginner zip lines, then you come to intermediate lines. After completing the intermediate lines guests start to look forward to the advanced lines.
"By then their smiles stretch across their face and their cheeks start to ache from the 'permagrin.' The expert lines are thrilling combinations of speed, flying, and exhilaration!"
Family Adventures
"As a family we love outdoor adventure and try to spend as much time as possible outdoors. We have two kids and one of our favorite family trips is to go to the Gunflint Lodge every summer. We always rent a boat, motor across Gunflint Lake, through Magnetic Lake, park the boat at a small rapids, and hike into Little Rock Falls. There is a small cliff you can jump off of and swim at. We bring a pack lunch with us and just enjoy eating lunch on the rocks around the waterfall. When you visit Little Rock Falls it is remote, pristine, relaxed. You cannot help but to feel awe and gratitude for being able to experience the beauty of Mother Nature! "
Kerfoot says his other favorite adventures include zip lining other courses, camping in the Boundary Waters, mountain biking, snorkeling, reading, exploring, and traveling.
"Right now most of our favorite adventures have been focused on riding other zip line tours or adventure parks. Often we can combine this with other trips to national parks. As the kids get older we are going to try more snorkeling, white water rafting and mountain biking. This summer we are going to try via ferrata for the first time and I think we are going to love this! But our kids almost always say their favorite trip of the year is our day trip to Little Rock Falls!"
Trial and Error
"Eva and I do not need to be in control of every decision, but we are committed to great service. Ed and Mitchell are excellent at many tasks we are not. Constant communication is essential in alignment between all of us. One attribute we all have in common is in trying to find 'what is right' and not 'who is right.' With this in mind, more often than not, we help improve each others' ideas. A great example of this is I wanted to start kayaking rentals on the Minnesota River. After renting kayaks for a few years we could not find the right formula for us to do this at a high level. Because we are all committed to great service and none of us need to be right, when Ed told me we should stop renting kayaks, in reflection he was right. So we sold all of the equipment and focused on zip lining."
Always Looking for the Next Big Adventure
"One fun challenge is imagining new adventures to help people recreate outdoors. We see some interesting stuff on the internet and try to figure out if we can do it at a high level at either property. One example of something we looked into but ultimately decided not to do was an extreme mountain bike course. We wanted to build a corkscrew ramp to descend down a steep ravine, have a bridge with an optional jump across a riverbed. Ultimately, for several reasons we decided not to go forward with the idea. We spend a lot of time brainstorming about possible ideas but unfortunately many get discarded. We have narrowed down our list to a few really cool things that no one is doing in the Midwest or nationally. So, hopefully we can build these out for future guests to explore and recreate in new amazing ways. These will be really cool!"
Entrepreneurial Ingenuity
"One challenge every entrepreneur faces is limited time in the day. With a day job, two zip line tours, trying to publish content online, and a family, how I spend my time and who I hire is critical," he says. "Time forces me to assess how important something is very quickly. I struggle with this and I ask myself daily/hourly: what should I be spending my time working on, who should I be surrounding myself with, what can I delegate, how important is it for me to be somewhere, or do I really need to be involved in this project or decision? These questions force me to regularly question my time and generally keep me out of the day-to-day emergencies that can come up. "
Recently, Kerfoot started publishing content online to help other adventure business owners grow and accelerate their own businesses. This content can be found online at adventurebusinessaccelerator.com.
The Essentials
Kerfoot Canopy Tour
30200 Scenic Byway Road
Henderson, MN 56044
Phone: (952) 260-2657
Website: Kerfootcanopytour.com
Brainerd Zipline Tour
9898 County Road 77 Southwest
Nisswa, MN 56468
Phone: (218) 316-6562
Website: zipbrainerd.com