Extra Innings Paninos & Pizza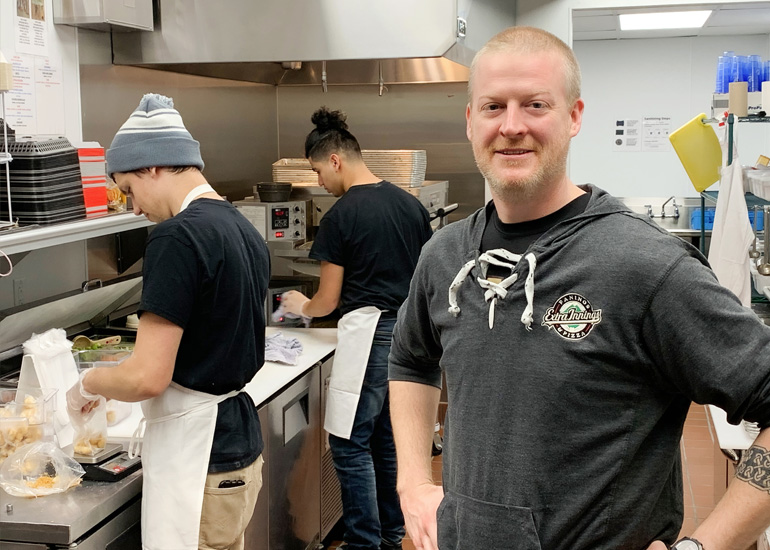 So, just what is a panino? And how did it make its way to St. Peter? A panino is a unique rolled flatbread sandwich filled with lean meats, cheeses, fresh veggies and tasty sauces. Paninos came to St. Peter via Marshall, where they have been served since 2002.
"I have wanted to open a second location since day one in Marshall. It took many years for me to be comfortable enough to take the next step," explains Mike Sweetman, owner of Extra Innings. "Over the last few years I had been looking at multiple areas that I felt would be a good fit. St. Peter stood out to me right away, but the first location I looked at didn't work out. I then looked in Mankato and was close to opening a store there and again it fell through. When I came across this location it just felt right. St. Peter is a great town. Picturesque, historic downtown, similar in size to Marshall. It has Gustavus, Marshall has SMSU. I am very happy and excited to be here and be a part of the business community."
There are some differences in the Marshall and St. Peter locations at this time. The Marshall location is more of a "pub" atmosphere.
Located at 220 South Minnesota Avenue, Extra Innings opened in St. Peter in December 2019.
"It has been going well," says Sweetman. "Every day seems to pick up a little over the last."
Even though he has years of experience in the panino industry, Sweetman says challenges always present themselves.
"It has definitely been a learning experience! The biggest challenge has probably been finding staff. The staff we have found has been great thus far, we could just use a few more to fill in the gaps," he says.
Staffing issues aside, Sweetman says he couldn't be happier with his new neighbors in St. Peter.
"The best surprise has been how welcoming the neighboring businesses have been," says Sweetman. "They have seemed to really want to work together to make St. Peter the best it can be."
Extra Innings Paninos & Pizza
220 South Minnesota Avenue, St. Peter
Phone: (507) 934-4326
Varsity Pub & Extra Innings
128 West Main Street, Marshall
Phone: (507) 532-4714
Photo by Jonathan Smith