Agriculture Presses on in Uncertain Times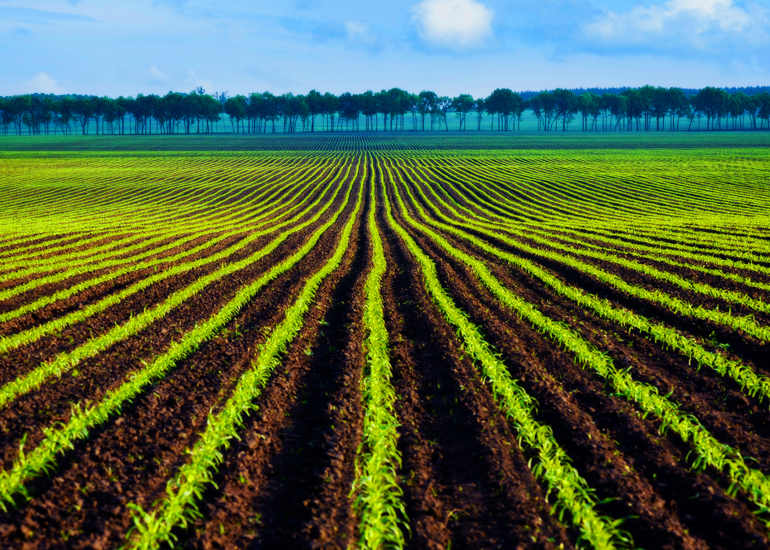 Adapting to conditions outside of their control is nothing new for people involved in agriculture. Weather conditions, market uncertainty and government actions alter farm management decisions on a regular basis. Global pandemics, though, are uncharted territory.
"This is more disruptive than anything we could have possibly imagined," says JoDee Haala, director of public affairs for Sleepy Eye-based Christensen Farms.
The onset of the COVID-19 outbreak and resulting disruptions have impacted nearly every U.S. citizen. Agriculture, deemed an essential industry, is not immune from those challenges. However, farmers and agribusinesses are committed to providing food for the nation and beyond, so they press on with spring field work and livestock care despite unprecedented challenges.
"If a time like this doesn't prove to people that agriculture and feeding the world is our foundation and is extremely important, then I don't know what would," says Ashley Leivermann, chief human resources officer for Crystal Valley Cooperative. "I'm proud of the industry from the standpoint that it is resilient. Whatever the challenge is, we'll adapt. We don't have the option to not get the crop in the ground. We don't have the option not to feed animals, because people and animals need to eat. It doesn't matter there's a COVID-19 outbreak going on or not, they need to eat."
Minnesota's livestock sector, an economic strength across Southern Minnesota and Northern Iowa because of prolific hog production, is facing drastic disruptions. Hog processing facilities in Minnesota, Iowa and South Dakota are shuttered because of COVID-19 outbreaks among plant workers. Markets for processed pork products like bacon are also in disarray because restaurants and food service venues are closed or offer takeout options only.
"So, not only is it a lack of a place to go with processed product, it's also a lack of a place to go with live animals that are ready to enter the food supply chain," Haala says. "The situation is unfathomable, especially when the need for safe, nutritious, affordable food has never been greater."
Some hog farmers are faced with the need to try to find willing processors to take their animals in an already taxed system. The other unthinkable option is to cull otherwise healthy animals because there's no place to take them for processing and no place to keep them.
Livestock producers are well versed in animal health management and animal agriculture leaders put an emphasis on keeping cattle, hogs, turkeys or chickens healthy. While farm worker safety is also a priority, dealing with a human disease that is disrupting the food chain is new territory.
"We've had to deal with animal diseases in the past, but when you have a disease that potentially impairs your workforce, that's a different kettle of fish that requires many different actions on the part of players in the industry to figure out how to continue to operate," explains Christensen Farms Vice President Gary Koch. "We're in uncharted waters here."
Soldiering On
Despite stay-at-home orders and social distancing guidelines, agriculture activities press on in the adjusted reality. Farmers are diligently planting crops, and livestock operators remain committed to feeding and caring for their animals. The coronavirus may be a new challenge, but dealing with adversity is part of the fabric of farming.
"The reality is that people need to eat, and there is no place in the world that has the geographic characteristics that Southern Minnesota and the Midwest has," Haala says. "There is absolutely no place better in the world to be growing food, both the crops that go on to feed people, but also feed animals to supply the protein. What makes people get up and do that every single day? I think it's just in their bones and it's the fabric of who they are."
Farmers are adapting to new safety practices, as are employers and employees in all aspects of agribusiness. From factory workers and livestock managers to sales representatives and fertilizer applicators, businesses are striving to ensure worker safety. Healthy workers are stepping up to do their jobs to produce healthy food.
"My opinion is that folks recognize what they do is important," Koch contends. "This is an essential industry and we have the noble purpose of feeding the world. Quite frankly, I think that is a motivating factor for people and it causes them to want to continue to come to work. You've got a bunch of committed people in this essential industry who are trying to figure out how to keep the wheels on the car, and keep producing food so that the American people can have the assurance that food will still be there every day. That's the battle going on right now."
Regional Strength
GreenSeam Director Sam Ziegler isn't surprised farmers and agribusinesses are stepping up during the COVID-19 pandemic. Southern Minnesota and Northern Iowa were built on the strength of the region's agriculture economy and continue to flourish because of agriculture's contributions.
"Agriculture has always been a humble industry," Ziegler says. "Just because we are now labeled as essential does not change the passion people in this industry have. There is a passion to produce cleaner energy such as ethanol. There is a passion to raise animals to nourish families near and far. There is a passion to care for the soil and work with whatever Mother Nature throws at us. There is a passion for finding solutions to grow more nourishing food. Right now, more than ever there is a passion to not let fellow Americans down by keeping food on your table."
Ziegler says that while the dark clouds are hanging over agriculture now with historically low prices and a supply chain traffic jam, agriculture remains strong. Farmers are in the process of planting another crop, confident in the fact they'll harvest a crop this fall.
"These times have not stopped this hope or motivation to plant new seeds," Ziegler contends. "This industry is the foundation of our economy for as long as Minnesota and Iowa have been states. Looking into the future, it will remain to be the foundation of our economy. In times like this, agriculture remains a bright star and I am proud to have my career in agriculture."
Far beyond economic reward, many in agriculture are willing to step up in the face of challenges because of their commitment to providing for others.
"I think people from coast to coast are counting on the ability of our region to continue to make food to maintain the country and keep putting food on the table during this time of crisis," Koch says.
"Agriculture is a pretty resilient industry," Leivermann says. "Agriculture is regularly being faced with challenges that we need to figure out how to adapt and overcome. Overall, I think the agriculture industry is just so resilient because we're constantly being faced with something that we can't control."
Beyond supplying food for consumers, Haala says farmers and agribusinesses are contributing much more. Christensen Farms has donated to 17 food banks across the Midwest and is the lead partner in the Brown County United Way Project Lunchbox, which provides weekend meals to kids. A group of Christensen employees has also sewn and donated hundreds of masks.
"People want to help people," Haala says. "You can see that evidence all over the place."