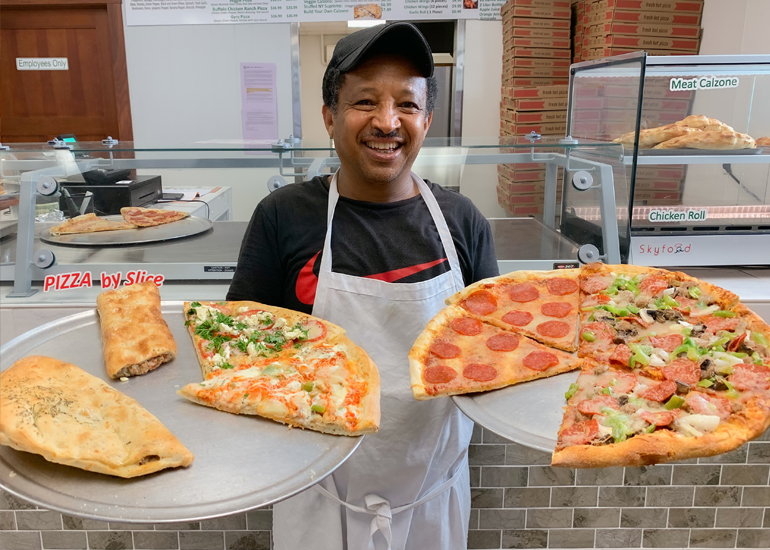 You might think Nicollet is an odd place for a restaurant called Great New York Pizza. You might think it odder, still, that an authentic Italian pizza place is owned by a East African native, Hentsa Tesfai.
"I came to United States in 1993, because there was war in my country," explains Tesfai.
Eritea is a country of the Horn of Africa, located on the Red Sea, often at war with its neighbors, like Ethiopia.
"My brother had already come to America. When I got here he got me a job as a dishwasher. I worked in restaurants for 25 years, and I learned a lot."
One lesson he learned is that New York has great pizza. So when he got to a point of wanting to open his own restaurant, he knew that is what he would serve.
"New York pizza is just so good, and I feel like it is different than other pizza places in this area," he explains.
He came to Mankato in 2001, passing through Nicollet on occasion. Realizing it would be a great place to start his own business, he opened Great New York Pizza in August of 2019.
"Business is not bad, especially with the COVID situation," he says. "We are doing okay even though we are new and in a small city."
A small city that Tesfai says has a big heart.
"I love it here," he says. "It's a nice community where everyone tries to help me. So I am very happy with this community. They all tell other people and their friends from other towns to come eat here."
Great New York Pizza
308 Pine Street
Phone: (507) 225-9864
Facebook: Great New York Pizza
Photo by Jonathan Smith