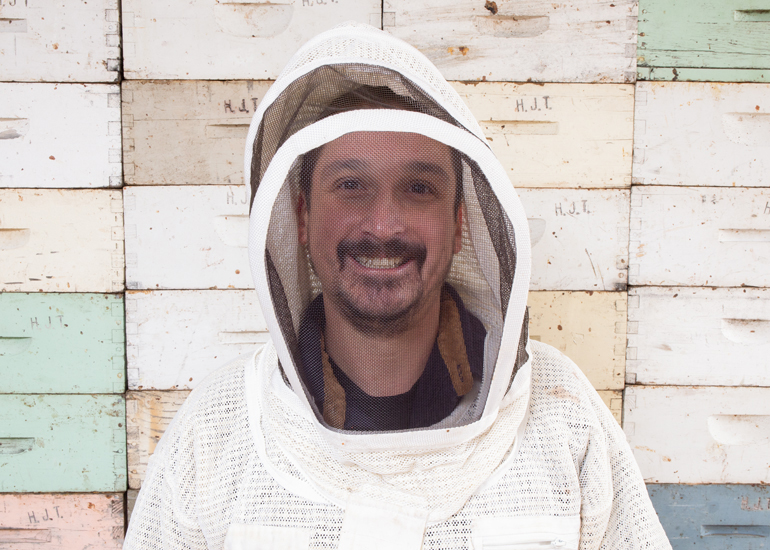 Jason Moody Turns His Passion for Pollination into a Business
You could say Jason Moody is as busy as a bee. He works for Mankato Area Public Schools in the technology department (we could go on for pages about how he's needed now more than ever during distance learning). But his buzzing business over in Madelia brings sweetness and education for those in southern Minnesota and beyond.
Moody is the owner, operator and handyman for Moody Bees Honey.
"We moved to the farm I am at now in 2011. Shortly after moving here, we decided to start a hobby farm. We had all kinds of animals out here: chickens, ducks, geese, turkeys, goats, pigs, and even a donkey," he says.
It was then that Moody decided to venture off into a new sector: bees!
"In 2014 we decided to add honey bees. I can't explain why the bees. It was one of those things where one thing leads to another and before we knew it Moody Bees Honey was here," he says. "We started with four honey bee colonies on the farm site; by the end of that year we started Moody Bees Honey. We worked for Harris Honey Company for a few years while we were still growing our business. Harris taught us how to care for the bees. When he died, we bought his wife, Rose, out and took over Harris and Rose's bees," explains Moody. "In 2016 we purchased and started the transition of Harris Honey Company to Moody Bees Honey."
From there, the bees and hives grew exponentially.
"Four hives went to 30 then 60, now I run just under 300 colonies."
It's a tough task for Minnesota weather, and a challenge for a new business owner.
"We wintered the bees here in Minnesota but after many years of doing that and losing 70% to 80% of the bees every winter, we had to make some very hard decisions or we would no longer be in business."
That's when he decided to take his business on the road to protect the bees from the harsh Minnesota winters.
"In 2018, we decided to bring the bees south for the winter. Texas here I come. This was a major change for the business," he explains. "This did add some expense to our business, but losing the bees year after year was more expensive."
But he found a way to offset the costs of those winter trips: offering his bees to others for pollination services.
"Actually, in mid-February, I travel down to Texas to get the bees ready to ship out to California, where the bees help pollinate the almond orchards. In March they are sent back to Texas, where I then travel down there to get them ready for their trip back up to Minnesota, where they produce the honey I sell. So the pollination and honey are the main sources of income," says Moody. 
He returned from his annual Texas trip up late last fall where he drove through snow, ice and rain with a full truck and a camper, but the bees made it safely to Texas. The bees will return to the hobby farm in Madelia in the spring.
However, like all business owners, some tough decisions had to be made if he wanted to continue with his beloved passion.
"We needed to make some very hard decisions. One extremely hard one was I needed to downsize the farm. This meant no more animals because traveling with the bees would take me away from the farm and I wouldn't have time to care for the other animals. So now I have only bees on the farm. I didn't have much of a choice if we wanted to keep Moody Bees Honey going. This was a hard choice but has saved the bees drastically. Now instead of the 70% to 80% loss, I am down to a 20% to 30% loss."
Over the years, Moody has turned his passion for bees into helping the environment, along with education for others.
"After having the bees for a while we realized how important bees are and the major role they play in getting food to our tables. We wanted to help them, so I thought raising them and helping their habitat would be a rewarding job," says Moody.
It's a job that kept him close to his roots. Moody grew up in Mankato, where he graduated from Mankato West High School. He then attended South Central College and earned his associate's degree in computer networking. He currently works for the Mankato Area Public Schools in the tech department. 
With two busy jobs, Moody still finds time to enjoy the beauty of the outdoors.
"I love to travel, especially to the mountains, where I love to hike and camp," reflects Moody. 
Moody is a multitalented man who is helping to "connect" his passion with the community.
"Our mission is to help honey bees and native pollinators by creating healthy habitats and strong pollinator health. We passionately raise bees to produce quality honey and beeswax products that are healthy for human consumers, bees and the environment. Furthermore, we are a local, family-owned business that inspires to support and educate the community about regeneration farming and living practices involving pollinators."
Those pollinators have found a place to thrive throughout the area despite the many challenges that can come in Minnesota's ever-changing seasons.
"We raise our bees in Langstroth hives located in prairies, forested areas, river bottoms and farms all around Blue Earth County in southern Minnesota. When picking 'bee yards' we try to avoid areas with heavy chemical exposure and pollution although it is tricky in southern Minnesota with all of the conventional agriculture. We do not use any antibiotics in the hives although we do currently use plant-based mite treatment in the hives, it is never applied during honey production. We are also experimenting with treatment-free beekeeping in hopes of strengthening the health of our honey bees."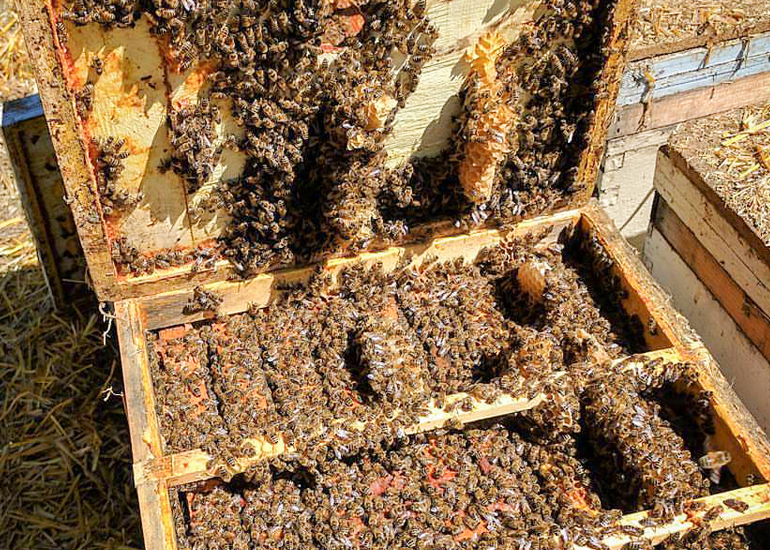 A look inside, Moody bees at work.
Another connection can be found through Moody's care for the environment.
"We are very passionate about pollinators of all types. We are also very passionate about the wild habitats pollinators thrive in. Our local ecosystems are extremely connected. Everybody from the microscopic creatures in the soil, to the plants, the insects, the birds, to the larger mammals. Even us, homo sapiens, are part of this connected system. It's about time we start acting like it again. Pollinators play a massive role in this connected system. Some could argue they are one of the most important roles. Without the pollination of flowering plants, there would be no fruits or seeds, the fuel that drives this whole system."
A system that is also built on education and is connected to his day-to-day operations.
"Education is very important to our business, because of the increasing loss of habitat and overuse of pesticides, impacting the alarming decline of honey bees and native pollinators. However, with community outreach and general education about pollinator friendly practices, we believe that can change."
A change that comes from a hobby farm nestled in southern Minnesota.
And one final message from the busy bee man: "Plant pollinator friendly plants, don't use pesticides, and of course, buy our honey. My business is small and without the help of family, it wouldn't be where it is. And of course, all the people that buy from us!"
You can buy Moody Bees Honey at either Hy-Vee location in Mankato or in St. Peter, plus various other locations in southern Minnesota.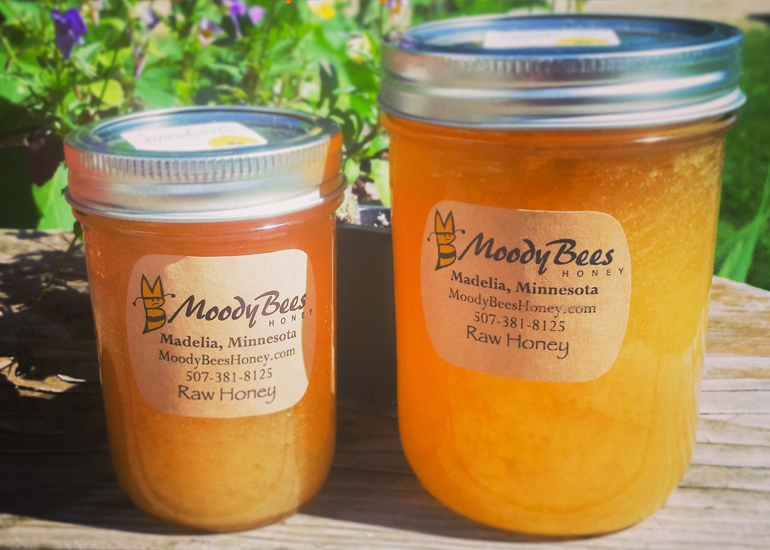 ---
Honey Production is a Sweet Deal
According to statistics from the USDA, honey production reports from 2019 show some positives and some negatives: Honey production in the United States was up 2% from the previous year, at 157 million pounds. Average yield per colony was 55.8 pounds. However, honey prices trended downward. According to the USDA, prices were down 11% from 2018, at $1.97 per pound compared to $2.21 the year before.
Honey production is a $14 million business in Minnesota. The state has 119,000 honey production colonies.  
---
The Essentials
Moody Bees Honey
18382 478th Lane
Madelia, MN 56062
Phone: 507-469-4659
Web: moodybeeshoney.com
Photography by Jonathan Smith