Dr. Gala Beckendorf runs a thriving veterinary clinic in the small town of Nicollet
When Gala Beckendorf joined the team at Nicollet Veterinary Clinic in 1981, she was fresh out of vet school and one of few women entering the field at that time.
"We were a minority back then." says Beckendorf. "There were only 15 females out of 80 people in my class. Today vet schools are 80% female. I was the second female veterinarian at Nicollet, but the first to do large animal, aka livestock, work. The farming community was very good to me and I met very little objection. Ironically, one of the boldest negative comments I got was from a woman. Coming from a farming background was a definite advantage, as I was interested in crops, livestock, and agriculture as a whole."
Now almost four decades later, Beckendorf is thankful for the chance given to her by the clinic's founder, Dr. Robert Martens, a man she credits for giving her a chance with livestock. Martens was not only a leader in the field, but a leader in his community. All of which rubbed off on Beckendorf as she grew in her career and in life.
"Dr. Martens was just a really good man," she reflects. "He was strong willed and opinionated, but he still treated everyone fairly and with respect. Taking a chance and hiring me to do large animal was very important to my career. He really supported organized veterinary medicine through our local, state and national organizations. And readily gave back to his profession. His influence guided me to serve on the board of our state association and work with the Miracle of Birth Center since it started at the Minnesota State Fair."
Martens founded Nicollet Veterinary Clinic in 1956. Just three years after she joined the clinic,  he offered Beckendorf a piece of the practice.  
"I became a partner in the practice in 1984. Over the years there were as many as 15 owners, especially when we owned three offices: Nicollet, New Ulm and River Hills Mall in Mankato. In 2003 Nicollet became a solo office again with four owners. My other partners have since retired, with the last leaving in 2016. Then I became the sole owner."
The practice has grown and changed dramatically over the years, and recently became a small-animal-only (pets) practice. Today, Nicollet Veterinary employs two associate veterinarians, seven veterinary technicians, three receptionists, a bookkeeper, and two kennel assistants. As of Sept. 1, 2017, they no longer provide services for equine or farm animal patients. 
"Nicollet Veterinary Clinic was a mixed animal practice for 61 years, with the primary focus being livestock. Three years ago, we switched to small animal only. Veterinary practices all over had seen an increase in their small-animal business as the value of pets has dramatically changed in our lives. When I came to Nicollet in 1981, we had one part-time small-animal veterinarian. In 2019, we kept 4.5 vets very busy providing only pet services," she explains. "We average about 20 patients per doctor per day and we do about 25 surgeries a week. The rest is routine wellness appointments, sick animal appointments, and some maintenance things that our technicians take care of like blood tests, laser treatments, allergy shots, et cetera. 
"I laugh when people ask, 'Do you have many clients from outside of Nicollet'? We are only 1,000 people, so yes, we draw from a large area, especially Mankato, Lake Crystal, St. Peter, Gaylord, New Ulm … and further. It never ceases to amaze me how far people will drive for their pets. And then you have kids that brought their family pets here, they are grown and have families in the cities and still come to Nicollet. There's a lot of connections like that, and knowing clients on a first name basis, when you are in a small town."
Learning how to balance it all, minding the bottom line, has been a challenge on top of the actual veterinary work. 
"Managing a practice … well, let's just say I got lucky." she says. "Dr. Martens ran this practice for over 40 years. By the time he retired in 1997, this place nearly ran itself. Bob was a great mentor. He put into place a wonderful business model: provide good service and treat people right. I only hope that I can do half the job he did sailing the ship."
She has experienced challenges over the years, of course, but the biggest challenge came in spring 2020.
"Before I address challenges, just let me say that the veterinary medicine part of my job is the easiest and, of course, the most fun.But then, that's why I became a veterinarian. You don't think about running a business when you are in vet school, you only think about the animals.
"I am fortunate to have a very capable office staff that handles a lot for me, but I will say that human resources is our tough spot. Unemployment in the veterinary world is only 2%, so it's difficult to hire both technicians and veterinarians. The COVID shutdown last spring put us way behind on routine surgeries and annual appointments. Add the fact that we've been understaffed this whole year, it's been a struggle catching up. But, our clients have been wonderful and willing to be patient. They know we will always see them if their animal is sick, and that's what really counts."
Managing the challenges also brings with it great rewards.
"Interesting how my view of the rewards this career brings has  changed over the years. I'm sounding aged and reflective now," she smiles. "Definitely the most rewarding part is the people that have come into my life because of veterinary medicine. First and foremost is my staff. I've been blessed to work with very caring individuals. If an employee cares, the rest takes care of itself. Second, our clients are the best. It never ceases to amaze me how much pets impact our lives, and what their owners are willing to do for them. The third group of influential people are my colleagues, both veterinarians and veterinary industry representatives. I'm very proud to be part of this profession."
Proud, also, to be a part of the Nicollet community.
"Nicollet is nearly a carbon copy of my hometown," she reflects. "Tight-knit, rural/agricultural, supportive of their independent school, proud and well-kept. If you want a small town, this is a great one."
Love, not necessarily career, is what brought her to the community.
"My husband taught at Lake Crystal, so my first choice was to look for a practice in the area. Nicollet was a well-established practice and had an excellent reputation with people at the vet school. I started spending time here, they offered me a job, and I never looked anywhere else. I was all about pigs and dairy cows back then, and there were a lot of both in the area. I also loved the intimacy and closeness of the small town, which was very similar to my hometown. It was an excellent fit."
Even though it was male-dominated at the time, she also found following the veterinary path was a good fit. 
"I knew I wanted to work outdoors and I wanted to work in agriculture. That was the culture I grew up with, and the people I was most comfortable with. We farrowed pigs when I was young and I could spend hours in the barn with the baby pigs. I am also an introvert, so how much communication do you need, to take care of cows," she smiles. "So I decided to apply to vet school and I made it. One of the best things that's ever happened in my life."
Beckendorf got her undergrad degree from Bemidji State and later attended the University of Minnesota College of Vet Medicine. 
"I was one of the lucky ones," she says. "I got by with just seven years of college because I was accepted to vet school after my third year of undergrad. Most vet students have four or more years of undergrad and then four more years of vet school. I thought it was rough when I was in vet school, and I worked hard. However, I realize now that I had it pretty darn easy compared to today's students. My daughter, Lindsey, is also a veterinarian, graduating from the University of Minnesota in 2015. Her curriculum included a couple semesters with 30 credits. So, I realize I had nothing to complain about."
She puts in plenty of hours now running her own practice, but it's been a career she wouldn't change for anything. Her love of the work and the human-pet relationships she nurtures keeps her going. 
Nicollet Veterinary Clinic provides a full range of routine medical and surgical services for small animals and some exotics. It has its own X-ray machine, as well as ultrasound and endoscopy equipment. NVC's in-clinic laboratory features automated hematology and blood chemistry machines.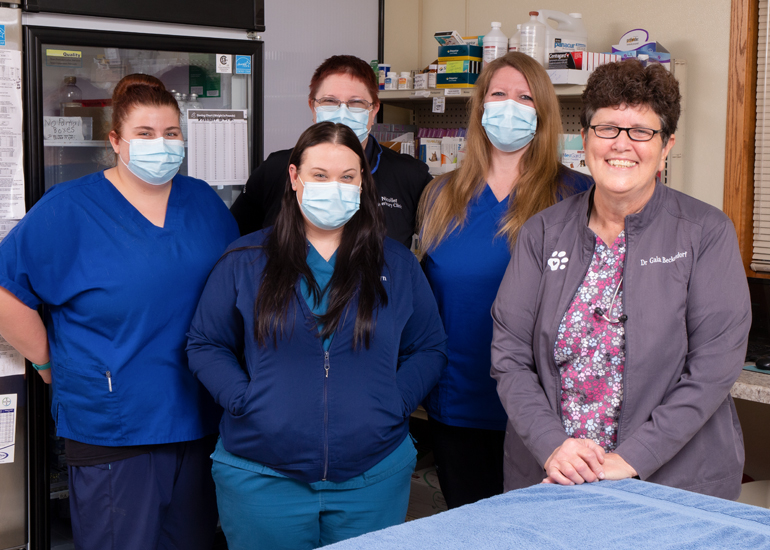 Dr. Gala Beckendorf with some of her staff.
---
Dr. Beckendorf
 

Outside the Office

 

"My husband, Ken, was a teacher and coach at Lake Crystal Wellcome Memorial and is now retired. We joke that we did it all in one week—I graduated from vet school, we bought a house in Nicollet, and we got married. Both our girls went to the University of Minnesota. Jessica is a CPA, MBA. She lives in St. Paul and works in corporate strategy at Medtronic. She and her husband gave us our first grandchild, Hans, last January. Lindsey is the veterinarian and is married to a dairy farmer. They live by Rochester. She recently left dairy practice to work for Purina as a calf specialist.

"Over the years a lot of my time away from work has actually involved animals, too. We have a little hobby farm and for years had some livestock on a very small scale. Lindsey was very involved in 4-H, so we raised sheep and a few Holstein heifers that she showed. We learned dog training together, and then worked with the 4-H Dog Project. Teaching dog training classes for 4-H youth was one of the most rewarding opportunities I've had outside of my work. While I've 'retired' from 4-H, I still have a barn pet. She is Izze, Lindsey's old show cow that refuses to leave my life. I still love being in the barn, and my house shows it.

 "Aside from animals, gardening would be my next love. Health issues forced us to give up the vegetable garden, but I can't let my flowers go. My newest favorite pastime is our first grandchild, Hans. Being born in the year of COVID has hindered our time with him, but we know his every move via FaceTime."
---
NVC Founder's Legacy Lives On
Dr. Bob Martens died in 2019 at the age 87. His legacy in Nicollet goes well beyond the veterinary practice he built in the small town, proving wrong naysayers who told him the community was too small. When he started the practice out of his home in Nicollet, a majority of his patients were cows, pigs and horses. He not only built a successful business, but spent time building community, as well. He served as the town's mayor in the 1960s and even served on the school board—all while raising a family of four kids with his wife, Carol.
---
The Essentials
Nicollet Veterinary Clinic
1020 North 3rd Street
Nicollet, MN 56074
Phone: 507-225-3401
Photography by Jonathan Smith