Uncompromising Quality, Strong Team Keep Kato Roofing at Top of Its Game
When Vicki Hagen purchased Kato Roofing Inc. with her then-husband, Jeff Hagen, they were just looking for a business that would move them closer to family. There was no building. There were no employees. They were working out of the basement of their home.
The year was 1992. Vicki Hagen's daughter, Tori Hagen, was only 8 months old. Her son, Andrew Hagen, was 3. It would have been hard to imagine the changes that lay ahead.
Flash forward to today, and Vicki Hagen is the CEO of not one but two successful commercial roofing companies, KRI in Mankato and Top All Roofing in Minneapolis. The two companies have installed roofs on commercial buildings all across Minnesota and surrounding states.
Although Vicki Hagen and Jeff Hagen are no longer married, they continue to work together in their family business. KRI and Top All Roofing are jointly owned by Vicki Hagen, Tori Hagen, and Jeff Hagen. Tori Hagen is the CFO of both companies. Jeff Hagen and Andrew Hagen both work at Top All Roofing, where Jeff Hagen is a senior estimator and Andrew Hagen is a project manager.
Mankato residents will recognize many of the rooftops that KRI has installed in their town. They include Bridge Plaza, Prairie Care, Mayo Clinic Health System, Storage Lounge, Pioneer Bank, Rosa Parks Elementary, Home Depot, Hy-Vee, Mankato Public Works, and the Mankato Airport.
The Hagens are a close family both in and out of their business. Their homes are all located in southwest Minneapolis, conveniently within a mile of each other. They share a passion for their dogs (Rhodesian ridgebacks), which can often be found alongside them at the office. They also share a passion for running a best-in-class business with a workplace culture that serves their entire family of employees.
I sat down with Vicki Hagen and Tori Hagen at their Mankato headquarters to discuss the keys to their business success.
Tell me about your background. What led you to buy Kato Roofing?
Vicki Hagen: I went to school for sales, marketing and management in Mankato. I worked in retail management for several years and when we moved to the metro area, I managed several dental practices. My husband, Jeff, was working as an estimator for one of the top five roofing companies in Minneapolis. Together we felt we had what it took to start a company.
As we had small children, we wanted to move back closer to family and decided to look for a company to buy in Mankato. One day Jeff was in town installing sheet metal on his father's hardware store in Old Town, Hagen Hardware. Red Sheehan, the owner of Mankato Plumbing and Heating and Kato Roofing Inc. came to Jeff and said, "Hey, I heard you're looking to buy a roofing company. I have one for sale."
We bought Kato Roofing Inc. in 1992. It was just a shell of a company. They did some roofing work, but they didn't have a building or employees. Within six months the business was up and running, our Burnsville house was sold, and we purchased and moved to a new home in Mankato. For some time, I was still working up in Minneapolis and driving back and forth. We couldn't afford a person to do the books, so I did all the books, the taxes, everything. Looking back I am unsure as to how we accomplished it all. It was a very busy time.
Tori, were you on the scene when your parents started the business?
Vicki Hagen: She was just fresh on the scene, 8 months old.
Tori Hagen: I've been a part of the business all through growing up. In my younger years, as they were growing the business, much of our dinner table conversations surrounded the company. I was also a part of company events, parties, and parades.
When I was 14, I started coming into the business to work on the administrative side, beginning with data entry. By high school, I was working on accounts payable and eventually was processing payroll. I went to college at Minnesota State University, Mankato, and received a degree in accounting. Throughout college, I continued to work here at Kato Roofing.
In 2013 I graduated and moved out to Colorado for about five years. I worked at an accounting firm and received some real-world experience on the outside. I came back to Kato Roofing in 2018 and became heavily involved with the company, with a focus on finance and administration.
Vicki Hagen: During the five years she was gone, every so often we'd ask: "When are you coming back? We need you to come back." At that point, she was loving Colorado. She said, "I want to learn as much as I can, because when I come back, I want to know what I'm talking about in the financial world." I thought that that was admirable, but we still wanted her to hurry up!
Tori Hagen: I loved what I did before. I loved the people I worked with. I still work with them to this day because we transitioned our tax, accounting, and audit services to them. So I get the pleasure of continuing that relationship, just in a different role.
Tell me about your business niche and products. What services do you provide?
Vicki Hagen: We're a small business that focuses on customer and industry relationships. We do all aspects of commercial roofing.
Tori Hagen: We cover the life cycle of a roof. At the beginning of a new construction project, we'll install the roof. But the day the roof is done is not the end of our relationship with that building. We want to continue servicing it, keeping it up, repairing it, taking leak calls, everything. That's our building. That's our roof. We continue to maintain it to extend the life of that roof. Then in 20 to 30 years, when it's time to re-roof the building, we want to install the new roof, and the cycle starts again.
Vicki Hagen: We're a little territorial. If we put that roof on, we feel ownership. We want to make sure that that roof stays a quality roof. We take pride, as do all of our team members, in the product that we put down.
Tori Hagen: We've been in business long enough that we're now re-roofing projects that we put the first roof on 20, 25, 30 years ago. That's been exciting.
What has contributed to your business success?
Vicki Hagen: We were both from the Mankato area, and I feel we were very connected to Mankato. We became involved with the Chamber of Commerce and many local organizations. The community was very good to us. My background was in sales and management, and Jeff's was in estimating and operations. To this day, I feel Jeff is one of the best estimators out there. So the two of us together made a pretty good team.
Tori Hagen: It's about finding that balance in skill set within your team, having someone on the operation side with deep technical knowledge, and ensuring you also have someone with good management skills. We focus on building out our team with those that align with our values while making sure we're highlighting people's skills and strengths.
Vicki Hagen: We try to find people that have the same values that we do. When Jeff and I started this business, we knew that we would have uncompromising quality and customer service. That was the most important thing to us. Obviously, you run a company to make a profit, but money can't be your focus. Your focus has to be on doing good work. If you do, you will have referrals, and you will have profits because you're providing a good product and building relationships. That is what allowed us to get where we are.
We do the right thing, even if it's going to cost us more. When you do what's right, good things will come from that. We have quite a few examples of that. Years ago, we did a small roof where the customer wanted a tapered system to drain in a specific direction off the building. Our team installed a good roof, but it did not drain in the direction the customer requested. We could have offered the customer a discount, and they would have been happy, but would they always feel they didn't get exactly what they wanted? We chose to redo the roof, and we now have a lifelong customer. To me, the most important thing is to do it right. That is best in class.
How many employees do you have?
Tori Hagen: We currently have about 40 field and office employees. We are continuing to grow, which will create opportunities for all employees within the organization to advance further and help them reach their career goals. We focus on promoting from within. Our superintendents, managers, and estimators came from the field or grew within our company. We have a fairly young team and look forward to them working with us as our company continues to grow.
Are you hiring now?
Tori Hagen: We're actively hiring for both roofing and sheet metal crew members, as well as service technicians. It's been difficult to find roofing field employees. There's a great demand for construction workers in general.
How did the pandemic affect your business? Are you still feeling the impact?
Tori Hagen: As the pandemic created much uncertainty, it caused many of our scheduled projects to become delayed. Many projects we were bidding on were postponed or canceled. Our team was tasked with a new set of challenges in keeping our team safe, complying with new regulations, and continuing to meet our project deadlines.
Vicki Hagen: I feel like our team did a great job responding to an immediate problem. We set individuals up to work from home and made sure we were properly stocked with PPE and disinfecting supplies. Information changed daily and sometimes hourly regarding COVID recommendations, so our team met regularly to ensure we were on top of all compliance and our teams were safe. As roofing is considered essential, we paid all our field workers an additional $2 an hour during the mandated shutdown.
Tori Hagen: We are still feeling the impact of the pandemic now but in a different way. We've seen substantial material price increases, shortages, and delivery delays. We are experiencing 60- to 180-day lead times on some materials that were readily available last year during the height of the pandemic. The costs of some materials have increased 15 to 35 percent or more. It's been a team effort to make sure we're proactive in ordering materials due to lead times and communicating any potential material delays with our customers.
Vicki Hagen: I think we will continue to feel the impact of the pandemic for quite some time. Having never been through something like this before, there were many unknown obstacles that we and many businesses had to face.
What are your plans for future growth? Will you be adding more locations?
Tori Hagen: In terms of growth goals, what that looks like would be further expanding our customer base in southern Minnesota and the metro. Down the road, who knows what that might look like? It could mean exploring a new geographic market.
Vicki Hagen: Kato Roofing does a fair amount of work in the Minneapolis area already. We also have a second company, Top All Roofing, that we purchased in 2015. It's based in Minneapolis and is now about the same size as KRI. Top All Roofing is union, KRI is nonunion. They are two separate entities, and we are very diligent in keeping them separate. There is no crossover in actual fieldwork, and we keep our sales and estimating separate, too. Where having two companies is beneficial is in utilizing vendor relations and things like that.
Tori Hagen: It gives us the opportunity to utilize economies of scale and bring in talented individuals that we might not be able to attract if we were just one company. For example, our safety director is the safety director for both companies. A single company might have to hire a third-party service because they can't afford a full-time safety role. The same is true for some administrative positions.
Are your customers all in Minnesota?
Tori Hagen: Our customer base is primarily in southern Minnesota and the metro, but we still seek opportunities in the five-state area. As we're bidding on projects, if something out of state would be a good opportunity for us, we're absolutely bidding on it, and our team is willing to travel.
Vicki Hagen: After working with us locally, we've had customers request that we complete another project for them out of state.
You've worked on some massive projects. What are the challenges of working on that scale?
Tori Hagen: Effective project management is essential for meeting and exceeding customer expectations. The larger the project, the more demanding it is on company resources. We have strong superintendents, project managers, and foremen that work well as a team and communicate regularly. They take their projects very seriously and do a phenomenal job; we're exceptionally proud of them. One of the larger roofs that we've installed was Faribault Foods: a 600,000-square-foot roof that had a demanding construction schedule. It was an exciting project for us to complete.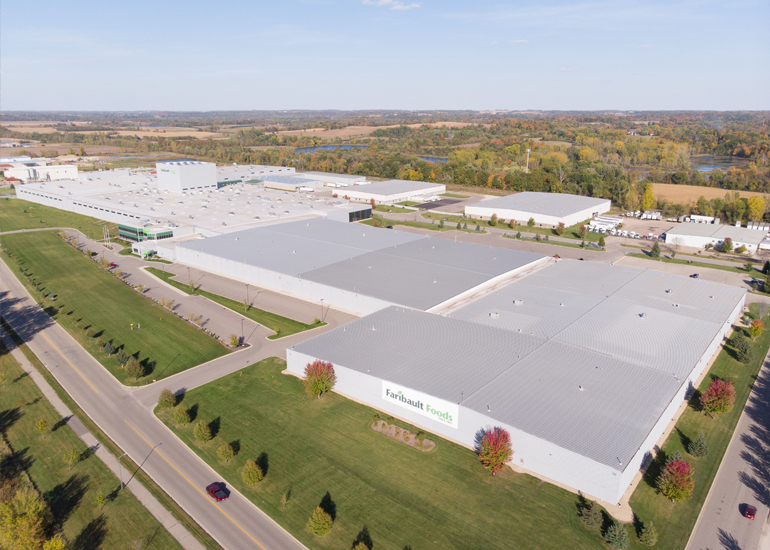 One of the larger roofs that KRI has installed was for the Faribault Foods building: a 600,000-square-foot roof. (Submitted photo)

What is it like to be a woman working in a male-dominated industry?
Vicki Hagen: When we first began the business, I encountered individuals who did not want to take a woman in a leadership role in the construction industry seriously. Solicitors would call and ask to speak to the owner. When they were transferred to me, they did not expect a female to answer. Often I had to convince them they were talking to the right person. Our administrative staff had fun with that at times.
Yes, there were roadblocks at times, and I had to challenge the doubts of others to remain in the construction industry. We built long-lasting relationships with many in the industry. Their support is what helped us through when times were difficult.
Much has changed in the last 30 years. Our world has changed. At one point, we were the only certified women's business enterprise in the roofing industry within the five-state area. Now there are several. There are more women involved in roofing and construction today. We also have benefited from working with the Association of Women Contractors, a strong organization that helps align women and provide resources in the construction industry. There's even a National Women in Roofing organization that has a Minnesota chapter. Today, many organizations in the construction industry provide resources for women to grow in the field of their choice.
Tori Hagen: We've had the opportunity to work with some phenomenal women roofers, and we need more in the industry. I feel that a woman in a male-dominated industry sometimes has a hard time getting her foot in the door. We encourage women to join the industry and our team. We focus on hiring capable team members who align with our values. The same is true for our customer base. While sometimes incentives are provided for hiring a women-owned company, we don't want our customers to choose us because we're women-owned. We want them to choose us because we are best in class; we perform quality work in a safe environment, and we make their lives easier.
What sets Kato Roofing apart from your competitors?
Vicki Hagen: That is an easy answer for me, as it truly is our people. I don't think we would have gotten through our hard times without the dedication and loyalty of the people that we have at Kato Roofing.
Tori Hagen: They care. They take pride in their work. That's what produces quality work.
Vicki Hagen: One thing that is really important to us is maintaining that family feel. Because we're family, I know what it's like for Tori or myself to need family time. We want that for everyone else, too. That's been a benefit for us, that we feel that family connection and we care about our people the same way.
Tori Hagen: One example warms my heart a bit. A couple of years ago, we had an employee that was injured outside of work on the weekend. He couldn't work for some time, and he had a family to feed. Our team wanted to raise money to help him, so the company decided to match all donations. It was inspiring to see everyone willing to pitch in to help him and his family. Those kinds of actions are not unusual in our company. People care about one another.
How do you build a cohesive and caring team?
Tori Hagen: Our mission statement, values, and company culture make this a place where people want to work.
Vicki Hagen: We spent a fair amount of time years ago writing our mission statement with the involvement of our entire team. It is painted on the wall as you enter our office reception area. From time to time, we look to update or change it. But to this day, it holds true, because it reflects the values of our company. We want a safe and positive environment, we strive to exceed customer expectations, and we empower our people to be their best.
Tori Hagen: Our culture is defined by the core values that we set as a team. We spent a lot of time defining what exactly those core values are. One of the main exercises we used was identifying individuals within our company that we would like to clone and asked ourselves why. What traits do they exemplify that we want to hire? Who is Kato Roofing? Who best models those values and traits that we want to grow throughout the company?
It was a fun exercise to do. The values that came from that exercise were: does the right thing, goes above and beyond, is fun, is resourceful, and has a "yes mentality." Now we've added those values to our hiring practices. Since we've done that, we have made some excellent hires. We use those values throughout our organization in making decisions.
Vicki Hagen: It is great to hear our team talk about the values and use them within their conversations. I was copied on an email chain complimenting an individual on their "yes mentality" for helping outside of their regular duties to bring a positive solution for a customer. We don't want our mission statement or values to be just words on a wall.
Tori Hagen: That's what's defined our culture. That's what's created a better place for us to work. That's what strengthened the bond between our team members. So now it's not just about them; it's about the team. They are connected.
Are there any particular tools or training that you use with your team?
Tori Hagen: We utilize EOS (Entrepreneurial Operating System), which helps companies move from being reactive to being proactive. Simply put, it helps to break down your long-term, big-picture goals into smaller, bite-size pieces. You develop teams for the decision-making process. Instead of decisions going top down, you now have engagement and feedback from the entire company. A culture of accountability is the outcome of working through this process. It also increases transparency and communication – everyone knows where we're going. It has helped us to problem solve and make positive changes.
Vicki Hagen: We have found that EOS companies like working with other EOS companies. You know they are focusing on improving their company and team. Feedback is encouraged throughout the company. You are continuously looking at identifying and solving problems, along with your metrics, to achieve your overall goals.
It is important to me that our company retains its foundation of values. I want to make sure that we never lose sight of our connection with our team. EOS helps us with that because it looks at the entire company.
How would you describe your leadership style?
Vicki Hagen: I feel fortunate that I had the opportunity to work with a company that focused on "TQM," total quality management, early on in my career. It's a management system based on the principle that every team member must be committed to maintaining high standards of work in every aspect of a company's operations. We are always looking for ways to improve our overall operations.
When asked about my leadership style, I cringe, as my strengths have definitely also been my greatest weakness. In terms of EOS, I am a classic visionary. My strength is that I have 100 ideas; my weakness is I have 100 ideas! That means I have 100 ideas on what I want our company to accomplish. Our leadership team works together to prioritize our to-do list.
Tori Hagen: It's important to balance the vision with execution. Ideas are brought to the team. The team may decide that something is a great idea and they would like to pursue it, but it might be two years out. We are better focused on determining what ideas we will work on and then assigning the individual with the skill set to accomplish the task.
Vicki Hagen: As the company has grown, I've had to change my leadership style. When we started and were much smaller, I was able to have a pulse of all aspects of the company. Over the years, I've had to learn to let go. That has been a big transition for me.
Tori Hagen: We want our leaders to be empowered and help grow others within the company. We don't want micro-managers. We want to let people step up to the plate.
Vicki Hagen: We want feedback from our entire team. That is the only way we can get better and make improvements. The worst feedback is no feedback; people that are communicating care about the company.
How would you describe your style, Tori?
Tori Hagen: I have to say that when I'm working on the leadership team, I have a bit of the visionary in me, too.
Vicki Hagen: She has a good balance. With Jeff and I, I was the go, go, go, and he was more of the brakes. I think Tori is a balance of both of us.
Tori Hagen: My leadership style is one of collaboration. The best decisions that we've made throughout our company are ones that have involved many minds. I rarely make a decision without involvement from those it will impact. I find a lot of success with that.
I also believe in creating a culture of accountability. There is a book much of our team has read called "The Oz Principle." It's all about accountability. It talks about working above the line or below the line. When you're above the line, if there's a problem, you see it, you own it, you solve it, and then you do it. When you're stuck below the line, you're finger-pointing, covering your tail, and nothing gets done.
Vicki Hagen: Adding this language to our toolbox has helped us all individually recognize when we are acting above or below the line. Before, whenever we would meet with teams and ask (what our issues are), communication was always at the top of the list. We've worked on that, and our communication style is much better. Do we have a ways to go? Yes.
Tori Hagen: An example of that is our weekly meetings. There's a person responsible for communicating updates to the field and engaging and receiving feedback from the rest of the team. Another person is responsible for communicating updates to our office.
You've talked a lot about your team and how important they are to your business. Who are the key players?
Vicki Hagen: I really would like to list all of our team, as they all play an integral part in making our company successful. I wouldn't want to leave anyone out!
We surround ourselves with people that know their jobs better than we do. I'm pretty good at identifying what I don't know and hiring other people to do those things. I rely on them to give me the correct information. One of the people I rely on is Troy Williams, our vice president of operations.
Tori Hagen: Troy's been an integral part of our success. He was an intern at KRI while he was in college. After working for a contractor for a bit, Troy came back to Kato Roofing about six or seven years ago. He started as an estimator and worked his way up to the vice president of operations role. He's just been great to work with – super level-headed, extremely smart, and talented.
Vicki Hagen: An important addition to our team has been Rich Carroll, our chief operations officer. He (has) a strong background in commercial roofing and is an EOS integrator. Rich has really helped our companies. He and Tori work very closely together with both companies. The four of us – Tori, Troy, Rich, and I – are all part of the leadership team.
Tori Hagen: I like the way our decision-making process has developed over the last few years. With Troy and other key members involved in those discussions and disseminating that information back to the team, we are now making better-informed decisions.
What does it take to stay on top and keep evolving as a company?
Vicki Hagen: It takes continuous improvement. We're always looking at what we can do to be better. I don't think that ever stops. Someone told me a long time ago, the only way you can coast is downhill. So we can never just coast. We're not interested in going downhill. I think about businesses like mom-and-pop video stores. Something changed, and they weren't ready for it. Now they're not there anymore.
Tori Hagen: We engage our team because no one person can be thinking about all things at all times. Now instead of just one person, you have 40 different brains giving feedback. We're bound to come up with some good ideas and solutions from that.
We also keep up with changing technology. We recently implemented a project management software to use on phones or iPads in the field. It's a better way of communicating internally, as well as externally with our customers. Safety inspections, quality inspections, roof pictures, roof drawings, and change events are right there on the app.
What achievements are you most proud of?
Vicki Hagen: The achievement that I am most proud of is having a team that works hard to accomplish our overall goals and values. When you are working in the middle of it all, all you see are the things you want and need to fix. You don't always celebrate your wins. When I look back over our time in business, we have much to be proud of. We have worked on many buildings in the Mankato area with great owners and general contractors. It is a rewarding feeling to drive by projects and know that we put a quality roof on that building. With the support of our vendors, manufacturer reps, and local community, we are where we are today. We have built many friendships along the way and are thankful that we have had the opportunity to do business together; we look forward to continuing these relationships for many years.
---
Preserving Your Roof
Did you know that you should have your roof inspected a minimum of twice per year (usually in the spring and fall)? Doing so will not only uphold your warranty, it will also help you catch those routine maintenance items earlier. In most cases, it will extend the life of your roof beyond the specified warranty period.
---
The Essentials
Kato Roofing Inc. (KRI)
321 Lundin Blvd.
Mankato, MN 56001
Phone: (507) 388-4112
Web: katoroofing.com
Top All Roofing
Phone: (952) 736-8134
Web: topallroofing.com
Photo by Jonathan Smith