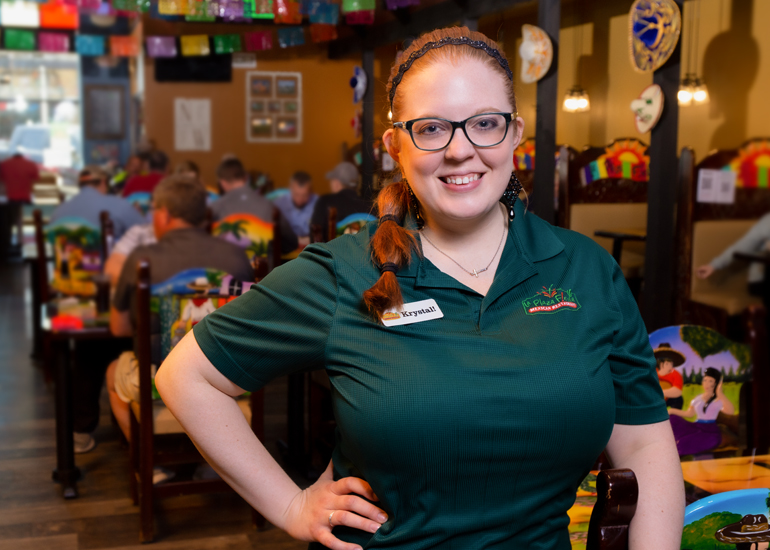 La Plaza Fiesta Perseveres, Triumphs
In Spanish, fiesta means a celebration. When Krystal Hernandez purchased the Plaza Morena restaurant in 2012, she added the word fiesta to its name. She knew in her heart there would be much to celebrate. She could never have imagined, though, the obstacles that she would have to overcome to earn those celebrations.
The last nearly 10 years have been full of challenges, from a devastating fire to a global pandemic. Today, La Plaza Fiesta is thriving, and these days the restaurant in Madelia has plenty to celebrate.
"Honestly, things are going well," Krystal Hernandez said. "Everything we have gone through, we have learned from, and truly it's only made us stronger."
Strength is one thing Hernandez started building at a very young age. She began working at her parents' Owatonna roller rink when she was 11 years old. She did anything that needed doing: concessions, admissions, ordering supplies and stocking shelves, even cleaning the bathrooms. Hernandez knew how to work hard, a work ethic that her family came to rely upon.
"When I was around 14, my family sold the roller rink. We sort of had some bad luck, and my brother and I had to work to contribute to the family household, sometimes working three jobs at the same time," Hernandez said. "All of those jobs, it turned out, had something to do with the restaurant industry. So I ended up filling every role you can imagine in various restaurants, and I developed a dream to have my own restaurant someday."
That someday came in 2012, with a few triumphs and tragedies along the way.
First came triumph: Hernandez graduated from high school and went on to earn her two-year degree from Minneapolis Business College in just 14 months.
Then came tragedy.
Her best friend and co-worker, Fabian Martinez, lost his life in a tragic car accident on Christmas Day in 2008. Around the same time, Hernandez lost two of her jobs when Vikings' lineman Matt Birk closed his two restaurants after signing with Baltimore.
Over time, Hernandez became close to Martinez's parents, who owned several Mexican restaurants named Plaza Morena.
"Jose became like a second dad to me after his son, my best friend, passed away. I started working for him. I believe it was all God's work how it worked out," Hernandez said. "When one door closed and I lost my job in the cities, Jose opened another door for me when I started working at his Owatonna restaurant. That's where I met Daniel, who is now my husband and partner in all things.
"My dream was always to own a restaurant, and it was Daniel's dream, too, so it worked out perfectly. The story of how we got to own our own place is interesting. Jose opened a Plaza Morena in Madelia. After a year, he had Daniel and I go down and check on it once in a while as Jose needed to focus on a new restaurant he was constructing elsewhere. Daniel and I fell in love with Madelia and ended up taking over Plaza Morena and running it for Jose, along with Daniel's siblings. So it has truly been a family affair since the beginning. We eventually ended up buying it from him and making it our own, which included changing the name."
Hernandez and her husband had owned the restaurant for four years when fire ravaged Madelia's downtown, including La Plaza Fiesta. In February 2016, La Plaza, along with seven other businesses on Madelia's historic Main Street, was engulfed in flames and reduced to rubble. It was a devastating blow to the city of Madelia. With the help of charitable donations, community outreach and involvement, Hernandez and her team at La Plaza Fiesta found a way to keep going from a temporary site while they rebuilt on Main Street.
"At the time of the fire, we were finally just getting into the groove of things with the restaurant. We had just remodeled with a new floor and a new cooler. We were growing really fast and doing really well," Hernandez said. "Personally it was hard as I was eight months pregnant with my first baby. So I had all those emotions.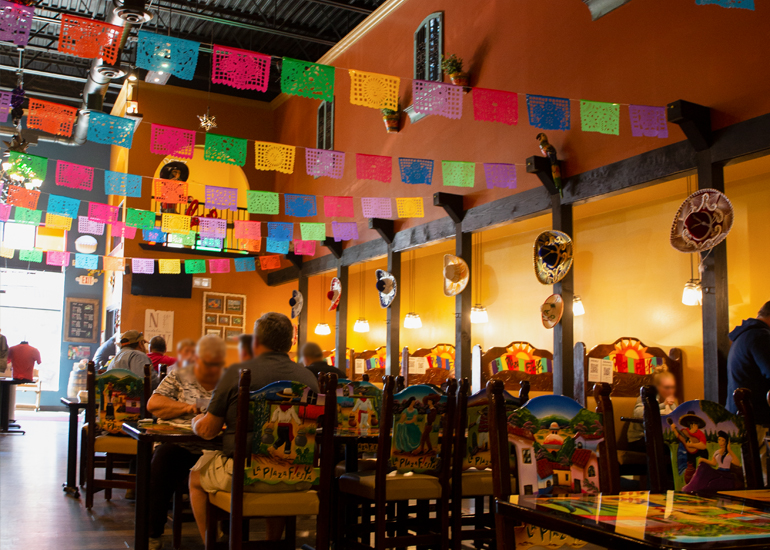 La Plaza Fiesta's dining area is two stories tall.
"It was obviously life-changing. I will say, though, that we learned a lot that I wouldn't have learned had we not had the fire. Of course, I would rather it had not happened. But for the longevity of the business, we learned how to pivot and how to overcome things. We became closer as a family, and by that, I mean all of us, my entire staff. We just became really close, and we kind of just depended on each other during that time. We had to live with what we had and work really hard to figure out what the heck we were going to do.
"This wonderful community also just came out in full force and helped us and all the businesses involved. The community helped us all rebuild."
As La Plaza Fiesta recovered from the fire, Hernandez took the opportunity to rebuild the restaurant to match her personal vision.
"My husband and his whole family are from Mexico. So since we had to redo everything after the fire, it gave us the option to do whatever we wanted. I wanted it to feel like you were walking into a place right off the street in Mexico," Hernandez said. "In the region of Mexico Daniel's family comes from, the houses are stacked on top of each other, and many places have a patio feel. So our first plan was just to paint it to look like it had two floors. But once we got to building and designing it, we found out we had enough room to actually have two floors. So I had a vision in my head, then our design team literally took what I was thinking and put it on paper. It was amazing how they did that. Still, I had specific things I wanted, like the booths and tables to look a certain way, and I had very intentional ideas about the artwork. It was just so much, and it seemed impossible. But they captured my vision perfectly, and I love it here.
"With the two stories, the restaurant is on the first floor, and storage and offices are on the second floor."
Then, uncanny as it may seem, four years after the fire, just when Hernandez was getting into the groove of the restaurant once again, another challenge hit: COVID-19. The worldwide pandemic didn't reduce the restaurant to rubble physically, but it was crippling financially and emotionally. Hernandez said, once again, it was the strength she gained through the fire that helped her and her team this time around.
"Honestly, I think I don't know what I would have done during COVID had we not had the fire," she said. "I just thought, 'Here we go again, another roller coaster.' I knew we just had to roll with it, stay together, stay stronger, and just stick together. That's what the fire taught us."
She believes the community as a whole was able to take on COVID-19 because of what they collectively went through with the fire.
"Madelia as a whole overcame COVID and remained strong through it because of everything we had gone through," Hernandez said. "Although the pandemic was different. With the fire, it happened, (then) it was over. We knew what was left and could begin to start over. With COVID, it was a little scarier at times. There was so much unknown. We didn't know when it would end or how things would look on the other side of it."
Another of Hernandez's dreams survived the fire and the pandemic: the Fiesta Market.
"Actually, on the day of the fire, we were 30 days out of opening the market," Hernandez said. "We were going to open it two doors down from where we were, so it would have been separate. We were working hard, getting everything up, and we had a projected opening day in April of 2016. Because of the fire, those plans didn't happen, obviously. But because of the fire, we were able to swap sides with a salon since we were both rebuilding. So we were able to put the market right next door to the restaurant. So in the end, it actually worked out better than the original plan."
Today the Fiesta Market is growing and doing well.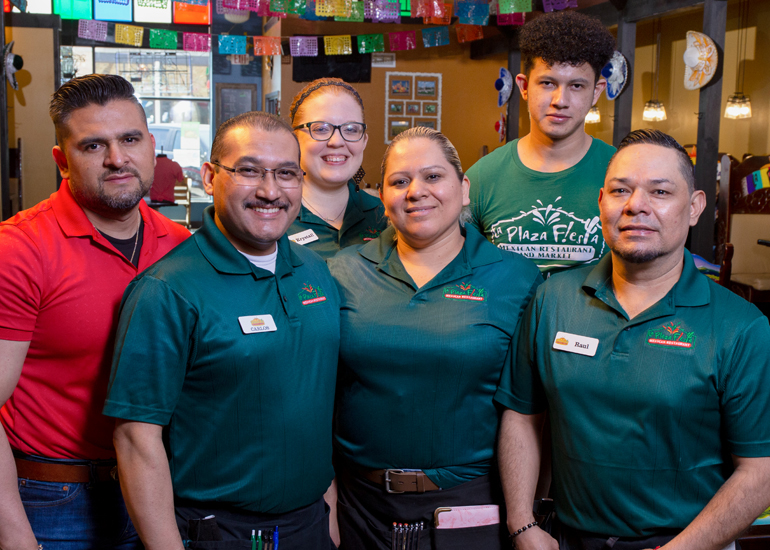 Krystal Hernandez with her La Plaza Fiesta staff.
Their initial goal was to bring authentic Mexican and Central American foods to the region; the concept has grown as Hernandez finds ways to fill little needs in her community, offering services such as phone recharges, copy and fax services, and international money transfers. In addition to cultural foods, the shop offers cultural items and décor. Homemade pinatas have been popular, and it features a variety of artisan items, Mexican candies, breads, fresh produce, fresh-cut meats, spices and whatever else Hernandez can find to introduce to her community.
The combination of the authentic restaurant and market has helped make the town of 2,500 people a destination.
"As word spreads, we really are becoming a destination," Hernandez said. "We have people come from all over the state and neighboring states. It makes me cry to think about it. We meet people from South Dakota, Iowa, Minneapolis, Mankato. They just come through by word of mouth, and that is very cool. Our local Madelia folks will be in and point out that they don't know many of the people eating at the time. And that is really neat, introducing people to our food and our community."
Many of her employees are family, and those employees that technically aren't related are still considered family in her eyes.
"We are up to 30 employees," Hernandez said. "The challenge is finding people. We have a strong family group that works here, and some part-time and full-time people who are not in the family. Right now, it's been hard finding more help now that we are open fully. I am thankful for the main family group that helps out, so lucky to have them all here.
"They are the key to our success. They are amazing and dedicated, as if it was their own restaurant. Everyone is committed to ensuring all visitors enjoy their experience and, more importantly, their meal at La Plaza Fiesta. The repeat customers are a testament to the high quality of service that La Plaza executes on every day."
While Hernandez and her team are delighting guests in the front of the house, her husband and his team hold down the kitchen and put what Hernandez calls "their love" into every dish that is served.
While the staff is terrific, Hernandez says it is the food that keeps people coming back again and again.
"La Plaza Fiesta's food is simply amazing," Hernandez said. "My husband puts all of his passion into his food. He is the main chef and runs the kitchen. I am more in charge of service. I try to get to know our guests and keep our menu current by getting to understand what they want."
La Plaza Fiesta prides itself on providing a welcoming, authentic atmosphere accompanied by hand-crafted meals on an extensive menu for even the most discerning tastes.
Hernandez couldn't be happier to watch her dreams come true in an unlikely spot: Madelia.
"Though I didn't grow up here, I love Madelia," Hernandez said. "This community, well, I can't explain it. I have just never felt so loved and appreciated like we do here. The town works together, and we have so many cool things in town that a normal small town doesn't have. Despite its size, Madelia is a destination town with us, the bakery, the flower shop, the theater, and all the other small businesses that make this a special place that I am proud to be a part of."
The Essentials
La Plaza Fiesta Mexican Restaurant
15 West Main St.
Madelia, MN 56062
Phone: (507) 642-8624
Web: laplazafiesta.com
Facebook: laplazamadelia
Photography by Jonathan Smith