Hitchin' A Ride to Success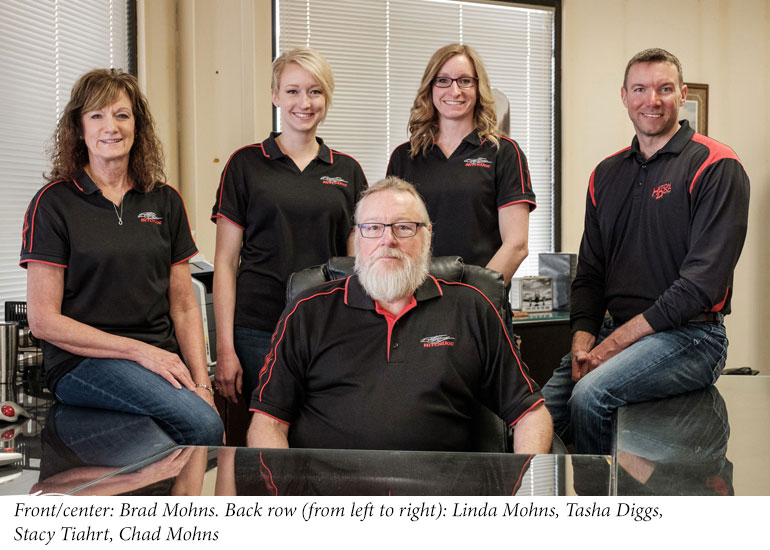 Brad Mohns' Passion For Motorcycles And Quality Products Led To HitchDoc's Success.
We've all heard that necessity is the mother of invention. Well, add a dose of frustration to that mix and things really get interesting.
"When I think back to how it all got started, I remember how frustrated I was at the time because I couldn't get what seemed like a simple thing," Brad Mohns said.
It was 1990, the year of the Sturgis Motorcycle Rally's 50th anniversary. The simple thing that Mohns, a motorcycle enthusiast, was waiting for was a motorcycle hitch he had ordered for the trip. Finally, tired of waiting, he went out to his farm shop and got to work.
"I got over my frustration pretty quickly and just made my own hitch. Once that was done, I knew I had a quality item that others would want as well, so I made a few more to show off at Sturgis," Mohns said.
When Mohns left for Sturgis, South Dakota, that year, he took a custom-built trike and chopper with hitches he had designed himself for common models of Harley-Davidsons. It turned out others were having similar difficulties finding and getting a good hitch. Seeing the effort, design and quality of Mohns' products, the orders started rolling in from the motorcycling community.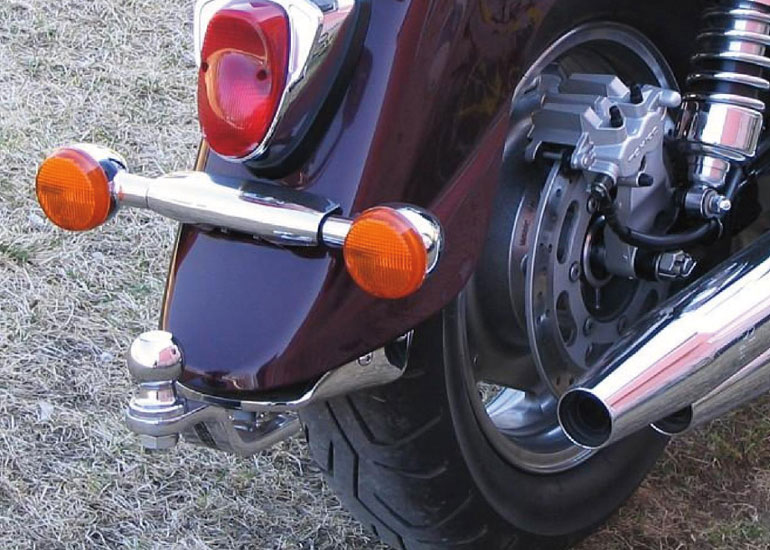 A full-time farmer from Round Lake, Minnesota, Mohns had all the tools he needed to make hitches for his own bikes and for a few friends. But eventually the orders were dominating his time, and Mohns knew it was time to upgrade and try to grow it into a full-fledged business.
Today, the company manufactures more than 80,000 different parts for 300-plus customers around the globe. It manufactures products for high-profile customers like Toyota and makes mower decks for a well-known mower manufacturer. HitchDoc also has its own line of seed carts.
What started with producing "simple" hitches for a niche industry multiplied quickly into new products and services, all while maintaining the same quality and workmanship that Mohns designed into that first hitch. A man of high standards, Mohns found himself innovating right off the bat to make sure he had just what he needed for a job well done.
"I built my first CNC plasma table in 1994 because the quality of machines on the market wasn't up to my standards," Mohns said. "Local (equipment manufacturers) learned of the cutting capability and HitchDoc's contract manufacturing division began. That drive for high quality and machines is still felt on the production floor today."
HitchDoc quickly outgrew the farmstead, and in 2005 Mohns upgraded his space, building a 50,000-square-foot facility in nearby Jackson, Minnesota. At that time, he had 18 employees and it seemed like a massive amount of space. Little did he know that the company would outgrow the new facility in just two short years. As growth exploded, he expanded again, adding another 50,000 square feet to the facility.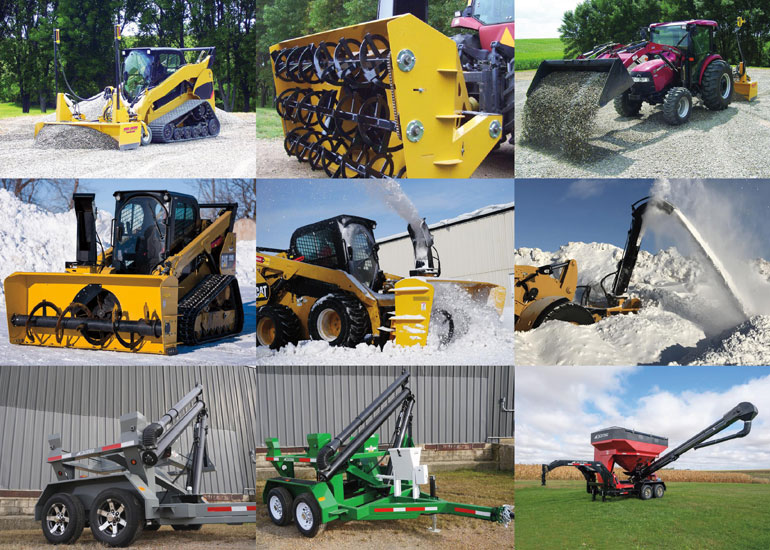 Shortly after that, Mohns hit his first big challenge: the great recession of 2008. That's when Mohns and his team really started innovating and diversifying. Through it all, HitchDoc did not slow down. The company has always remained stable during the ups and downs that come with contract manufacturing.
"The economic downturn, or great recession of 2008, was hard on a lot of businesses, especially in the manufacturing world. Many businesses were struggling, but we saw an opportunity. We expanded by acquiring a variety of businesses and increased our product offerings. This allowed us to continue to serve our customers and, more importantly, it allowed us to keep our employees. We didn't have to lay off anyone, and we continued to meet and exceed customer expectations," Mohns said.
Today business is booming, with HitchDoc serving more than 10 different industries. Diversifying his services and products helped Mohns steer the company in the right direction.
"To give you an idea of how far we've come, we started out as a farm shop in Round Lake, Minnesota. Now we've got facilities in both Jackson, Minnesota, and Sioux Falls, South Dakota. We employ 130 people between the two facilities and process over 120,000 pounds of steel daily," Mohns said.
HitchDoc sales continue to expand farther across the United States, Canada and overseas, creating more opportunities for the business and for employees, as well. It remains a critical element of HitchDoc's company culture: giving employees room to grow as the business grows. Mohns believes that is the foundation for long-term success. In addition, staying on the cutting edge allows HitchDoc to compete against the overseas markets in price and exceed quality expectations.
"Quality products and service is a cornerstone for HitchDoc," Mohns said. "The team wants to make any purchasing experience an impressive one. We have ISO-certified processes, state-of-the-art equipment, American steel and dedicated employees. We believe it is what makes us amongst the best in the industry."
ISO refers to the International Organization for Standardization, a global organization that develops standards for best business practices. ISO certification allows consumers to have confidence that the products they purchase are safe, reliable and of good quality. As an ISO 9001 certified company, HitchDoc is committed to providing customers with products that meet their needs while adhering to strict internationally recognized standards for consistent quality.
In 2016, Mohns saw an opportunity to expand his product line and expand geographically, as well. Through the acquisition of Kwik-Way Manufacturing, HitchDoc added a second location in Sioux Falls, South Dakota. This facility is capable of shearing, forming, drilling, sawing, welding, painting and assembly. Mohns believes expanding to Sioux Falls gives HitchDoc a lot of business growth potential.
Jackson, Minnesota, and Sioux Falls, South Dakota, are two vastly different cities with distinct cultures and work environments.
One thing, however, can be found in both locales: a strong work ethic and employee pride in what they do.
"Our flagship location is in Jackson, Minnesota. This is our headquarters and where most of the fabrication, paint and assembly equipment is," Mohns said. "It's also one of the largest steel users in the tri-state area. In addition to the bulk of the manufacturing, our Jackson facility is home to all our design and engineering, marketing, sales, HR, finance and all other corporate functions. Our Sioux Falls location is on a rapid growth curve, as well. They are adding capacities at a faster rate than Jackson is."
It may be Mohns' ingenuity that got HitchDoc started three decades ago, but he credits his employees with the ongoing success.
"We're proud of the people we have that work for us in both of our locations. That's been a huge benefit to us. In these areas, Jackson and Sioux Falls, the people have a strong work ethic. They work hard and take pride in a job well done. But, with that said, Jackson is a pretty small town, so it's getting harder to attract people," Mohns said.
Like the rest of the business world, HitchDoc was affected by the COVID pandemic. But it weathered it well and is thriving again.
"The pandemic and everything that came with it in 2020 did take a toll on us, like everyone else. It was only the second time in our history that we had to lay off employees. But now we're back, stronger than before and looking for employees," Mohns said.
HitchDoc's team continues to expand as the company diversifies and requires new skillsets.
"We have a really great team. A year ago, we collectively went into conservation mode, not knowing what the future would bring. Now we are in expansion mode with a diverse team and diverse year," Mohns said. "We're continually improving our place of work and adding teammates that fit our culture. We continue to be a great supplier to our customers and look for growth opportunities along the way. To do this, we're keeping up with fabrication technology and reinvesting in the business, but it all starts with a great workforce."
Currently, the two most significant challenges facing the manufacturing industry are supply chain issues and finding enough employees. That rings true for HitchDoc, as well.
"Everyone is facing these same challenges. With supply chains, it's long lead times and stock-outs. We're all competing for the same limited resources. You could say the same for the labor market. There's a shortage of people with the right skills, and competition for skilled workers is high," Mohns said.
They are challenges Mohns admits are critical to overcome, especially with increased competition in the market.
"Whether it's employees or customers, you have to be able to deliver on your promises. If you can't do that, your reputation gets tarnished and you'll start to lose business," Mohns said.
Maintaining a diverse industry and equipment portfolio has helped HitchDoc grow exponentially during good economic times and remain stable during challenging economic times. Reinvesting in the business and investing in technology has been a constant philosophy throughout the years.
"Having a facility and machines that are second to none, the employee team is extremely proud of the work they do with 100 percent American-made materials. HitchDoc will always be dedicated to their employees and staying ahead of constantly advancing technologies," Mohns said.
Hard work, determination, and dedication to quality products and HitchDoc employees have transformed this family-owned business from a farm shop into a thriving business with multiple locations and facilities totaling nearly 200,000 square feet. At the end of the day, though, Mohns said it is family that keeps the operation moving forward. The Mohns family continues to work together to ensure HitchDoc will grow and last for generations to come.
"HitchDoc has always been a family-owned and -operated business," Mohns said. "I think it's what keeps us strong. I started this business, but I got the family involved pretty early on. My wife, Linda, is the CFO and keeps a close eye on all of our expenses. Our son, Chad, is the vice president and oversees everything from production scheduling and purchasing to sales and marketing. Our daughter Stacy manages our facility in Sioux Falls, and our other daughter Tasha is head of human resources. As president, ultimately the buck stops with me. I'm still actively involved in the business and love coming into the office every day."
---
The Essentials
HitchDoc
Address: 131 County Road 34 E., PO Box 179
Jackson, MN 56143
Phone: (507) 847-4049/(800) 446-8222
Web: hitchdoc.com
Submitted photos