Transforming Southern Minnesota Smiles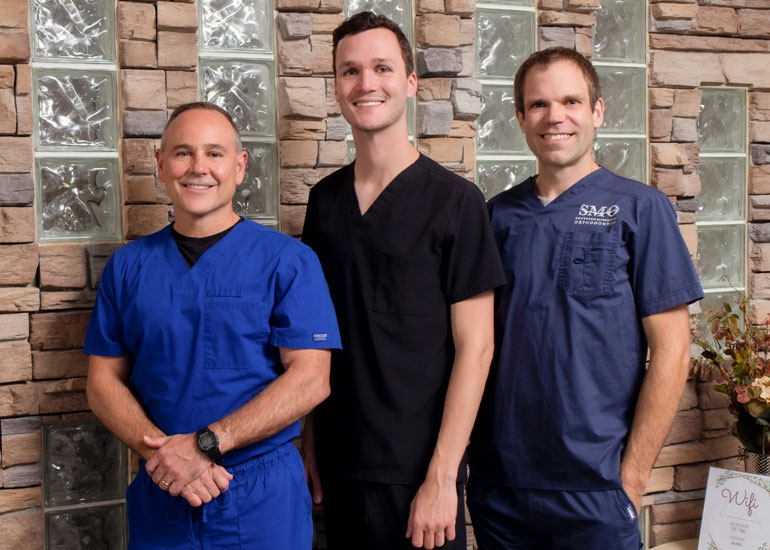 Dr. Timothy Swanson, Dr. Mitchell Hemann, and Dr. Christopher Vaubel
Southern Minnesota Orthodontics has been in the business of transforming smiles since 1958
"It changes peoples' lives," Dr. Christopher Vaubel said. "It is incredible to see that massive transformation for a lot of our teen patients. It's an incredible boost to their self-esteem. The smile that people have as they get their braces off is what keeps us going."
Vaubel is one of three orthodontists at SMO. He co-owns the practice with Dr. Tim Swanson. Rounding out the team is Dr. Mitchell Hemann and a well-trained staff of 33 employees, who combined have more than 500 years of orthodontic experience.
The doctors at SMO pride themselves on their patient-centered, science-based approach to treatment. It's earned them a reputation for individualized care that gets results. SMO now has five offices in southern Minnesota: its original Mankato office, plus Fairmont, New Ulm,St. Peter and Waseca.
A History of Dedicated Service
The SMO story began with founder Dr. Bernie Powers in 1958. Powers established the original Mankato office and was joined by Drs. Owen Germundson and John Kanyusik. As the practice matured, it went through a series of transitions. In the early 1980s, Powers retired and Dr. Carlin Wiemers took his place. Germundson retired next and was replaced by Dr. Lisa Runk.
As the second wave of doctors ended their tenures, SMO's current orthodontists joined the practice. Runk's retirement made way for Swanson to join the business. Then Kanyusik retired and Vaubel took his spot. The last change in the practice was Weimers' August 2021 retirement, which allowed SMO to welcome its newest member, Hemann.
"The history is important," Vaubel said. "I meet many new patients and mom or dad will often tell me, 'I had braces with Dr. Germundson,' or, 'I had braces with Dr. Kanyusik.' Some young patients will come with their grandparents, who were patients with Dr. Powers. It's really cool to meet people who are third-generation patients at our office."
Both Swanson and Vaubel agree their road to success was paved by the dedication and long service of those who came before them. They credit their predecessors with creating a unique culture and a reputation for excellence that remains a key part of the business today. Vaubel believes it's the secret of SMO's long-standing success.
"It's the culture of the office and the patients that we have. They really built the reputation of taking excellent care of their patients and (doing) quality work. These doctors set the foundation for us," Vaubel said.
SMO's current owners took somewhat unorthodox paths to becoming orthodontists. Vaubel's first encounter with SMO was as a teenage patient. He's now come full circle, making the journey from patient to orthodontist and business owner.
"I never planned to go to dental school. I actually started in a different career, and I realized that a lot of my friends were doing more interesting things," Vaubel said. "So, I switched my career and I applied to dental school at the University of Minnesota, and I did dental training there. But I always knew that I wanted to come back to southern Minnesota. I grew up here. I farm with my dad in Mapleton, and I wanted to do that, too. So it just happened to work out that I was able to join them (SMO) at the time as a doctor."
Vaubel's career choices have earned him a unique title: orthodontist and farmer.
Swanson also followed a nontraditional path that took him around the world, then back to Minnesota.
"I am originally from Austin, Minnesota, but my parents moved when I was in middle school to the central valley of California," Swanson said. "So I went to dental school at the University of the Pacific in San Francisco, and then I joined the military to help pay for my education. I was an Army Dental Corps officer, and I did specialty training with the military at Wilford Hall Medical Center, which at the time was the Air Force's flagship hospital in San Antonio, Texas. Then I worked in Germany. Ultimately, when I looked at options after the military, I saw options back in Minnesota, so I guess I kind of came full circle, too."
Both men enjoy the work-life balance that comes with their chosen profession and life in southern Minnesota.
"I became interested in dentistry because I thought it would be a great profession: work with your hands, work with people," Swanson said. "It seemed like a good quality of life, free time and family time balance. So I said, 'Yeah, I'm going to try for dentistry.' I hadn't even thought about orthodontics until I spent a little more time as a general dentist and had some opportunities to do some orthodontics in my military experience.
The rest, as they say, is history."
Hemann, the third orthodontist in SMO's trio, is a native of Kasson, Minnesota. He attended the University of Minnesota, then went on to do specialty training at the University of Iowa. It was his Iowa education that provided a connection to Weimers and drew him to SMO.
While the three doctors took different paths to SMO, they now share the common dream and privilege of working in a place that has created thousands of beautiful smiles.
Evidence-Based, Personalized Care
While SMO provides personal and professional care to a wide audience, its services are as unique as the patients themselves. No matter the time frame, no matter the patient, Swanson said the mission remains the same.
"It is that personalized, individualized treatment for every single patient," Swanson said. "We spend a lot of time making sure our treatment is appropriate, and we utilize the most advanced technology. We have 3D imaging and intraoral scanners. It's ultimately based on years and years and years of science and research in the profession. It's evidence-based care."
SMO is dedicated to making the orthodontic experience comfortable, stress free and rewarding for its patients. As a result, the perception and acceptance of the orthodontic experience has improved for even some of its toughest patients.
"Modern technology has improved the braces experience for sure," Swanson said. "They're definitely way more accessible for people than they were, you know, 30 years ago."
SMO's approach to oral health is grounded in evidence-based science and research. The doctors strive to stay at the forefront of changes in the orthodontics industry. New techniques and technologies are evaluated carefully before they are adopted. Sometimes this means combatting the allure of quick fixes.
"The new challenge for us is educating our patients on the specialty care that we provide — in that we have an individualized, specialized, personalized treatment for every patient — and then educating them on the differences (between) what we do versus this do-it-yourself kit that people can buy online or at mall kiosks," Swanson said. "That message is that we are providing the best individualized care — and (we need) to get that message to people."
Another challenge is motivating patients to help themselves. Orthodontics work is a two-way street that relies on the patient's effort. Patient diligence really pays off, so providing motivation is critical.
"It's different for each patient," Swanson said. "We look into things like, 'What motivates that little guy or that little girl or that older guy or that older girl?' We have adults and adolescents in treatment, and it has to be a team effort. That can be challenging, but (it can) also be rewarding, too, when you figure out a way. Like you've got this kid who is brushing better, he's wearing his rubber bands, that's great.
"What sets us apart is that specialized treatment for every patient we see."
A Focus on Specialty Care
Orthodontic work is highly skilled, specialized treatment. It requires four years of dental school to earn a doctor of dental surgery degree, then an additional two to three years of specialty training in orthodontics. The learning never stops, with continuing education courses in leading-edge technologies and treatment techniques required throughout their careers.
"We chose to limit our practice to specialty care and really focus on that training," Vaubel said. "It took 10 years of education beyond high school. So many people don't realize that there is a difference between regular dental care and specialty care. It's a service that we can provide."
While orthodontists are trained in general dental practice, as well as their specialty training for orthodontics, they know healthy teeth require a collaborative effort between all dental professionals.
"Our general dental colleagues do a great job," Swanson said. "In this region and in the United States, we set the standard for the world. I don't think anywhere else is as high as it is in the United States."
"We are very fortunate in this area that we have such good oral care. Mankato is really the regional center for specialty dental care. We provide our treatment along with all of the other dental specialists in the area when our patients need that extra care," Vaubel said.
SMO's signature services include traditional braces and clear aligner treatments to straighten the teeth of children, teen and adult patients. It also works closely with oral surgeons to provide surgical orthodontic care to correct misaligned jaw structure to improve function. Many of its patients are referred for treatment by their primary care dentists; however, a referral is not required to see SMO's orthodontists for a smile evaluation.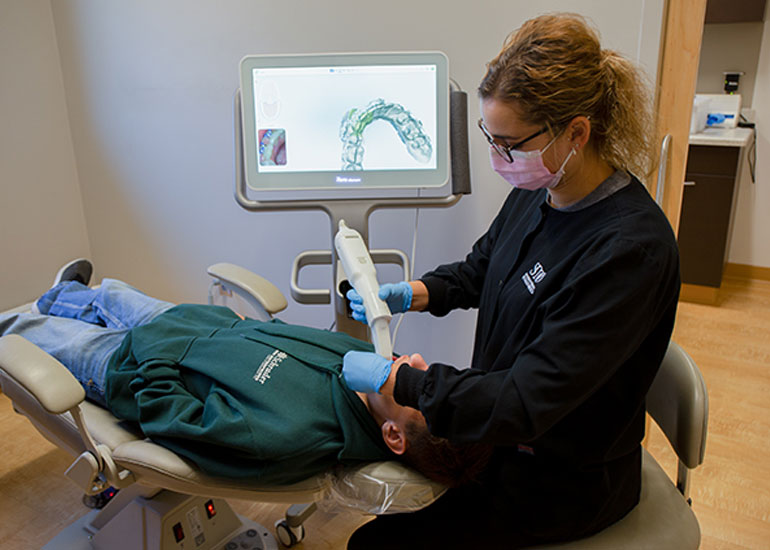 Dental assistant, Jessie, making a digital scan of the patient's teeth to create a virtual 3D model.
The orthodontic process typically takes between one and three years to complete. "The final result is super rewarding. I still just love to see that.
Patients, when they start, they've got this crowding. Then you start to see those teeth moving," Swanson said.
"It's so rewarding to see that transformation. Sometimes it is hard to get kids to open up and smile or buy into the work that we're trying to do. But once they see that final result, it is extremely rewarding. And they can see those results since we take a before and after picture."
"Seeing the results that people get the day they get their braces off is such an experience. When we take the braces off and they look at it for the first time, (it) is such an amazing experience for them," Vaubel said.
But the results at the end of the road aren't the only things keeping smiles on the doctors' faces.
"I also like the interaction with patients all throughout their treatment and learning about what they're doing and what's going on in their lives and just meeting all of the interesting patients and people along the way," Vaubel said.
SMO's clients come in all ages. The doctors believe it's never too late to invest in your smile. After all, the results of orthodontic care last a lifetime. Though it is considered specialty care, it is available and accessible to everyone. To ensure that, SMO offers family-friendly financing.
"Orthodontics can be affordable for most people," Vaubel said. "Anyone is welcomed for a free visual exam at any time."
Navigating the Pandemic
SMO's strong foundation, large client base and loyal employees helped it navigate the unanticipated challenges of the last two pandemic years. Dental services for the most part were not considered essential during this time. Vaubel said the team had to overcome a lot, both as individuals and as a business. This was especially true when government mandates forced dental offices in Minnesota to close for approximately eight weeks during the height of the COVID-19 pandemic.
"For us, what became essential was if we had a patient that had something that was poking, or sticking through and causing discomfort," Vaubel said. "In those situations, we could see them. Otherwise, we were mandated to close our doors by the government."
The SMO team made the most of the situation, using the closure period to stay on top of the latest medical advice and requirements.
"The way we survived it was by reading as much information as possible. It was continually changing," Swanson said. "A lot of my friends said, 'Wow, you must have loved your eight weeks off.' I told them they were actually the worst eight weeks ever. Also, when we were shut down, they told us: 'Make sure you give all of your personal protective equipment to the local hospitals, because they need it.' So one big hurdle for us and the dental community at large was how to reopen at short notice with limited PPE supply."
Though SMO was temporarily closed, it needed to remain constantly prepared to reopen so staff would be ready when it received the green light to open once again. The preparation paid off.
"The next challenge was when the governor said on a Friday that we could open on a Monday," Vaubel said. "How quickly could we reopen for our patients that needed us? Fortunately, we had tried to plan so we could open our doors in a timely manner, see our patients and get them back going."
From a business standpoint, the doctors also had concerns about how to keep themselves, their employees and their patients safe when they returned to work with a virus raging.
"Would my family get sick? Would I get sick from looking into my patients' mouths?" Vaubel said. "None of that was clear to us at the time, and fortunately none of that was true. So, I was trying to stay informed and on top of information and forecast what was going to happen next. That's what kept us going. And thankfully we were able to open in a timely fashion as soon as the governor said we could."
Fortunately, many of the safety measures and other pandemic best practices that were new to other industries were already a standard part of SMO's business; the dental industry has always made disease control a priority.
"In our lifetime, the dental industry learned to control diseases like HIV and AIDS. That was in the late '80s, early '90s of dentistry," Swanson said. "Fortunately, that worked out well, and we've been able to continue to provide the best care possible for our patients during a pandemic."
These disease control measures kept COVID infections low at dental practices throughout the U.S.
"As far as infection control goes, the dental industry has been great," Vaubel said. "There have really been very little documented cases of COVID transmission in the dental industry. So many of the infection control measures were things we were already doing, so we didn't need to change as far as that goes. Dentists have been experts at managing infection control."
Today SMO is open but still navigating the effects of the pandemic.
"Even heading into winter 2021, our patients' lives were so inconsistent and chaotic, especially with our school-aged patients," Swanson said. "We did the best we could to be flexible and accommodating for people that needed to reschedule appointments at the last minute or if we have patients who had to cancel appointments or quarantine. We're still affected by that today."
Despite facing unprecedented challenges, the SMO orthodontists are grateful for the many positives that have arisen out of these tough times.
"Our patients have been awesome and very understanding. I would say it is about as positive experience as you can get," Vaubel said.
---
The Essentials
Southern Minnesota Orthodontics
1545 Adams St.
Mankato, MN 56001
Phone: (507) 388-2989
Web: smnortho.com
Photography by Jonathan Smith