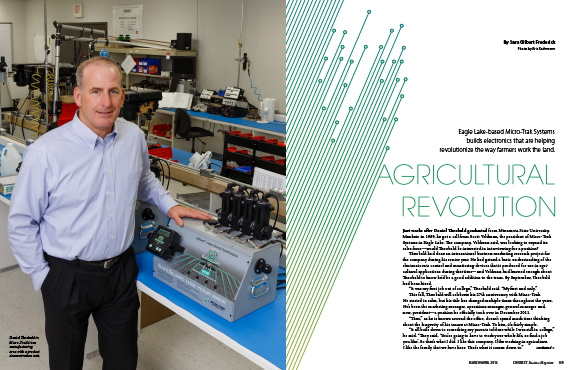 Agricultural Revolution
Eagle Lake-based Micro-Trak Systems builds electronics that are helping revolutionize the way farmers work the land.
Just weeks after Daniel Theobald graduated from Minnesota State University, Mankato in 1989, he got a call from Scott Veldman, the president of Micro-Trak Systems in Eagle Lake. The company, Veldman said, was looking to expand its sales force—would Theobald be interested in interviewing for a position?
Theobald had done an international business marketing research project for the company during his senior year. He had gained a basic understanding of the electronic rate control and monitoring devices that it produced for use in agricultural applications during that time—and Veldman had learned enough about Theobald to know he'd be a good addition to the team. By September, Theobald had been hired.
"It was my first job out of college," Theobald said. "My first and only."
This fall, Theobald will celebrate his 27th anniversary with Micro-Trak.
He started in sales, but his title has changed multiple times throughout the years. He's been the marketing manager, operations manager, general manager and, now, president—a position he officially took over in December 2011.
"Theo," as he is known around the office, doesn't spend much time thinking about the longevity of his tenure at Micro-Trak. To him, it's fairly simple.
"It all boils down to something my parents told me while I was still in college," he said. "They said, 'You're going to have to work your whole life, so find a job you like.' So that's what I did. I like this company. I like working in agriculture.
I like the family that we have here. That's what it comes down to."
—–
Theobald grew up in the small farming community of Sherburn—population 1,001—in southern Minnesota. Although his family didn't farm themselves, he helped neighbors and extended family on their farms. That experience left an impact on him: He decided early on that he wanted to find a career that incorporated agriculture somehow.
It took a while for him to figure out what that would be, though. He spent a year and a half studying at Southwest Minnesota State in Marshall, but he quickly realized that that particular college didn't fit him very well. He returned home and started working in a local retail operation selling fertilizer to area farmers. Although that experience helped confirm his commitment to agriculture, it also pushed him to go back to school and earn his bachelor's degree.
"I knew I didn't want to work in retail for the rest of my life," he said.
So in 1986, he enrolled at Minnesota State Mankato, where he started in accounting but later double majored in business administration marketing and international business.
"Accounting was boring," he admitted, "although I use it daily now."
Three years later, he graduated and was quickly hired by Micro-Trak. He remembers that his first day was on a Monday. That afternoon, he was sent to a trade show as the company's representative. When he mentioned that he might not know how to answer the questions that came up, Veldman told him to take names and phone numbers so he could get back to people with more information. So he did.
Within four months, Theobald was confident enough to represent Micro-Trak at a trade show in Germany. He understood what the company's monitoring and control systems did. He could articulate how those systems would save farmers money and help them optimize their yields. He knew how to answer almost all of the questions that came his way.
"If I saw an opportunity to do something, because things weren't getting done, I would do them," he said. "I used to do our tech writing from time to time, because it needed to be done. I just did it. I've always been willing to do whatever it takes to get the job done."
His experience working in the fields with his uncles and neighbors certainly had an impact on how quickly he was able to assimilate into the company. But Theobald admits that there was a steep learning curve when it came to the technology that made Micro-Trak's products work.
"I don't recall a single electronic device in the tractors I drove back then," he laughed. "Besides a two-way radio, that is. Technology wasn't part of my experience at all."
It wasn't necessarily part of his experience at the office, either. When he started in 1989, the only computers on the premises were in engineering and the main frame that ran the business software. The design team was just coming off working on drafting tables and completing their drawings by hand.
"We don't do that anymore," Theobald said. "But when I started, that's how the company worked."
The technology in the office has changed almost as much as the technology that Micro-Trak uses in its products. When Tom Hiniker founded the company in 1982, the original Calc-An-Acre® was a state-of-the-art device using the most modern electronics available at the time. Now, it has been replaced with the Calc-An-Acre® II, which measures speed, distance and area better and faster. Dozens of other products have been introduced as well, each more technologically advanced than the other.
"The products are still doing essentially the same thing," Theobald explained, "but everything is more advanced. We can do the same things better now, and more new things, because the electronic technology and software has evolved."
Theobald would loosely categorize all of Micro-Trak's products as mobile electronic rate control and monitoring devices. Most of the company's products relate directly to agriculture, but the company also serves the turf and highway maintenance industries. The primary difference between the products, he explained, is in the units being controlled and monitored. In the ag sector, for example, a device measures gallons per acre, while a turf device measures gallons per 1,000 square feet.
"They are really all derivatives of each other," Theobald said. "Basically, all of our products are adaptations of our ag products."
That's because Micro-Trak Systems has made a conscious decision to stay focused on its core business. Early in the company's history, a small commercial segment tried to develop a market for furnace efficiency units, specialized security systems and other electronic devices. Those products are no longer part of the company's business.
"We've chosen to do what we are best at," Theobald said.
One of the biggest changes Theobald has witnessed at Micro-Trak was a change in ownership. When he was hired in 1989, the company was owned by North Mankato-based Taylor Corporation; Glen Taylor had bought the business in 1985, when inventory levels had led to cash flow issues. It was clear the business concept was strong and that new management could help the company turn the corner, so Taylor saw it as a solid investment. And, Theobald said, he didn't want to see a local business disappear.
"Taylor's culture is one of opportunity and security for employees," he said. "If it had gone out of business, it would have cost the jobs of local people. He didn't want to see that happen."
On December 24, 2011, Taylor Corporation sold Micro-Trak Systems to GSI. Based in Temple, Texas, GSI also owns an agricultural sprayer valve manufacturing company called TIR. Theobald, who was named president of the company immediately following the sale, wasn't really surprised by the news. He knew that agricultural manufacturing wasn't part of Taylor's core business and had expected to be sold years earlier.
"When I asked about it, they told me that they had been looking for a buyer for a long time," he said. "But they wanted to find the right buyer, someone who would keep it here and whose core business was a good fit with us—another core principle of Taylor."
As the general manager of a Taylor Corporation affiliate, Theobald had had access to business advice, legal counsel, accounting and a human relations staff. He learned a lot about management, leadership and business operations from his mentors at Taylor, including Larry and Jean Taylor, Al Fallenstein, Larry Lorenzen, Greg Jackson and Tom Johnson (and countless others). Under GSI, however, he has access to leaders in the agricultural industry.
"I had excellent business resources at Taylor," he said. "But now I have resources more in tune with the ag industry, which I didn't have at Taylor."
Very little changed at Micro-Trak during the ownership transition—so little that Theobald wasn't sure anyone would even notice it had happened.
"Gregg [the new owner] liked the business model and wasn't interested in wholesale changes," he said. "We could have gone a long time and never told anyone here that the ownership had changed. No one here would have known if we hadn't told them."
But Theobald has noticed, especially over the past several months. He's been negotiating with a large ag chemical manufacturer on an exclusive deal to develop agricultural equipment specifically for them. In the past, Taylor Corporation's legal team would have been heavily involved in the process. Now, Theobald is taking the lead and outsourcing the legal end of things. It's intense work that includes responding to emails in the middle of the night, but Theobald thrives on it.
"I'm not a big blue sky kind of guy, but it is fun to run the numbers on a deal like this," he admitted. "This is the kind of deal that could allow us to double our sales or more in the next five years."
He would love to see that happen. The company has been preparing for growth, and Theobald is eager to see that materialize—not so much for his own sake, but for the sake of the team he's put together around him. All 34 of the employees working at Micro-Trak rely on the company for their livelihood—and the company relies on them as well.
"One of the most important things I took away from 20-plus years of working for Glen Taylor is that he is successful because he surrounds himself with good people," Theobald said. "You have to have a good team. You have to have people you can trust. You have to allow them to fail and mentor them to make good decisions. I've tried to take the same approach."
The fact that Theobald has surrounded himself with a talented team means that he can occasionally take two weeks off to go moose hunting in Canada or snowmobiling in northern Wisconsin. Although he's always connected and always checking email, he appreciates the fact that things continue to run smoothly with Sales Manager Rob Hoehn and Service Manager John Vanderhoof at the helm while he's out of the office.
That allows him to do what he loves most—be outdoors. He likes to plan big-game hunting trips in the western United States and Canada. Two years ago, he was lucky enough to catch the largest bull moose taken that year in Alberta, Canada.
"I would say that nearly 100 percent of my paid time off is hunting, plus a few snowmobile trips," he said. "That's why I love living in this part of the country."
He also still volunteers to help friends and family with farm work whenever he can. He has keen insight into how much farming has changed over the years; the help he gives now can hardly be considered "hands-on" anymore, he said, and his company's products certainly factor into that.
"Farming has changed far more in the last 10 years that it did in the previous 20," he said. "And it will likely change even more in the next five years as well. Farming has changed more than this business has changed."
Between Global Positioning System (GPS) technology and the ever-improving rate monitors and controls, farmers now have much greater control over their crops.
"Electronics has enabled farmers to have almost 100 percent control of everything," Theobald said, "except Mother Nature."
Theobald himself is happy to let her maintain control of the weather. Even as wind chills dipped to double-digits below zero in January, he casually shrugged off the weather report.
"Snowmobiles are really fast in the cold," he said with a smile.
—–
Packer Backer
It doesn't take long to figure out which National Football League team Dan Theobald likes best. The abundance of green and gold visible the minute you step into his office at Micro-Trak is a dead giveaway.
He has a cabinet full of Green Bay Packer memorabilia. The proud Packer shareholder drinks his coffee out of a Packer mug. A painting of Green Bay quarterback Aaron Rodgers, which his niece painted for him, is waiting to be hung on the wall across from his desk.
Theobald was born and raised in southern Minnesota and has lived in Vikings territory his entire life. But he's always preferred Green Bay's team to the Vikings. In fact, his mother has told him that his first word was "Packers."
"I'm one of the smart ones," he joked.
He's lucky, too: A friend of a friend has season tickets on the 45-yard line, behind the Green Bay bench. If the forecast looks frigid, he is more than happy to sell his tickets—and Theobald often gets the first call.
"I go to three or four games a year," he said. "I like the cold weather!"
Eventually, Theobald would like to move across the border and make his fandom official.
"I will live in Packerland someday," he promised.
A Brief History
Micro-Trak Systems was started in Eagle Lake in 1982 by Tom Hiniker. Although it initially carried only one product, the Calc-An-Acre®, Hiniker quickly introduced several more devices designed to help farmers work more efficiently. In 1985, Taylor Corporation bought the company and brought in Scott Veldman as President and Chief Operating Officer. Micro-Trak operated as a wholly-owned affiliate of Taylor Corp until 2011, when it was sold to Texas-based GSI, Inc. Today, Micro-Trak employs 34 people and manufactures dozens of products for the agriculture, turf and road maintenance industries.
"Our business philosophy is to sell what the customer wants, not what we make," Theobald said. "It boils down to selling a value, not a commodity."
Graduation Day
Dan Theobald's graduation day in May 1989 was a big day for his family—and not just because Dan was finally earning his bachelor's degree. On that day, three Theobald boys received their diplomas: Chris, Dan and Joe.
Chris, the oldest of the brothers, had returned to Minnesota State Mankato to pursue a second degree in physical education because he wanted to be a coach. Joe, the youngest brother, had played football on a scholarship; he and Dan were teammates after Dan walked on the team in 1986. Although they each started at the university at different times, they all graduated on the same day—a first at Minnesota State Mankato.
"We had one great big party that day," Theobald said. "We basically took over T. J. Finnegan's!"
Theobald's sister Kathy, the youngest of the four siblings, eventually graduated from Minnesota State Mankato as well.
Lost Opportunity
Once upon a time, Micro-Trak systems carried a line of inventory aimed specifically at the commercial market—flood alarms, driveway sensors and efficiency units for heating systems, for example.
One of the products in the now-defunct commercial segment of Micro-Trak was what Theobald calls a pinpoint precision locator—basically, a high tech stud finder capable of working in up to four feet of concrete within an eighth of an inch.
"It should have been an infomercial," Theobald said. "It was an incredible product and would have been very helpful for many people. But it never took off."
THE ESSENTIALS
Micro-Trak Systems, Inc.
Address: 111 Le Ray Ave, Eagle Lake, Minnesota
Phone: (507) 257-3600
Web: micro-trak.com