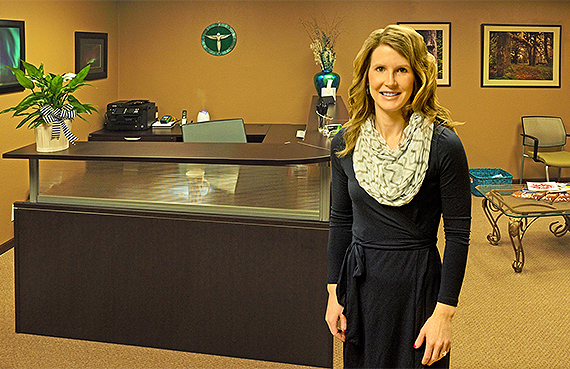 =
Photo: Art Sidner
Mankato: Aurora Chiropractic
Jennifer Stuvek always knew she wanted to be a doctor, but it was her first job at the Fairbanks Chiropractic Clinic that led her into the field of chiropractic.
"I really love helping people achieve a higher quality of life, and being a chiropractor lets me do that every single day," she said.
Stuvek grew up in Fairbanks, Alaska and started working at the clinic when she was 15. She began as an administrative assistant and worked her way up into billing and accounting. Once she graduated high school, she earned a bachelor's degree in Biological Sciences from the University of Alaska-Fairbanks. Then she made the trek to Minnesota to study chiropractic care at Northwestern Health Sciences University, where she graduated in 2012.
Along the way, she met her fiancé (now husband), and the two of them decided to move back to Alaska so she could practice at her old clinic. They stayed in Fairbanks for two years, but they planned to move back to the Midwest, where they both have some family, so she could open her own practice.
"We wanted to find a community that we could be in for a long time," she explained. "[Mankato] was the size of community we wanted, and we're so excited that we can see this as being our forever-place."
Stuvek opened her clinic, Aurora Chiropractic, in January and says business has been steady so far. She offers a range of services, seeing every type of patient: students, babies, pregnant women, the elderly and more. Besides offering services such as spinal adjustments, she also offers education and lifestyle advice that patients can use in their day-to-day lives.
"I want them to get to a place where they don't need me as much," she said. "Then I think I've done my job well."
Aurora Chiropractic
Address: 1051 Madison Avenue, Suite 2
Telephone: 507-625-1085
Web: aurorachiropractic.org
Facebook: Aurora Chiropractic, LLC