Blackhawk Fiberwerx owner, Tyler Deike, in front of his fiberglass production line. (Photo by Jonathan Smith)

Engineering Entrepreneurism
Organization, Education & Vision Help Tyler Deike Fulfill His Dreams
If there is one take away from the life of Tyler Deike, it's never, ever settle.
"I was almost done with my master's degree in industrial engineering and I was looking in the future to where I might be in 5, 10…15 years and realized I saw myself in a place where I would not be fulfilling my dreams. Even at the top of the company I was working for, I wouldn't be fulfilled," he reflects. "Also, while I was good at it, I was frustrated with corporate strategy and politics. I think the reason some of these large corporations struggle to change with the markets and innovate is the hesitation to make changes, take calculated risks and realize/utilize the potential of their employees. It was shortly after gathering all of those thoughts that I had my ah-ha moment."
That ah-ha moment propelled him from simply having a job, to having the life he wanted.
"I have always wanted to be a full-time entrepreneur but I ended up taking the path which many young people are told is the best way to go. Go to college, get a good job, contribute to your 401k and eventually you should have enough money to retire. I am grateful for the opportunities I have had but I couldn't be held back."
That can-do spirit had been building in him from a very young age.
"My dad bought my brother and I a lawn mower, trailer and some of the other essential equipment we needed when we were 14 and 15 and we secured a few mowing accounts from a family friend who was getting out of the business. My dad would drive us around town until we were finally able to drive. We secured several other accounts while in high school and college. I ended up continuing the business by myself during college. By the time I graduated from MSU, we had about 25 accounts.
The business grew from a small one-person-with-a-lawn-mower business to a three-person crew. Over the next 10 years I grew the company slowly while maintaining a full-time job at Kato Engineering. We now have six employees and have tripled in size in the last year."
Maverick Lawn Care provides a full scope of lawn care services including, mowing and trimming, fertilizer and weed control as well as shrub trimming, aeration, and landscaping services in the summer time. In winter, they offer snow and ice management services such as plowing, blowing, shoveling, salt and snow removal.
"We will continue to expand our service offerings through Maverick Lawn Care this coming year–doing a lot more landscaping and offering things like mosquito spraying."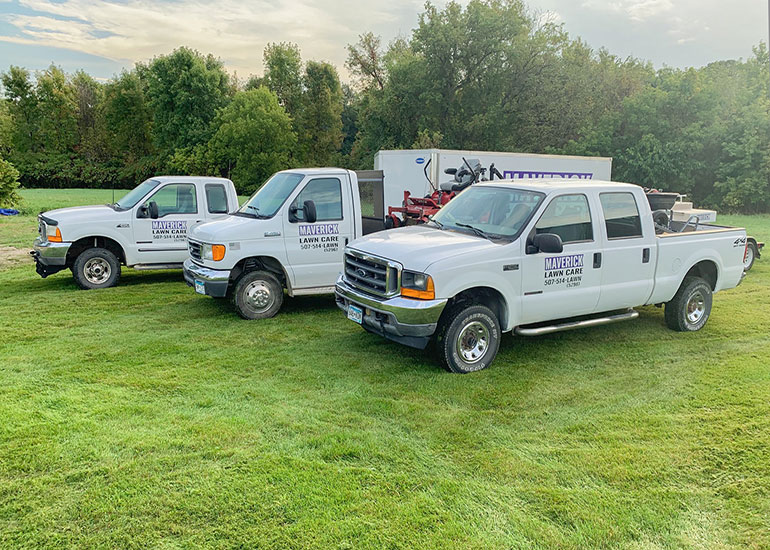 Maverick Lawn Care was keeping him busy for sure, yet, even combined with a full-time job it just never quite seemed enough.
"I remember writing business plans while listening to lectures in college and at night while I was working at Kato Engineering and running the lawn care business.
"I have always been brainstorming business and product ideas. I even had a web application built by B507 at Minnesota State to automate some parts of my lawn care business that I could use and also sell to other companies. But I was never quite satisfied."
That brings us back to his ah-ha moment.
"I have always been thinking of starting something (a business or designing a product) from scratch when one day in late 2017 it occurred to me. I don't have to start something from scratch. I have developed skills, learned from my mistakes – by working at a young age, running a small business – and have been working in a manufacturing company for many years. There are plenty of business owners exiting their businesses all the time. More than ever probably right now due to baby boomers retiring. I knew I had the skills needed to take over one of these companies, and use the skills I have learned from improving my business and many others as an Industrial Engineer, Quality Engineer and Lean Manufacturing professional."
So he started doing some networking around town, met a business broker and embarked on his quest to buy a business.
That's when information on Blackhawk Industries in St. James landed on his desk.
"I was not familiar with fiberglass manufacturing, and ideally I would have liked purchasing a company closer to home, Mankato," he says. "But one Saturday I said, what the heck, I'll check it out and visit the facility. I always give things a chance, listen and take meetings. You never know when you might pass something up by being too busy or thinking you are too important or anything like that. I have worked in and toured many manufacturing facilities looking for opportunities for improvement and once I walked into Blackhawk, I knew this was an opportunity of a lifetime."
His experience and education kicked into full gear: with a degree in industrial engineering and the vision to see more than meets the eye.
"From the disorganization, the paper bookkeeping and 1995 sales and marketing strategy, I could see right through it! Learning To See is one of the first books any lean manufacturing or continuous improvement leader will run across. I didn't really understand the title right away, but it finally occurred to me that learning to see meant being able to see improvements before they were made. Being able to see through the inefficiencies and the missed opportunities. This covers both manufacturing and business processes," he says.
Seeing the potential, Deike purchased Blackhawk Industries Inc. in June of 2018. One of his first official acts was to change the name to better reflect the direction he wanted to take the company. He changed the name to Blackhawk Fiberwerx LLC.
"When I purchased the company we had three types of products: outdoor fire pit bases, crane engine covers and cab backs," he explains. "We manufactured and sold the fire pit bases to a company in the Twin Cities who then sold them nationally through a network of dealers and retailers. The engine covers were shipped to Terex Crane Company.
"The third product is the Cab Back. I had never heard of this product, and I don't think many people have. It is a niche product where our customer will close off the cab of a cutaway chassis. Cutaway chassis are used as the driving force and chassis for motorhomes, box trucks and ambulances to name a few.
"Historically, most of these cab backs would be mounted on an old ambulance chassis. The ambulance up-fitters (truck builder) would take the ambulance body off an old ambulance and reuse it on a new truck chassis, as the fiberglass ambulance bodies will tend to last longer than the truck they were first mounted on. Then, the now empty chassis will be sold off as it will generally have life left. The ambulance up-fitters will purchase the cab back from us or give us a referral. Customers will also find our cab backs online. We have 16 different cab back options and have added additional accessories and features that the previous owner had not offered.
"There are many more opportunities for this product as we have found dealing with fleet customers. Selling one or two cab backs to a customer is nice but selling hundreds or thousands to one customer is much better!"
Learning new products in an industry he was not familiar with was just one of his challenges after taking over the business.
"The biggest challenge this far, has been managing the backlog and then maintaining good velocity in the product development cycle. The faster you can release a product and get it to the market so the market can provide feedback, the better off you will be. This is outlined in one of my favorite books, The Lean Startup.
"To elaborate a bit on the challenges, when we took over in June of 2018 we were almost 700 parts behind, and running maybe 50 parts per month. Had we not reacted fast and at least doubled our capacity, it would have taken us over a year to catch up, leaving our customer with little option but to find an additional vendor. So,the first month we took over we made over 150 parts."
The added capacity helped and Deike was able to catch up on orders and start thinking about expansion.
"Once we caught up we immediately started to investigate and evaluate new products. We used the logic of, if you had to go to a trade show and walk around for 3 days or exhibit your products, what trade shows wouldn't feel like work? You can find fiberglass or composite materials used in almost every industry. And even if you don't, where you will find steel, plastic and other materials, composites generally have the edge in many ways. Hence why airplanes and other high-performance products are made from composites."
His early vision for the company proved to be spot on, and his quick actions after taking ownership are already paying off.
"We had tripled sales for the first seven months and have maintained steady growth after that. We have huge potential with the new products that are being launched and could see over 10x growth over the next few years."
Now his eyes are focused steady on the future.
"We are working on several new products and just released our own brand of outdoor fire pits and tables. We have also been working on a line of power sports accessories which are primarily fiberglass roofs with audio systems. We have a few other products that are in the pipeline and even have other hopeful entrepreneurs come in and ask us to make parts for them, where we will be a second-tier manufacturer and they will sell the completed products. After the building and process improvements at Blackhawk, we are well under our floor space capacity and have room to grow another 4-6 times before we will need more shop space. We hope to be building trucks as part of our business at Blackhawk Fiberwerx in the near future."
While happy and certainly busy with Blackhawk, the entrepreneurial wheels in his mind kept spinning and he identified a new outlet.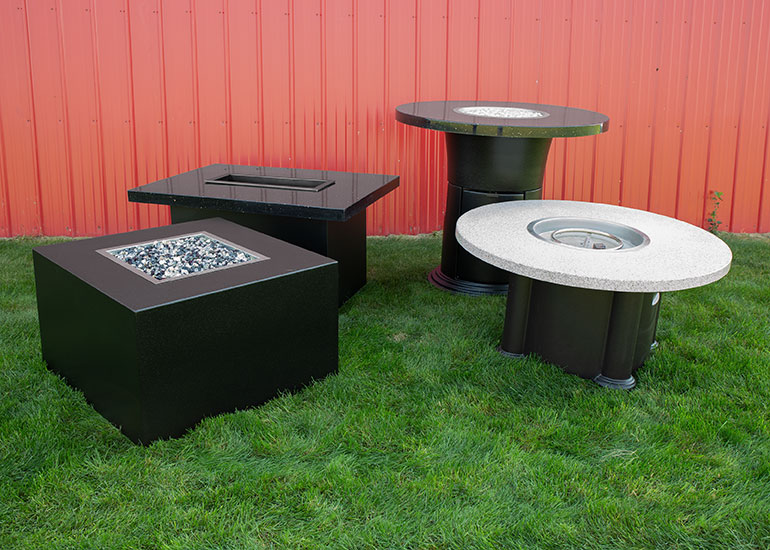 "After about a year at Blackhawk, after purchasing and building a few cutaway trucks (installing our cab back and flat beds on cutaway chassis) and paying sales tax on those trucks, looking at how many vehicles I need to buy for my businesses and the costs associated with driving back and forth to St. James, we started to look into a auto dealer's license. So now we have another business, Blackhawk Motors.
"Having a dealer's license offered several advantages that are not available to everyone, including access to wholesale vehicles that I could purchase for Maverick Lawn Care, and offered me the ability to essentially drive whatever vehicle I want, whenever I want. We have had requests and have been able to buy specific vehicles for family and friends from anywhere in the country and also sell their old vehicles outright or at the auction. As we can see with more and more online vehicle purchase and delivery companies like Carvana, there is an opportunity in the market with the help of technology and the new acceptance of that technology. You can sell vehicles without the huge overhead of a dealership. It is the Amazon of things. You don't need a large inventory of cars on a lot in a great location to be able to sell them."
Although the distance to St. James was off-putting at first, Deike is glad it was not a deal breaker.
"Other than the drive, I love being in St. James. We work with local businesses whenever we can. It is a true small town where you get to know everyone in town and build relationships. There is a good workforce. We are situated right off of highway 60 next to Siem Construction and Olsen Diesel. This works out good when you need a hand with some carpentry work and fixing trucks and equipment. We share services and help each other whenever there is a need."
---
Not Done Yet
Deike says now that he is on this entrepreneurial, business-building track, he may not get off.
"I have many things I like about business but some of my favorites are thinking of and developing new products, developing new ways to grow and improve existing product lines and business processes, and looking at new business opportunities and investments. Since I have been a full-time entrepreneur, I have evaluated a half a dozen other companies and looked over a dozen other investments. I think now is one of the best times in history to purchase a business due to the age of the owners and opportunities to rapidly grow and improve their businesses. I can see myself operating and overseeing several more companies.
"But eventually I see myself and my wife spending most of our time giving back. I was given the great opportunity to basically grow up and be successful at anything I wanted to do. Everyone doesn't get that chance. I think finding ways to balance the workforce, finding a way to introduce young people to opportunities outside of just going to college and teaching young people about trades and entrepreneurship are two obvious opportunities for the education system."
---
Three Keys to Success: people, pivot and scale
Deike says while there are a myriad of things that lead to success, three in particular are top of mind for him: the people he surrounds himself with, being able to pivot fast, and knowing how to scale depending on the need.
First, the people. "My wife has always been behind me and has been the backbone of our family and my support system with whatever new crazy ideas come up next. It wasn't easy when we were going through the acquisition knowing that we were basically betting our whole lives and everything we have worked for on me running my businesses full time. A wife and house with three kids is a lot to bet on… I have also managed to build good business relationships with bankers, attorneys and mentors along the way. Lastly, having really good people working with you is essential. I have made plenty of mistakes hiring the wrong people and learning the hard way. Finding people that have a different set of skills than your own is essential.
"I also have to point out an employee who came over from Kato Engineering with me when I purchased Blackhawk Fiberwerx. He is a great guy and I trust him with my life. It is an amazing feeling having someone around like that, that you can trust. Especially because I am not always able to be at the shop or everywhere I need to be, so he is able to fill in when I am handling issues with the other companies, traveling or evaluating other companies and opportunities."
Next, perfecting the pivot. "When you are running a small manufacturing company, which is basically a startup, you need to make decisions quickly and continue moving forward. You cannot bank on one customer to support your entire business. You need to diversify. In our research and development of new products, making decisions quickly and pivoting has been key.
Finally, scaling up or down depending on need for your product. "Satisfying an order that is three times your capacity at the drop of a hat is truly challenging. Also, understanding if and when you have too many resources, being able to scale down is also essential. Make a decision too slowly and you may run out of cash and the rest would be history."
---
Family First
Deike and his wife Haley have three children: Bryn, 7; Lennon, 5; and Blair, 2.
"I like to spend time with my family traveling to theme parks and to the mountains, hanging out at the lake, going to the kids sporting events, riding motorcycles with the kids and friends and downhill skiing in the winter. I like to get out and play some golf and hunt when I can. Luckily I can take a day off whenever I want so I don't miss out on family time."
---
Adrenaline Junkie
"I grew up just south of Mankato in what was called Pigeon Hills (by Benco Electric). It was a small neighborhood in the country where we were able to explore the outdoors riding bikes, motorcycles, snowmobiles and adventure in the wooded areas near our house. I played all kinds of sports growing up as our family was active in the YMCA sports programs, but as I went into high school motocross racing, downhill skiing and watersports were what stuck. I guess you could say I am somewhat of an adrenaline junky… My brother and I are only a year apart so we have been really close our whole lives. My dad would always show us how to work on our dirt bikes, lawnmowers or really anything around the house. We also have a cabin on Duck Lake so we spent the summers out there where we quickly excelled at watersports. I think we were barefoot skiing when we were 9 and 10 years old. Not something every 9 year old has the opportunity, ability or the guts to do… We would take many trips out west to go skiing and snowmobiling as well. Our greatest memories are powder skiing, jumping cliffs and snow cat skiing where we were easily the youngest skiers in the group by 10-15 years."
---
The Essentials
Blackhawk Fiberwerx, LLC
35119 746th Avenue
St. James, MN 56081
Phone: 507-375-5544
Web: cabbacks.com