Samantha Breneman, Fox Lake Furniture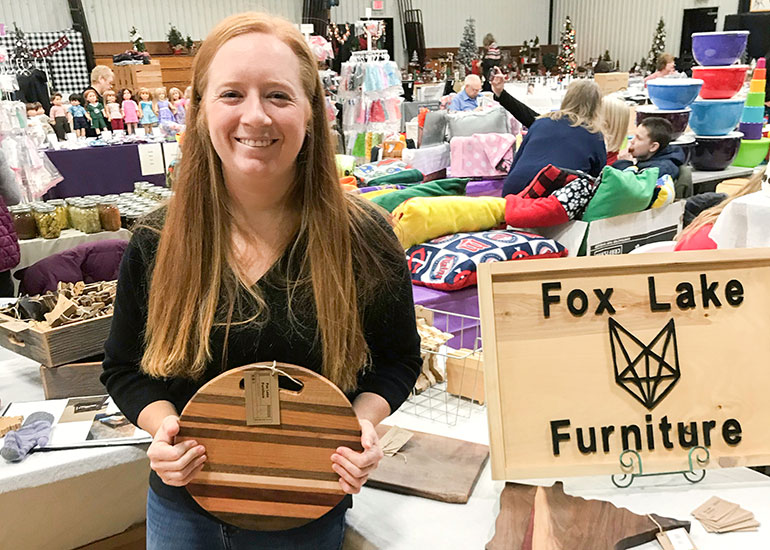 Submitted photo
In the 1700s the word entrepreneur entered our vocabulary, meaning adventurer. The meaning has been honed over the centuries and is now widely regarded as one who launches and runs a new business. However, entrepreneurs remain adventurers at heart. Taking on great risks based on an idea or expertise one has developed in hopes of making a profit.
Sometimes a budding entrepreneur will get their start because of an idea born simply out of necessity. That is certainly the story behind Fox Lake Furniture, of Welcome, Minnesota.
"It all started when I needed a sturdy coffee table for my senior year of college," said Samantha Breneman. "I really didn't want to pay a whole lot for something that might get ruined, so with the help of my grandfather, we made a coffee table out of a shipping pallet and some scrap lumber he had laying around his small wood shop. A couple years passed by and my cousin, Karen, asked me to make her a super simple coffee table. I agreed to make the table and it just kind of took off slowly from there making smaller items for mostly friends and family."
As her love for creating things grew, so did the idea to spread her talents to those outside her inner circle.
"I would come home from the cities every other weekend to work on things such as trays, wine racks, coffee tables, etc. Before I knew it, it was 2016 and I decided to open my first Etsy shop and decided to call it Fox Lake Furniture. At that time, I had been working in the small golf cart shed that was located at my grandparents' home on Fox Lake, just outside of Sherburn."
It soon became evident her Etsy shop was outgrowing her grandparents' shed. She decided to take the biggest step yet.
"Besides making handmade goods to sell online, I also take custom orders for bigger items, such as furniture. I also refinish and paint furniture as well. To do all of that I needed more space. So in the fall of 2018 I moved into a much larger shop located in the nearby town of Welcome. For the most part, the location is great! I have quickly filled it up with shop equipment and supplies, so down the road it would be nice to expand yet again."
It is still sometimes hard for Breneman to reconcile her background and what she thought she wanted to do with her life with this new found success in a surprise vocation.
"I grew up on a dairy farm outside of Trimont. I have two younger sisters. As a kid, I spent a lot of time outside playing with my sisters on the farm, making forts, and driving the go-kart. I spent a lot of time playing on various sports teams during my childhood. I graduated from Martin County West High School in 2009. I went to college at Gustavus Adolphus College in St. Peter, Minnesota, and graduated in 2013 with a bachelor's degree in psychological science."
But she has embraced this new, unexpected role in life.
"I literally started with just the tools my grandfather had in his shop. Since then, I've been fortunate enough to add to that. When I first started, I also made almost everything out of pallet wood. Now, I have definitely expanded on the types of wood that I like to work with. My skill set has also improved quite a bit. It's amazing what you can learn on the internet. Fox Lake Furniture has been such a great adventure! I truly enjoy creating unique pieces for each individual customer."
Skills aside, she knows it is the intangibles that have gotten her this far.
"I think a key to my success has been the large amount of support I have gotten from my family, friends, and the community. A positive attitude also goes a long way."
Her biggest challenge so far has been learning the back end.
"I would have to say the biggest challenge I have had so far has been learning to be my own boss and everything that comes along with that."
To other entrepreneurs waiting to take the plunge, she says to look for the small victories and keep your eye on the ultimate goal.
"Don't forget to think about the small day-to-day successes! It can be so easy to get wrapped up in the big stuff. I think just taking a moment to remember how lucky we are as entrepreneurs. Not everyone is so fortunate to be able to run their own business."
She is feeling more and more comfortable in her role and her new title of entrepreneur. So much so, she is looking forward to the future.
"To continue to grow the business, I need to focus on finding new locations to sell products, expand and organize the shop for increased productivity. I think it would be awesome to be able to have a couple employees down the road to help around the shop!"
THE ESSENTIALS
Fox Lake Furniture
507 First Street
Welcome, MN 56181
Web: foxlakefurniture.com