Your Business, Our Passion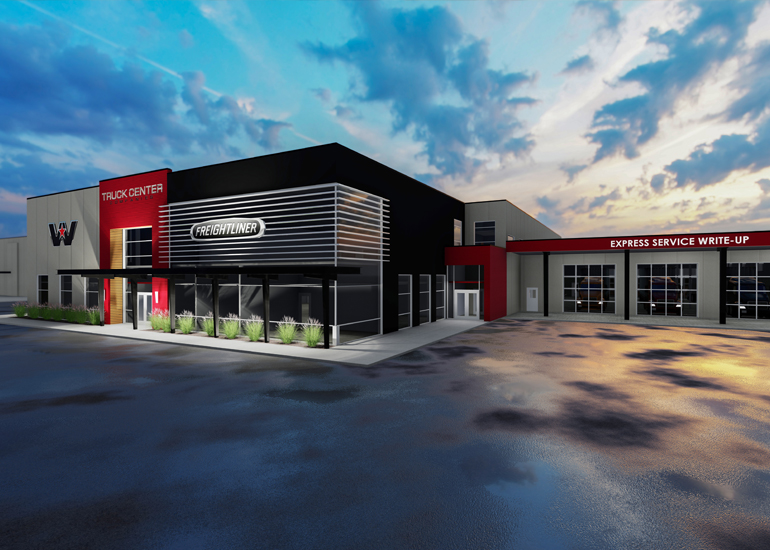 APX Construction Group
"We selected APX Construction Group because we felt they could meet our design needs and we received great reviews from their previous clients. Truck Center Companies looks forward to growing with APX in the Mankato area," says Trey Mytty, CEO of TCC, a Nebraska-based dealership that has become one of America's largest Freightliner dealers.
With 18 locations, TCC plans to add another in Mankato, a 100,000-square-foot facility off of Adams Street. Leading their expansion here, is APX Construction Group.
"We were invited to submit a proposal for their Mankato location and were thrilled to get the go-ahead to work with such a fantastic company," says Jamie Jacobs, VP of Sales + Marketing for APX. "We are just kicking this one off. But we have been working with them through the land procurement, annexation, wetland delineation, city approvals, design and construction management."
Leading this project from start to finish is just one example of how APX Construction Group likes to operate.
"Our time investment begins with your concept, through the details of the planning and drawing process, and finally seeing it come to life on the job site," says Jacobs.
Along with experience, technology plays a role in their success.
"We use the latest technology to ensure our projects stay on task and all goals are met," says Jacobs. "All along the process we provide thorough cost estimates, efficient scheduling and detailed value engineering during pre-construction."
The combination is helping APX make a name for itself in the industry.
"APX Construction Group is working to redefine the construction experience," says Jacobs. "So often, business owners and entrepreneurs are left wondering where to start, or who do I call first. With APX, we will lead our clients through all layers of the process, from start to finish. This often includes, but is not limited to, land acquisition, business consulting, financing, and permitting. We are able to guide our clients with services ranging from construction management, general contracting, pre-construction, design/build, development and owners representation. APX Construction Group's insistence on quality of service, hard work, and responsiveness to client needs remains the company credo and has led to its success in a competitive industry."
As is the case for TCC, APX particularly likes to work with companies whose values align with theirs, and companies that help in the growth of the development of the community they call home, Mankato.
"They are just a great group of people from Omaha, Nebraska," says Jacobs. "TCC is a top-of-the-line dealership committed to customer experience, just like APX."
With over 100 years of industry experience between them, the APX management team strives to give its customers the best experience possible. APX owners Ryan Evenson and Mitch Rohlfing learned the business by working their way up in the construction industry before founding APX. It's that experience that developed their understanding that to be successful in a crowded industry, you need to be a full-service construction company. Evenson and Rohlfing say APX provides a single point of contact for clients. And they are building a reputation along the way.
Based in Mankato, APX also has a focus on Minneapolis/St Paul, Rochester, Sioux Falls and Northern Iowa, although they have completed projects nationwide and their footprint is expanding every day.
"Our company offers a diverse portfolio of work ranging from industrial, medical, hospitality, community/nonprofit, civil/government, housing and office/retail. We also differentiate our services with a unique ability to self-perform concrete, carpentry and steel erection. We are an authorized dealer for pre-engineered metal buildings and all of these can add up to noticeable cost savings for our clients," says Jacobs.
The Essentials
APX Construction Group
1020 Innovation Lane
Mankato, MN 56001
Email: info@apxconstructiongroup.com
Phone: (507) 387-6836
Web: apxconstructiongroup.com