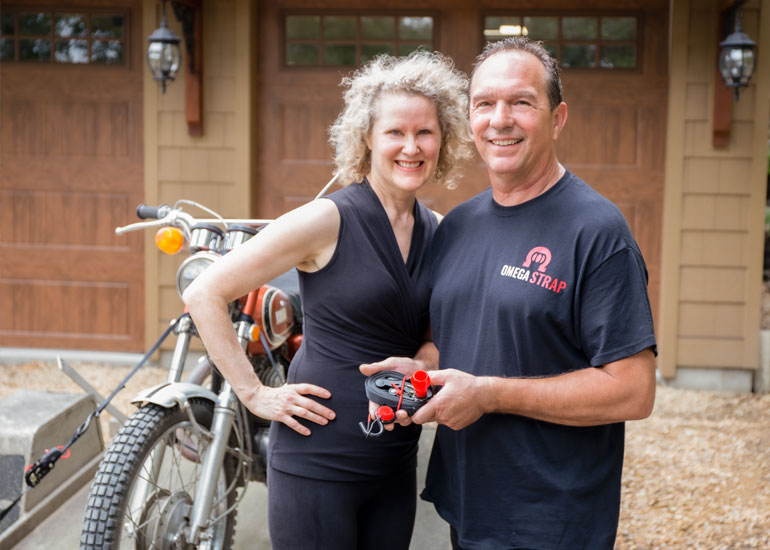 Brad Willodson is a handy kind of guy. So when he noticed that his ratchet straps were constantly jamming or getting tangled, he decided to MacGyver a more user-friendly solution.
"I made it with a pingpong ball and some fiberglass," Willodson said. "When I had that first primitive version in my hands, I thought, 'Wow, that's really cool.'"
Knowing his invention could make a lot of other frustrated ratchet strap users happy, Willodson realized he had a new product on his hands. He was encouraged by his cofounders, Sarah Scott and Joe Benike.
"I came up with this idea, but I wasn't doing anything about it," Willodson said. "Sarah was the one who said, 'You should do something about it,' and Joe is the one who said, 'I can do something about it.'"
Willodson concentrates on the product, while Scott focuses on the business, and Benike handles e-commerce and digital marketing. Rounding out the OmegaStrap team are photographer William Cipos, videographer Michael Chalhoub, and Chinese liaison and translator Peter Wei.
"It's been like magic the way we've all came together," Scott said. "We found Joe and Peter exactly when we needed them. This team works well together, and it's been delightful."
Benike agrees: "The timing has been great. It felt like I was the missing piece with my background. So we all thought, 'Let's do this!'"
The OmegaStrap is an ergonomic ratchet strap system. It's a medium-duty ratchet strap and can handle up to a 600-pound load. Its features include a control knob, a flexible fastener to hold the hook in place and an elastic loop for easy storage.
The OmegaStrap team enlisted the help of the Minnesota State University, Mankato, engineering department to create a CAD design and 3D-printed prototype. Things started to fall into place, as they secured patents, found a manufacturer and ran an Indiegogo crowdfunding campaign.
In January, the first 10,000 OmegaStraps took up residence in Willodson's garage. They launched their product in April on omegastrap.com and have already shipped 4,000 products.
"This business feels like an unscratched winning lottery ticket. I hope that when I finally scratch this thing, it's really going to take off," Willodson said.
---
The Essentials
OmegaStrap
Phone: (507) 206-9877
Web: omegastrap.com
Photo by Jonathan Smith