Creating Lasting Tributes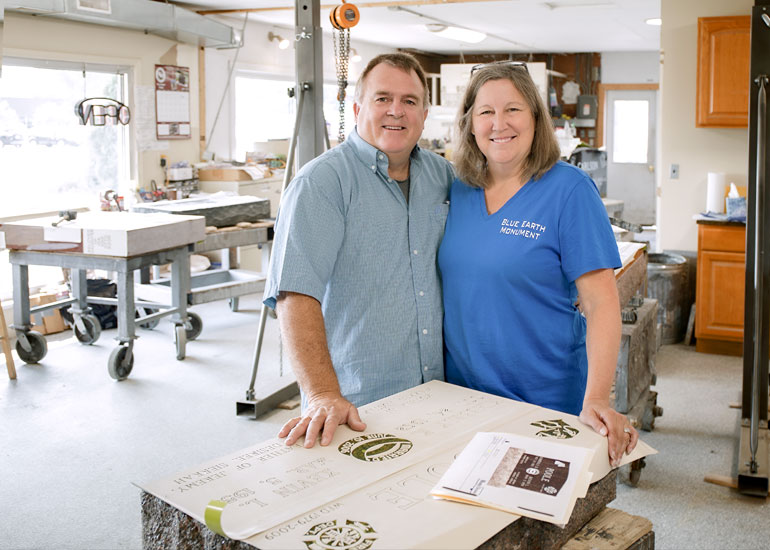 Blue Earth Monument: Capturing the Stories of Our Lives
We may not realize it, but we hear, see, and feel dozens of stories every day: through our conversations with others, through posts on social media platforms — they can even be told in the way people dress or through facial expressions. In life, everyone has a story to tell.
All the stories we compile over our lifetimes live on after death, traditionally through the use of memorials or monuments.
The carefully crafted slabs of granite serve as a place to visit, grieve and remember those who have passed on. Monuments are an everlasting symbol of a person's life and accomplishments and bring meaning and understanding to future generations of those who have come before.
"Every family is different," said Mark Maher, owner of Blue Earth Monument. "So, in turn, every stone is different. There is one thing in common, though; everybody is telling a story. When you walk through cemeteries, you see different images and sayings on the stones. Well, each of them is telling a story, and it's important for us to help families tell their story and make sure it is specific to them."
The Maher family takes its business personally.
"People come here during some difficult times," Lori Maher said. "So we try to make it a comforting experience, and I hope for most of our customers it was a better experience than they thought it was going to be. We take great care in helping them share the stories of their loved ones."
The Mahers' own story goes back more than 50 years and begins with Lori Maher's father, Harlan "Harley" Schmitgen. Schmitgen was southern Minnesota's premier storyteller for more than five decades at Blue Earth Monument.
"Lori's dad worked here right out of high school and eventually became the owner. He had been here for 53 years, so Lori and myself grew up around the business," Mark Maher said. "He retired in 2011 and moved to Branson and is a woodcarver."
Schmitgen's daughter Lori Maher and her husband, Mark Maher, purchased the company in 2008 when Schmitgen's business partner, Steve Christensen, retired. Founded in 1877, it is one of the oldest companies in southern Minnesota and northern Iowa. Blue Earth Monument offers custom shapes, custom artwork, shape carved designs and more. Considered a full-service monument company, clients can work directly with their artists, and all the work is done in the Blue Earth shop. Blue Earth Monument will place your memorial in the cemetery for an everlasting tribute.
"We are one of the few companies that are still independent and do all of the work in our shop," Mark Maher said. "We do all the sandblasting, design and etching from our shop here in Blue Earth."
It's remarkable, really, how Blue Earth Monument has managed to stay rooted.
"It's a business model that has worked well, and it has been that way since the beginning of time, so we don't see any reason to change it," Mark Maher said. "If it ain't broke, don't fix it. So other than introducing a few new technologies from time to time, we will stay as we are, doing work in-house, locally and family-owned."
Those technology changes, though, are helping Mark Maher and Lori Maher begin a whole new chapter in the company's story.
"When Lori's dad was here with his partner, a lot of the monuments were made by hand. They would hand cut everything. They didn't have a website or internet presence — no email even. So all those basic advantages we have now. We have a wonderful website. We've heard over and over again that people just really appreciate it because they can see the things that we have done. There's a lot of technology involved in making the products now, too: CNC Machinery and computer programs are two big ones. But we still do some of the stuff by hand. In fact, I still have a hammer and chisel to shape the granite and monuments. We've also really advanced technology in how we set the stones in the cemeteries with new types of lifts and that sort of thing. We have advanced efficiencies here now, and that makes things a little easier."
It's a business where technology and artistry must collide in order for it to work.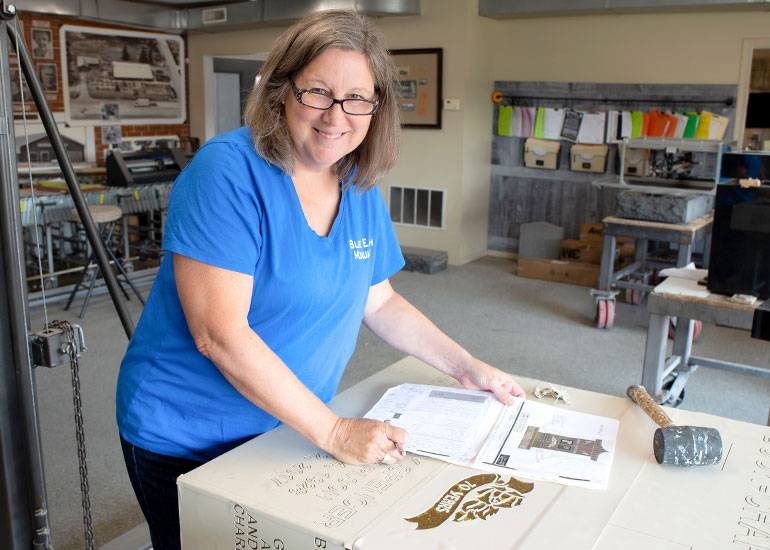 "We all consider ourselves artists," Mark Maher said. "I studied and enjoyed art in school, and we have employees that are very talented. I have a tendency to do the CNC diamond etching, and Lori has a good eye for design. She can conceptualize and visualize what people are wanting, and bring their thoughts and visions to fruition."
With six to eight employees depending on the season, Blue Earth Monument's geographic area keeps growing. It has a growing number of clients in the Twin Cities area and serves people all the way to the South Dakota border and down to Fort Dodge, Iowa. The Mahers say word of mouth and Blue Earth Monument's impeccable reputation attract a wide variety of clientele.
"Because we actually do all of our own work here, we have a large inventory of monuments to choose from, lots of different stones. We can keep our prices affordable compared to some of the other larger outfits because we are a small company and don't have the overhead," Mark Maher said. "We have a really good artist that works here with us and does some etching, and we have a CNC machine that can do etchings, as well. So we can offer some things that add something to the memorial, that say something about the person and their life."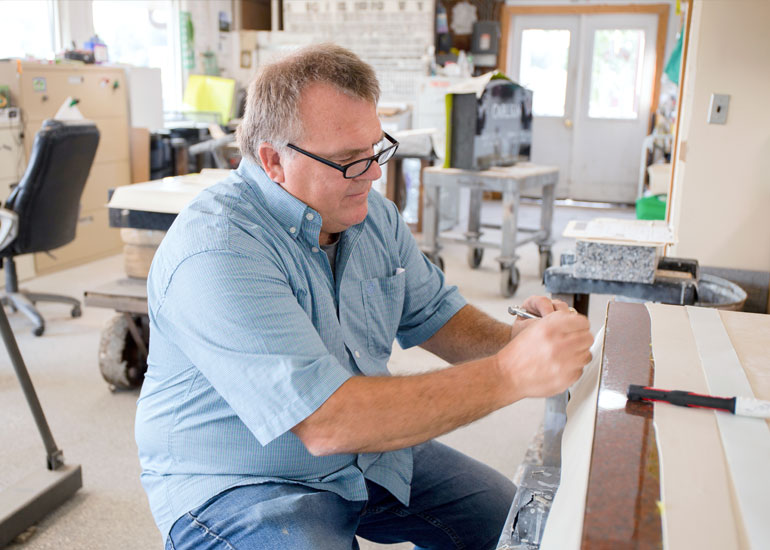 The Mahers say referrals come from cemeteries, caretakers and people whose family members have used BEM.
"There are a lot of people that come to us ahead of time. They want to do it so their kids or loved ones don't have to deal with it when they pass. Plus, then they can put on the stone what they want to put on it, not what someone else wants to put on it. We have so many people that come in here and say, 'Well, that wasn't bad at all.' So I think to help with anxiety, we keep things really low-key. To make it easy for the families, we go at whatever pace they want to go and we just follow their lead. It also helps put people at ease, because these days it's easier for them to see exactly what the finished product will look like with some of our computer programs. We want to make sure it is a positive experience because if it is for them, then they will tell others, and that's how we get our business."
"In 2015, we opened a facility in Albert Lea because our son came out of the service and after finishing his college degree was looking for an opportunity," Mark Maher said. "We had already been doing some business in that area and thought it might be a good market to expand into. So we purchased an old dentist office that we renovated and made into a remote sales office.
"With Quickbooks online and inventory online, it is easy to share back and forth between the two locations."
It's inventory that is perhaps the biggest challenge during these times.
"Every industry has supply issues," Mark Maher said. "We have a good handle on the granite, but getting the shipping containers and arranging the transportation to get stuff here has been problematic. Also, production supplies such as rubber stencil and setting compound are available on a limited basis. Quarries are struggling because there are not enough employees available. They are having a hard time keeping up with demand."
Keeping up with the demands of their own business has been another challenge for the duo. "We were sharing the same office, but then we had to build an addition on because Lori needed her own office," Mark Maher said.
Lori Maher adds, "Seriously, though, balancing work and home life is something we had to work on because we could be here 24/7 if we wanted to. The work is always here and needs to be done. So making sure we take enough time for ourselves and our family has to be a priority."
At the end of the day, the Mahers take pride in helping others through the work they do, helping create an everlasting tribute to a life well lived and worth remembering. They understand their work also acts as a final gift and can serve as a permanent record for future generations.
"We love what we do," Lori Maher said. "Each stone we make has embedded in it a particular perspective, a set of values, and we love serving our community in this way."
---
History of Blue Earth Monument
Blue Earth Monument is one of the oldest companies in Minnesota, a part of the southern Minnesota landscape for 144 years. The company opened in Albert Lea in 1877, about 12 years after the Civil War ended and just shy of 20 years after Minnesota became the 32nd state.
1877 was a dark year for Minnesota, with swarms of voracious grasshoppers blocking the sun and destroying crops over two-thirds of the state. Perhaps it wasn't the most auspicious time to start a business, but the company endured, passing from one family to another with each new generation.
Almost 150 years later, the company continues to be a positive force in the communities it serves, even in the darkest of times. In an interesting coincidence, the story that started with Maurice Bessinger in Albert Lea has now come full circle. The Maher family added an Albert Lea location in 2015, and now operates both Blue Earth Monument and Albert Lea Monument.
1877 Albert Lea Marble and Granite is founded by Maurice Bessinger in Albert Lea.
1896 Maurice Bessinger's son, William Bessinger, expands the business into Blue Earth and Winnebago, while his other son, Frank Bessinger, takes over the Albert Lea location. Although Blue Earth Monument's first location is downtown, it will eventually move to the east side of Highway 169 near Don's Fleet Supply before it finally settles into its current location.
1947 George Crohn purchases the company. A few years later, Gilbert Olson becomes his partner.
1965 Blue Earth Monument moves to its current location at 406 Grove St. in Blue Earth.
1973 Harlan "Harley" Schmitgen and Steve Christianson become owners of Blue Earth Monument.
2008 Steve Christianson retires and sells his portion of the business to Harley Schmitgen's daughter, Lori Maher, and her husband, Mark Maher.
2011 Harley Schmitgen retires after 52 years at Blue Earth Monument. Lori Maher and Mark Maher become the sole owners.
2015 Albert Lea Monument opens at 723 Marshall St., Albert Lea. Lori Maher and Mark Maher's son, Blane Maher, runs the business.
---
Most Unique Monument
As you can imagine, the Mahers get some unique requests when trying to tell the story of someone's life through a monument. One of their most unique requests came in the form of a, well, cow.
"We did one in the shape of a cow, truly a full-size cow!" Lori Maher said. "That was one of the most unique ones, but we were able to do it. Basically just cutting the design in the overall shape and then doing some etching to show the legs and fur and other details."
---
Family First
Ask the Mahers what they do in their free time, and the answer is immediate: spend time with the grandchildren. They have six right now between their children: Amber, Blane, and Mackenzie. Their favorite spot to hang with family is at their cabin in Chisago City.
"It's close to the Twin Cities where our grandkids live, so we have a good excuse to spend time with them," Mark Maher jokes. "I mean our children, too, but mostly the grandkids!"
---
The Essentials
Blue Earth Monument
406 S Grove St.
Blue Earth, MN 56013
Phone: (507) 526-2250
Web: blueearthmonument.com
Photography by Jonathan Smith