Kahler Automation Celebrates 30 Years and Welcomes A New CEO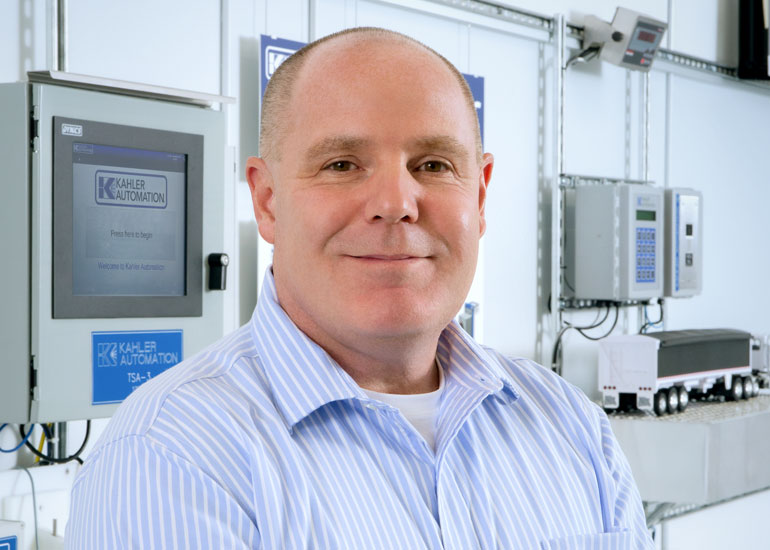 Kahler Automation, like the Kahler family, is firmly rooted in the fertile soil of Martin County. It sits nestled between the city of Fairmont and the abundant fields of corn, grain, and soybeans that surround the community.
The first Kahler business in Fairmont was Kahler Electric, which was founded in 1949 by Roy Kahler. Roy Kahler's sons, Doug Kahler and Wayne Kahler, soon joined him in the business. Eventually, Wayne Kahler tired of wiring homes and started an automation division. There was a growing need for automation in the southern Minnesota agricultural community, a need Wayne Kahler was happy to satisfy. He hit a home run with his Fluid Dispensing System, which measures and dispenses farm chemicals into bulk containers. Automation requests increased, and by 1991, Wayne Kahler was ready to branch off and open his own independent business: Kahler Automation.
In 2021 Kahler Automation celebrates 30 years in business. It's come a long way over the last three decades. The company that started with only five employees now requires a team of 80 people to meet its customers' needs. Where once there were only one or two products, there is now a whole suite of state-of-the-art automation solutions. Its facilities have expanded several times to accommodate this growth, and the business now fills a 36,000-sq-ft space. Little wonder then, that Kahler's customer base has grown far beyond the farm fields of Minnesota, spreading to every corner of North America.
This year the company also welcomed a new CEO, John Christ. Christ is an engineering veteran with 32 years of experience, 15 of them in the automation field. He brings fresh ideas and energy to the company's leadership team. But the Kahler family continues to maintain a strong presence, as well. Wayne Kahler guides the company as chairman of its board of directors. His children also play critical roles on the company's leadership team: Chantill Kahler Royer is the chief financial officer, and Logan Kahler is the software engineering manager.
Christ takes on a company that is at the top of its game. While agricultural customers remain its primary focus, Kahler Automation has broadened its customer base to serve new industries. Requests for innovative new solutions have driven an expansion in its product offerings.
"Kahler Automation is made up of hard-working professionals committed to satisfying our customers. It is a very easy group of individuals to manage, and I am proud to be part of such a successful organization," Christ said.
Today Kahler Automation's product line includes three categories of automation products: bulk material handling, truck traffic control and industrial automation. Each product automates complicated processes, resulting in easier operation, higher accuracy, increased productivity and reduced overhead.
You can find Kahler Automation's bulk handling control systems throughout the GreenSeam region. These systems manage both wet and dry materials, such as fertilizers, chemicals and grain. Typical applications include grain elevators, ethanol plants and farm cooperatives.
Its second product category is traffic control systems, which monitor and automate vehicle traffic at facilities. Kahler's clients can choose from a wide variety of options to create the perfect system for their business, including sensors, access controls, communications centers, camera systems, traffic lights and message boards. In addition, traffic control systems can be integrated with Kahler's bulk handling systems. You can find them at bulk material handling facilities and road/rail transportation businesses.
"It's very seamless and efficient in terms of helping our customers get the most throughput at their facility. But, at the same time, it accurately manages everything down to the smallest amount of weight there that's coming through the facility," Mark Mohr said. Mohr is the vice president of sales and marketing at Kahler Automation.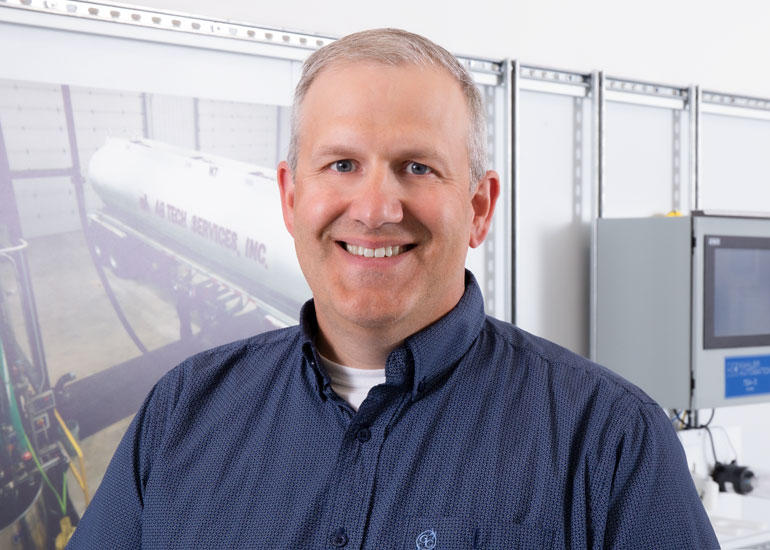 Mark Mohr, vice president of sales and marketing at Kahler Automation.
Kahler's third product category, industrial automation projects, includes various customized services and applications, such as container filling systems, bulk material transfer and loading systems, and portable control systems. The company works with clients to design whatever system they need. Many of these options are massive systems capable of managing busy ports that transfer materials from trucks to trains and barges. Other applications include irrigation and wastewater treatment management; prison and hospital door access controls; loading and inventory tracking of liquid propane and NH3, or ammonia; and mining operation controls.
Kahler creates unique software solutions to streamline its clients' processes and ensure all systems are running as smoothly and efficiently as possible. Software offerings include Terminal Management TMX and Plant Supervisor PSX. In addition, client training is available to bring new operators up to speed.
Finally, Kahler Automation prides itself on offering world-class customer support. That means 24/7 call support and keeping pilots on staff to whisk service technicians off to customer sites in one of the company's three planes at a moment's notice.
I spoke with Christ and Mohr to learn more about Kahler's plans for 2021 and beyond.
Tell me a little bit about your background and how you came to work at Kahler Automation.
John Christ: I'm from the Chicagoland area. I've been a licensed professional engineer since 2002. My career has been as an engineer in paper and steel mills. From there, I moved to Rockwell Automation, where I ran the automation group. I joined Kahler Automation in March 2021 as their CEO.
Mark Mohr: I'm originally from Illinois, but I've been in Minnesota for 18 years now, so Minnesota is my second home. My background is in agriculture and precision applications. My career has been in the agricultural chemical and fertilizer business, working with people in the field, making the applications and building the equipment to do that kind of work. I came to Kahler Automation about three years ago, working initially in territory sales and then in sales leadership. I'm currently the vice president of sales and marketing.
Kahler's roots are in agriculture. Is that still your focus, or have you expanded into other industries?
Christ: Our roots are definitely in agriculture, so a lot of the automation we do is for that industry. There's a lot of similar technology in some sister industries that our automation can also benefit from, so we have expanded into other areas outside the agricultural world.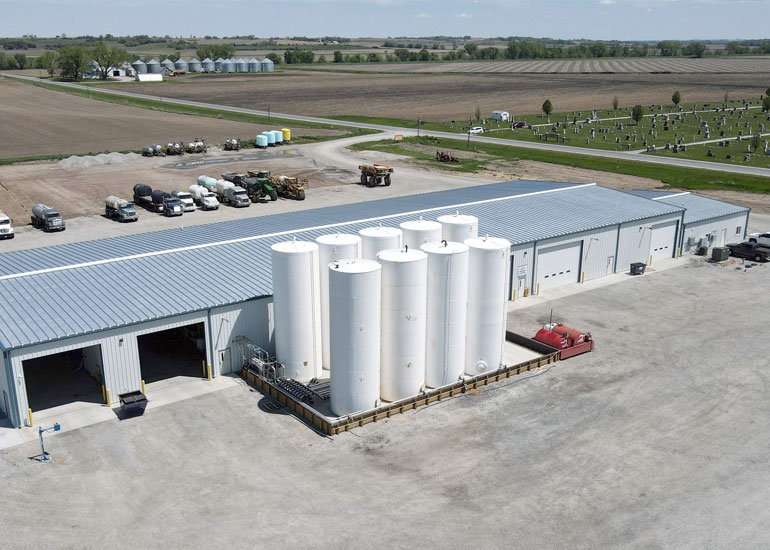 United Farmers Cooperative in Farragut, Iowa, features two bays to provide dispensing for fertilizer and chemicals, including 24/7 unstaffed dispensing.
Who are your customers, and where are they located?
Mohr: Our customers are companies that are managing or handling bulk materials, either wholesale or blending them into higher-value products. Typical customers are agricultural fertilizer and chemical retailers and suppliers who sell to farmers or apply those products to their fields. Grain elevators are a significant part of what we're doing. So are port operators, where they're bringing bulk materials on or off of ships or barges and getting them into the supply chain. They're located all across North America. We've done some work outside of North America, as well, but the great majority of our business is bulk material handling in North America.
Christ: Global is not our primary focus, although we have done some projects globally.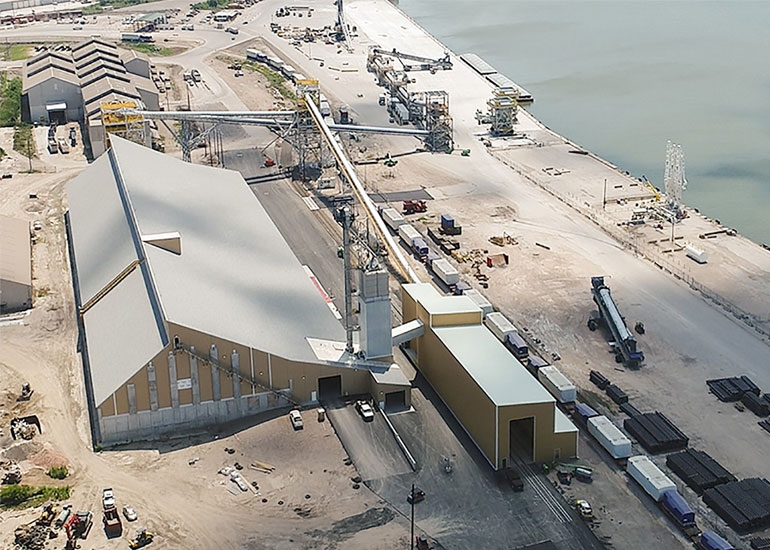 American Plant Food operation outside of Houston, Texas, includes a huge storage facility, ship-to-building conveying system, bulk weighing tower to load trucks, and a railcar loading building.
Why do your customers need you? What are the pain points that your products and services solve for them?
Christ: We help our customers seamlessly automate their processes while updating their ERP systems with real-time information. When you're doing it manually, there are inaccuracies. You don't have precise inventory control. And that has financial repercussions. Our products add precision to order fulfillment and ensure the financial side of their business is accurate. When your process needs control, we're the outfit that does it.
Mohr: Inventory accuracy is key. We have customers who will tell us that in the past, prior to automation, they would have to adjust their inventories by half a percent. They knew they'd receive the product, but they lost track of it in the loadout and blending process. When you think of a facility that has millions of dollars of product in it, a half percentage point is a big number, especially year after year, turn after turn in that building. So the payback (on their investment) from improved accuracy is very short. It's a quick payback to automate and have the level of control that we can provide.
Help me understand the scope of your business.
Christ: We have one manufacturing location here in Fairmont. It's a UL-listed shop, and our equipment goes through rigorous quality inspection prior to shipment. Our projects are primarily in North America, but we have done some international projects. When the customer is ready, we send experienced technicians on site to commission their system. After the sale, we offer 24/7 technical support. We have multiple airplanes and a fleet of company vehicles that allow us to support our customers quickly. We deliver around 200 projects annually, and they range in size from a couple of thousand dollars to millions of dollars. So it's a full gamut.
Mohr: One of the facilities we're focused on is loading a unit train per day. That's a lot. That's 100 (train) cars loaded, or we may be talking about hundreds of trucks that they're capable of loading and very high volume.
How many employees do you have? What are your needs for the future?
Christ: We have 80 employees located throughout the country. We're always looking for qualified people to join the team, for talent that can help us see things in a different way or service our customers better. When we talk to people, we want to make sure that they meet our core values. (This is) the type of people we want to bring on board.
We hire seasoned professionals and new folks that are coming right out of school, too. When we hire sales staff, we want them to have some experience in this type of business. They'll have contacts, and they'll know the jargon. But at the same time, we hire people right out of technical schools, too, and train them. They bring some new ideas with them. We love to listen to some of the new talent that comes in.
Do you partner with local community colleges or mechatronics programs?
Christ: We do. That's one of the things that we're very proud of. We've donated equipment and things like that to tech schools and trade schools so that people can work on the equipment that we're deploying into the field. It refreshes the pipeline for us, and it pays dividends. We have a lot of folks on our floor that came out of that environment. They were educated at schools that we've been donating to and participating with.
Mohr: In addition to that, some of our employees are very much involved with these schools, as well as with the high school level. They work with robotics teams and help the next generation understand the interesting career opportunities that are right here in their backyard.
What sets you apart from your competitors?
Christ: Our unparalleled 30 years in the industry is a big reason customers choose to automate with Kahler Automation. With 30 years of experience, you can imagine everything we've learned and incorporated into the automation solutions we provide for our customers. That is a differentiator in this industry. We offer world-class automation solutions using the best products the industry has to offer. Our Plant Supervisor (software) and Terminal Management software are leaders in the industry and manage customer facilities. We are also a leader in our post-sales technical support and on-site services. Problems happen at their facilities, not necessarily with our products, but they need support from time to time. This gives our customers the confidence that we are with them in all phases of their automation life cycle. When our customers have new employees come on board, we train them to be experts on our system before they hit the floor and trucks start rolling through their facility. If you see our website and all the tech support stuff we do for customers, it's impressive what we've done. All these things are big things for our customers.
Mohr: Three areas set us apart. First, your business depends on uptime. Our service and support are critical to that. Second, there's our ability to integrate our unique solutions with the customer's business, including the accounting side, for accurate business operations. The third part of that is our ability to combine technologies and automation solutions into a robust solution that does just what our customers need. We can do that with custom solutions for unique applications, but we've also done more than 5,000 automation projects over the past 30 years. So we have a deep understanding of our standard products that we can draw from. Combining those three things – custom and standard solutions, customer support, the ability to integrate with your business – really gives us a unique solution, which is an advantage with our customers.
Tell me about your company culture. What's it like to work at Kahler?
Christ: We have a dedicated group of employees, and we live by our core values. We are customer-focused. When we say we're going to deliver, we deliver. It's a mantra for all of us. We're all focused on that. Our passion for service and focus on delivering a quality product or solution is what differentiates us from others.
I have the advantage of working with just a fantastic leadership team and so many dedicated employees. We all know our jobs. We all know the vision. We're all focused on it, and every day we're working toward it. So there's a lot of innovation and freedom to do the right thing for the customer here.
Mohr: Our values sum it up. We're dedicated to service, we're curious about what the customer needs, and we all try to live the values. So when a problem, question or opportunity comes up, and we don't know initially what the right answer is, our values guide us to it.
What are the keys to your growth and success?
Christ: It really comes down to our employees. Getting high-level professionals makes us grow, and it allows us to dabble in other sister industries and deliver excellent projects. That's why the key to our growth and success has been and always will be our employees. We are all focused on creating high-quality solutions that make our customers more successful. Whether it is increased uptime, higher efficiencies, or providing precise (quantities) to their customers, our customers rely on Kahler Automation to achieve their business objectives. This is a relationship business. When we deliver excellent projects, we get referrals, and those referrals keep coming back to us. That's the key to our growth.
Have you encountered any challenges other than the minor inconvenience of a global pandemic?
Christ: That is the big challenge for us, and it's really not the pandemic itself. We've figured out how to work remotely, and we've mastered that. We have a new phone system, for instance, to better service our customers and measure how quickly we return phone calls. We're all about measuring.
The biggest challenge is the current economic climate, particularly the supply chain. The volatility of commodities and shortages of components have impacted our customers and us. You've heard about the chip shortage for automobiles? We hear about it all the time, but it affects a lot of electronics, too. It's starting to surface. We planned for it. We keep a lot of inventory in stock. But we're starting to see deliveries get extended out, and that's a challenge for us. It's a challenge for our customers, too.
Mohr: One thing that helps is that they've already been hearing about it in the news by the time we're having a conversation with a customer about it. Our customers understand that all industries and all businesses are experiencing this right now. It's good that we've held on as long as we have with our supply chain supporting us. But we're starting to feel it.
Are shortages and delays affecting your pricing?
Christ: Not yet, but it could if it doesn't turn around. Our inventory is going to start going down on certain items. But we've been pretty creative about addressing the problem in different ways.
What achievements are you most proud of?
Christ: We are very proud of many of the innovative solutions we've brought to the industry. We've been early adopters of technology. The mass flow meters for product dispensing are a prime example. Kahler introduced it years and years ago as a way to measure liquid products. At that time, it hadn't been done before. So that's something that we brought to the industry and were able to incorporate into our design. Now everybody's using it, and it's an industry standard. We're very proud of being a leader in this industry.
We are also extremely proud of how we interact with the local community and its charities. We both sponsor and participate in many community events, and our employees freely volunteer their time to support local charities. We also support local colleges and trade schools through equipment donations and internships for their STEM students.
2021 marks Kahler's 30th anniversary. How has the company changed over the past three decades?
Christ: Some things haven't changed. Wayne is still involved in the business. I can call him (with) questions, and he coaches me on certain things. We also remain a fast-paced and nimble organization. Internally we've embraced a lot of the new technology that's out there to make our jobs a lot easier. We have added many business systems to improve our operation. For instance, our ERP system helps us with order management, and tracking inventory and projects. It also allows us to be more efficient and to shorten our lead times. Our CRM system keeps us connected with our customers. We've also addressed important things like time and attendance systems with badges. We have used these tools to make ourselves more efficient and improve our ability to satisfy our customers. Those are the changes through the years that have come to Kahler.
Mohr: The advantage of 30 years is that we've got that long vision, the long legacy – especially with Wayne available to help us understand not only where things are going, but how things got here. Understanding the development of the industry over the past three decades is valuable knowledge and experience to have. Our products have grown. In the very beginning, we were looking for a better way to measure and dispense products and working with weight-based systems. Now we're creating systems for entire port facilities. The complexity of the systems has grown, they're able to do a lot more with it, but it still feels simple to the operator.
Your staff and facility have grown over the years, with expansions in 2006 and again in 2012. Do you have more expansions in the works?
Christ: We're sitting in an expansion right now. This wall was added after we purchased this building. Currently, we're good with the size of this location. We feel we have plenty of room for growth for the near future, and we have a lot of flexibility in the things that we can do. In addition, remote work freed up office space in a way I didn't anticipate. It's changed the way we work a little bit. So we have plenty of capacity here for the foreseeable future.
What does it take to keep evolving and growing in a high-tech industry?
Mohr: It's our people. People drive innovation.
Christ: Keeping on top of the trends, learning about the latest technology and incorporating these new products into our solutions is important for remaining a leader in our business segment. The evolution in smart devices and the Internet of Things has allowed us to offer some very innovative solutions. Additionally, hiring new employees that share our passion for the industries we serve is a critical ingredient for our success.
It takes hiring people who've been exposed to the latest technology and keeping abreast of the industry— for instance, bringing me on board. I've been exposed to a lot of technology within a very large company. Bringing fresh ideas to how we tackle solutions is a way to expand. We also focus on learning. We're constantly sending people off to training, and we also take advantage of trade shows and automation shows. There are many avenues open to us to keep us abreast of the latest technologies.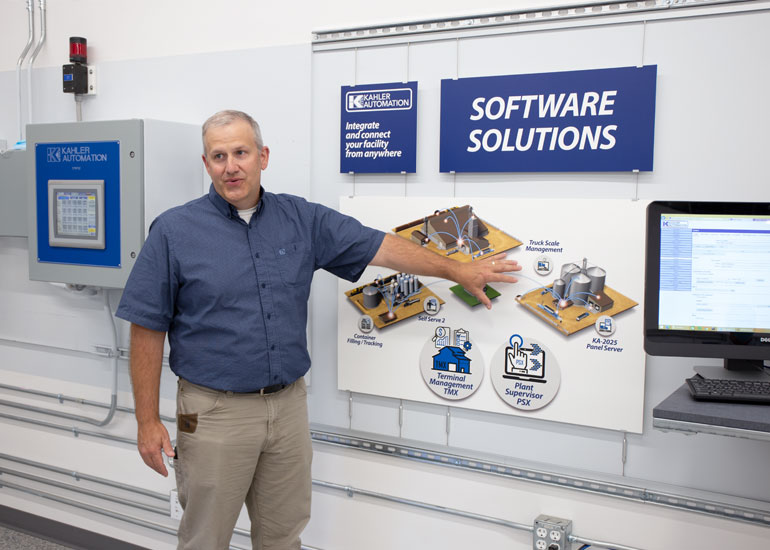 Mark Mohr gives a guided tour of Kahler's new tech center.
How does your Fairmont location impact what you do and how you do it?
Christ: Our Fairmont roots, with so much agricultural activity all around us, have driven the types of things we automate and the relationships we've created. Our customer base has grown across the nation, but southern Minnesota is where we got our start. It's fun to drive around our local communities and see the many facilities that are operating our control systems. Almost every town in the area has a project that we have done. When it comes to bulk liquid handling, you really can't find a local facility that doesn't have our products.
It's a proud thing for all our employees to know that our efforts went into and automated these businesses. We've satisfied yet another customer, and they keep coming back. Look at all the folks working here that are related to somebody in the agricultural world. Mark came from that world. I have dairy farmers on my wife's side of the family. We all have ties to this industry. So it's really unique from that standpoint.
You've been in the CEO role for less than a year. What are your goals for yourself and the company?
Christ: My main goal is to make the company even better. It's hard to improve on something that is already really good. So my goal is to make Kahler Automation just a little bit better, make the processes a little bit better and get the teams that are already functioning very well together just a bit more integrated. I've been at this for 32 years now, so my focus is to take the knowledge I learned in previous roles and maybe tweak some processes to improve them. We're accomplishing that by enhancing how we engage with our customers, streamlining internal processes, and empowering our employees to make decisions that benefit our customers and the organization. That's my goal.
You have master's degrees in both business and engineering. How do you leverage that as CEO?
Christ: As an engineer, I'm a very systematic person. I'm very organized, very detailed and very factual in making decisions. In my time in the engineering world, I've seen so many different processes. I've seen so many ways to solve an automation problem and maybe look at things differently. I bring that into this organization. It's helpful to ask why five times and challenge some of the things that we do. Maybe there is a better way. I bring that to bear. Running an automation company as a technical person has been helpful.
While I tout my engineering skills, I've also been on the business side for a long time. I was the business unit manager for Rockwell Automation, and I worked for Rockwell for 15 years. I've sold multimillion-dollar projects. I have automated huge steel mills, and I see the business side of things. So I'm able to think that way and drive productivity for us. Bringing that to the company is fun for me.
I'm really excited about this role here at Kahler. It's a new industry for me in that I have not sold projects into the agricultural world. But at the end of the day, it's the same automation; it's just configured differently. That's where I can help this company be more successful than it already is. People who just grew up on the business side may not consider the delivery side and vice versa. Having experience in both allows me to see the whole picture and make much better decisions.
How would you describe your leadership style?
Christ: I don't have one. Different circumstances require different leadership styles. Sometimes it's collaborative. Sometimes it's more delegating. It really depends. No one style defines me. There are certain behaviors that I demonstrate that have made me successful. For instance, I am a fact finder who likes to thoroughly understand a problem before driving to a resolution.
Your title is CEO/Integrator. The first part is self-explanatory. Can you explain your role as an Integrator?
Christ: It's a long story. About a year ago, Kahler Automation adopted the Entrepreneurial Operating System. EOS is a complete set of simple concepts and practical tools that are used to get everyone in our organization on the same page with our vision. It instills focus and discipline throughout the company, so everyone executes on that vision — every day.
My role as the Integrator is to be the person who is the tiebreaker for the leadership team. We get all the people on the leadership team together and we talk about issues, then we solve them and make them go away. So we're not talking about them again next week. We're not revisiting those things. We move on. When we reach an impasse, the Integrator can be the tiebreaker. In other cases, you could have a 5 to 1 vote to go a certain way, but the Integrator may choose to go a different way. So it's not necessarily a consensus way of running a business.
The Integrator is also the glue for the organization. He holds everything together and beats the drum or provides the cadence. He creates organizational clarity, communication and clarity. My job is to gather the data and lead this organization. I'm responsible for the profit and loss results, holding the leadership team accountable and being a steady force in the organization.
The other half of the Integrator equation is the Visionary. That would be Logan Kahler. He's a visionary, and he dreams up new ideas and opportunities. We collaborate, so we're always on the same page about where we want to go and what we want to do.
In EOS, there are six key components for running every business. The big one is vision, defining that vision and getting everything we're doing driving toward that vision. So the people that we hire and the things we measure all support that vision. A lot of data comes into this. We measure how quickly we call back customers, inventory turns —you name it. Things that don't get measured don't get improved. So you let people know what's important. Everybody knows it, and everybody's driving toward that vision every day. All the decisions we make are driving toward that vision. So that's what EOS is to me.
One of my jobs is to keep that going, so it infiltrates the organization. I lead that effort and make sure that it's just in our DNA going forward. Right now, we're a year into it, we're infants in it, but it's taken hold. It's a great system.
---
Meet John Christ
Fairmont is a long way from your Chicago roots. How are you settling in?
Great. My wife, Pamela, and I have enjoyed our move to Fairmont. The people are so friendly. Everyone has been very welcoming, and we are making many new relationships. I've become part of the Chamber of Commerce. It's a small community, so everybody kind of looks after each other. Many of the people that work for Kahler live on the same street that I live on. So I'm really happy with our decision.
I grew up with planes, trains, buses, highways — all the things that Chicago is about. Living in Fairmont is a much different experience. My wife and I have lived in a small community before. We were up in the Upper Peninsula of Michigan for about eight years. So we're familiar with rural living, and we love it, by the way. We get to enjoy all that southern Minnesota has to offer. There are so many things that we get to explore. It's fun.
No more long commutes?
I have three stops between home and here.
What are you passionate about? What inspires you?
I'm passionate about integrity and being authentic in my interactions with others. Having the self-discipline to make the right choices builds self-respect and earns the respect of others. Just do the right thing, even when people aren't looking. I think that says a lot about people, and I have a lot of respect for people that live their life like that.
I'm inspired by others that are accountable for their actions. They show the courage to do what is right, even when it is difficult, and accept responsibility for the consequences of their actions without blaming others. I've instilled this idea in my children. I was also a Boy Scout leader for 15 years, and I got to influence all those young minds, as well. I'm very proud of that.
What keeps you up at night?
Aside from the rare nightmare, I work so hard that I rarely have a difficult time sleeping. Maintaining a healthy lifestyle and great time management allows me to recharge my batteries each evening. That, coupled with an outstanding leadership team, enables me to rest assured that we are executing our vision.
How do you balance work and life?
I have found that it is important to schedule things in my personal life to make sure I'm taking full advantage of my time away from work. If it doesn't appear on the schedule, the time just kind of drifts by. My wife and I even used to schedule date nights. You schedule them, so you don't miss those opportunities in life.
Tell me a little bit about yourself outside of work. Do you have any hobbies?
I enjoy spending time with my wife and family. My children are all grown up and have gone to different places. We visit them, and we also love to travel when we can. We also enjoy hiking and camping, and other outdoor activities. For hobbies, I run a lot, usually three to four times a week. I enjoy reading — science fiction is my preferred genre. I also love yard games, such as cornhole and horseshoes.
---
The Essentials
Kahler Automation
808 Timberlake Road
Fairmont, MN 56031
Phone: (507) 235-6648
Web: kahlerautomation.com