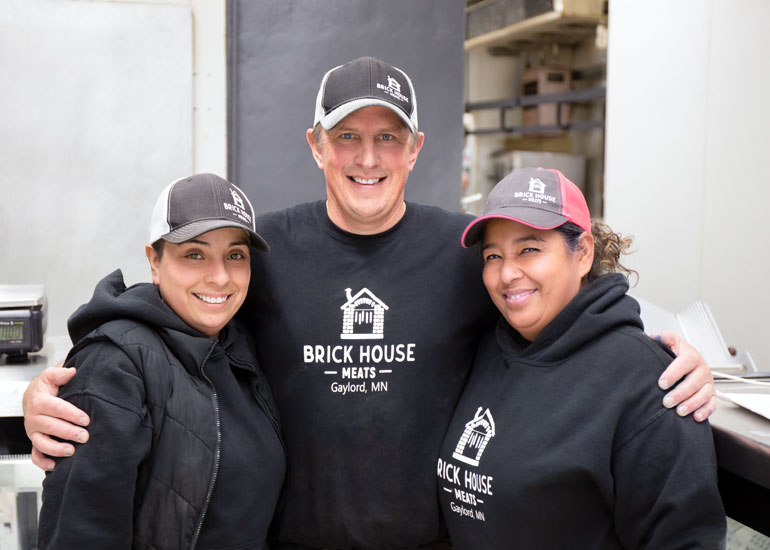 Will Sampson and Jacob Brandt are dairy farmers, fast friends and business partners, running Five Star Dairy and Sunrise Dairy in Gaylord together. They recently pooled their resources to start a whole new business venture: Brick House Meats.
"Last year during the pandemic, everyone was calling us for hamburger and we said, well, we can't really do that. But then we got a weird idea: Hey, we should buy the meat market!" Sampson said.
Brick House Meats opened in Gaylord in December 2020, and Sampson and Brandt set to work learning the butcher shop business.
"It's been going good," Sampson said. "We've kept the old clientele and are drawing in new customers with new products, and different types of brats and summer sausages."
In addition to standard cuts of fresh beef, pork and poultry, Brick House Meats' specialties include the popular Pinske burger, sausages and pepper sticks. Crowd pleasers include hot sandwich options, such as pulled pork, and meat and cheese trays. They also offer full-service custom processing and smoking.
The Gaylord meat shop is a community institution, operating for decades as Pinske's Meat Market and then as Lang's Meat Market before Sampson and Brandt stepped in.
"It was the oldest and longest-running business in Gaylord," Sampson said. "We knew going into it the facility was old, and we wanted to upgrade it aesthetically so we started remodeling with the retail section, and we're just going to keep working our way through remodeling the whole facility. Eventually, we'd like to expand."
The pair felt the city needed an independent meat market, especially with many meat markets no longer processing meats for farmers. The community agrees and keeps the store, and its four-person staff, busy as customers pour in from Sibley County and beyond.
"Everyone has just been tickled pink that the meat market stayed open and the old Pinske recipes are coming back. …The community outreach has been great," Sampson said.
---
The Essentials
Brick House Meats
409 Sibley Avenue
Gaylord, MN 55334
Phone: (507) 237-2350
Facebook: @brickhousemeats
Photo by Jonathan Smith